This post may contain affiliate links. Full disclosure policy
I have amassed any number insights and truths in my Beyond 50 years. Here is one of them:  People either like squash, or they don't.
I definitely fall into the pro-squash camp.  I never met a squash I didn't like – zucchini, acorn, butternut, spaghetti – they are all scrumptious. And so healthy!
So imagine my delight when I came across a new variety, the aptly named delicata, a delicious, sweet, firm-textured squash with a skin that is so thin and delicate that no peeling is required.  After cooking, delicata squash can be eaten whole, the flesh as well as the skin.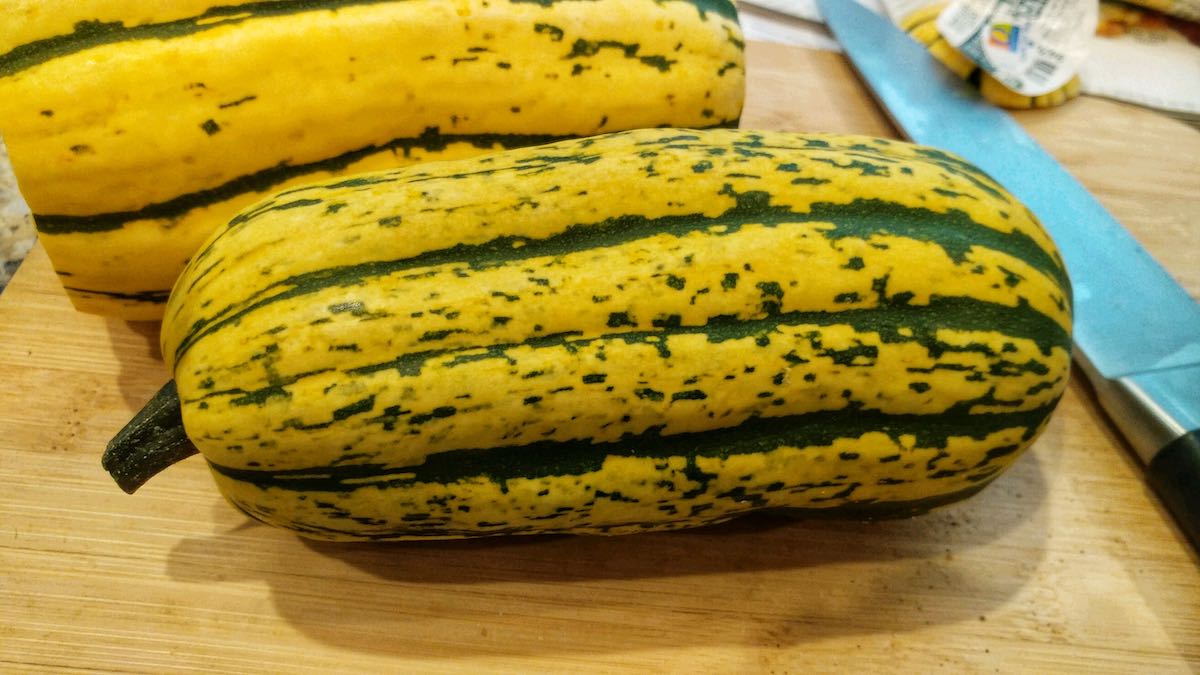 Channeling a Childhood Favorite
When I was young, one of my mother's fall favorite recipes was stuffed acorn squash. They were delicious. I suspect the pork sausage filling had a lot to do with that.  Sure, there were vegetables involved but they should probably have been served with a side of Lipitor.
But I got to thinking about my mother's recipe after buying a couple of lovely little delicata squash at the market. I started thinking about making a healthier version of the recipe I loved as a kid.
How could I recreate the savory, smoky filling of my mom's recipe, which paired so beautifully with the subtle sweetness of baked squash, in a way that wouldn't cause my cardiologist to break out in a sweat?
The answer came from replacing the fatty pork sausage with lean ground chicken and a little bit of bacon. It's a delicious and satisfying combination, especially when you add in the tart bite of Granny Smith apple, mellow sweetness of caramelized onions, and a bit of fresh sage for depth.
My Delicata Squash Boats aren't a precise remake of the stuffed squash I enjoyed as a child. But in some ways, they're even better. For one thing, they are much better for you. And I really think they are better suited for my grownup palate.
My husband seems to agree. After just a couple of bites, he asked me to be sure to make them a regular part of the menu.  In my world, that's the definition of a successful recipe.
Here's how to make my Delicous Delicata Squash Boats.
Print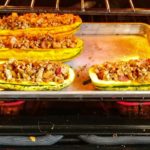 Stuffed Delicata Squash Recipe: Delicious Delicata Squash Boats: Just 5 WW Freestyle Points!
---
2 small to medium sized Delicata Squash                                                0 points
½ sweet onion, diced                                                                                    0 points
1 granny smith apple, cored and diced                                                      0 points
1 t. olive oil                                                                                                       1 point
2 slices bacon, cut into lardons                                                                    8 points
1 pound 95% lean ground chicken (I like Isernio's Premium)               8 points
1 T fresh sage, minced (chop a bit more for garnish)                               0 points
½ t. salt                                                                                                              0 points
½ t. smoked paprika                                                                                       0 points
1 T pure maple syrup (or aged balsamic vinegar)                                      3 points
cooking spray                                                                                                    0 points
salt and pepper to taste                                                                                  0 points
Points total                                                                                                       20 points
Points per serving (recipes makes 4 servings)                          5 points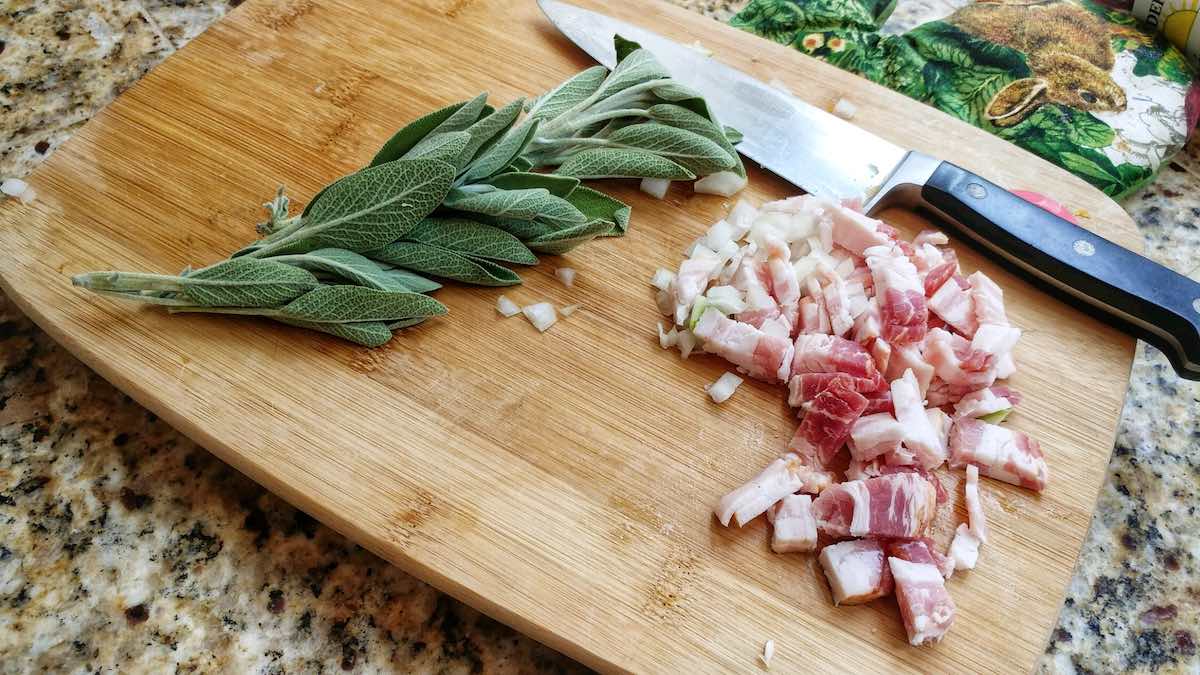 ---
Instructions
Preheat the oven to 350. Wash the squash, then cut in half lengthways and scoops out the seeds and stringy pulp. Set aside.
Place teaspoon of oil in nonstick or ceramic skillet over medium high heat. Sauté the chopped onion and apples until the onions are translucent and soft.  Add bacon lardons and cook until fat is rendered.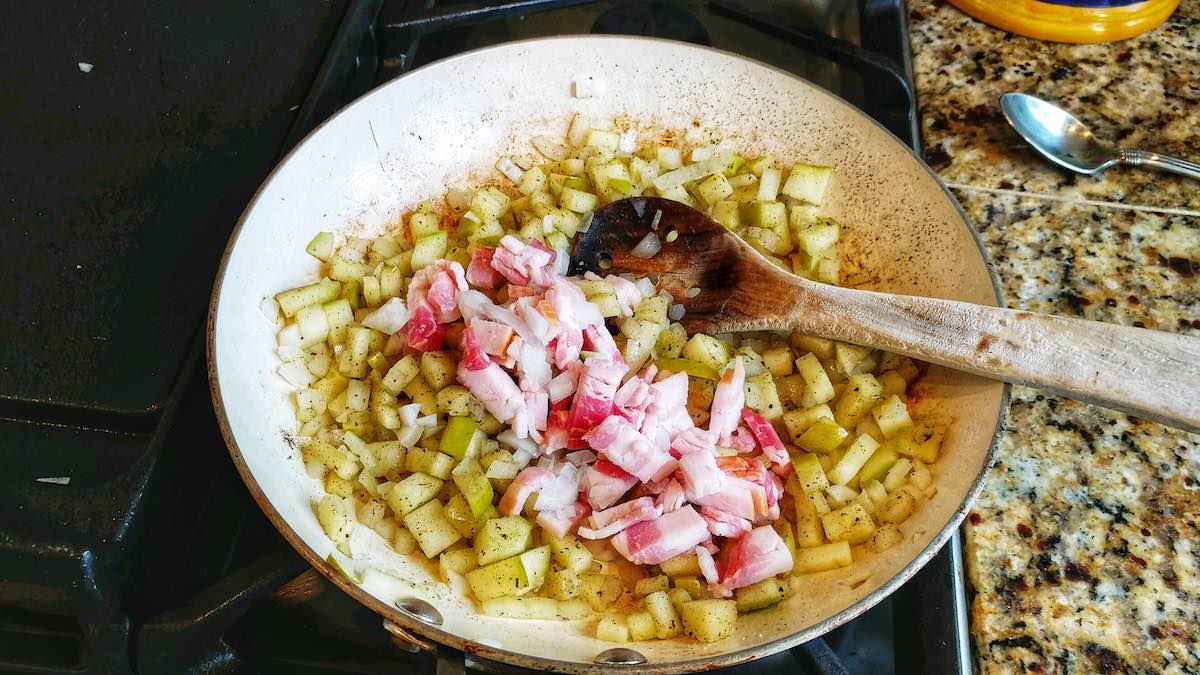 Add ground chicken, fresh sage, salt, and smoked paprika to pan. Cook through until there is no pink in the chicken. Stir maple syrup into mixture. Take pan off flame.
Spray inside of each squash half lightly with cooking spray.  Pierce flesh of the squash a few times with a fork. Sprinkle with a little salt and pepper.  Fill the center of each squash half with one quarter of the cooked chicken stuffing.
Place filled squash boats on baking sheet. Place in oven and cook for 35-45 minutes, until squash is soft and cooked through (if stuffing begins to brown too much, cover top of each boat with foil).