This post may contain affiliate links. Full disclosure policy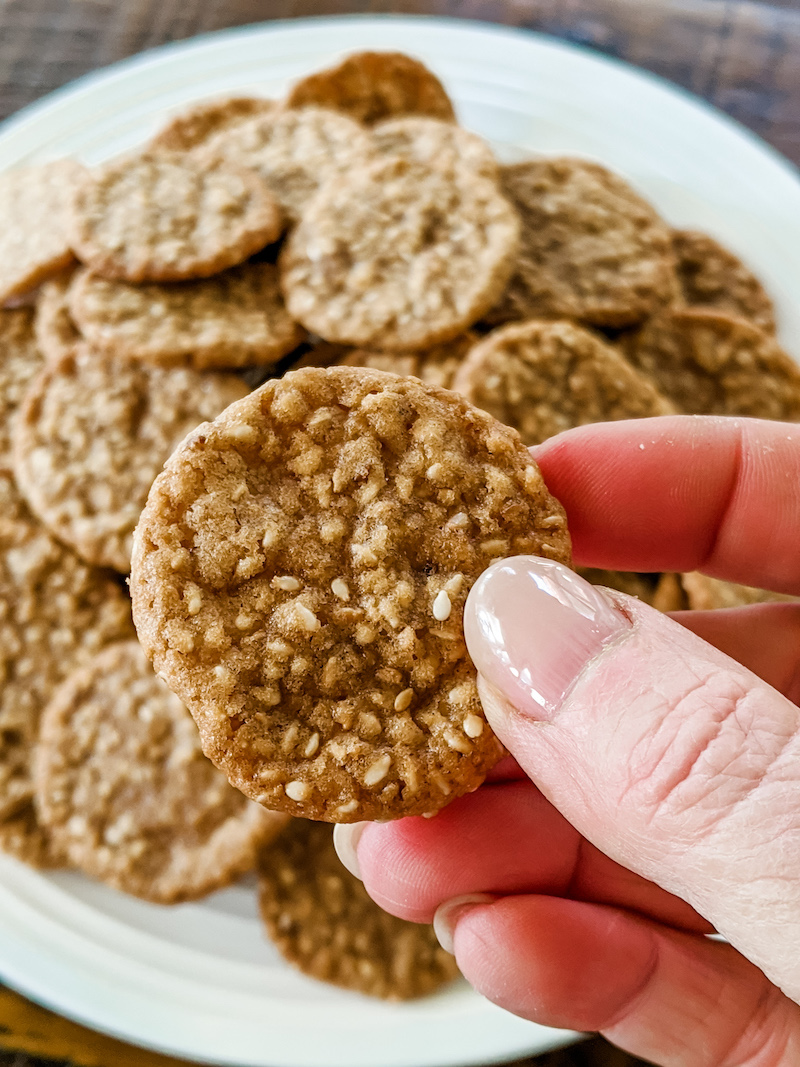 Have you ever been lucky enough to visit the beautiful Charleston, South Carolina? If so, you may have sampled one of my favorite Lowcountry treats, benne wafers.
When it comes to great food, it's hard to beat Southern cuisine. But of all the southern cities that are beloved by foodies, Charleston tops the list. Apart from architecture that I think makes it the most beautiful city in America, a plethora of fabulous restaurants was one of the main reasons I was so excited about setting my next book, The Restoration of Celia Fairchild, in Charleston.
The research I did for this book was extensive – and delicious! I included many real-life locations, including several restaurants, in the book. Naturally, I had to try them out while I was there. One night, while trying to decide which upper King Street restaurant I should use for a particular scene, I had to eat two dinners so I could make up my mind! But hey, in the pursuit of literature, no sacrifice is too great.
Charleston has incredible cuisine. Today, I'm sharing a recipe for benne wafers, a cookie that's uniquely Charleston.
What are Benne Wafers?
Benne wafers are crisp and delicious little sesame cookies. If you travel to Charleston, you'll find bags filled with tiny benne wafers, generally about the size of a quarter, for sale in markets and gift shops all over town.
I discovered them years ago, on the first of many visits to Charleston. Though they're small, the nutty flavor of toasted sesame in a buttery benne wafer is very rich. A few of these delectable morsels are the perfect accompaniment to a cup of tea.
Also, benne wafers are actually very easy to make at home! But before we get to that, you might be wondering…
Why are They Called Benne Wafers?
Benne (pronounced "benny") is the Bantu word for a plant that produces sesame seeds. Benne plants came to Charleston from Africa through the slave trade. The seeds from those plants became a key component in many Charleston recipes, including benne wafers.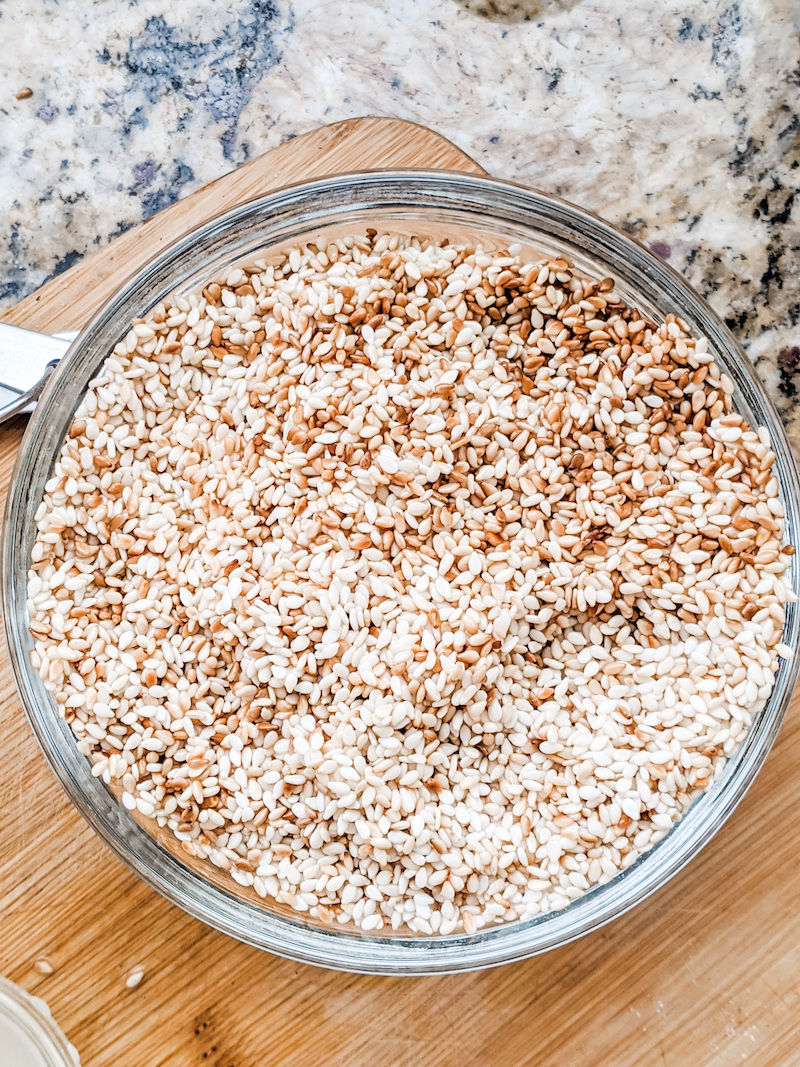 The sesame seeds that most of us buy today are less flavorful than the original benne seeds. However, toasting sesame seeds in a dry skillet before stirring them into the dough intensifies the flavor.
The recipe I'm using is one I found at simplyrecipes.com. It uses a lot more sesame seeds than most other recipes. More sesame seeds mean more delicious, sweet sesame flavor. That's a plus in my book!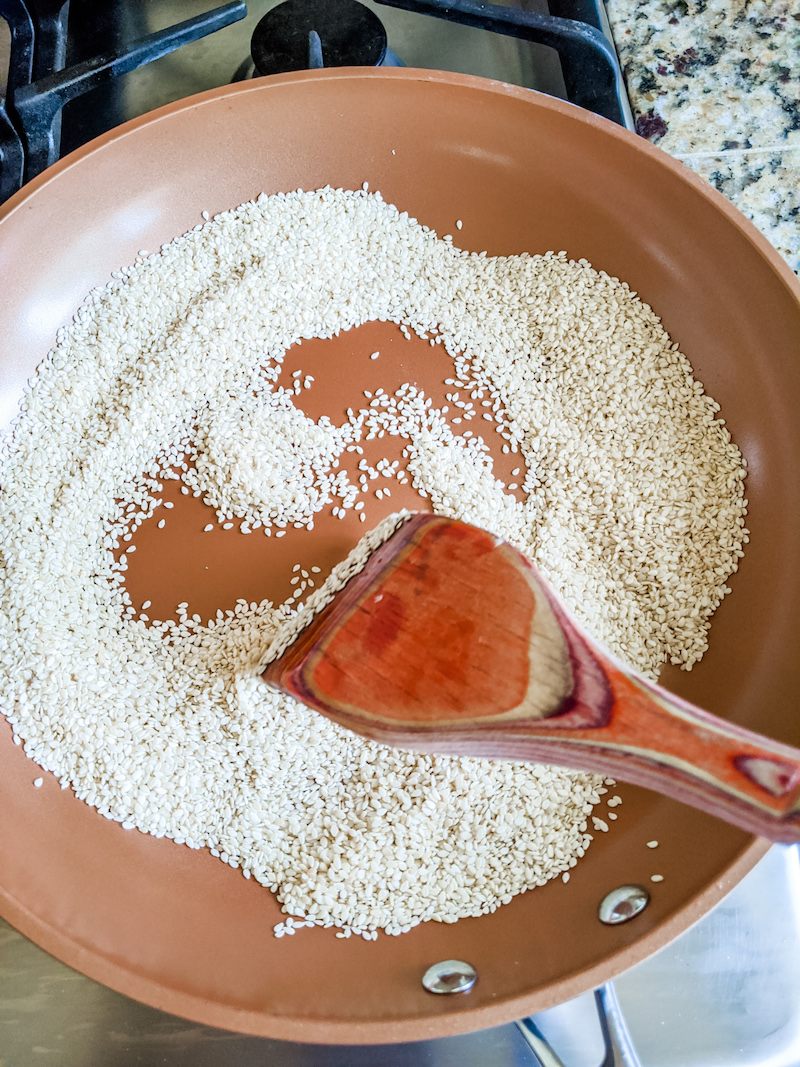 How Do You Make Benne Wafers?
Apart from the inclusion of the toasted sesame seed, benne wafers involve a pretty standard cookie-based butter.
You'll cream together the butter, sugar, and egg, then add the dry ingredients and a bit of flavoring, then fold in the toasted sesame seeds and chill before baking. It's pretty straightforward.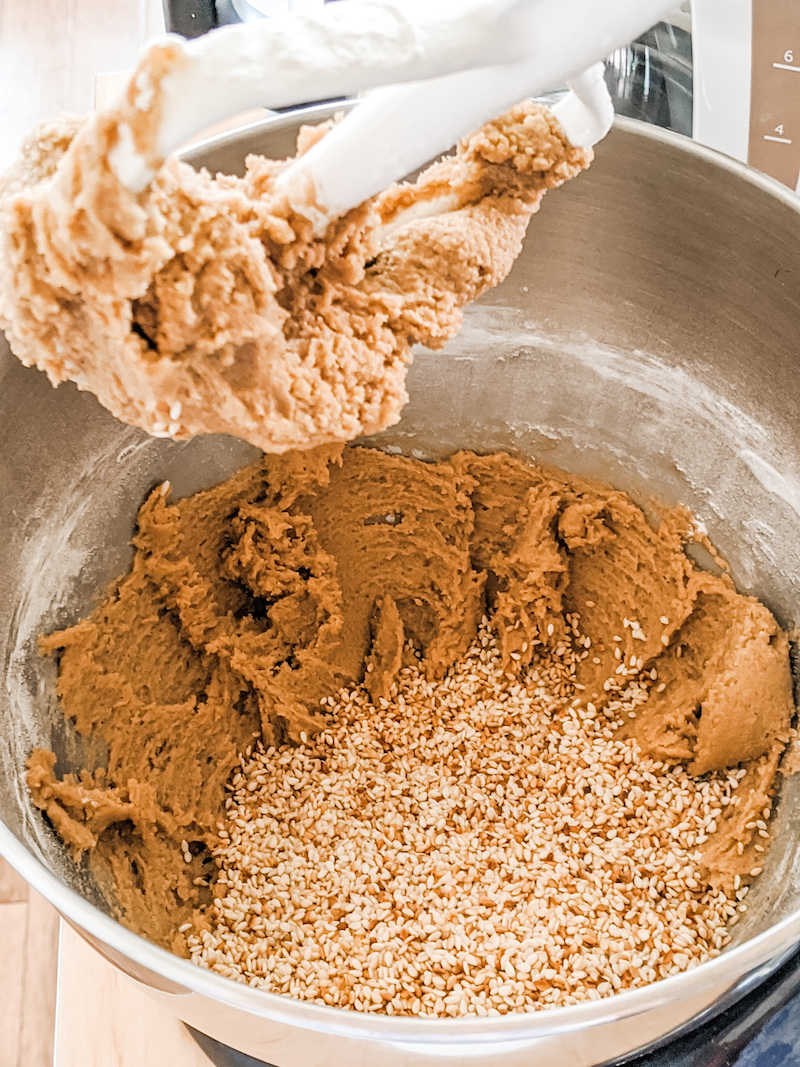 But, as I said, traditional benne wafers are quite small and the flavor is very rich. That's why I recommend measuring out level teaspoons of dough when you're baking. That way your benne wafers will be small and uniformly sized.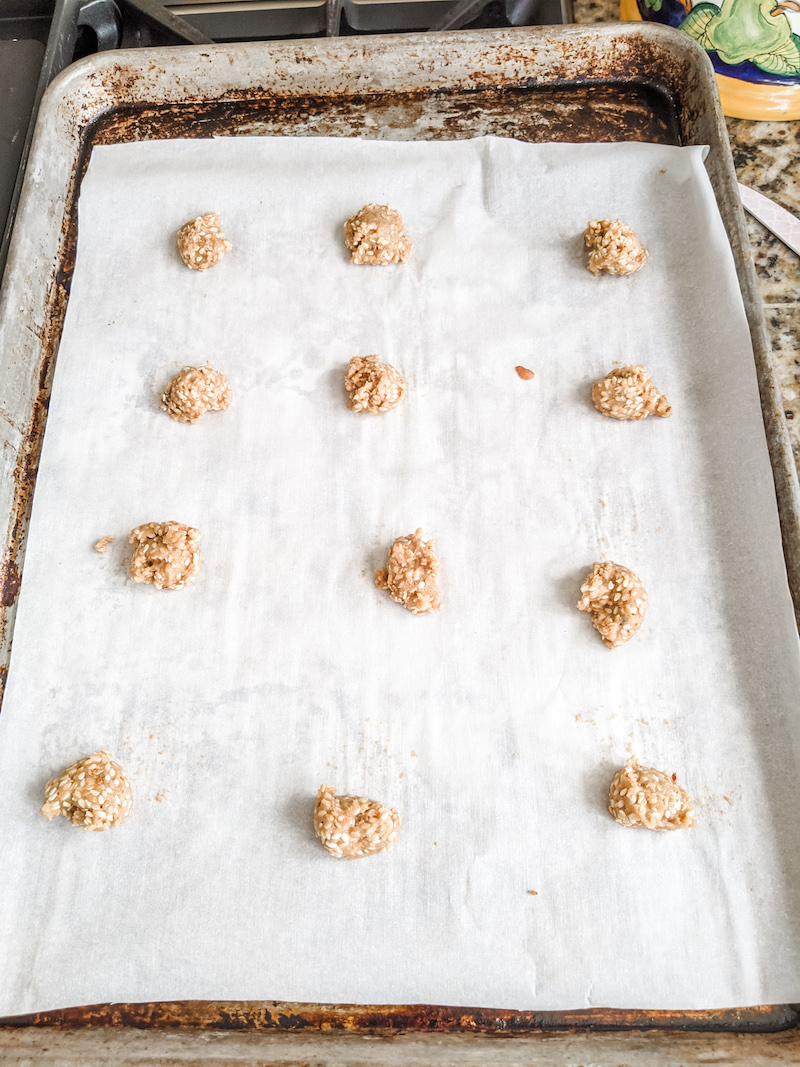 You can even go with a half teaspoon is you want. The size will probably be closer to what you'd actually find in Charleston. But hanging around in the kitchen to make 12 dozen cookies seemed extreme to me.
I baked my benne wafers for exactly nine minutes. That gave me a cookie that was crispy on the outside, but just slightly chewy when I bit into it. If you'd like a truly crisp benne wafer, add two minutes to the baking time. But I think nine minutes gives an ideal texture.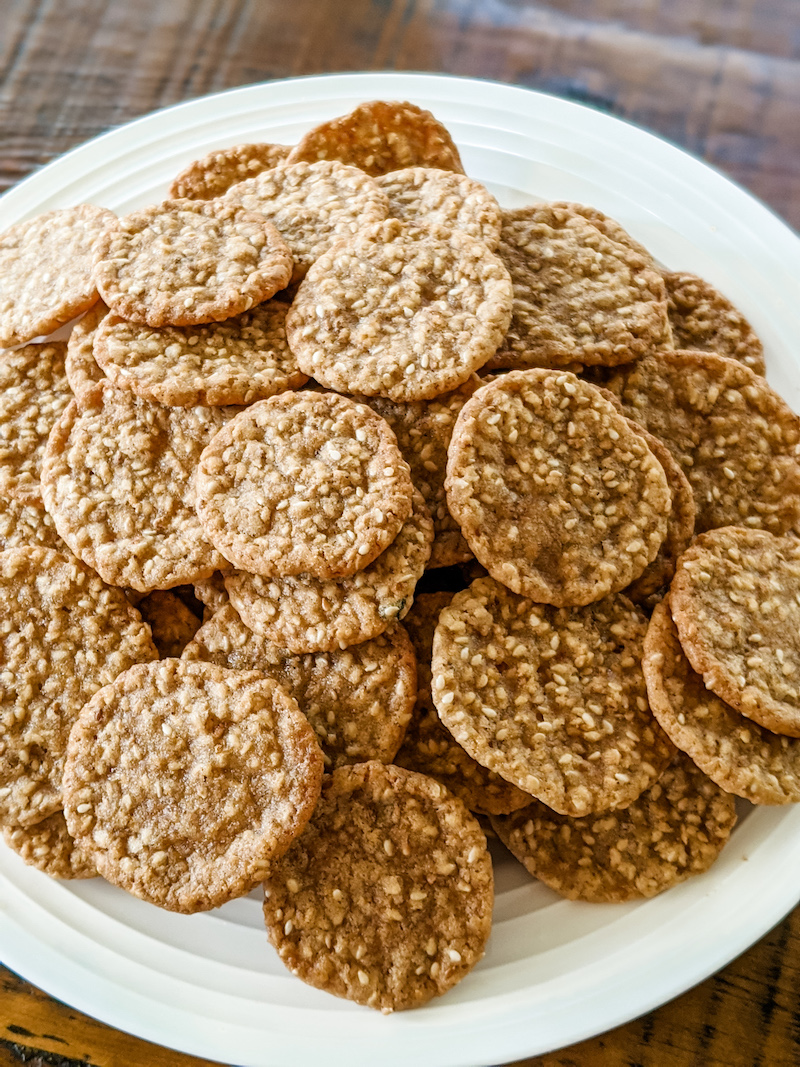 Finally, be sure to bake your benne wafers on a Silpat liner or parchment. It will make removing your baked wafer from the baking sheet a breeze.
Making benne wafers is a delicious and easy way to enjoy a taste of Charleston at home. Bake up a batch of your own today!
Print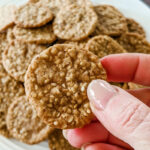 Southern Benne Wafers
---
1 cup

white sesame seeds

1 cup

brown sugar, packed

4

T unsalted butter

1

beaten egg

½ cup

white flour

1/4 tsp

salt

1/8 tsp

baking powder

1 tsp

lemon juice

½ tsp

pure vanilla extract
---
Instructions
Toast sesame seeds in dry pan (no oil) for 2-3 minutes, moving seeds around the pan constantly with a spatula, until they begin to turn light golden brown. Remove from heat and set aside.
Beat butter and sugar together using an electric or stand mixer until they are creamy and completely blended, 4 to 5 minutes. Add beaten egg and mix for an additional minute.
Place flour, salt, and baking powder in a small bowl, stir dry ingredients with a whisk or fork. Add to butter and sugar mixture. Mix until combined. Add lemon juice and vanilla. Mix to combine.
Pour toasted sesame seeds into bowl. Stir into dough by hand.
Chill dough for 30 to 60 minutes.
While dough chills, preheat oven to 325 degrees. Line a baking sheet with parchment paper.
Place level teaspoons of chilled dough onto parchment lined baking sheet, leaving room for each wafer to spread.
Place baking sheet in preheated oven. Cook for 9 minutes, until wafers are golden brown (if you prefer a crunchy water, add an additional 2 minutes to baking time.
Remove baking sheet from oven. Allow wafers to cool for 3 to 4 minutes before removing from pan.