This post may contain affiliate links. Full disclosure policy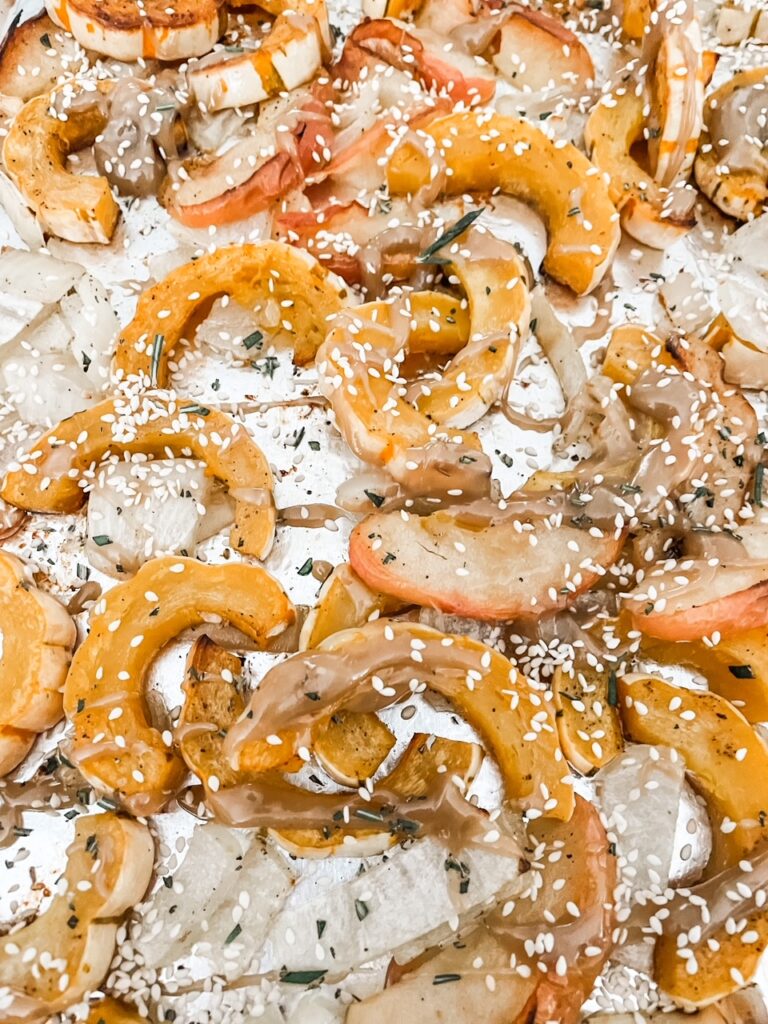 The sweet and savory combination of oven-roasted delicata squash, apple and onion is a fall favorite. The delicious drizzle of Maple Tahini sauce and herbs makes the classic even better for a unique savory apple recipe.
Delicata Squash and Apple With Maple Tahini Sauce – Updating A Fall Classic For A Savory Apple Recipe
I'm not sure if the pilgrims served roasted squash, apples, and onions at the first Thanksgiving feast, but it wouldn't surprise me.
This time of year, recipes combining mellow roasted squash, sweet-tart apples, and savory caramelized onions abound. Oven-roasted squash and apples are something of a fall classic, one I've been enjoying since I was a little girl.
But even classic recipes can benefit from a bit of jazzing up now and again.
Recently, I was perusing some mouth-watering recipes in a new Mediterranean cookbook I bought. I came across a recipe for roasted sweet potatoes with a tahini sauce.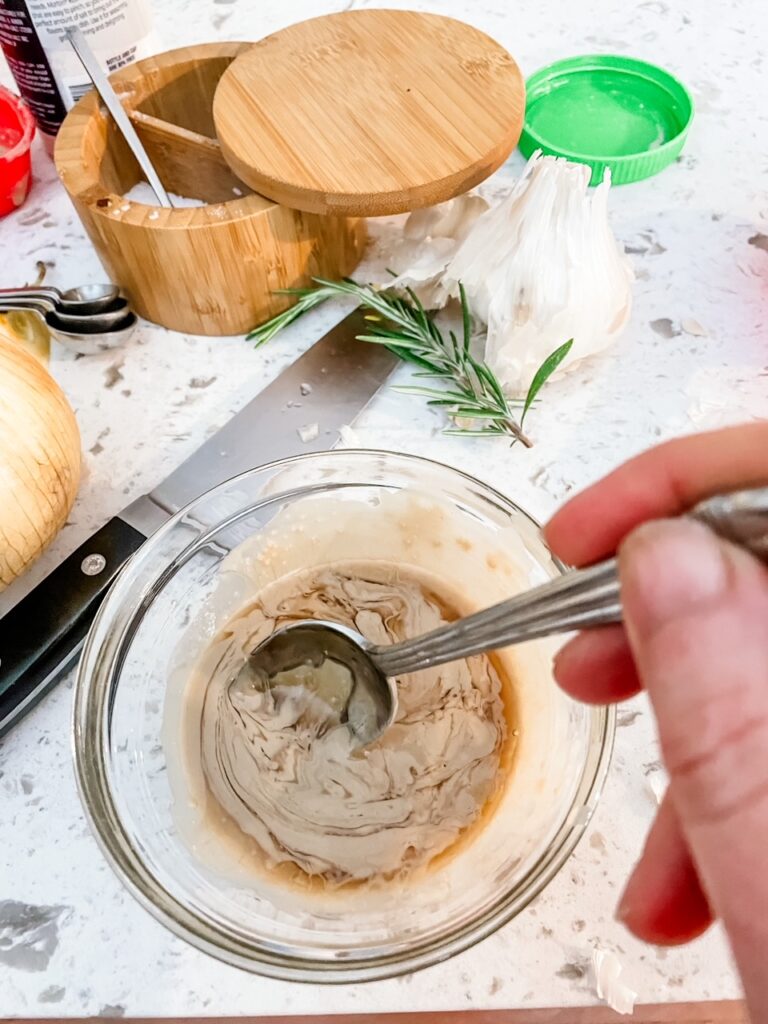 I'd already been planning to oven-roast some delicata squash and apples that day. Could a simple sauce made with the sesame flavors of tahini and a touch of sweetness from maple syrup make a dish I already loved even better?
Oh, yes. Yes, indeed.
(If case you're curious, the cookbook in question is The Mediterranean Dish. It's absolutely terrific! Every one of the dozen or so recipes I've tried so far has been just fabulous!)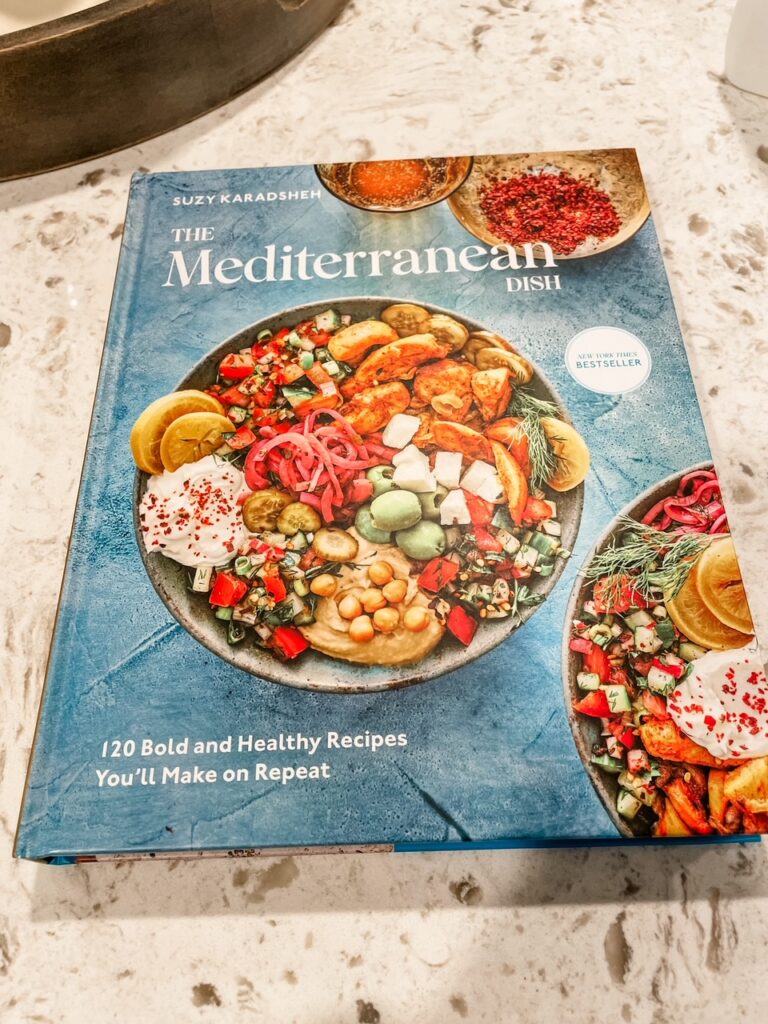 What Do You Need to Make Savory Apple Recipe: Delicata Squash and Apple With Maple Tahini Sauce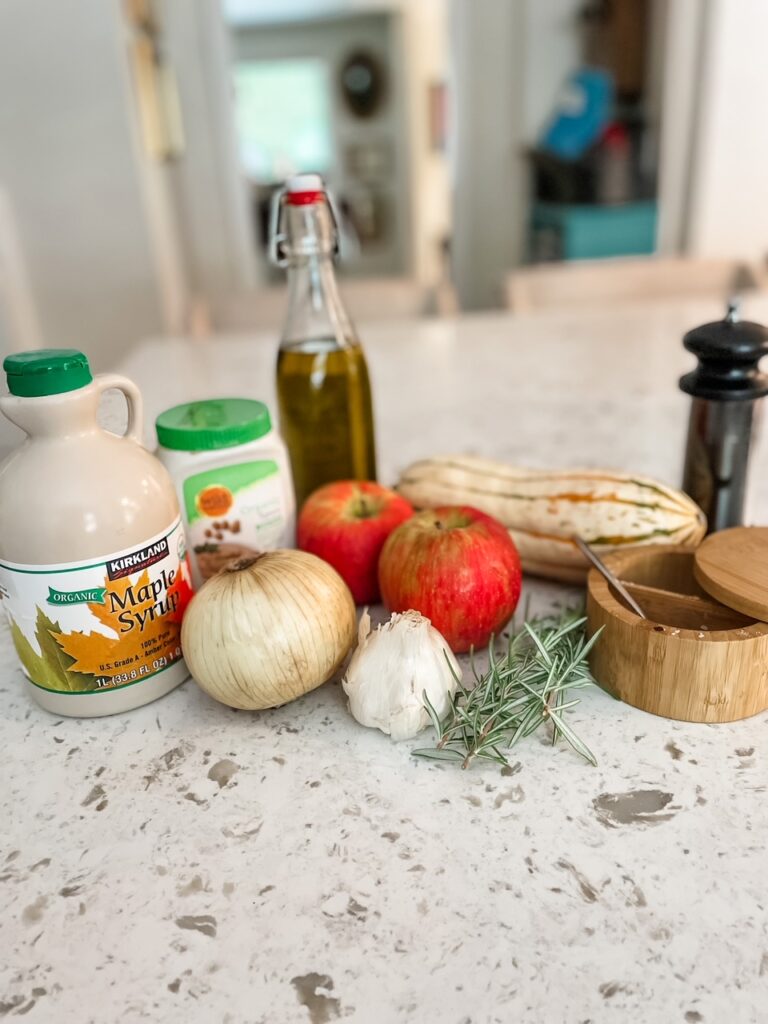 Most of the ingredients in this savory apple recipe are things you're already familiar with. But some might be new to you, so let's take a look at the list. I'll also include ideas on possible substitutions for a few of the items.
Delicata Squash – This variety of squash is becoming more popular and easier to find in supermarkets. It's my all-time favorite squash. The flesh is tender after roasting and has a mellow, slightly sweet flavor. But the very best thing about delicata squash is the skin. It's so delicate that you don't have to peel it. I'm guessing that's where the name came from. If you can't find delicata squash, you could substitute peeled butternut squash. But delicata squash is worth seeking out. If you don't see it in your market, ask the produce manager about it.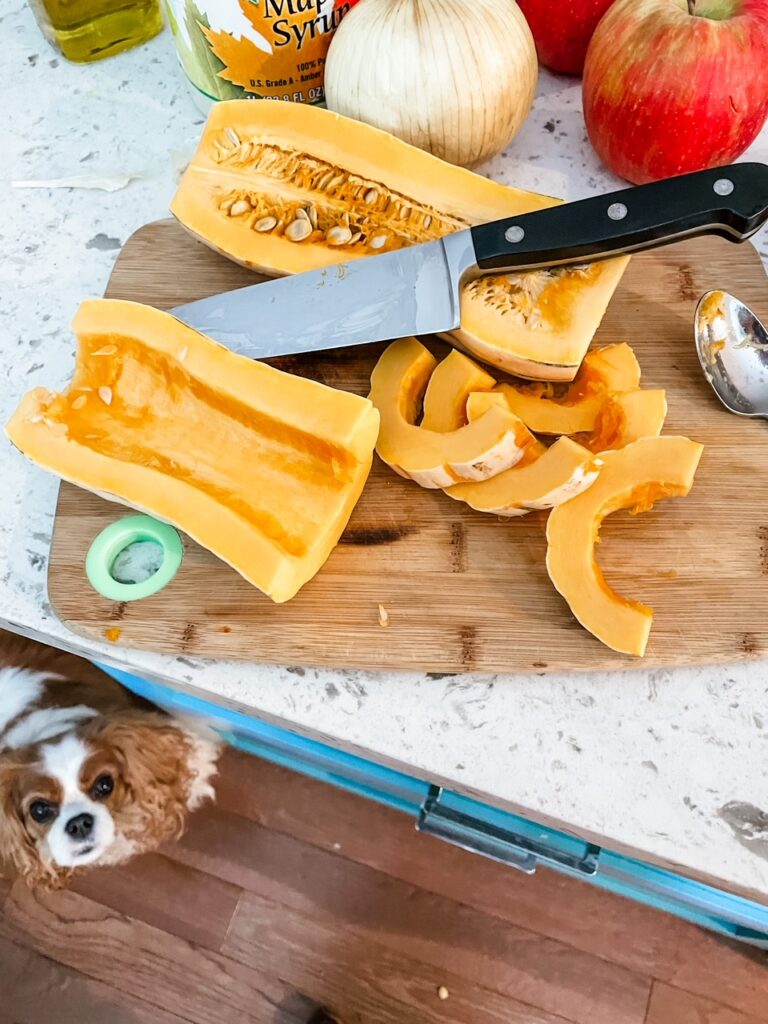 Apple – I used honeycrisp apples in my recipe but, honestly, any nice big apple will do. Granny Smiths would be a good choice if you want to bring in a bit of tart flavor.
Onion – Any onion – yellow, white, or red- will work. My preference is for yellow.
Tahini – Tahini is a thick paste of ground sesame seeds that is a common ingredient in Middle Eastern food. The consistency is a little like natural peanut butter. You'll have to stir it so the oil is mixed in properly. You may find it in the foreign food aisle of your market, but it might also be shelved with peanut butter. If you can't find it, ask a clerk.
Maple syrup – Use real maple syrup for this recipe, not the fake stuff. (IMHO, you should never, ever use the fake stuff.) You could substitute honey. Just remember that doing so would mean that this dish is no longer vegan.
Olive oil – Use extra virgin olive oil. You could use vegetable oil in a pinch.
Rosemary – It's one of my favorite herbs, and I think it adds a lot to the dish. However, if you just don't like rosemary, you could substitute fresh thyme or even chopped parsley.
Sesame seeds – Not absolutely necessary, but a nice addition. You could sub a sprinkle of chopped pistachios or cashews too.
Delicata Squash and Apple with Maple Tahini Sauce was among the dishes I tested out on a group of friends recently. It was a big hit and will be making an encore appearance on our Thanksgiving table this year. Looking for more delicata squash recipes? Check out my other delicata squash recipes here.
I'm sure your family will love this savory apple recipe, too. Give it a try soon!
Print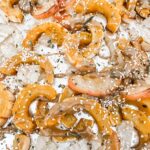 Savory Apple Recipe: Delicata Squash and Apple with Maple Tahini Sauce
---
Author:

Yield:

4

-

6

servings

1

x
1

large delicata squash, seeded and sliced into half moons

1

large apple, cored and sliced

1

large yellow onion, cut into chunks

2

T extra virgin olive oil

1/3

c tahini

1

T maple syrup (can substitute honey)

2 tsp

water
Kosher salt
Pepper

2

T chopped rosemary

3

T toasted sesame seeds
---
Instructions
Preheat oven to 425. Cover a rimmed baking sheet with foil. Place squash, apple and onion on baking sheet. Drizzle on olive oil, mixing with spoon or hands to coat ingredients. Spread into an even layer in the pan and sprinkle with approximately ½ tsp salt and a few grinds of pepper.
Roast veggie/apple mixture in preheated oven for 20 minutes. Remove from oven and flip squash and apple over. Roast for an additional 10 minutes. Remove from oven.
While veggies are cooking, mix tahini, syrup, and 1-2 tsp water of water together in a small bowl. After removing pan from the oven, drizzle tahini sauce over roasted squash and apple. Sprinkle with chopped rosemary and sesame seeds. Serve immediately.