This post may contain affiliate links. Full disclosure policy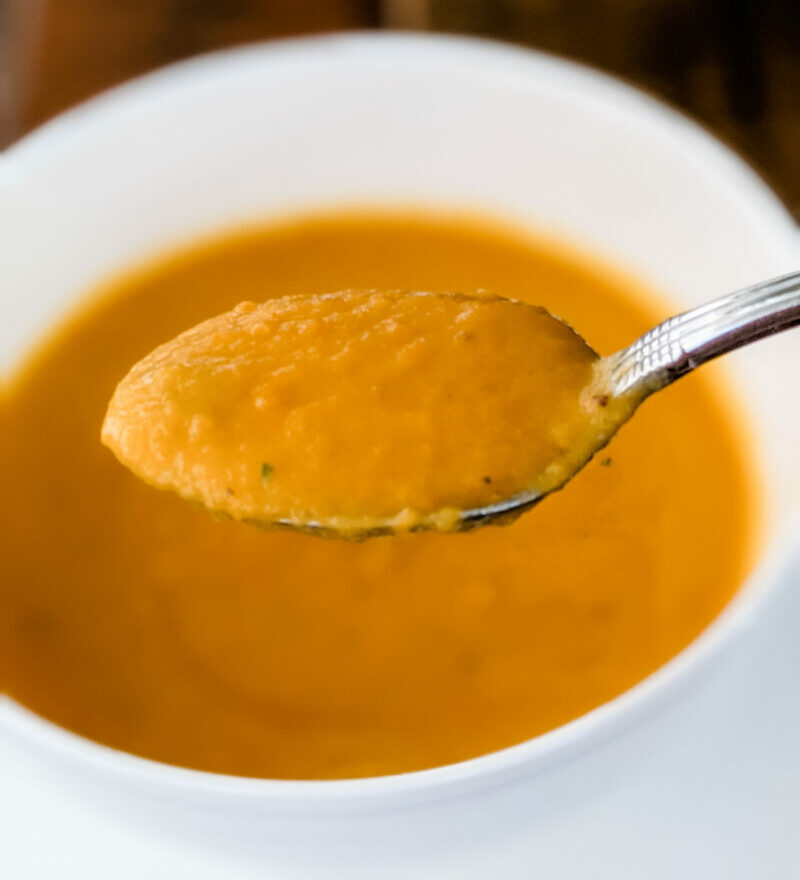 With a velvety texture and a beautiful balance between savory and sweet, a bowl of Carrot Pear Soup is a perfect lunch for cold winter days. And since you make it in the slow cooker, my Carrot Pear Soup is easy to make and ready when you are!
The Carrot Conundrum
It's winter and my monthly share from my local organic farmer is all about root vegetables right now, especially carrots. So. Many. Carrots.
Fortunately, I happen to love carrots. But still. We're talking a LOT of carrots here. And there's only so many crudites a person can eat, right?
Carrot Soup is the Answer
Unlike crudites, soup is something I never get tired of eating. There are just so many great options to try when you're making soup, endless recipes and variations on the classics. And especially in winter, a bowl of hot soup is my go-to lunch choice.
But one of the things I love most about soup is how easy it is to make. Like everybody else, I'm busy. Being able to enjoy quick and healthy lunch of soup that simmered in the slow cooker soup overnight or all morning makes life better, easier, and less stressful.
And soup is such a great way to use up leftovers of those somewhat too plentiful vegetables – including carrots.
Carrot Pear Soup – A Delicious Variation on a Theme
I've made a lot of carrot soup in my day. I've made carrot and tomato soup. I've made a lot of carrot and apple soup too. It's a really good combination.
But when getting ready to use up some of my farmer's bounty of carrots in soup recently, I noticed several ripe pears in the fruit bowl and thought, why not? If apples can work with carrots, maybe pears could too?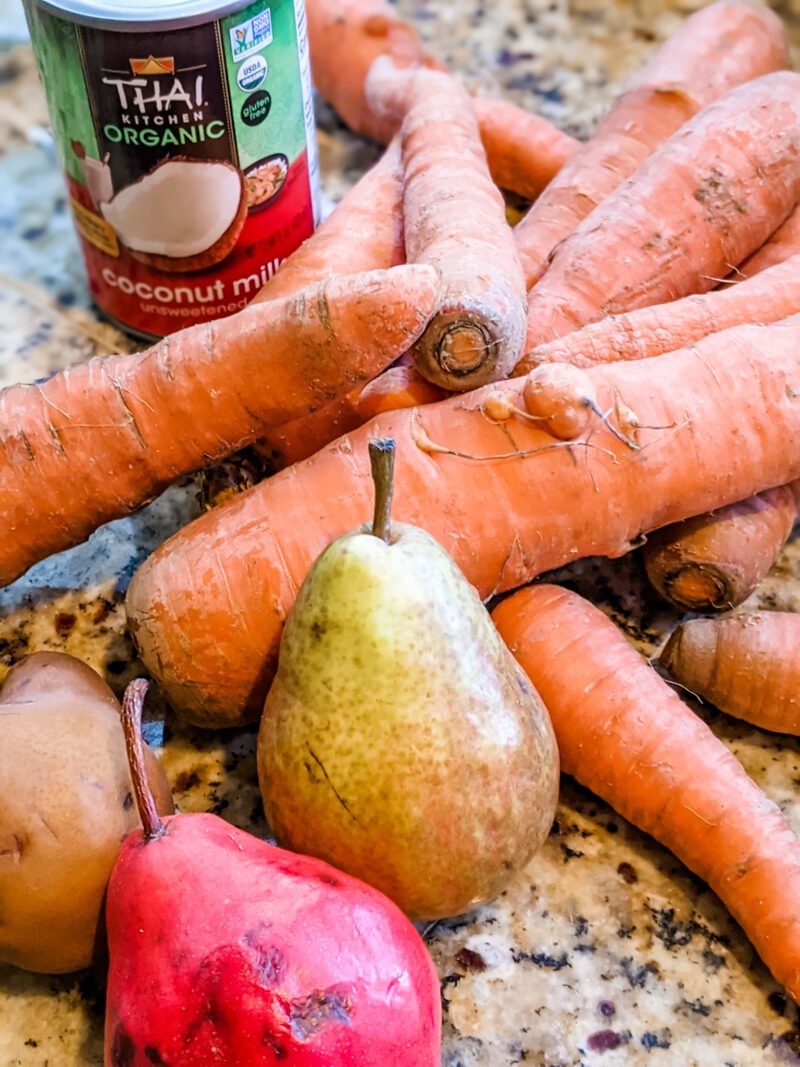 Yes, indeed they can! Very deliciously, as it turns out.
Pears add a touch of sweetness to carrot soup that's a little more subtle than apples, letting this healthy, loaded with vegetable velouté lean a little more toward the savory than the sweet. I really love this flavor profile.
I added pears to this pottage simply because I had them on hand, but the result was delicious and worth repeating. Next time, I'll be adding pears to my carrots soup on purpose.
Another little addition that helped add some complexity to my carrot pear soup was pouring a can of coconut milk in with the broth. It brings a lovely creaminess to the soup and a hint of Asian flavor.
If you're watching your weight, use lite coconut milk instead of regular. It won't be quite as creamy but the flavor will be wonderful.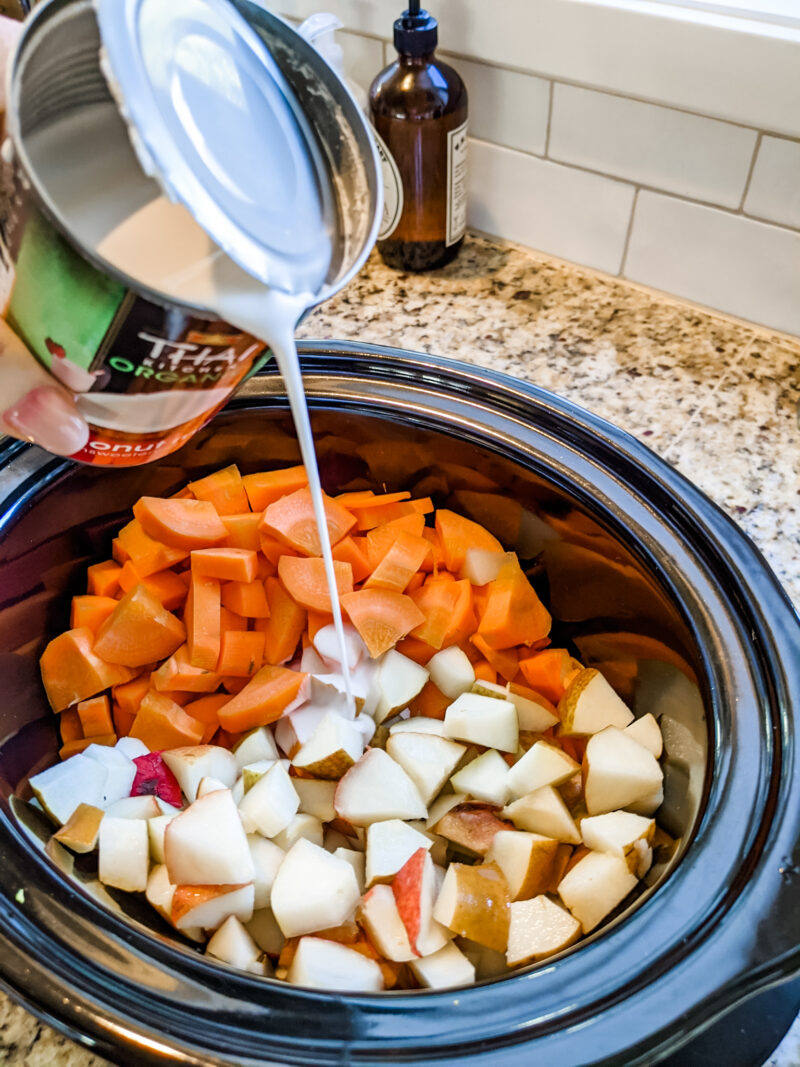 Spice Options for Carrot Pear Soup
Because I enjoy a little spicy heat, I added some cayenne to my carrot pear soup in addition to the usual salt, pepper, and bay leaf. However, if you're not a fan of hot and spicy foods, you can leave it out or substitute another spice.
Here are some possibilities…
1-2 teaspoons of curry powder
1 teaspoon of ground ginger
½ teaspoon of ground nutmeg
Or try experimenting with your own combinations! There are lots of possibilities.
Slow Cooker Love
Carrot Pear Soup is so easy to make. The only real hands-on cooking required involves sauteing the onions in some coconut oil or butter before dumping the onions and other ingredients in the slow cooker.
I think cooking the onions beforehand is definitely worth the trouble. That lovely taste of caramelized onion adds a lot. But if you're just slammed for time, you can just toss the raw onion in the slow cooker with everything else. It'll still taste good – just not quite as good.
I really do prefer the taste (and aroma!) of a soup that's simmered slowly for hours and hours in the slow cooker. But if you're in a rush, you can make my carrot pear soup on the stovetop. Just simmer the ingredients for about half an hour, then use an immersion blender to make the puree.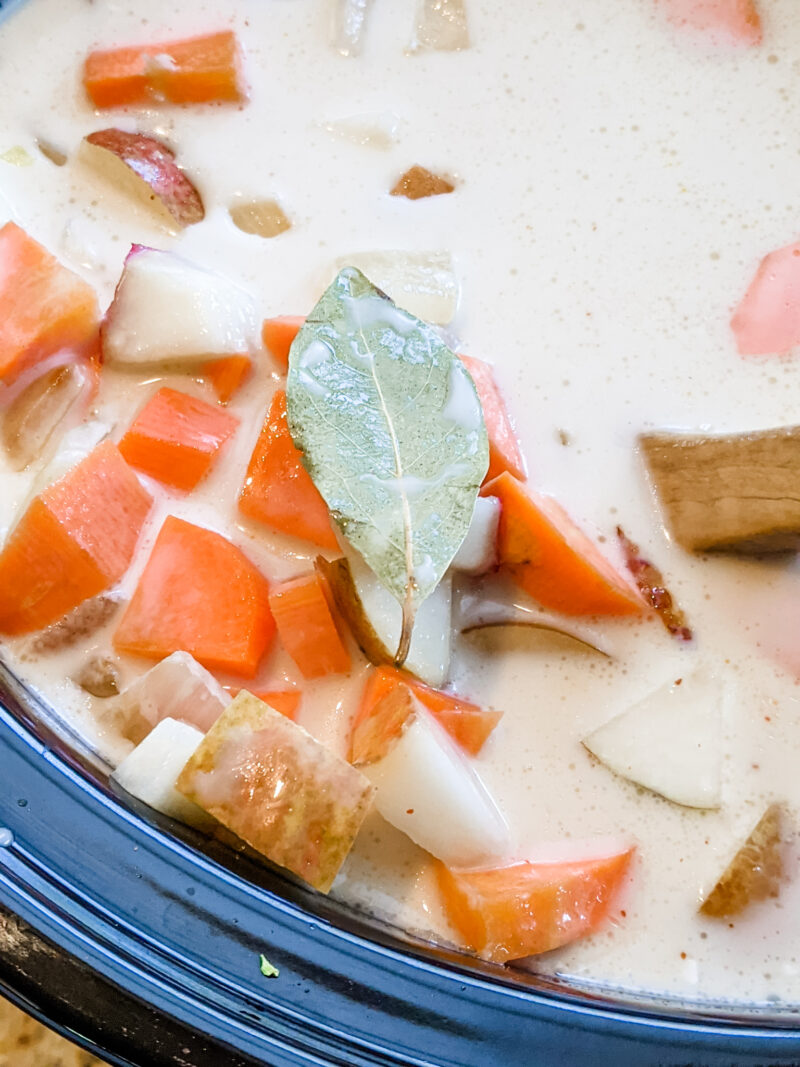 A Bright Spot in the Cold of Winter
Whether you follow my instructions to the letter or change it up and make it your own, a hot bowl of rich, velvety carrot pear soup is the perfect lunch and a great way to brighten up a winter day. Try it this week!
Print
Carrot Pear Soup
---
Author:

Yield:

6

-

8

servings

1

x
1

large yellow or white onion, peeled and diced

1

T oil (coconut, olive, or butter)

2

lbs carrots, peeled and sliced

1

lb ripe pears, peeled and diced

1

can coconut milk (regular or lite)

4 cups

broth (chicken or vegetable)

1

bay leaf

¼ tsp

cayenne pepper (may substitute other spice, see post for suggestions)

1 tsp

kosher salt

½ tsp

fresh ground pepper
---
Instructions
Cook onions in oil on stovetop over medium high heat until they're soft, translucent, and just beginning to brown, 5 to 7 minutes
Place cooked onions and all other ingredients in slow cooker. Cook on low heat setting for 8 hours, or high for 4.
Use an immersion blender to puree soup. (Alternatively, puree in batches in a countertop blender, taking care not to burn yourself with hot soup).
Taste soup and adjust spices as desired.