This post may contain affiliate links. Full disclosure policy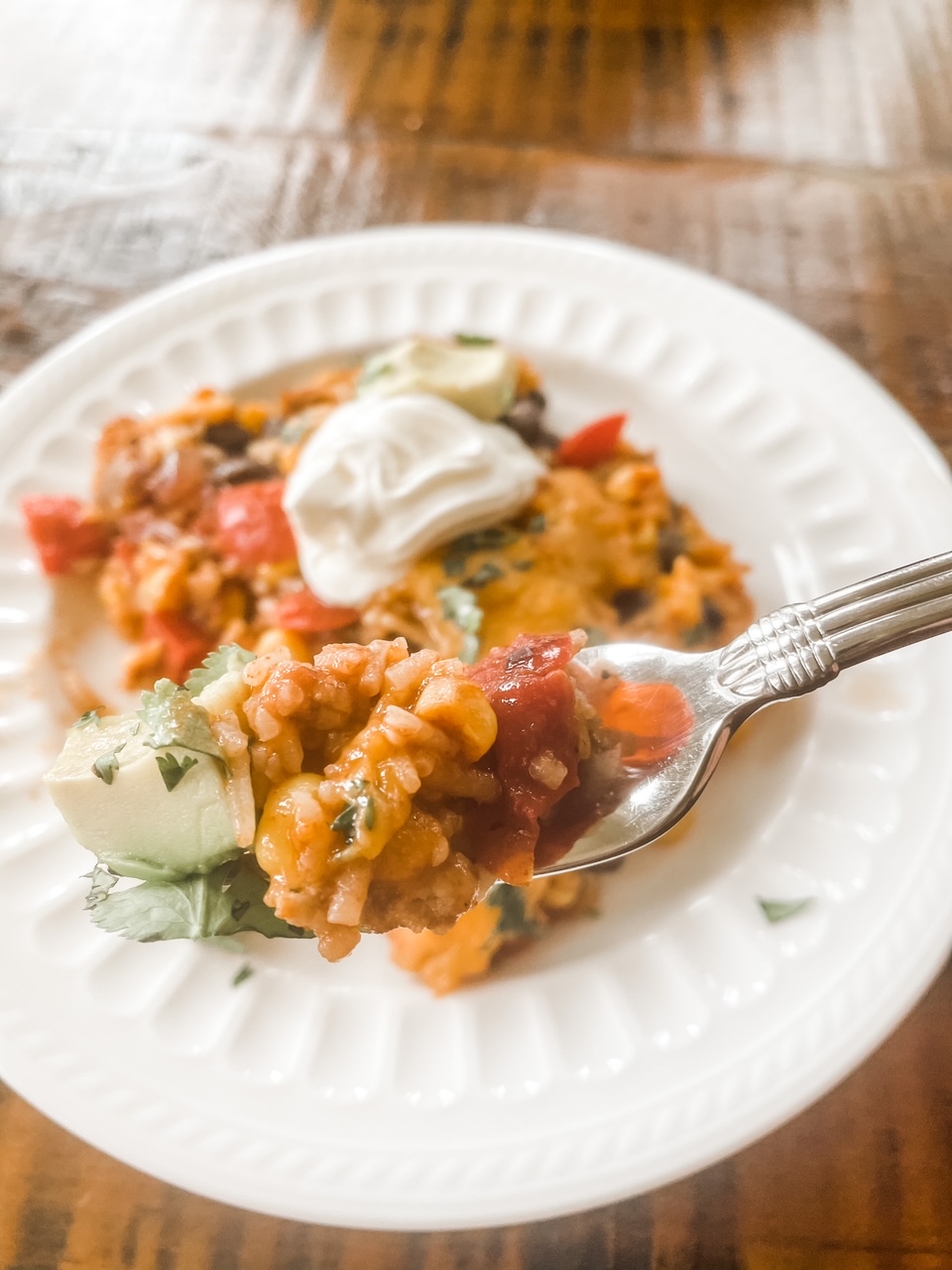 My Mexican Chicken Casserole is like a chicken burrito on a plate! With plenty of veggies, healthy proteins, and whole grains, it's a one-dish, dinnertime winner the whole family will love!
Seven Layer Dip Inspiration
Okay, I know it's not football season but let's talk about the Superbowl for a second.
Unless your team is playing, there are really only two reasons to watch the Superbowl – the commercials and the game day food. To be honest, I am much more interested in the food than the commercials.
One of my very, very favorite game-day snacks is seven-layer dip. I love that stuff! How could I not? It's got cheese, beans, salsa, avocados, sour cream. I mean, what's not to love, right?
And even though football season is months away, I was thinking that yummy dip last weekend. I decided to see if I could come up with a layered Mexican casserole that was somewhat similar.
Well, as a matter of fact, I could. And it's really good!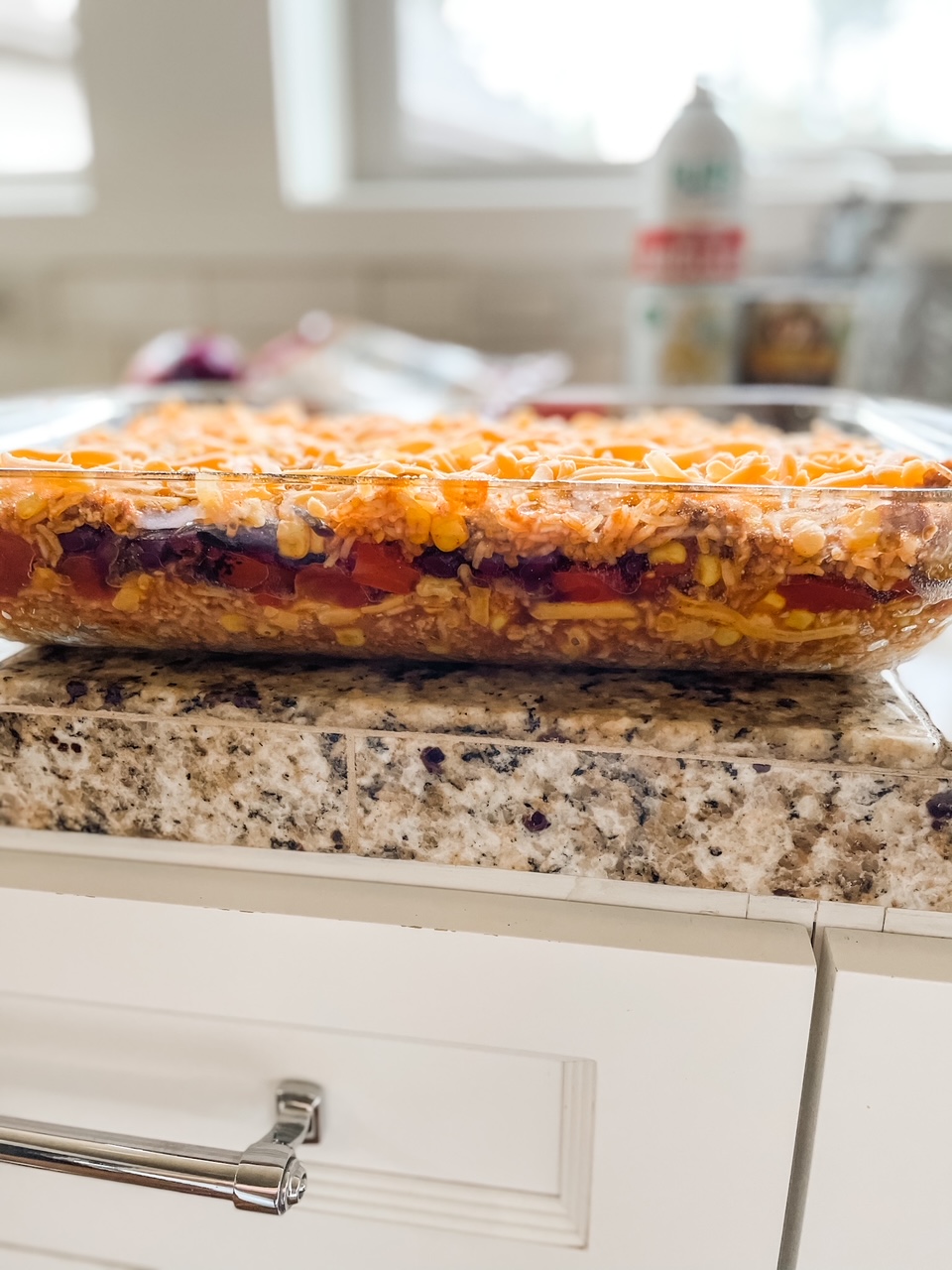 Mexican Chicken Casserole: Tex-Mex Taste In a Casserole
This Mexican Chicken Casserole has all the flavors of your favorite Mexican restaurant in one easy-to-make recipe.
However, I do want to make it clear that this casserole based more on Tex-Mex flavors than authentic Mexican food. I lived in Mexico for several years and I can tell you that real Mexican cuisine is very different from the dishes that are served in most US-based Mexican restaurants.
What we eat north of the border is more "Mexican-style" or "Tex-Mex". But it's still really good! And all those Tex-Mex flavors make a really tasty casserole.
Whoops of Joy and Happy Dancing
I don't know if you could hear the shouts of joy emanating from my house where you live last Friday night? Well, trust me. There were, indeed, shouts of joy. And a certain amount of happy dancing.
Why? Because at 7:55 pm Pacific Time, I sent the completed draft of my next novel to my editor. Hooray!!
What does that have to do with my Mexican Chicken Casserole? Well, honestly, not that much. I just felt like telling you. Honestly, I felt like telling EVERYBODY! It's my 20th novel and I'm just so happy to have it done!
Though, I guess finishing the book relates a little bit to my Mexican Chicken Casserole. I've been busy writing that we'd pretty much lived on turkey sandwiches and takeout for the previous week.
It felt great to get back into the kitchen on Saturday! My husband had been a really good sport about all the turkey sandwiches, so I wanted to make a really good dinner. And according to him, I succeeded.
When I gave him a test bite, he let out a happy groan and asked for a plate.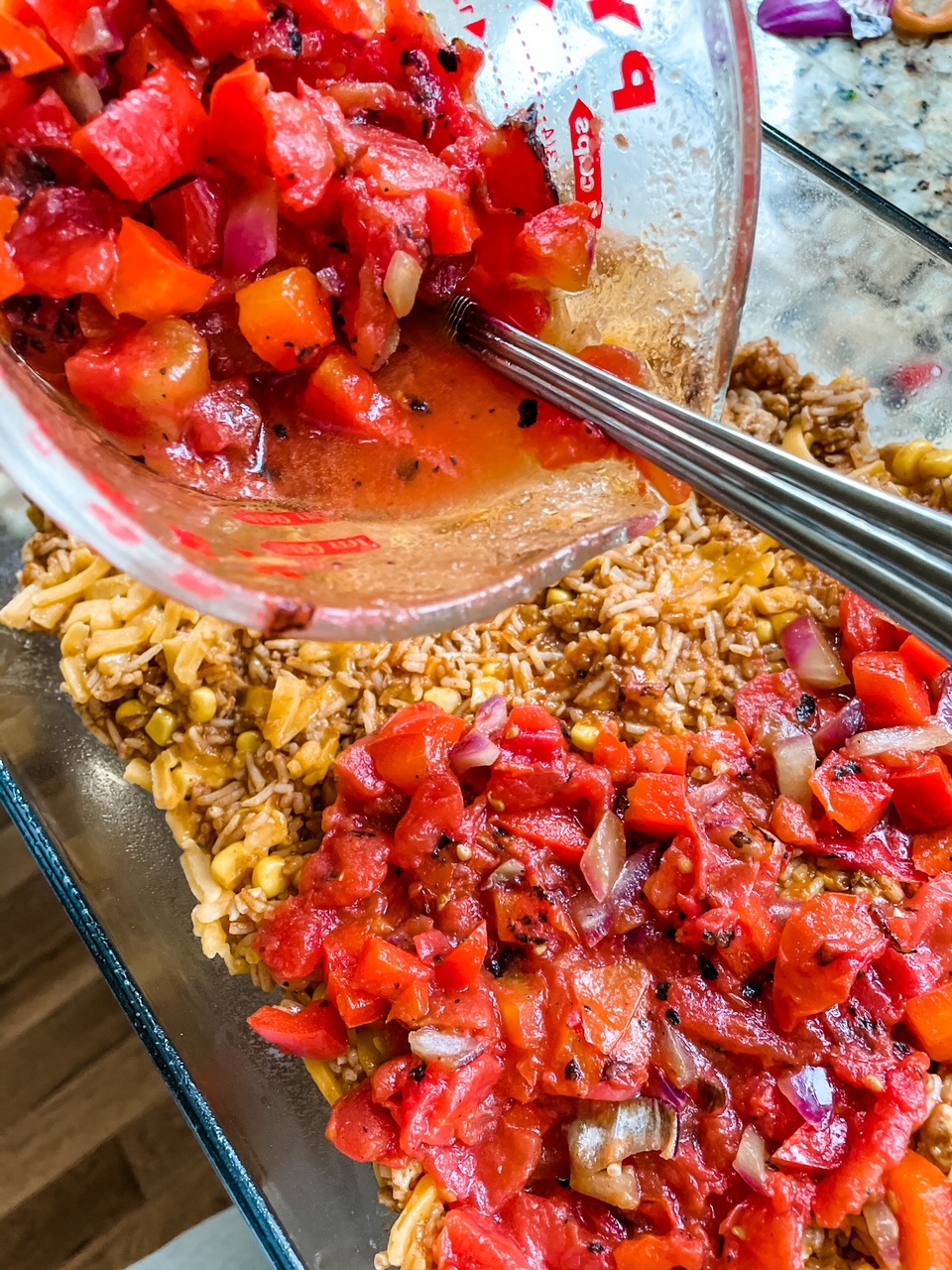 Mexican Chicken Casserole: Healthy and Hearty
When I'm busy (and I still am! I had two weeks of email to and all kind of catch up to deal with) I really love a one-dish dinner. And this Mexican Chicken Casserole definitely ticks off that box.
Lean ground chicken and black beans give it plenty of healthy protein. It's got lots of veggies too – bell pepper, red onion, canned tomatoes, corn, and avocado. Some delicious sharp cheese gives you dairy and protein. It also includes rice, my favorite whole grain.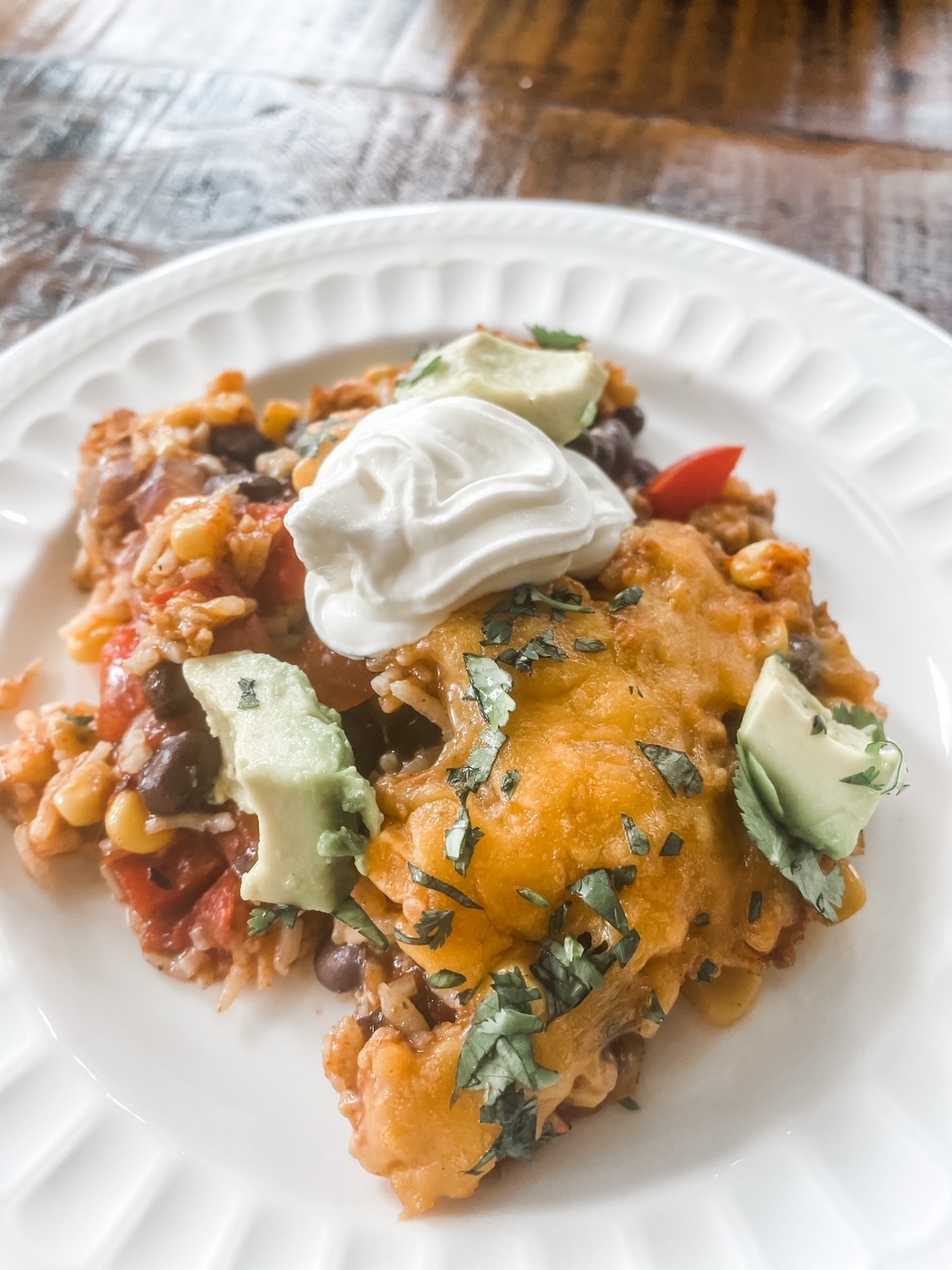 You can definitely serve my Mexican Chicken Casserole with a salad, corn chips, or cornbread if you want to. But with all four food groups in one dish, it's a hearty and healthy meal all by itself.
Don't be intimidated by the ingredient list! My Mexican Chicken Casserole uses pantry staples you probably already have on hand. It's also very easy to prepare. In about half an hour, dinner will be served!
Choose Your Spice Level – And Your Protein
My husband doesn't like spicy foods. That's why I used mild enchilada sauce, fire-roasted tomatoes with jalapeno, and taco seasoning for my Mexican Chicken Casserole.
If your family likes more heat, use a medium or hot enchilada sauce, and consider substituting Ro-Tel original or hot tomatoes for the fire-roasted version. It's got a nice kick! And instead of taco seasoning, you could add a few dashes of Tabasco sauce when you're cooking the chicken.
I really love using ground chicken in this recipe, but ground beef or turkey would be great too. And for a vegetarian version, leave out the chicken entirely and add an extra can of black beans.
You can also use brown rice instead of white if you prefer.
Print
My Mexican Chicken Casserole
---
Author:

Yield:

8

Servings

1

x
1

T oil

½ cup

red onion, chopped

1

bell pepper, seeded and diced (red, green, or yellow)

14 oz

can fire roasted tomatoes with jalapeno, well drained

1

lb ground chicken

2

T taco seasoning

3 cups

cooked white rice

14 oz

can whole corn kernels, drained

10 oz

can enchilada sauce

2 cups

sharp cheddar, divided

15 oz

can black beans, well drained

1

avocado, diced

¼ cup

fresh cilantro, chopped

2

T sliced black olives (optional)
Light sour cream for serving
---
Instructions
Preheat oven to 350
Add oil to a skillet and cook onion and bell pepper for about 3-5 minutes over medium high heat, until onion is soft and translucent. Remove cooked vegetables from skillet and place in a medium sized bowl. Add the canned tomatoes to the bow and stir to combine.
Cook chicken in the same skillet over medium high heat until no pink remains. Add rice, corn, taco seasoning, and enchilada sauce to pan. Lower heat to medium and allow to simmer for about 2-3 minutes.
Layer half the chicken and rice mixture into the bottom of a lightly oiled oven proof casserole dish (9 x 13 size approximately). Sprinkle 1 cup the cheese over the rice. Layer the tomato mixtures over the cheese, then layer the drained can of black beans over the tomato mixture. Cover with the remaining chicken and rice mixture. Top with remaining cheese.
Place casserole in the preheated oven, uncovered, for 15 minutes.
Remove casserole from oven, sprinkle chopped cilantro, diced avocado, and olives (if using) over the top of the casserole. Serve with a dollop of light sour cream.