This post may contain affiliate links. Full disclosure policy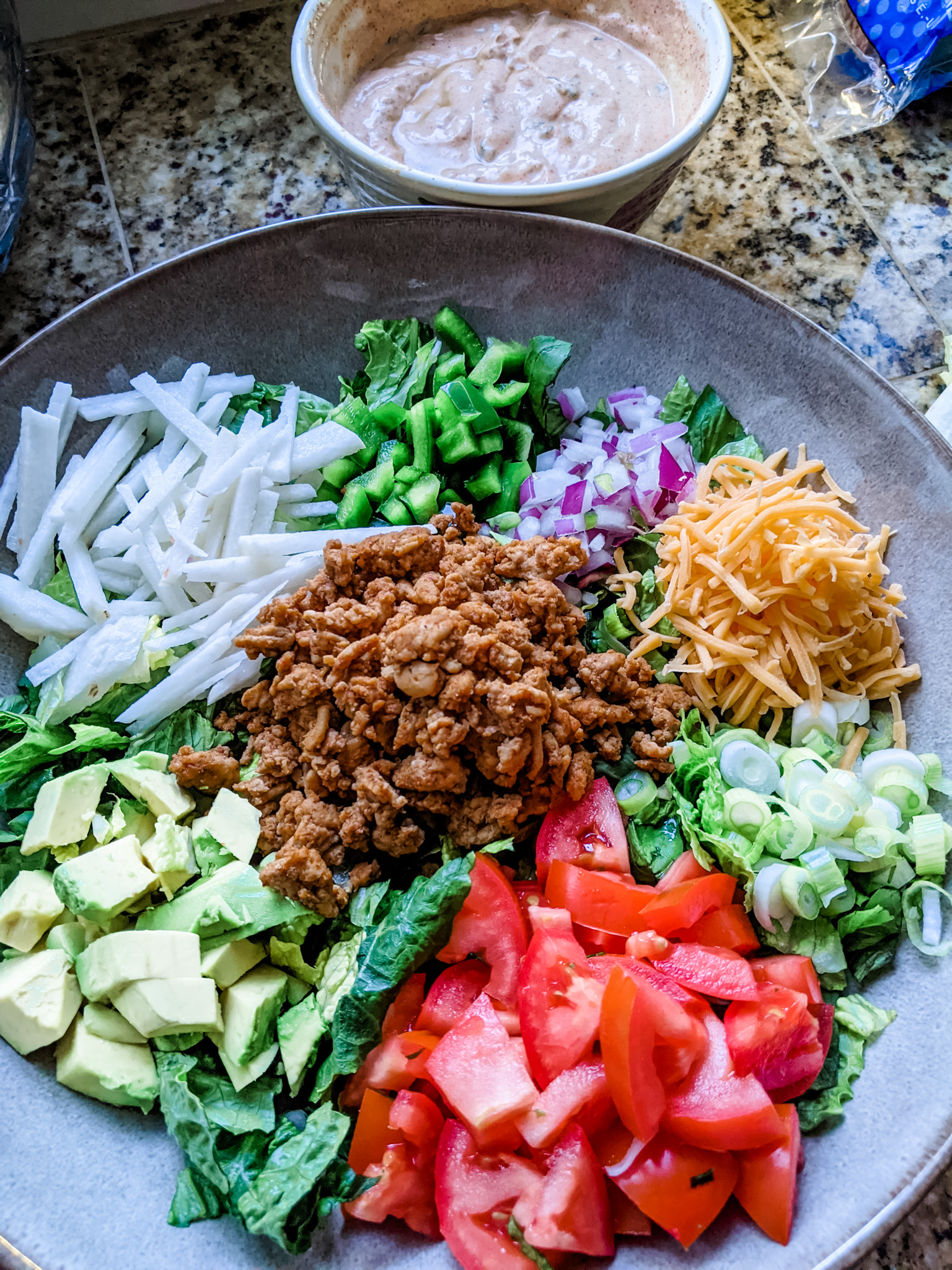 My Best Chicken Taco Salad is hearty enough to serve for dinner and looks as good as it tastes! It's a healthy, delicious, and quick to make dinnertime solution the whole family will love!
Main Dish Salad with a Southwestern Flair
If you're trying to focus on healthier eating, main dish salads are definitely the way to go!
However, during the winter, I don't eat salad as often as I could. Cold weather makes me want to tuck into a meal that's hot, hearty, and filling. But my Best Chicken Taco Salad ticks off all those boxes and then some!
It's piled with loads of tasty and filling vegetables, plenty of lean, high-protein chicken, and a little cheese to make it extra satisfying. Basically, it's a taco on a lettuce bed but even healthier.
And even prettier!
Seriously, could this salad be any more beautiful?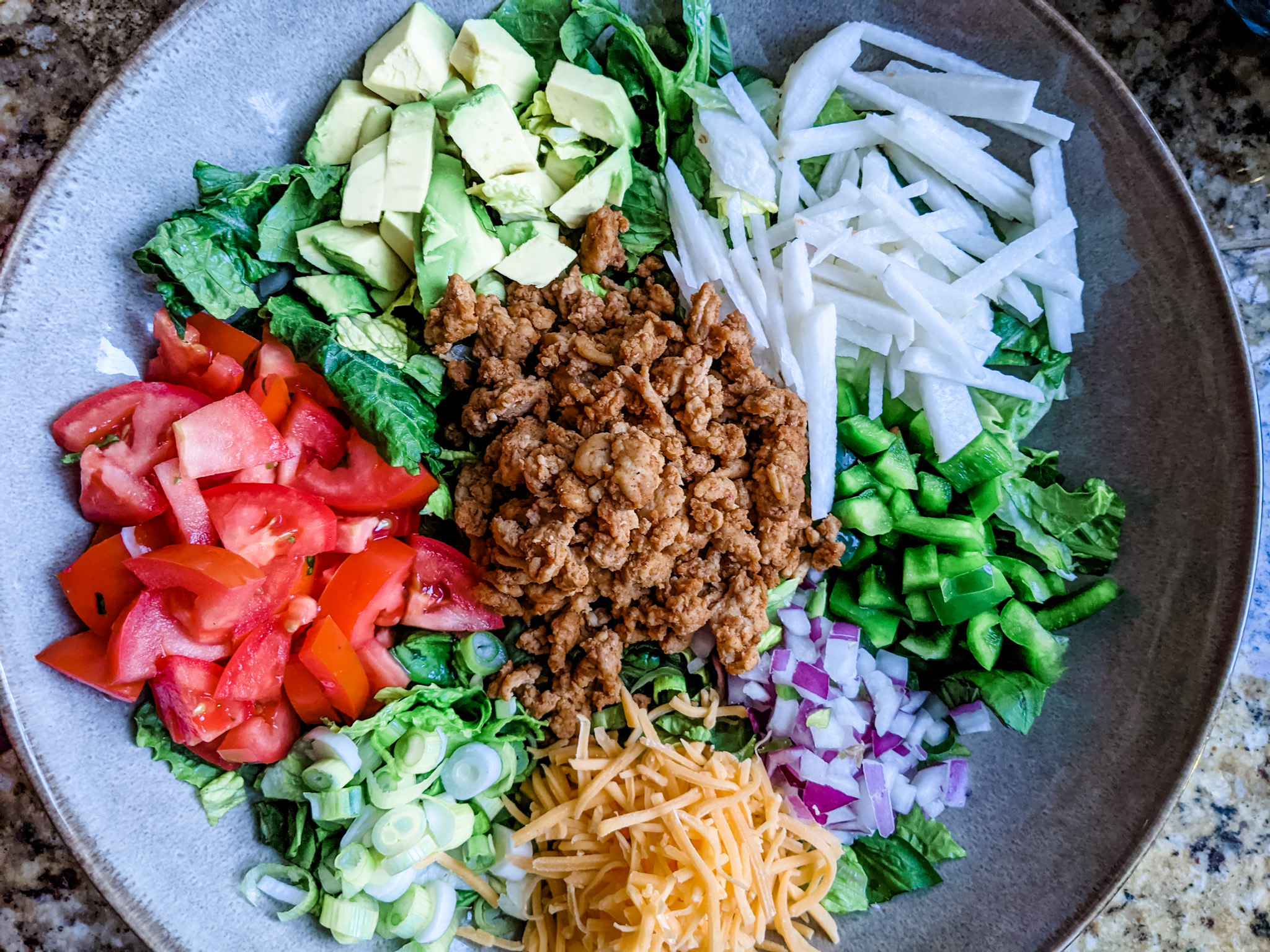 Be sure to bring it to the table like this, with each colorful ingredient piled on top of the greens before you toss it. You definitely want to give everybody a chance to ooh and ahh over this, the world's most gorgeous Chicken Taco Salad.
And topping the whole thing with my Lighter Southwestern Buttermilk Ranch Dressing takes this already delicious salad to new heights of fantastic southwestern flavor! Add a few tortilla chips and you've got a healthy dinner that every member of the family will love.
So beautiful! And so good they'll never realize how good it is for them!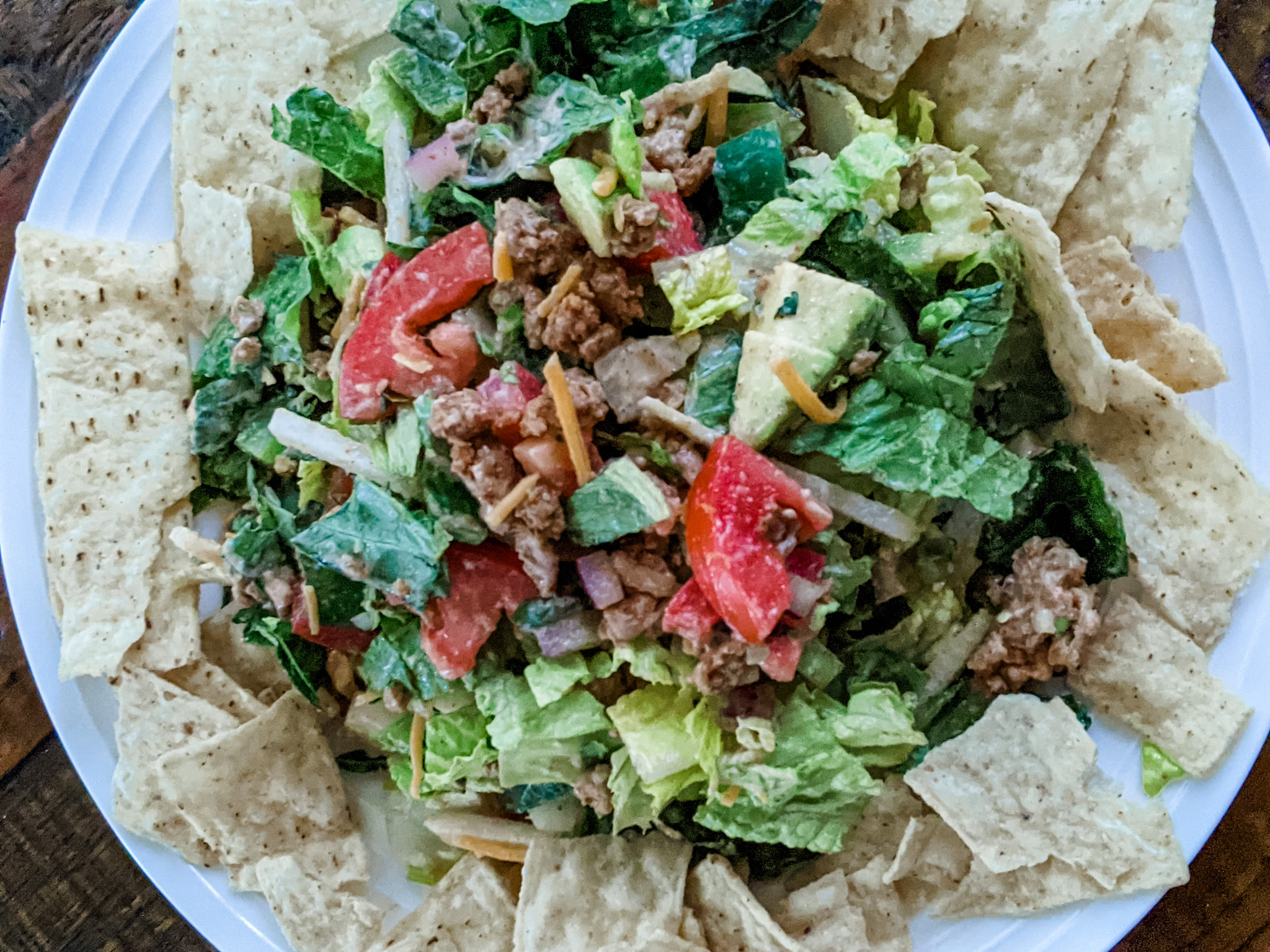 My Best Chicken Taco Salad is Easy to Make Ahead
There are times when I'm perfectly happy to spend hours in the kitchen. But when I'm busy (and that's most of the time) I'm looking for a dinner that can be pulled together quickly – without looking like it.
My Best Chicken Taco Salad ticks that box too. All you have to do is peel and chop the vegetables, cook the chicken, toss, and enjoy.
On those crazy days when you're not sure when the family will be ready to eat, you can prep most of the vegetables ahead of time and cook the chicken at the last minute. But wait until the last minute to add the avocado. Otherwise, it may start to turn brown, which won't look very appetizing.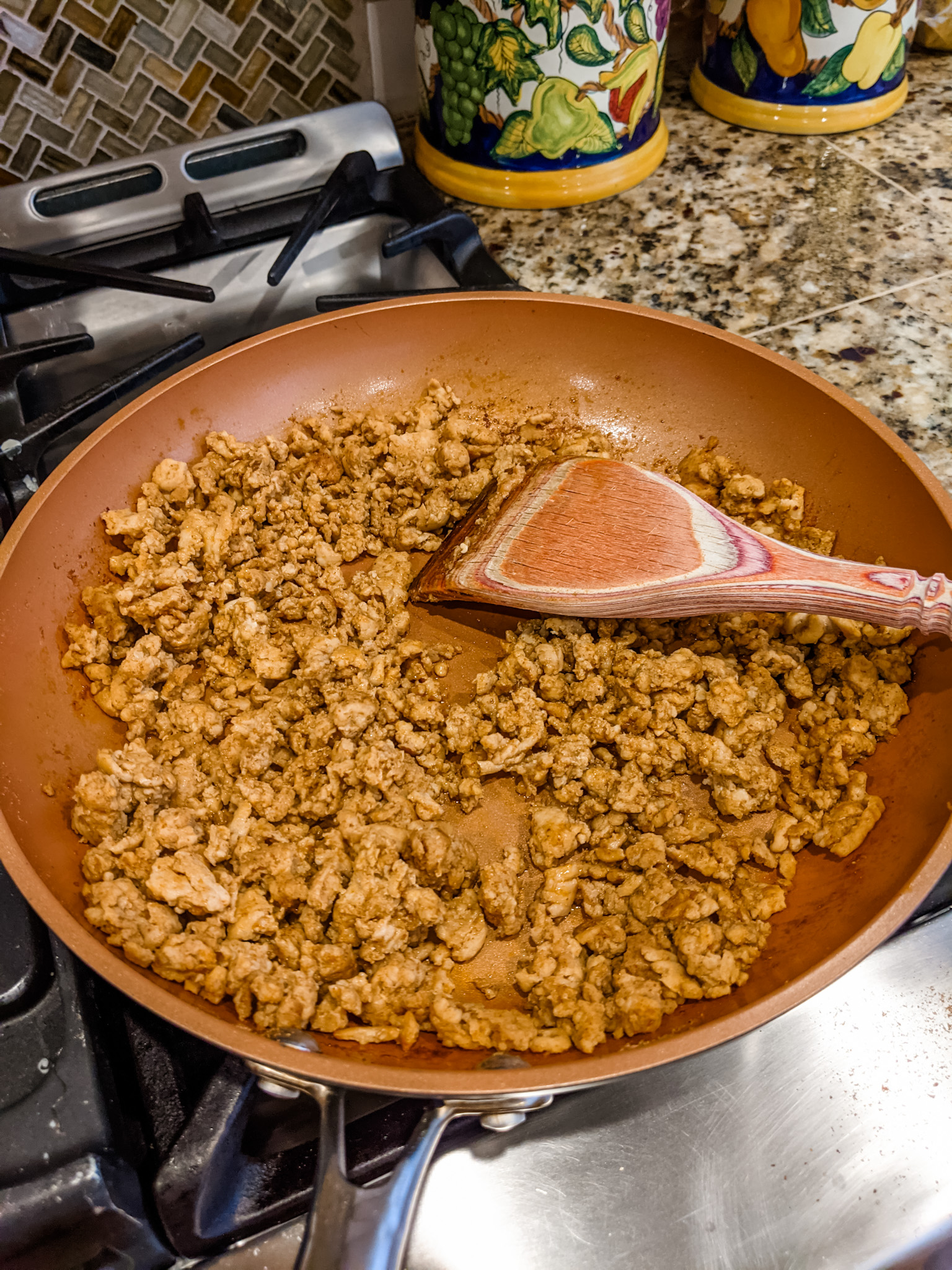 I also recommend making the Southwestern Buttermilk Ranch ahead of time or even a day or two before. It's good as soon as you make it but allowing it to sit for at least a few hours will make the flavor even better.
Seasoning the Chicken for My Best Chicken Taco Salad
Making the chicken is easy. You just fry it on the stovetop with a couple of tablespoons of prepared taco seasoning.
Most packets of store-bought taco mix come with four tablespoons of seasoning. You'll use two tablespoons to make the dressing, and two more to cook with the chicken, so nothing is wasted.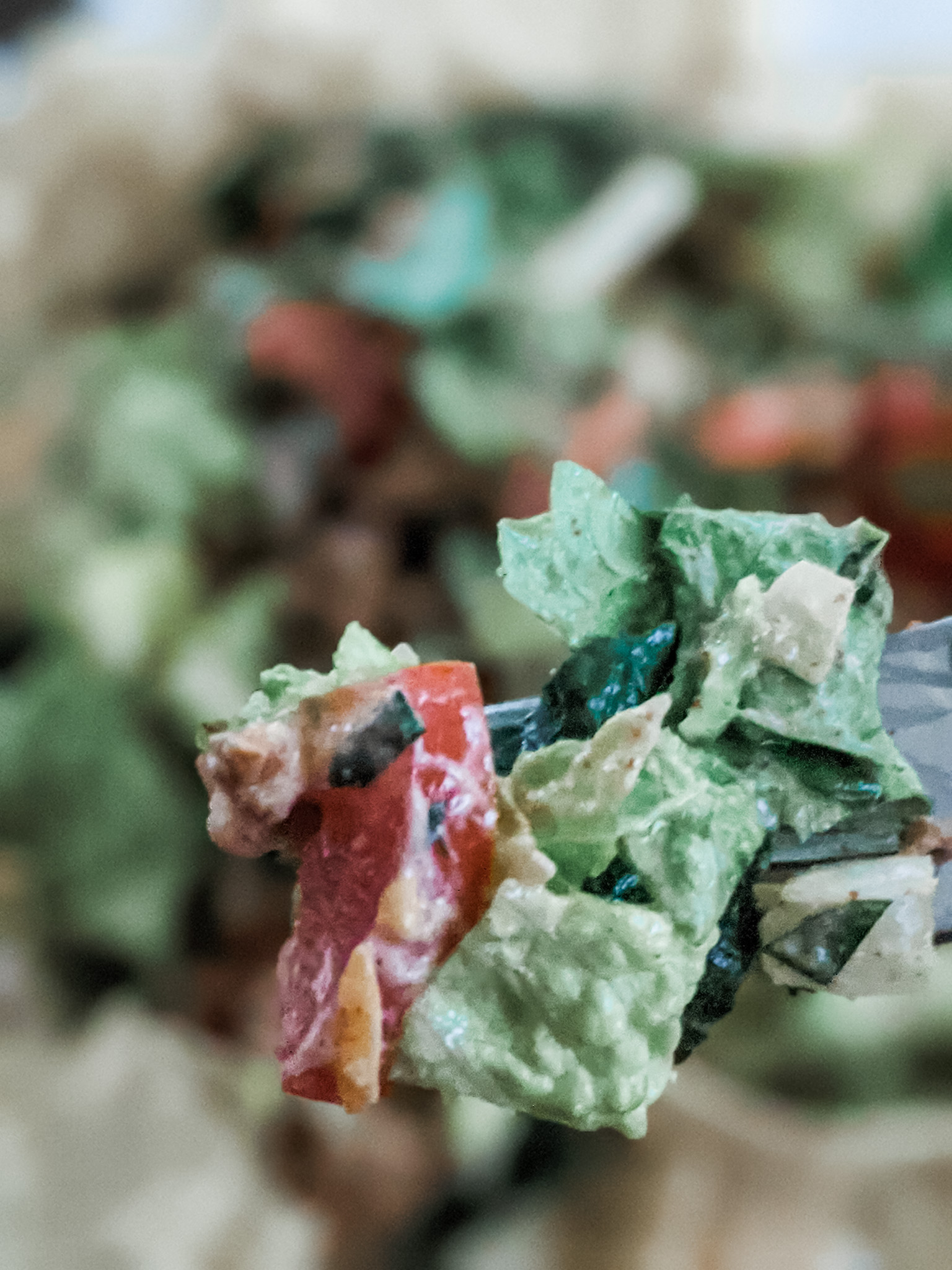 But What if I Don't Like…
I've topped my Best Chicken Taco Salad with the vegetables that appeal to me and my family. But it's easy to substitute different ingredients if you'd like.
Here are some other options….
Red or yellow sweet peppers
Shredded carrot
Diced cucumbers
Shredded daikon radish
Diced shallots
Lean ground beef or turkey instead of chicken
Whether you make it according to my recipe or change it up and make it your own, Chicken Taco Salad is a delicious, hearty, quick to make meal that makes healthy eating a joy!
Print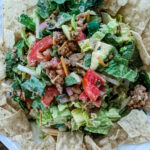 Best Chicken Taco Salad
---
1

lb lean ground chicken

2

T taco seasoning mix

2

t. olive oil

12 cups

shredded romaine lettuce

1 cup

fresh basil, torn into pieces

2

roma tomatoes, chopped

4

green onions, green and white parts sliced

¼ cup

fine chopped red onion

1

green pepper, chopped

½

jicama, peeled and cut into matchsticks

1

small avocado, diced

½ cup

low fat cheddar cheese

4 cups

tortilla chips

8

T Lighter Southwestern Buttermilk Ranch Dressing
---
Instructions
Place chicken in a pan on stove and sprinkle with taco seasoning. Cook over medium-high heat until cooked through and no pink remains in chicken.
Toss lettuce and basil together and place in a large salad bowl. Top with remaining vegetables, creating a composed salad.
Toss salad at the table with dressing. Serve with tortilla chips.