This post may contain affiliate links. Full disclosure policy
THIS POST MAY CONTAIN REFERRAL LINKS. IF YOU CLICK THROUGH AND TAKE ACTION, I MAY BE COMPENSATED, AT NO ADDITIONAL COST TO YOU.
As I told you back in January, every year I spend a lot of time thinking through and writing down my goals for the coming year.
This year, one of my highest priority goals, involves my mom.
When I was a kid, she would come home from work on Friday, we'd load up the car with tents, sleeping bags, a cookstove, and the dog, and drive to one of many state parks. We usually arrived after dark and had to set up the tent by flashlight.  Since we were residents of the Pacific Northwest, we frequently found ourselves trying to build campfires with wet wood and or spending the weekend playing cards inside the tent as water dripped from the rainfly.
But rain or shine, off we went. And rain or shine, we always had a great time. Many of my very best memories with my mom were made on those camping trips. My mom's enthusiasm for camping and love of the great outdoors was infectious, a love she passed on to me.
My mom is 86 now. She's still completely amazing, basically a force of nature, and still loves spending time in nature.
But sleeping on the ground isn't really an option for her anymore. At this point, Crawling out of a tent in the middle of the night and walking through the wood with a flashlight in search of the pit toilet isn't really a good idea either.
Still, when I asked my mom what she would most like to do and where she would most like to do if she could have anything she wanted, her answer was, "Camping. Doesn't matter where, I just wish I could go camping again."
This year, I decided to make it happen.
I got onto Outdoorsy, a site with listings of RVs for rent directly from the private owners, and found the perfect trailer for me and my mom – a 19 foot long Airstream. It's cute, it's classy, and the owner is willing to deliver it to our campsite.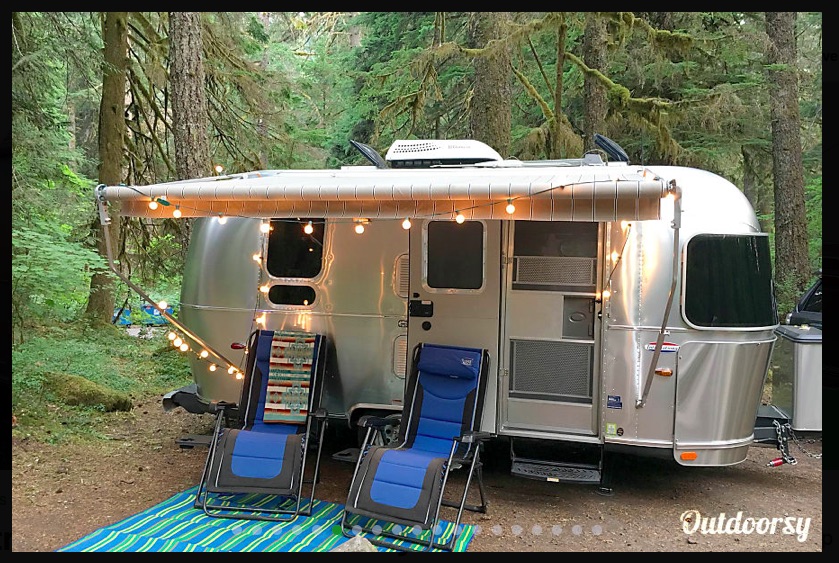 When I called Mom to let her know about her present and that our camping trip is booked for the end of May, she was thrilled.  I don't think I've heard her sound this excited for a long time.
Yes, I could have given my mom flowers, or candy, or another pair of earrings this Mother's Day and I know she would have appreciated it. But I'm so delighted to be giving her what she really wants – an experience – and to give her the gift that she gave me all those years ago, a chance to make memories.
I won't kid you – renting this trailer so I can take my mom camping isn't going to be cheap. But the older I get, the more I appreciate giving and getting the gift of experience.
At this point, I have all the stuff I could ever want or need and then some.  In fact, I've spent a whole lot of time and energy over the last few years downsizing and divesting myself of stuff. I really don't want any more. (Well, apart from books and fabric. And possibly a HandiQuilter Sweet 16)
But experiences are different. I want to collect as many of them as I can, for as long as I can. Most Moms I know feel the same way.  We want less stuff and more experiences. Less things that catch dust and more chances to make memories.
This Mother's Day, instead of giving stuff, why not give the gift of an experience?  I've got experiential gift ideas for every type of Mom, including you.
(Feel free to print out the list and accidentally leave it lying face up in a location where your family might accidentally-for-sure happen to see it. Never hurts to hint.)
FOR THE CREATIVE AND CURIOUS MOM
If your mom likes to sew, or knit, or paint, or write, or take photographs, or bust a move – or even just thinks she might want to try any or all of those things – consider giving her a subscription to MyBluprint.com.
A 3-month subscription is just $22.99. An entire year of access to thousands of high quality instructional classes on Bluprint is only $79!
All subscriptions include unlimited access to video tutorials and classes from over 600 experts and does NOT automatically renew! And just for Mother's Day, Bluprint is throwing a free bouquet from Bouqs.com! (Delivery charge for the bouquet isn't included.)
Flowers and unlimited crafting? Yes, please!
FOR THE LUXURY LOVING MOM
You know where you can never, ever have a bad day? At a spa.
Spafinder offers spa information and reviews as well as giftcards that can be used at spa and salons across the country.  This is a gift that will cement your position as Mom's favorite child.
FOR THE BOOKISH MOM
As I said before, books and fabric are two things I am still happy to collect. If your mom feels the same way, may I be so bold as to suggest a copy of my latest book, Hope on the Inside?  It's a heartwarming tale of a mom at crossroads of her life, whose optimism and courageous choices in the midst of crisis inspire everyone around her, including her grown up daughter.
Another great option for your book loving Mom is a subscription to Audible.  Subscriptions are about $15 a month and include one credit for any title, plus two Audible Originals per month.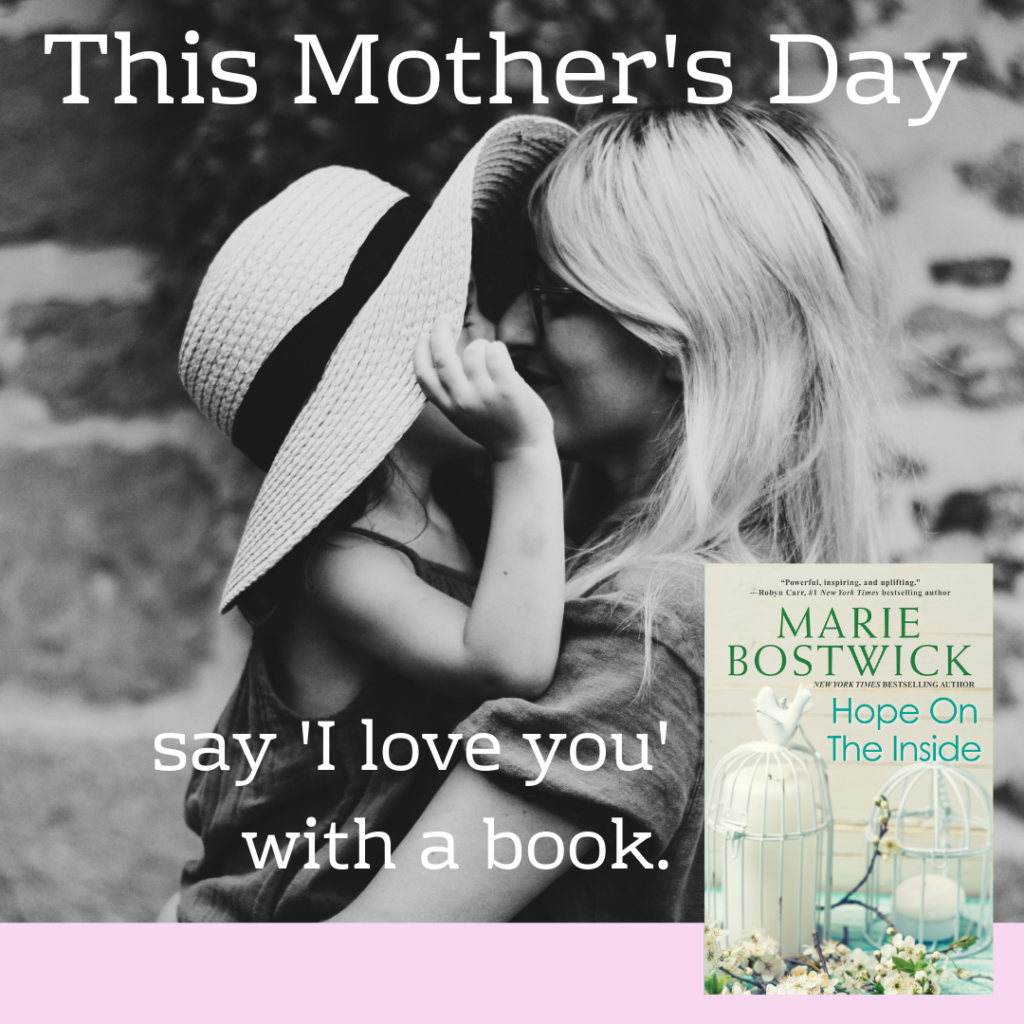 FOR THE MOVIE LOVING MOM
MoviePass is a great gift and a pretty sweet deal! For as little as $9.95 a month, your mom can see a movie every day of the month, at theaters across the country.  The pass also includes access to a huge library of online movies with unlimited viewing. (Popcorn not included.)
FOR THE ATHLETIC MOM
Does your mom love to go for the burn? Consider a package of classes at a specialized fitness studio, such as Barre3. Or let her sample the full fitness smogasborg with a ClassPass. For as little as $29 a month, Mom can drop into a variety of classes – from Pilates, to Yoga, to Zumba – at studios across the country.
Also, remember that you can Gift Any Bluprint Class for the health-minded Mom – Yoga, Tai Chi, Kettleball, Bootcamp, you name it! (You know, when Craftsy became BluPrint, I wasn't sure I was going to like it. Now I'm convinced it's basically the best thing on the Internet. All the craft classes I loved are still there but now they offer SO much more!)
FOR THE OUTDOORSY MOM
If your Mom loves the Great Outdoors like mine does, consider getting her an America the Beautiful Pass. This pass will give her entrance into National Parks and Federal Recreation Areas across the country. An annual pass is $80 for adults and just $20 for seniors.  A lifetime senior pass is only $80.
FOR THE MOM WHO LOVES TO COOK
About twenty years ago, I had the opportunity to take several weeks of cooking classes from real chefs.  It was an amazing experience. I loved every moment of it. Taking a hands-on, face-to-face cooking class is a gift any culinary-minded Mom would love.
A gift certificate to SurLaTable will give your Mom access to one of the many cooking classes offered at SurLaTable every month.

If there's no SurLaTable in your area, Bluprint comes to the rescue again!  A subscription to Bluprint will give Mom access to dozens of professional chefs sharing online cooking and baking techniques and tips for every imaginable type of cuisine.
FOR THE MOM WHO LOVES TO TRAVEL
This one is definitely a splurge but oh, how I would love to receive a 15, 30, or 45 day pass to see America by rail!
Amtrak's USA Rail passes start at $459 per adult and include 8 travel segments. Doesn't that sound like fun? Especially if Mom's travels include a trip to see you, her favorite child.