This post may contain affiliate links. Full disclosure policy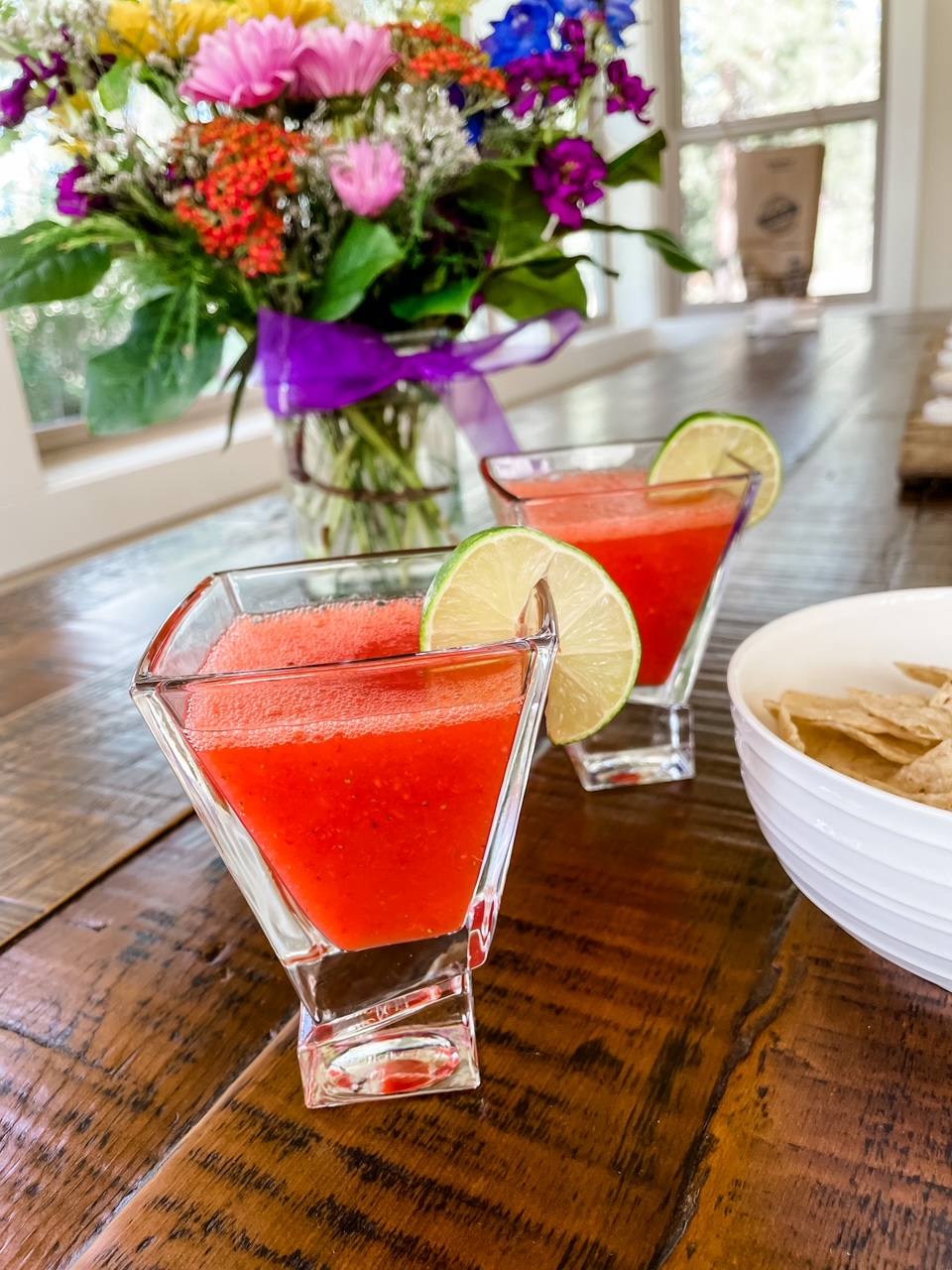 These Fresh Strawberry Margaritas are perfect for summertime cookouts or your next girlfriends get-together. Festive, refreshing, and so easy to make! Blend up a batch for your next fiesta!
Vacationing with Littles
All three of my sons and daughters in love and all six of our grand darlings came to visit last week.
I think everybody had a great time. I know I did! But with six littles between the ages of ten and two in residence, it was a pretty kid-focused week. Most all of the daylight hours were centered on playgrounds, swimming pools, hikes, bike rides, and cousins playing nicely (and occasionally arguing strenuously) with other cousins.
There was a fair amount of kid-centric cooking involved too – lots of peanut butter and jelly sandwiches, chicken nuggets, macaroni and cheese, and a seemingly endless supply of corn dogs. (Who knew you could buy them twenty-eight to a box?)
It was such a fun week! But I watched my kids taking care of their busy brood, my husband and I kept asking ourselves the questions that all grandparents ask. How in the world do they manage it? How did WE manage it back in the day?
Honestly, it's a mystery. And when I look back on it now, something of a blur. But somehow or other we did it. All three of my boys made it through childhood and have become fine men and absolutely wonderful fathers who married absolutely wonderful women.
Sunset Celebrations with Fresh Strawberry Margaritas
As I said, it was a very kid-focused week. But at the end of each day, after the kids and been fed, the grownups gathered to enjoy something more sophisticated than corn dogs.
My daughters-in-love are all wonderful cooks and my boys are quite the grill masters, so we had some really delicious meals that I'll be sharing in the weeks to come. And while waiting for dinner to cook, we celebrated that golden hour toward the day's end with an adult beverage.
One of my favorite happy hour libations last week were these Fresh Strawberry Margaritas. They're pretty and refreshing, and loaded with the flavors of sun-ripened strawberries. They're like summer in a cocktail glass!
I can't think of a better, more festive way to celebrate the end of a summer day.
Fresher is Always Better
Most strawberry margarita recipes use frozen strawberries. You can do that here too, if you want or if strawberries are out of season. Just be sure to leave the ice out of the recipe if you do.
But I happen to think that using fresh strawberries makes these margaritas extra delicious. Why? Because this way you get to pick and choose the ripest, juiciest, most flavorful berries to add to your margarita.
That makes a difference. In my book, fresher is always better.
What Do You Need for Fresh Strawberry Margaritas?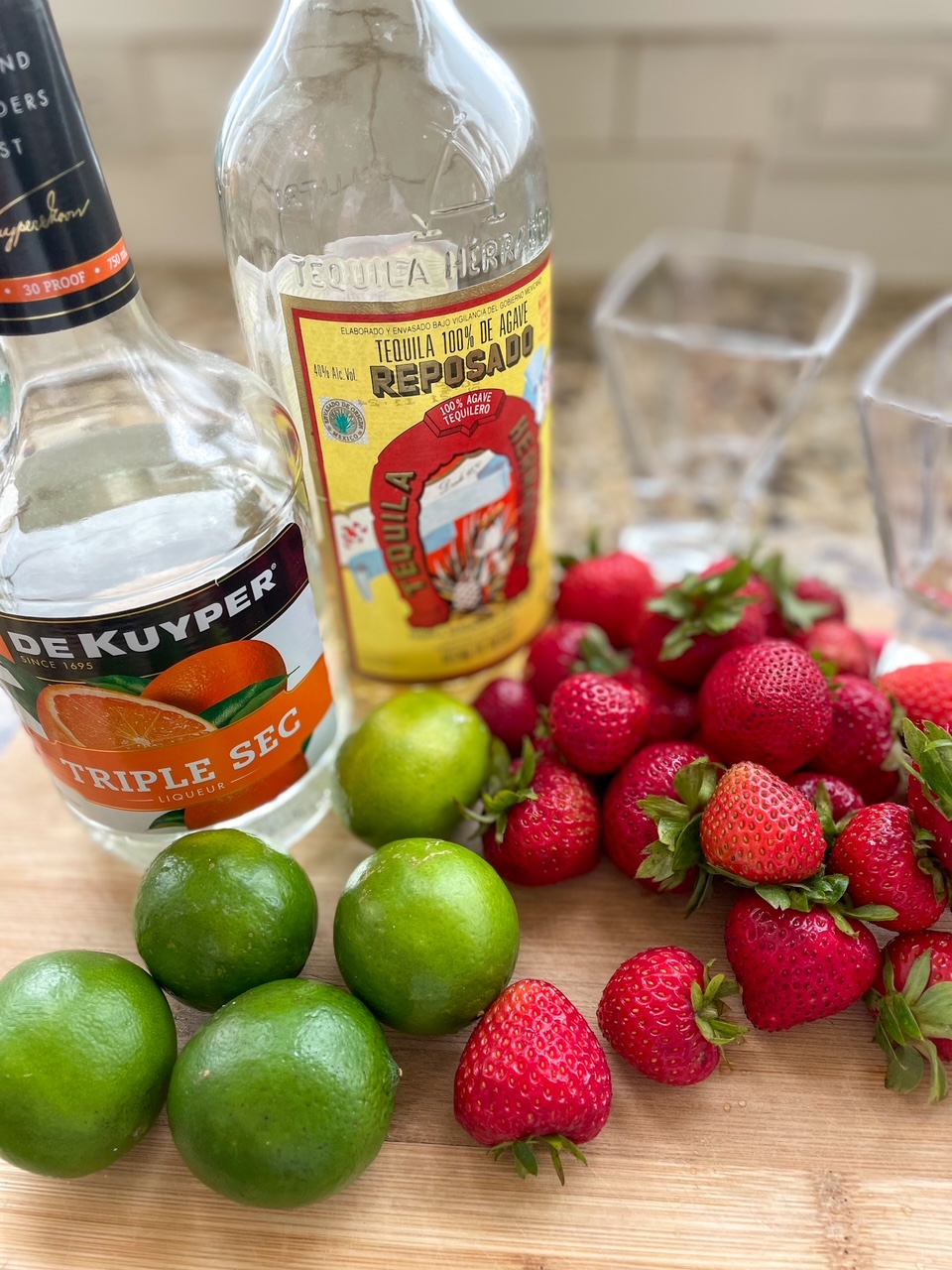 There are only 6 ingredients in my Fresh Strawberry Margaritas
Fresh strawberries
Tequila
Triple Sec
Fresh squeezed lime juice
Simple syrup
Ice
You can buy prepared simple syrup at the grocery or liquor store. But why would you?
Stores charge as much as ten bucks for simple syrup, but the only thing in it is water and sugar. If you can boil water, you can make your own simple syrup for pennies an ounce. Thekitchn.com has an easy recipe.
Oh, and let's talk about lime juice for a minute.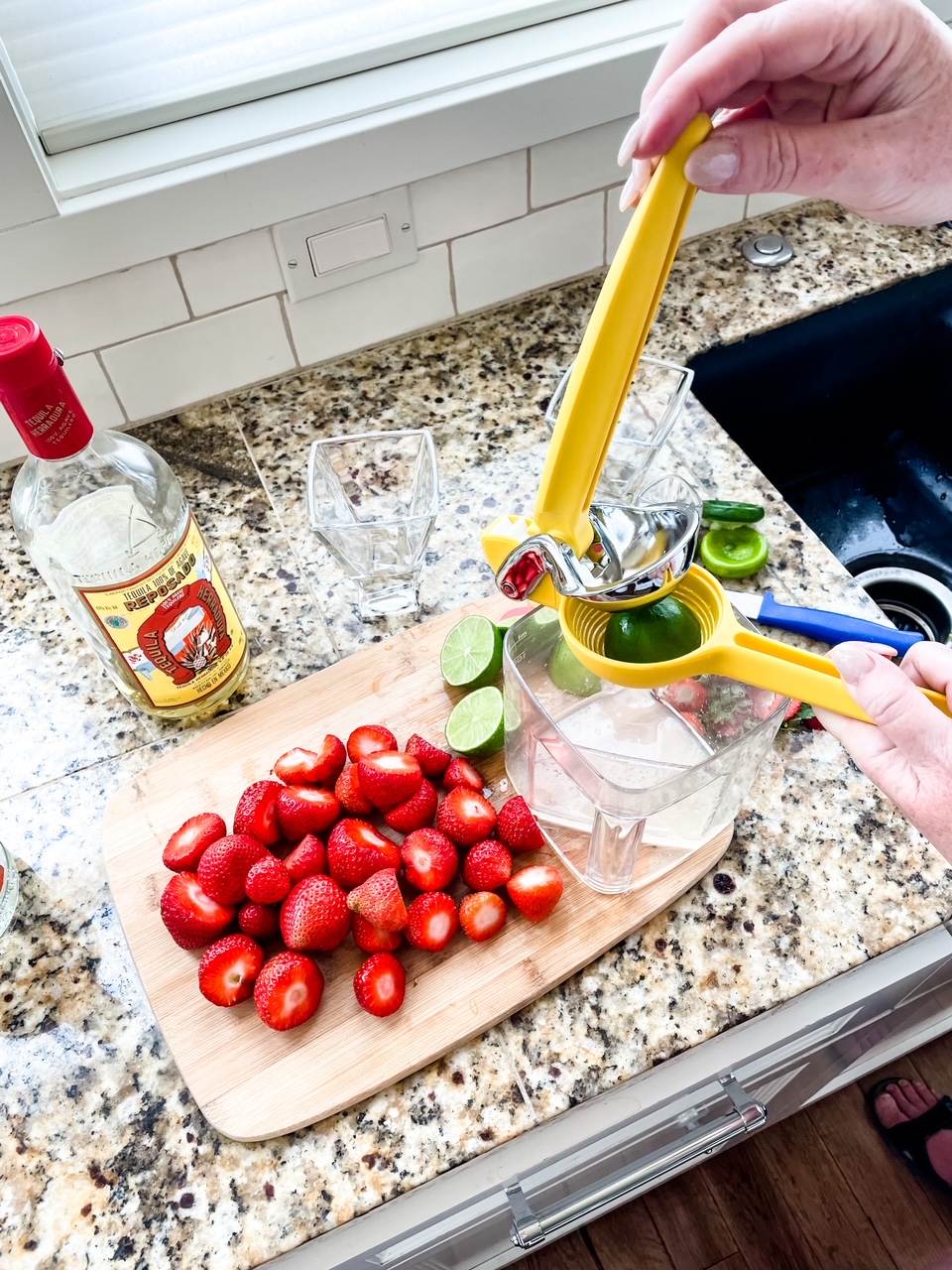 Do yourself a favor and squeeze your own. It tastes so, so, so much better than the bottled stuff! Yes, I know it might be a little more expensive and a little more work but the difference in flavor is absolutely worth it.
Also, squeezing limes (or lemons) is kind of fun! One of my daughters-in-love got me this nifty citrus squeezer for Christmas and I just love it. It gets out way more juice than my old squeezer but I don't have to press nearly as hard. Basically, it's magic.
How Do You Make Fresh Strawberry Margaritas?
Mixing up a batch of your very own Fresh Strawberry Margaritas couldn't be easier. You just dump the first 5 ingredients, pulse at high speed until the fresh strawberries liquify, taste and adjust for sweetness, then add the ice and pulse a couple more times to create a frosty strawberry slushy with a bit of a boozy kick.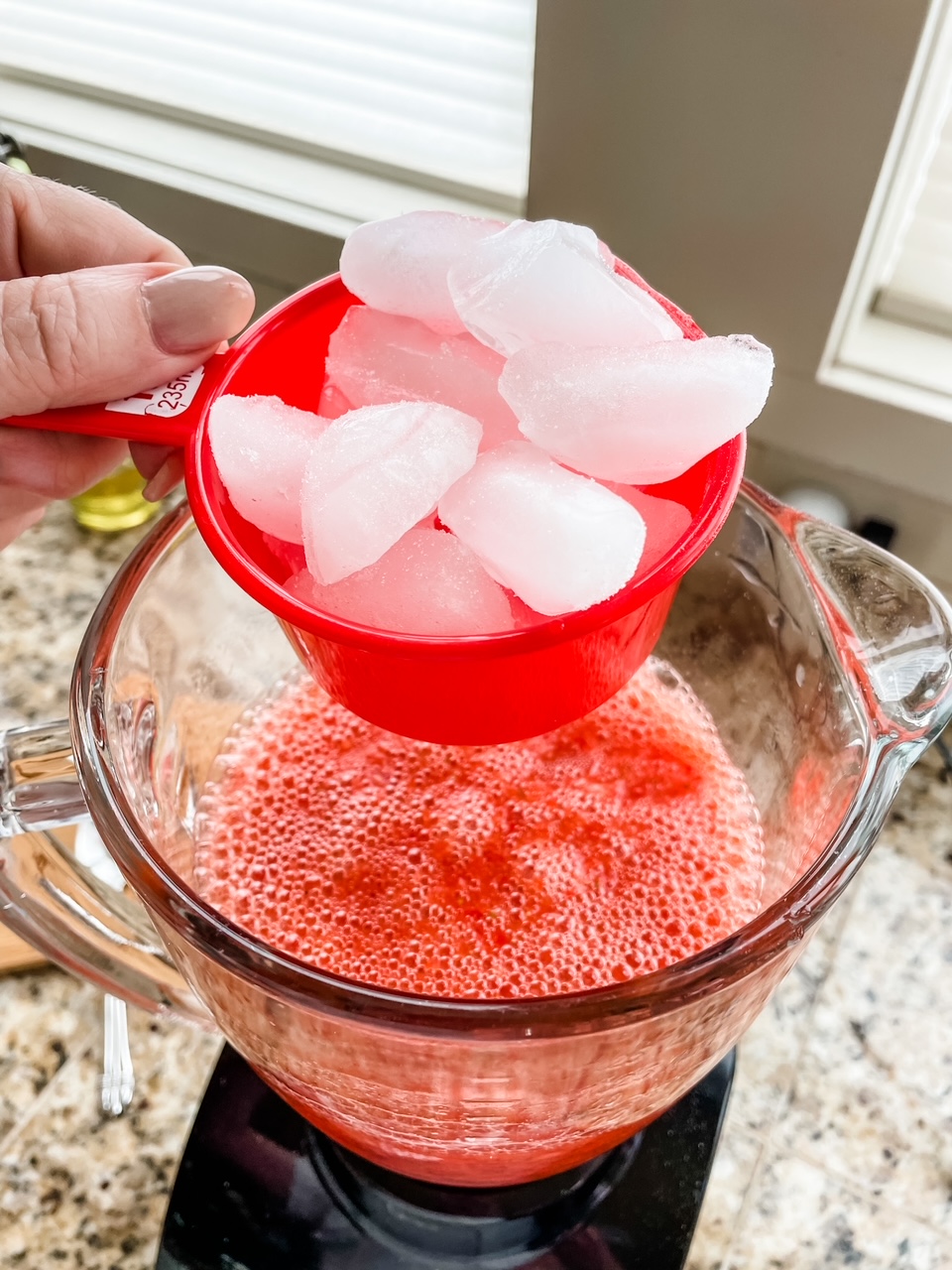 Blend up a batch of my Fresh Strawberry Margaritas for yourself or your guests this week. It's a perfect way to toast the end of a perfect summer day! And if you're experiencing this week's heatwave, I highly suggest you cool down with my line-up of lighter cocktails.
Print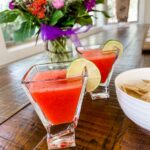 Fresh Strawberry Margaritas
---
Author:

Yield:

4

servings

1

x
1

lb fresh, ripe strawberries, washed with stems removed

1 cup

tequila

¼ cup

triple sec

½ cup

fresh squeezed lime juice

2

to

4

T simple syrup

1 cup

ice cubes
Limes slices for garnish (optional)
---
Instructions
Place strawberries, tequila, triple sec, lime juice, and 2 tablespoons of simple syrup into the blender. Blend on high speed for a few seconds, until the strawberries are liquified.
Use a spoon to taste the mixture. If needed, add more simple syrup to sweeten and blend for a few more seconds.
Add ice cubes to blender. Pulse quickly at high speed, to create a slushy mixture.
Pour Fresh Strawberry Margaritas into a glasses, garnish with a lime slice if using, and serve.