This post may contain affiliate links. Full disclosure policy
This post may contain referral links. If you click through and take action, I may be compensated, at no additional cost to you.
When the weather turns wet, slushy, or snowy, a good pair of boots that won't hurt your feet (or two or three) is a must.
Here in my high desert home in Central Oregon, people can don their winter boots as early as Halloween and live in them all the way until Memorial Day, so I really need boots that are sturdy and comfortable, as well as fashionable.
But that's really the tricky part with boots, isn't it? Finding a pair that looks as good as they feel?
Awhile back, I spent a pretty penny on the most gorgeous pair of cowboy boots you ever saw – black with brown cutwork, fancy stitching, and lines of decorative brass studs on the instep.  Fabulous and totally fierce!
I was so disappointed when I discovered that those beautiful brass studs made the instep so tight that I could barely get them on and off my feet.
Lesson learned.
It doesn't matter how fabulous looking those boots are, if they aren't comfortable, I don't want 'em.  Oh, and that old adage about "beauty is pain?" Well, whoever said it better not say it around me. One of the great things about being this age is that I see through all that baloney.
I don't care what the fashion industry says, there is no reason that looking good should make your feet hurt.
And thankfully, in the age of online shopping, there's no reason you can't find boots that are fierce, fabulous, and comfy to boot! (Sorry. Couldn't help myself.)
Here's a few that will fit the bill—and your feet—perfectly! Read on for my recommendations of boots that won't hurt your feet.
 Riding and Harness Boots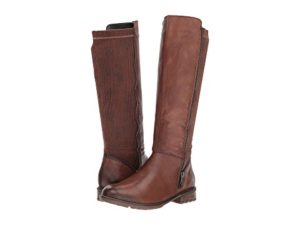 I just love the clean lines and richly colored leather uppers of these "Elaine 25" boots by Rieker. But I'm just crazy about the zipper detail on the side. The ribbed fabric on the calf make for a close but comfortable fit and the deep grooves on the rubber sole will help you keep to your feet even slush and snow.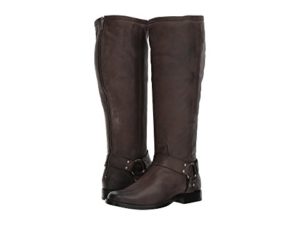 A classic harness boot is always in fashion.  These Phillip style boots from Frye come in three beautiful colors of supple leather, have cushioned insoles and wide calf style with a zip up back. Super easy to get on and off!  These are boots you'll love wearing for years to come.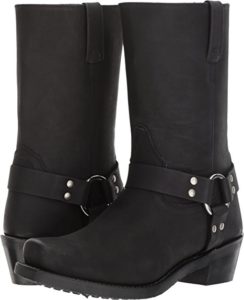 These cute black harness boots from Old West are a little shorter and have more of a workboot look than the Frye boots. But they still have that fun, fierce harness detailing, cushioned leather insoles, and zip up sides. So much to like about these boots! Including the price!
Booties!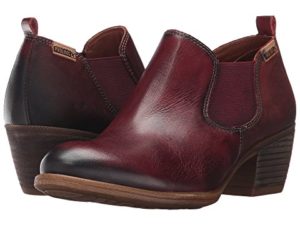 Okay, sure. Technically these are booties, not boots.
But my Pikolinos Baqueiras have quickly become my go-to shoe for every occasion. Under pants, they give me the look of a boot with the comfort of a shoe.  Pair them with a pair of ribbed tights and they look great with a skirt too.  The stretch insert on the side makes them put on as my favorite slippers and just as comfortable.
Bottom line: I live in these things! And I can't imagine how I ever lived without them!
More Red Is More Better
While I doubt that any serious psychology journal would be willing to publish my findings, after five decades of experimentation and experience, this I know to be true…
It is impossible to be in a bad mood when you're wearing red boots. 
I'm not kidding! When the weather is gray and gloomy, nothing lifts your spirits quite as well as slipping your feet into a pair of fabulous scarlet, maroon, or cherry red boots.
Don't believe me? Try it for yourself.  Any one of these should do the trick.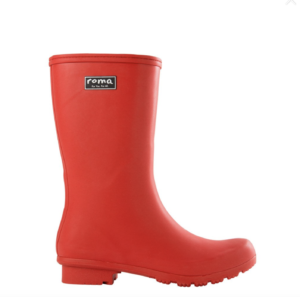 Roma makes an amazing rain-boot, especially these luscious red ones! Comfy, cozy, completely waterproof, and they last for years.  Plus, for every pair of boots you buy from this company, they send a pair to someone in need! Talk about a reason to be singin' in the rain!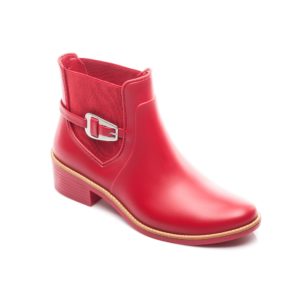 But if you're looking for something less casual to wear in the wet–more Kensington Gardens than Paddington Bear–you can't go wrong with these red Bernardo Pansie Rain-boots. Talk about your ruby slippers!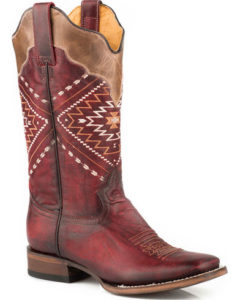 Oh my! After that unfortunate experience with the too-tight brass studs, I thought I might swear off western boots forever. But these gorgeous, red Roper Native cowgirl boots with the beautiful two-tone stitching are bringing out my inner Patsy Montana. Must have!
But really, I could say that about any one of these fierce, fabulous, and comfortable pairs of boots.   With so many styles to choose from, I think boot season might become my favorite time of year!