This post may contain affiliate links. Full disclosure policy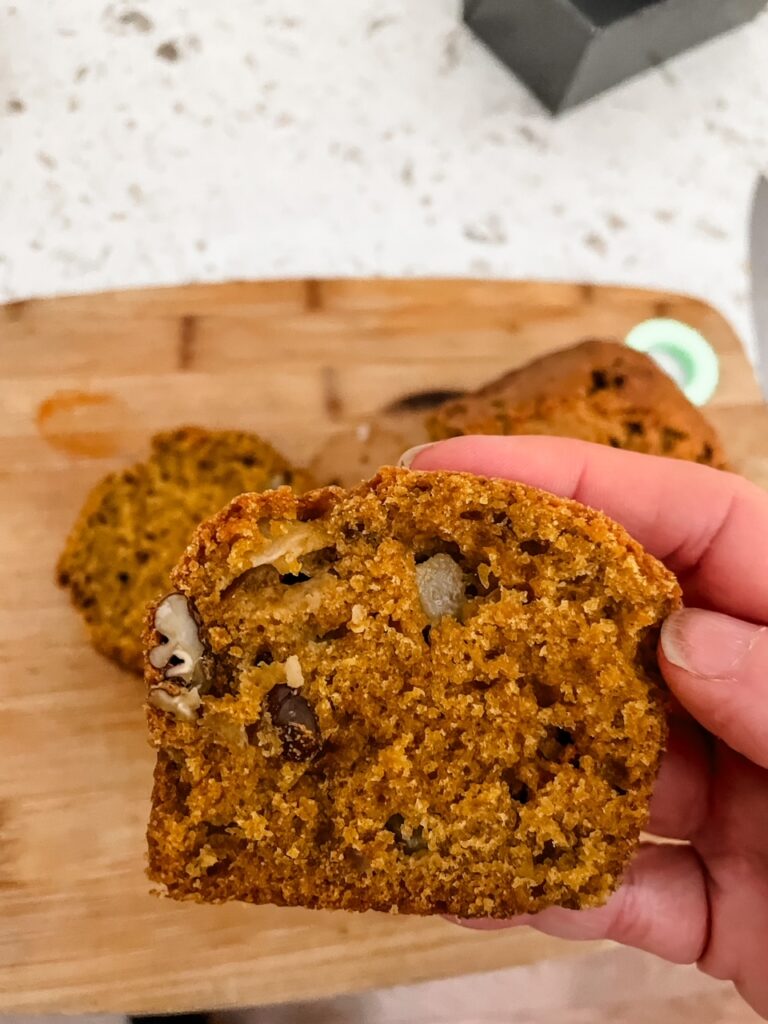 With pumpkin, bits of apple, and fragrant spices, this fall Pumpkin Apple Bread celebrates the flavors of autumn. Sweet, but not too sweet. Great for breakfast or as a yummy snack with a hot cup of tea.
Fall Pumpkin Apple Bread – Anne Shirley Would Have Approved
Though people often talk about the change of seasons, one of the things I love about autumn is how comfortingly familiar it all is. Every year around this time, there are certain things we can count on. Such as…
The turning of leaves.
Sweater weather.
New crop apples.
Heated debates about how soon is too soon for PSLs/Pre-season football games/Christmas decorations in stores, accompanied by declarations that all of the above arrived earlier this year than ever before.
Social media memes with this quote from Lucy Maud Montgomery's Anne of Green Gables, "I'm so glad I live in a world where there are Octobers."
And to this last, I say, "Oh, me too!" Because there is something comforting and cozily familiar about autumn, a season when we burrow into our dens to enjoy the pleasures of hearth and home.
A slice of warm-from-the-oven Pumpkin Apple bread enjoyed with a hot cup of coffee at breakfast or a fragrant cup of spice tea at the close of a busy day is among the coziest and tastiest of fall pleasures.
It's the kind of October treat I bet Anne Shirley would have loved.
What Do You Need To Make Fall Pumpkin Apple Bread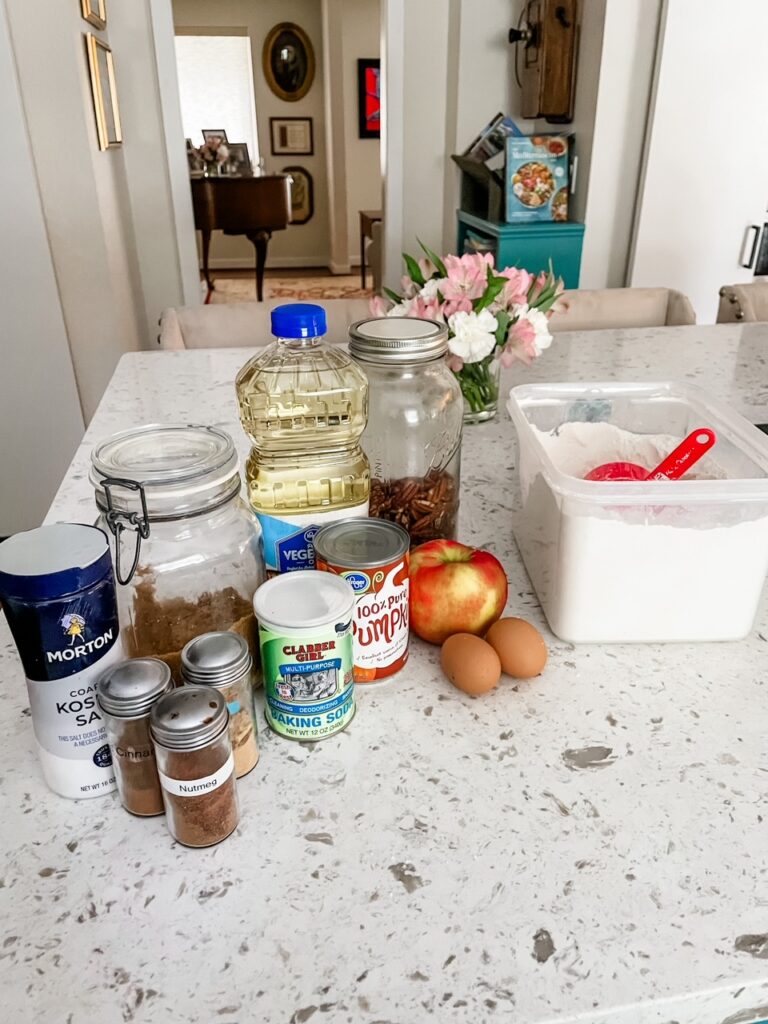 There are all kinds of good pumpkin bread recipes out there. I don't care for overly sweet treats, so mine uses a little less sugar than some. It also has some nice bits of apple, generous additions of fall spices, and a helping of chopped pecans.
The ingredient list includes….
Flour
Sugar (white and brown but you can use all one or there other if you prefer)
Baking soda
Ground cinnamon
Ground ginger
Ground nutmeg
Salt
Eggs
Vegetable oil
Pumpkin puree
Fresh apple
Pecans (you can also substitute walnuts or leave them out if you don't care for nuts)
Tips For Making Fall Pumpkin Apple Bread
If you've done any baking before, the techniques for making my fall Pumpkin Apple Bread will probably be familiar.
You'll whisk the dry ingredients together in one bowl. Then, you'll mix the wet ingredients and the sugars together in another bowl. Finally, you'll pour the wet ingredients into the dry before pouring them into loaf pans for baking.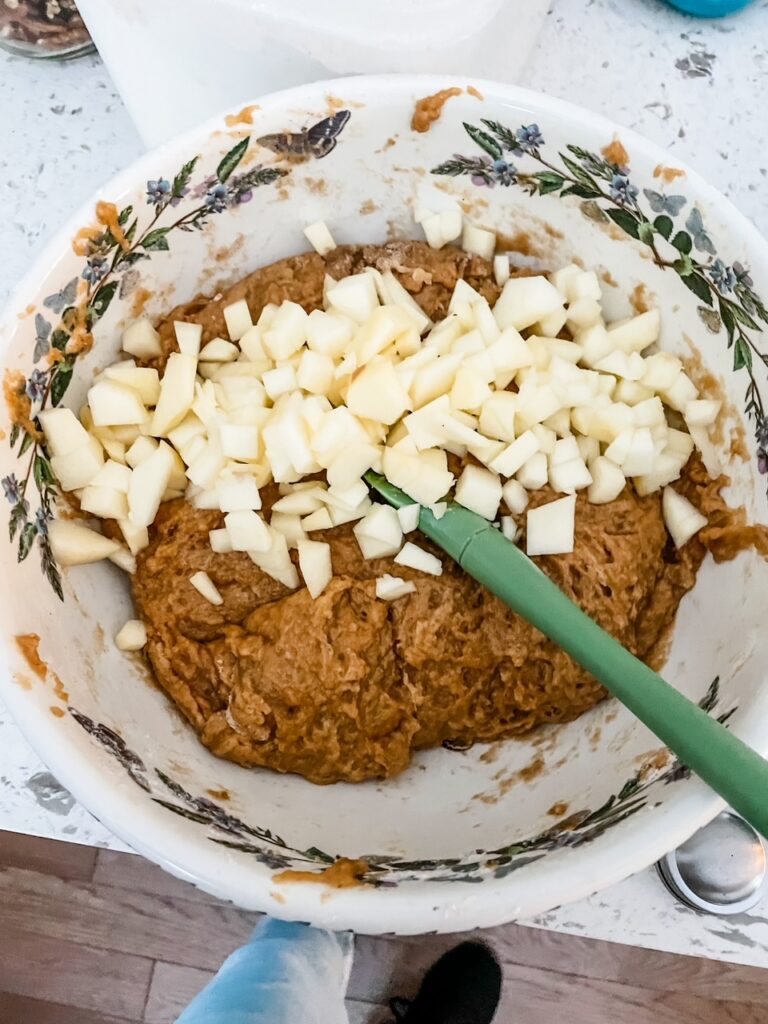 Easy peasy.
But there are a couple of things I want you to take note of.
First, my Pumpkin Apple Bread recipe is enough to make TWO regular-sized loaves. (Or one regular loaf and three mini loaves; that's what I did today.) There's a reason for that.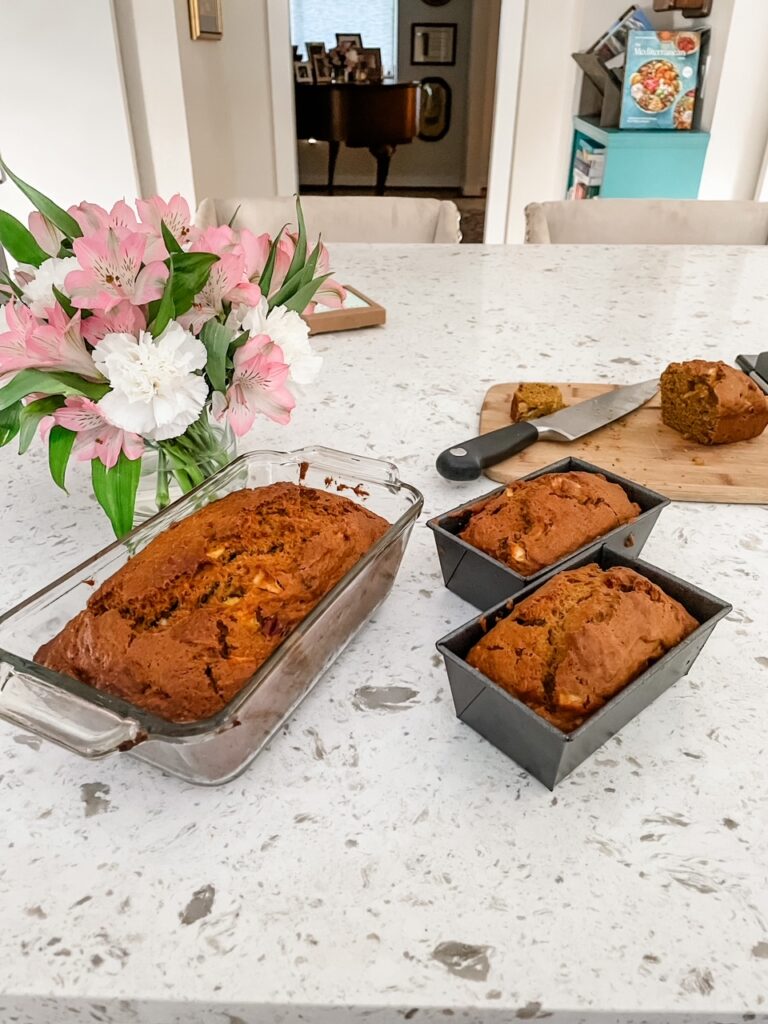 You only need about a cup of pumpkin per regular loaf, but even the small cans of pumpkin puree have 2 cups. Since I hate wasting the pumpkin puree, my recipe is sized to use a whole 15oz can. If two loaves feel like too much, you can always wrap one in foil and freeze it for later or give the extra loaf to a friend.
However, in my experience, this yummy bread generally gets eaten before it can be sent off to the freezer or the neighbors.
My recipe uses pecans. You can substitute walnuts, hazelnuts, or almonds if you prefer. You can also skip the nuts entirely. It's up to you.
You can use any type of apple for this recipe. If you've got one on hand, my preference would be Granny Smith apple. That tart taste is especially nice with the savory sweet pumpkin. But just about any variety will do.
Peel and core the apples and chop them into small pieces before adding them to the batter. I prefer chopped apples to grated ones because I like the pieces to be large enough so you can actually taste the apple.
I use part brown sugar and part white because I like the slight caramel flavor of brown sugar. But you can use all white sugar or all brown if you prefer.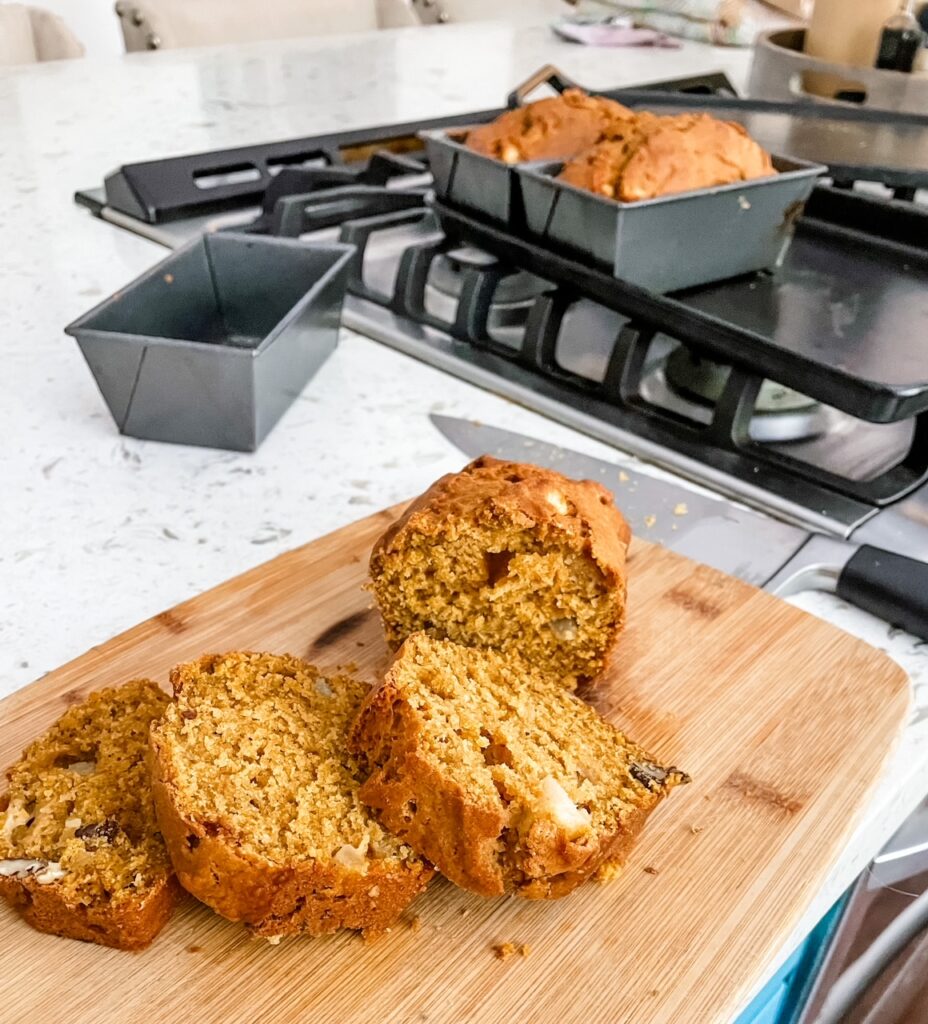 A word about baking times. If you're baking a regular-sized loaf, the baking time is 90 minutes. If you're baking mini loaves (about 6 x 3 inches), the baking time is about 50-60 minutes. For muffins, baking time is 25-30 minutes. No matter what you're baking, regular loaves, mini loaves, or muffins, you want to make sure a toothpick or wooden skewer inserted into the bread comes out clean. That's how you'll know it's done.
Print
Pumpkin Apple Bread
---
Author:

Yield:

Makes

2

loaves, 8.5 x 4.5

1

x
5 cups

white flour

2 tsp

baking soda

2 tsp

ground cinnamon

1 tsp

ground ginger

1 tsp

ground nutmeg

½ tsp

salt

1.5 cups

vegetable oil

4

large eggs

1

15oz can pumpkin puree (NOT pumpkin pie filling)

1 cup

brown sugar (can sub white sugar)

1.5 cups

white sugar

1

large apple, peeled, cored, and chopped into small pieces (about

2 cups

chopped)

1 cup

pecans, chopped
---
Instructions
Preheat oven to 350 degrees. Grease baking pans or spray with cooking spray.
In large bowl, whisk together flour, baking soda, cinnamon, ginger, nutmeg, salt. Set aside.
In medium sized bowl, mix together vegetable oil, eggs, pumpkin, and sugars. Whisk until thick and smooth. Pour wet ingredients into dry ingredients and stir until just combined.
Stir apple and pecans into batter to distribute. Spoon batter into prepared pans.
Place filled bread pans on center rack of preheated oven. Bake until a wooden skewer inserted into the center of the loaf comes out clean – approximately 90 minutes for full-sized loaves, 50-60 minutes for mini loaves, 25-30 minutes for muffins.