This post may contain affiliate links. Full disclosure policy
THIS POST MAY CONTAIN REFERRAL LINKS. IF YOU CLICK THROUGH AND TAKE ACTION, I MAY BE COMPENSATED, AT NO ADDITIONAL COST TO YOU.
As I mentioned in a previous post, one of my favorite things about the beginning of the Fall season is the excuse to craft away and spruce up my home with simple, easy, low-cost seasonal decor.
And why stop at cute leaf mason jar centerpieces and pinecone swags?
A 30-minute Fall Craft with Materials You Have on Hand
It's no secret that I love quilting.  But making a quilt takes time and that's something I'm often short of.
These fun and seriously adorable coasters are the perfect way to scratch my sewing itch when time is short. (Plus, they're a good way to use up the extra grosgrain ribbon from the Pinecone Swags.) The candy corn colors in the ribbon will add a fun, fall-tastic pop of color to your table.
If you are a crafter, chances are you have extra ribbon and fabric on hand. While I gravitated toward a fall palette, these beauties would be perfect for any season. I plan on making Spring versions with bright florals and pastel ribbons, or maybe a summery version with nautical indigo batik fabric and bright white ribbon. No matter what, there will be no water ring stains on my furniture!
What You'll Need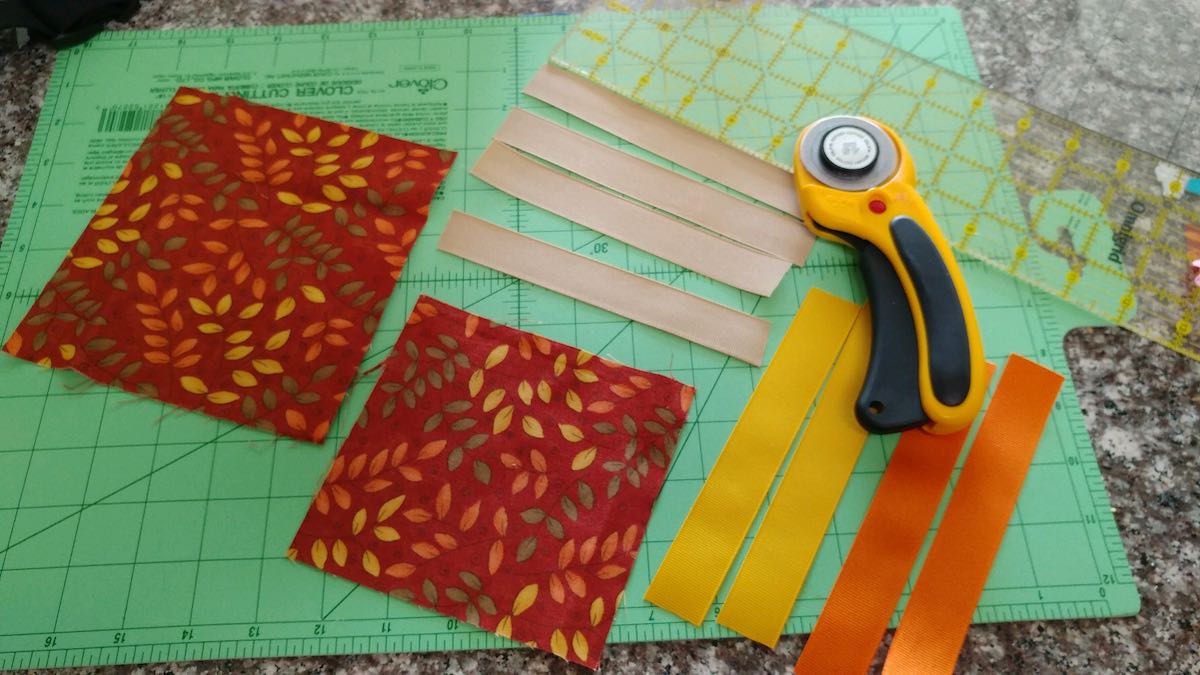 You do need a sewing machine to make these coasters and some basic sewing skills. But if you can sew a fairly straight line, you can stitch up one of these coasters in about half an hour.
1-inch wide grosgrain ribbon, orange, 1 foot
1-inch wide grosgrain ribbon, yellow, 1 foot
1-inch wide grosgrain ribbon, tan, 2 feet
5-inch squares of coordinating fabric
6-inch squares of coordinating fabric
Instructions
Cut 6-inch pieces of ribbon – 2 orange, 2 yellow ribbon, and 4 of tan.
With 5-inch fabric square facing up, evenly space the four lengths of tan ribbon across the square, matching long outer sides ribbon to edges of fabric. (Long ends will hang over the top and bottom edges.)
Weave orange and yellow ribbons through tan ribbons, spacing evenly in a loose basket weave pattern. (Again, match long, outer sides of ribbon to fabric edge.)
Carefully pin end of each ribbon to the fabric.
Stitch the ribbon to the fabric on all four sides, sewing close to the edge. Trim off the overhanging edges of the ribbon so the coaster is 5-inches square.
Lay the coaster square on top of the 6-inch fabric square, wrong sides of fabric together.
Using a hot iron, press a quarter inch fold on upper and lower edges of 6-inch square. Fold the folded edges over the ribbon edge and press again. Stitch along the upper and lower edge of folded fabric.
Repeat step 7 on left and right edges of coaster. Trim stray threads.
And voila!