This post may contain affiliate links. Full disclosure policy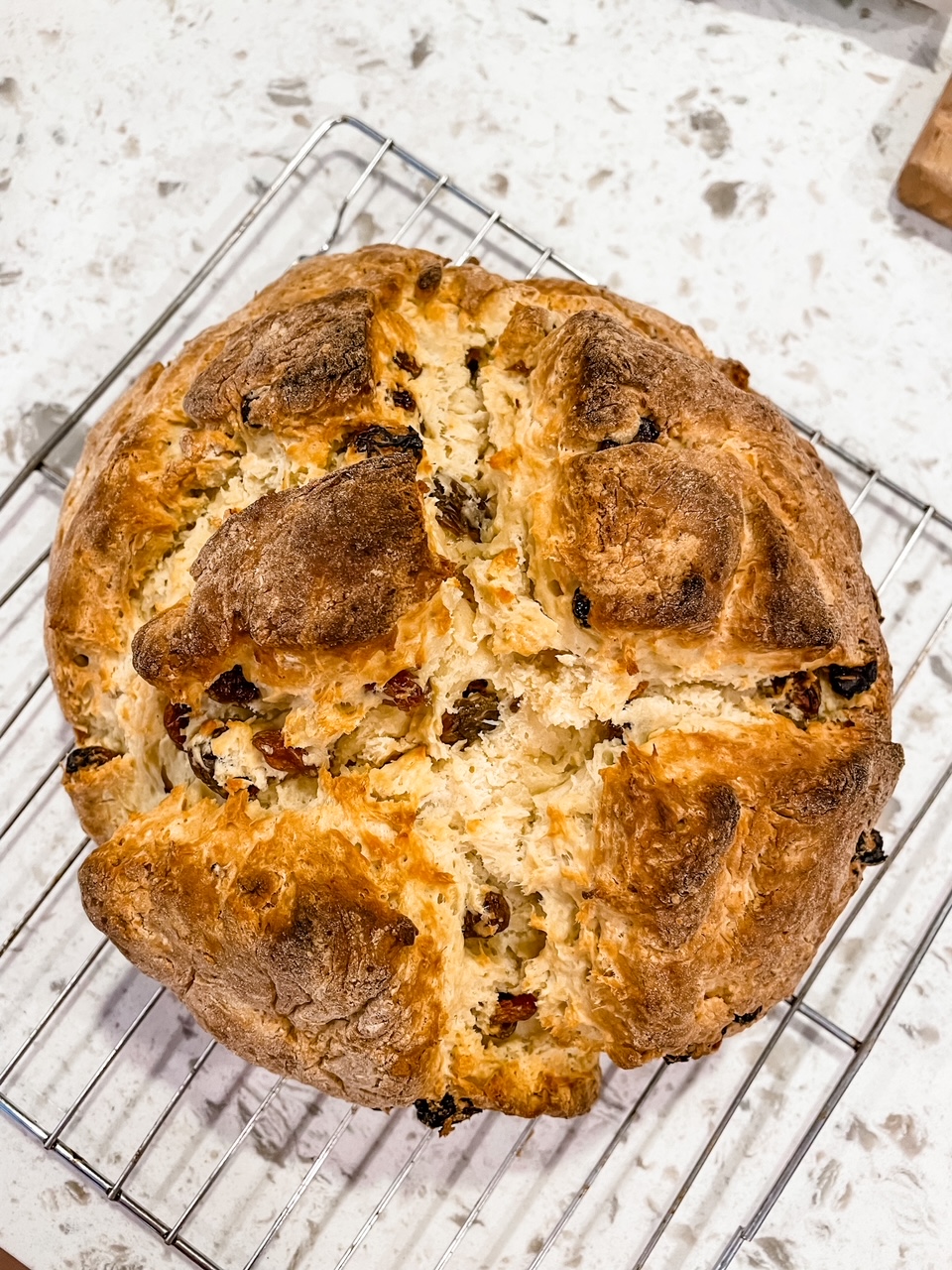 You don't have to be Irish to love my Easy Irish Soda Bread. And since it requires no yeast, proving, or rising, you don't have to be a master baker to make it. So easy! And SO good!
Easy Irish Soda Bread – A Perfect St. Patrick's Day Treat
With names like McCormick and McGuire figuring in prominently in my family history, it's no surprise that I'm very, very Irish. Which is one of the reasons that St. Patrick's Day was always a fun holiday in my family.
Most of our celebrations centered around proudly wearing green and food. The latter was what I most looked forward to – corned beef and cabbage, colcannon, savory Irish stew, the traditional Shamrock shake (Okay, not really that traditional but still pretty good), and, of course, Irish Soda Bread.
As a single, working woman with four daughters, baking bread was not something my mom typically had time to do. But Irish Soda Bread was the exception to the rule, especially around St. Patrick's Day.
It was a March treat we all enjoyed, and since Irish Soda Bread is so easy to make, it's the perfect bread for people who don't have a lot of time (So…basically everybody) or who don't have a lot of baking experience.
And since everybody's Irish on St. Patrick's Day, now is the perfect time to give my Easy Irish Soda Bread a try.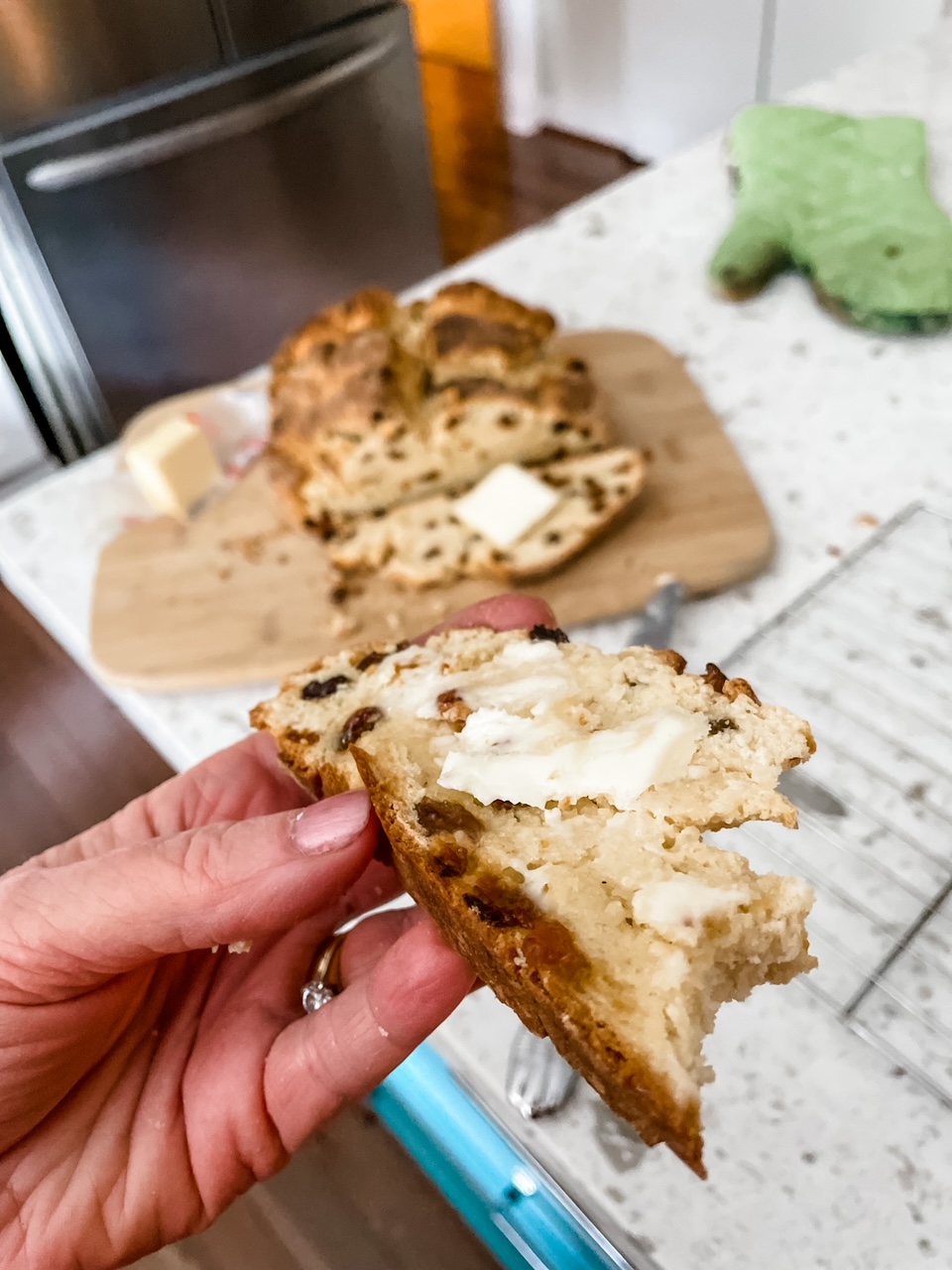 What is Irish Soda Bread?
Not surprisingly, Irish Soda Bread is a bread made with baking soda instead of yeast.
That's why it's so easy to make. You don't have to worry about accidentally killing the yeast, under or over proving the dough, or any of the tricky and time-consuming steps that can make baking bread an intimidating prospect.
The reason that the Irish used soda as a raising agent is that the flour in Ireland was ground from lower gluten "soft wheat", which is best for non-yeasted breads. And it might surprise you to know that the Irish actually got the idea of using soda in bread from the Native Americans.
In fact, the origins of Irish Soda Bread only go back to the 1830s! If you'd like to know more, check out this article. It's pretty interesting!
Easy Irish Soda Bread – Sugar, Raisins, and Controversy
According to the Society for the Preservation of Irish Soda Bread (Yes, there really is such a thing), the only ingredients for real Irish Soda bread should be flour, soda, buttermilk, and salt. Adding anything else makes it a "tea cake".
Well…okay. But I've never been one to skirt a good controversy. And since the addition of a few extra ingredients makes the bread taste better, I'm all for it.
However, when making Irish Soda Bread, I do think there is one topic that must be addressed.
You know what I'm talking about, yes? The divisive subject of raisins.
Easy Irish Soda Bread and Raisins
As it turns out, people have very strong feelings about raisins! Just last week, somebody posted a thread on Facebook asking if there was one ingredient that definitely made people not want to try a recipe. About half of the respondents said raisins were a deal-breaker for them.
I actually like raisins. And they are listed in the ingredients for Easy Irish Soda Bread. But they're definitely optional, as is the sugar. Here's my rule of thumb…
When I'm making Irish Soda Bread to be eaten for breakfast or as a snack with tea or coffee, I add the raisins and the sugar. If I'm making it to accompany a savory dish, such as Irish stew or corned beef and cabbage, I leave them out.
Raisins or no, Irish Soda Bread is still tasty. And easy to make.
How Do You Make Your Own Easy Irish Soda Bread?
When I say it's easy; I'm not kidding.
Mostly, you just stir in the ingredients. The only thing that's even vaguely technical is adding the butter. You need to work it into the flour in very small pieces.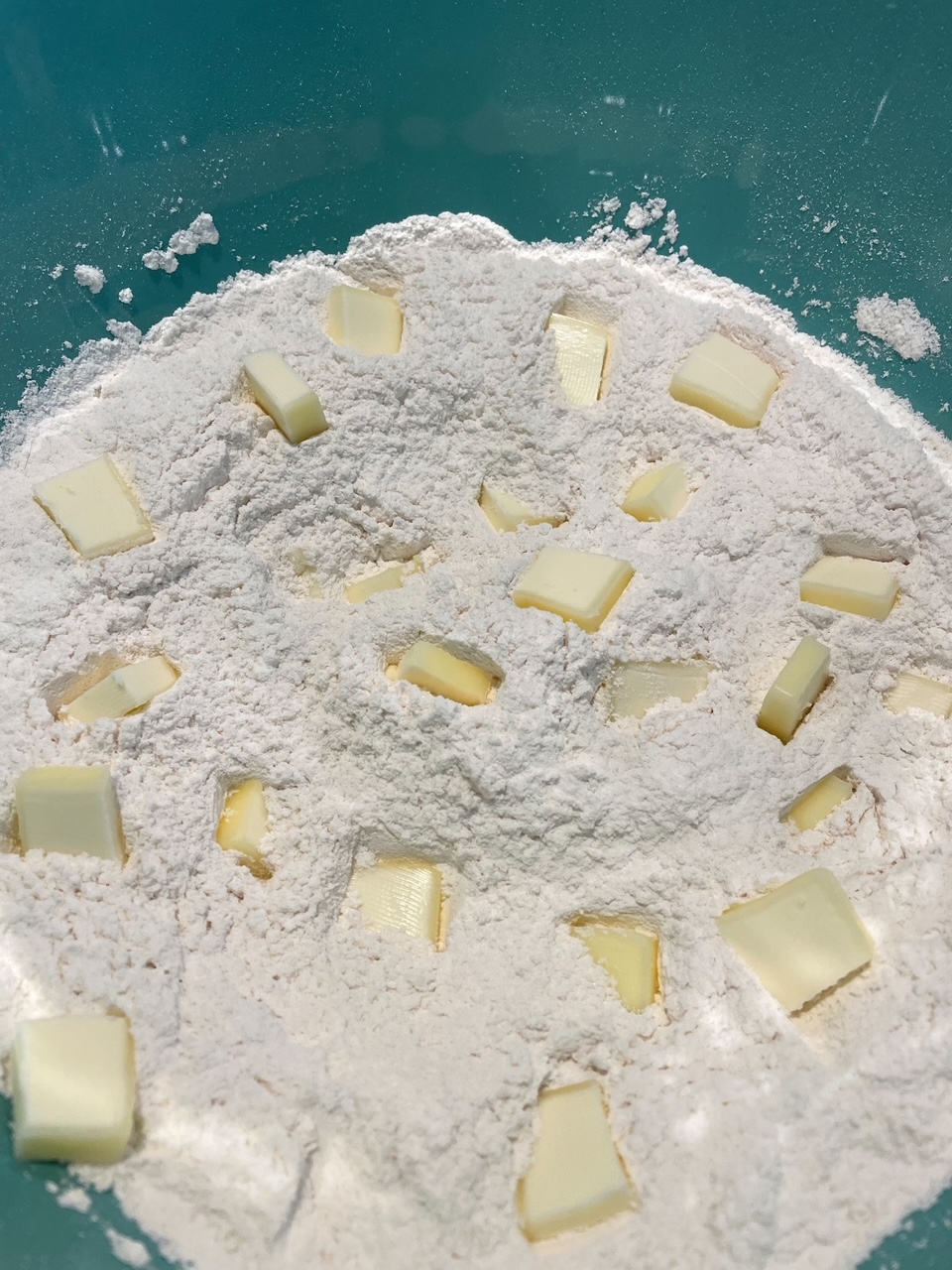 To speed the process, I like to cut the butter into quarters and then into about half-inch slices before putting it in the dry ingredients and stirring to coat. Then I put my clean hands into the bowl and pinch the butter pieces into smaller and smaller bits, not bigger than a small pea.
Once that's done, I'd add my egg and buttermilk to the bowl and stir just to combine. The dough will be pretty sticky and fairly shaggy, almost like a biscuit dough. If you feel like it's too wet, you can add a bit more flour but not a lot. You don't want the dough to be too stiff.
When the dough comes together in a ball, dump it onto a floured surface and give it a quick knead, just enough so that it's holding together fairly well.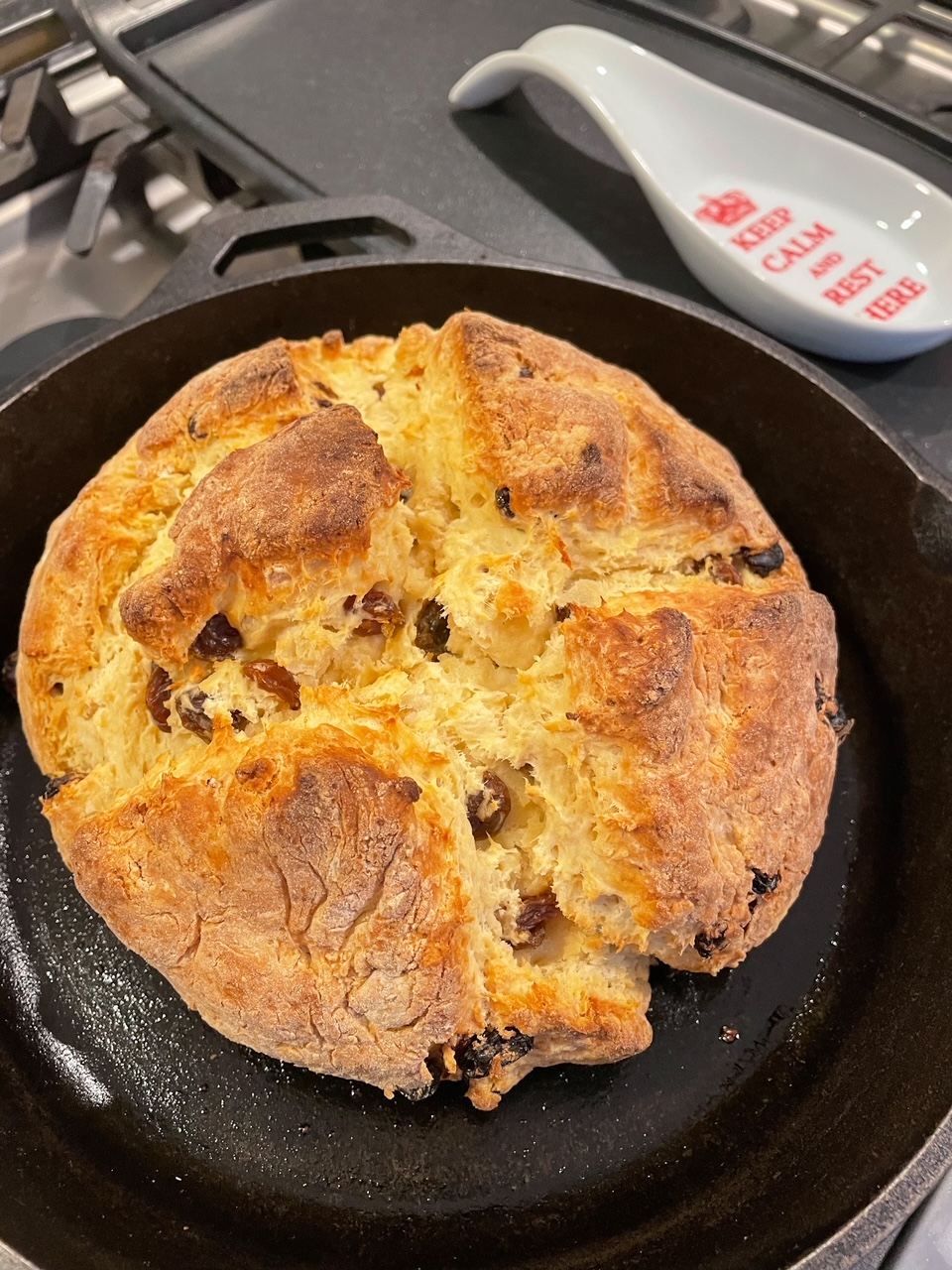 Getting It Baked
Finally, you'll shape the dough into a domed loaf, and use a serrated knife to make a cross in the top. Cut down at least a third of the way. Doing so will help make sure the center of the bread bakes thoroughly.
You can bake your Irish Soda Bread on a baking sheet or even in a pie pan. However, I like to make mine in a cast-iron skillet that has been lightly greased with olive oil. It makes the bottom crust nice and crisp.
Here's the bottom line. Irish Soda Bread is easy to make and so tasty! Try making a loaf soon!
Print
Easy Irish Soda Bread Recipe
---
Author:

Yield:

Yields

one

loaf

1

x
4 cups

flour, plus extra for kneading

1

T sugar (if you're planning on serving with a savory meal, you can leave it out)

1 tsp

salt

1 tsp

baking soda

4

T unsalted butter, quartered and sliced into half-inch pieces

1 cup

raisins (optional)

1

egg, beaten

1 ¾ cup

buttermilk
---
Instructions
Preheat the oven to 425 degrees.
Place the flour, sugar (if using), salt and baking soda into a large mixing bowl. Stir or whisk to combine ingredients.
Add the small pieces of butter to the dry ingredients. Cut the butter into the flour, either by using a pastry cutter or by using your clean hands to pinch the pieces of butter into very small pieces, not larger than a very small pea, until the mixture resembles a coarse meal.
Stir in the raisins, if using. Then add the beaten egg and buttermilk to the bowl and stir to combine, being careful not to overwork the dough. It will be fairly sticky but should hold into a loose ball. If not, at a little more flour.
Turn the ball of dough out onto a well-floured surface. Dust flour onto your clean hands and knead the dough very briefly, just until it's holding together. Use your hands to shape it into a round loaf.
Use a serrated knife to cut a deep cross into the top of the loaf. Place the bread onto a baking pan or a lightly greased cast iron skillet.
Bake in a preheated oven for 45 minutes. Check the oven after 35 minutes. If the loaf is getting too browned, cover with a loose cap of foil.
Remove baked bread from oven, allow to cool a few minutes before serving.