This post may contain affiliate links. Full disclosure policy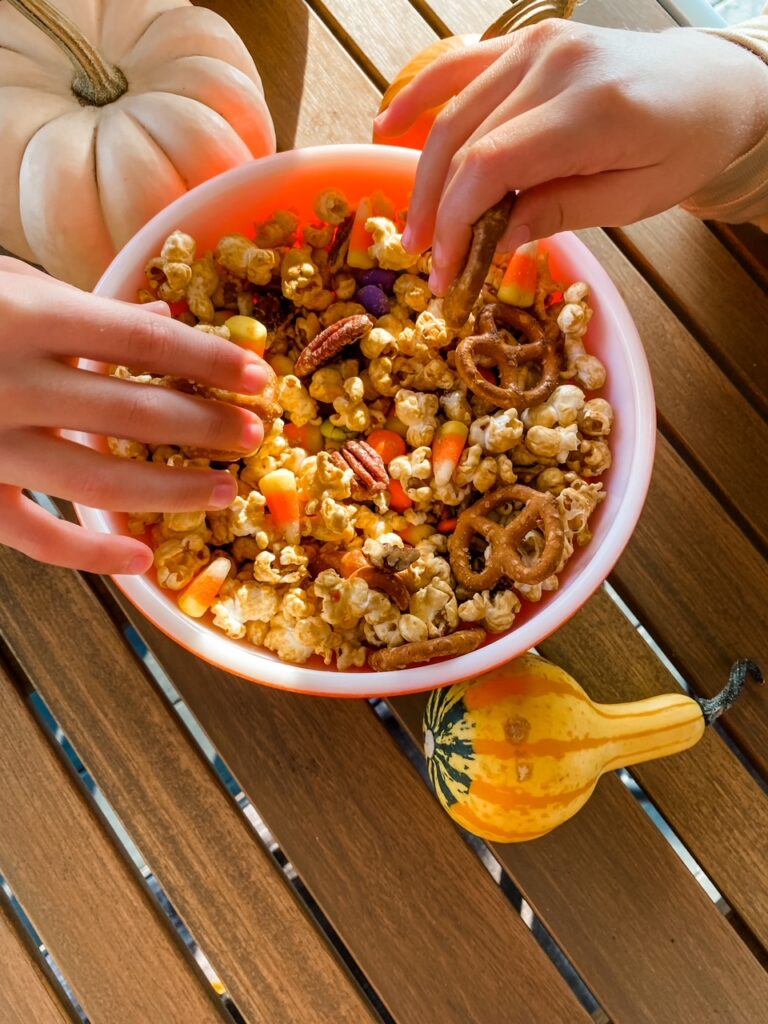 Crunchy, sweet and super simple to make! Maple syrup makes this Easy Halloween Caramel Corn Recipe practically foolproof. Great for Halloween parties, Harvest festivals, or a yummy fall snack!
Avoiding Caramel Catastrophe
One of the scenes in my next book, which won't be released until late May 2023, involves the making of caramel.The fact that this upcoming novel is titled Esme Cahill Fails Spectacularly should hint at how Esme's caramel turns out, but the long and short of it is – not well.
Not at all well.
When the story begins, Esme is failing on multiple levels. However, unlike some of the other situations she's struggling with, the caramel catastrophe isn't really her fault. Because as anyone who has ever tried it knows, making caramel at home can be hard!
But it doesn't have to be. At least, not the kind you can use to make my Easy Halloween Caramel Corn Recipe.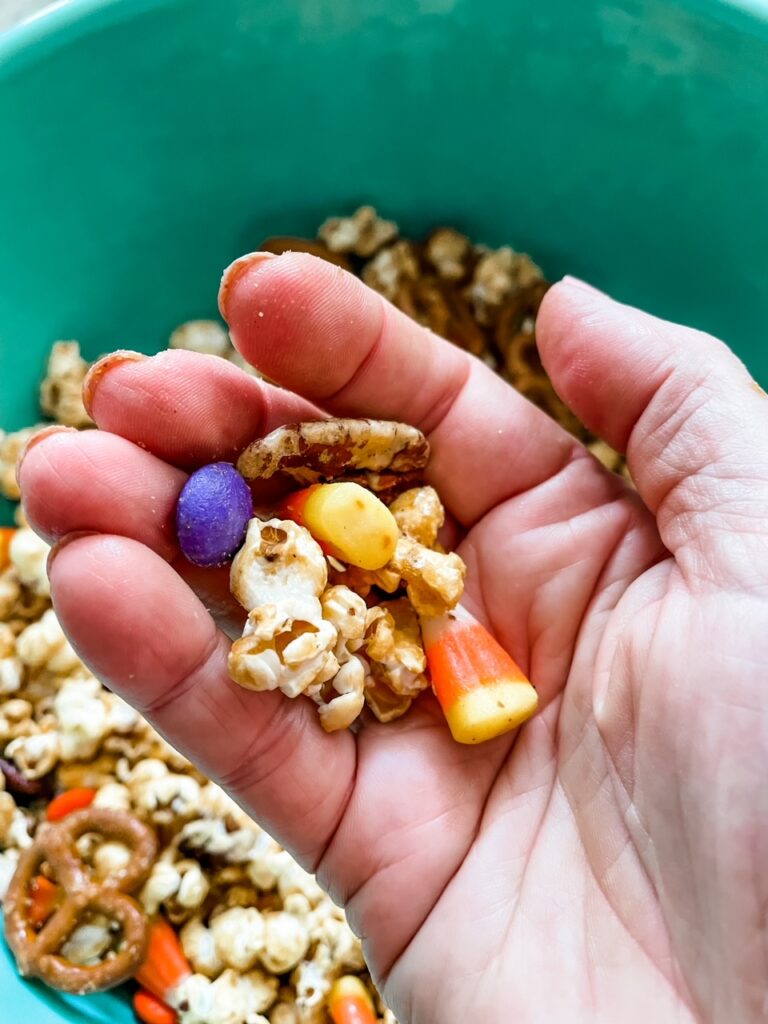 No Fuss, No Frustration, No Burn
Generally, caramel making starts with granulated sugar that is melted over fairly high heat, then stirred and stirred and stirred until it liquifies and begins to turn a lovely and exactly perfect shade of amber. Seems easy enough, right?
Unfortunately, the time that that amber-colored syrup goes from beautiful to burnt can be measured in nanoseconds.
It's not impossible to make good caramel, especially with a little practice. But if you can use a shortcut that will give you the same flavor without the fuss, frustration, and potential for disaster, why not take it?
Exactly.
And that's where the maple syrup comes in.
Maple Syrup: Put the Easy into My Easy Caramel Corn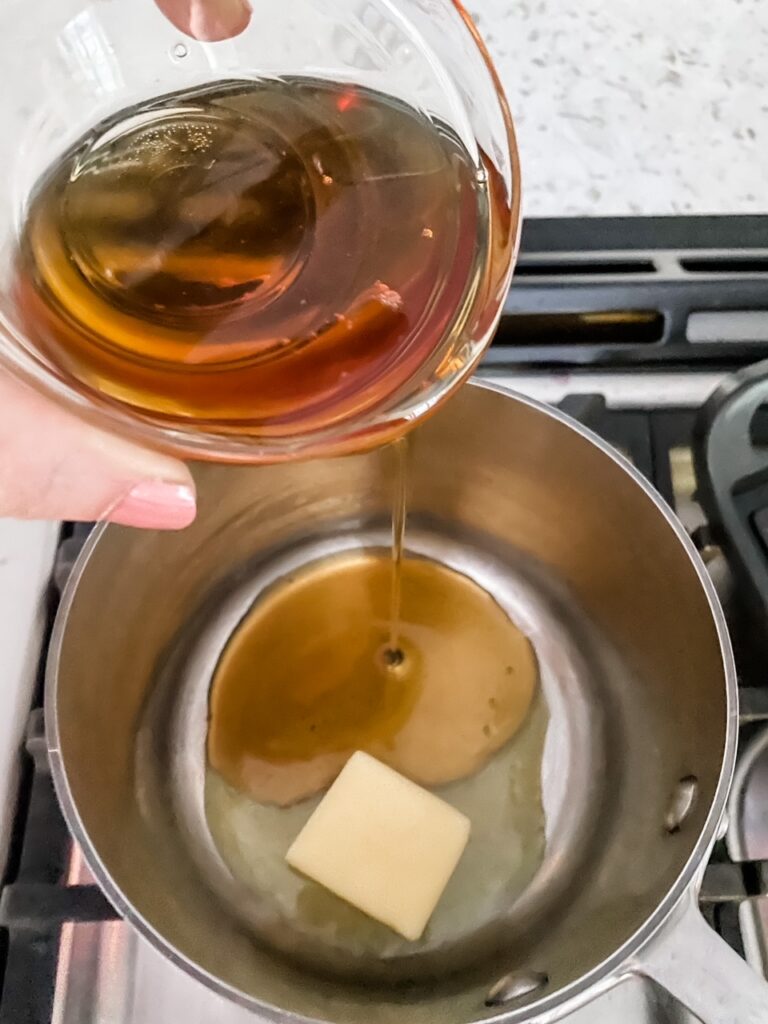 In place of sugar, my recipe calls for maple syrup, butter, salt, and a little bit of baking soda to keep the caramel from turning grainy.
You'll just stir the syrup together with the melted butter. When the mixture reaches approximately 225 degrees, add the soda and salt, pour it over the popcorn and add some other add-ins and stir.
You can use a digital instant-read thermometer or candy thermometer to measure the temperature. I really think an instant-read thermometer, like this one, is the best. They're not expensive and are one of my kitchen's most useful tools.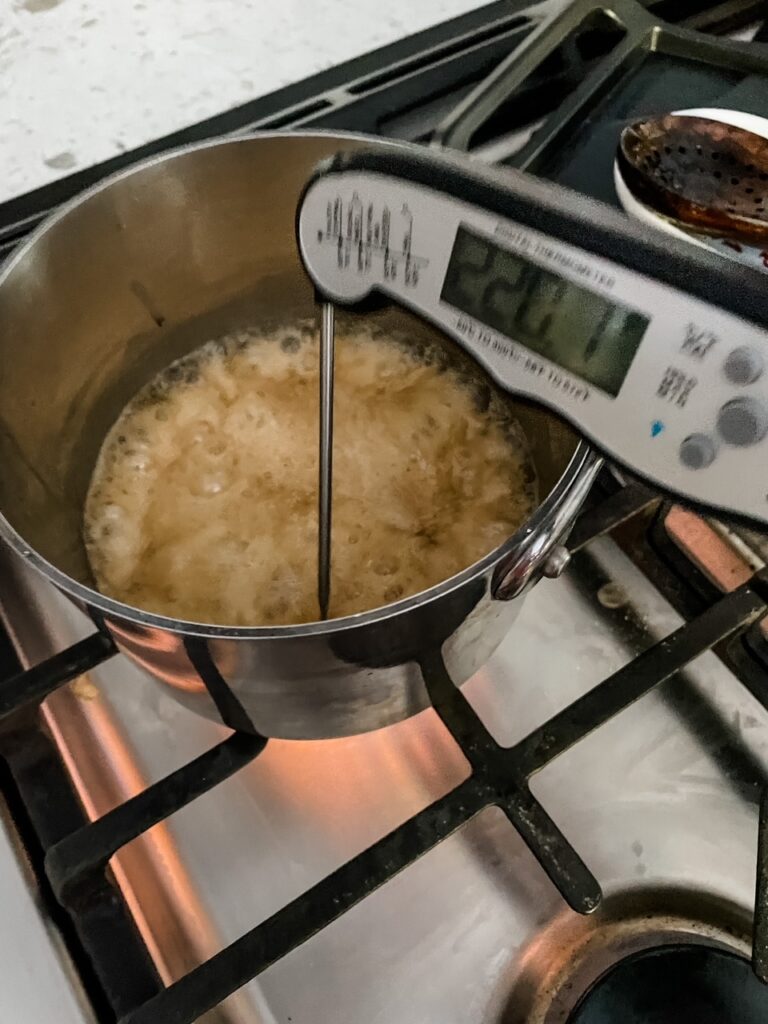 Using a thermometer makes this recipe foolproof. But if you don't have one, try stirring in the salt and soda just about thirty seconds after the syrup mixture starts to boil. This is a pretty forgiving recipe, so you'll probably be fine.
After pouring and stirring the caramel into the bowl, you'll spread the sticky caramel corn out onto a rimmed baking sheet lined with parchment and pop it into the oven to bake. During the baking process, the caramel flavor intensifies and turns the sticky syrup into an irresistible, crunchy sweet coating. Yum!
The final step is to stir in the extra candy or add-ins. And that's where the fun really starts!
Easy Halloween Caramel Corn: Perfect for All Your Autumn Celebrations
Of course, you could use this recipe to make regular and absolutely delish caramel corn. Nothing wrong with the classics, am I right?
But stirring in a few extras, such as pretzels, pecans, candy corn, and colorful M&Ms, makes this caramel corn extra tasty and extra fun to eat! Those are the add-ins I used in my recipe, but this is definitely a choose-your-own-adventure recipe, so pick the goodies you like most.
Other suggestions include Chex cereal, peanuts, walnuts, almonds, Reese's Pieces candy, Rolos chocolate caramels, butterscotch, or peanut butter-flavored baking chips.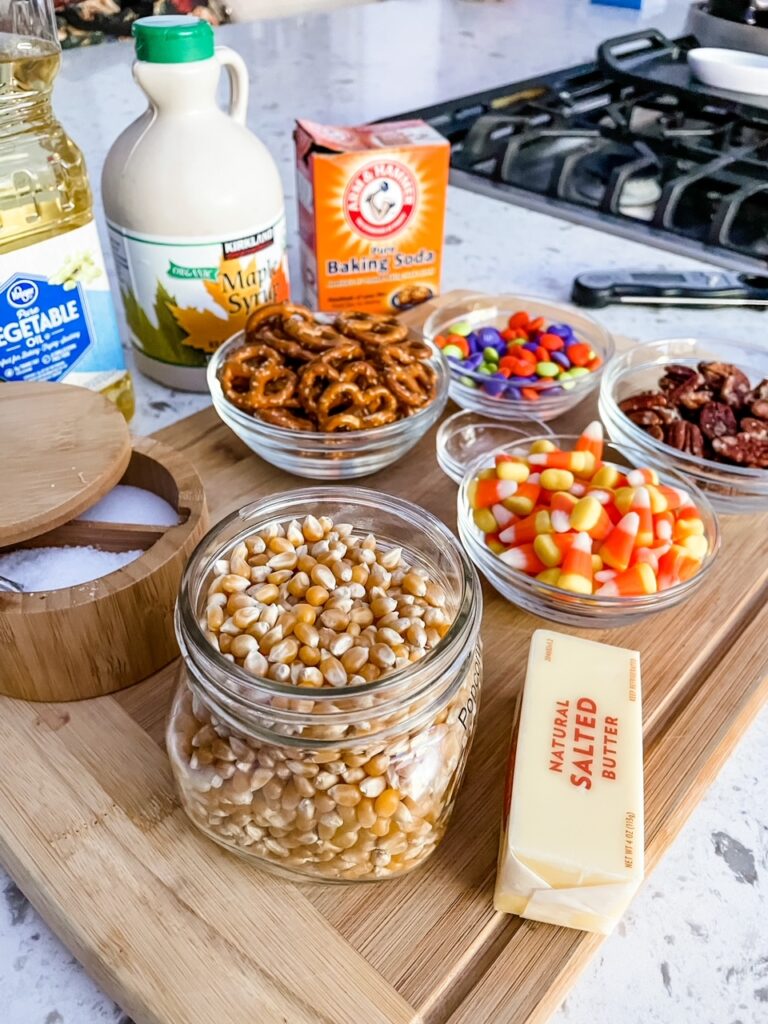 However you choose to jazz it up, this easy caramel corn is the perfect treat to serve at a Halloween party, harvest festival, or any fall gathering. It's also a nice way to treat yourself or your family on a chilly autumn afternoon.
And if you're trying to earn bonus points in the Grammy of the Year Competition, making a big bowl of Easy Halloween Caramel Corn for the littles in your life will definitely shoot you to the top of the leaderboard! Works for Most Indulgent Auntie and Nicest Lady in the Neighborhood contests too.
Print
Easy Halloween Caramel Corn Recipe
---
2

T neutral oil (corn, vegetable, safflower, etc)

½ cup

popping corn kernels

½ cup

REAL maple syrup

4

T butter

½ tsp

salt

¼ tsp

baking soda

1 cup

small pretzel twists *

3/4

pecans, roughly chopped *

1 cup

candy corn *

½ cup

M&Ms candies *
*Optional add-ins, see post of possible substitutions
---
Instructions
Preheat oven to 250 degrees. Lined a large, rimmed baking sheet with baking parchment.
Place the oil in a large, heavy bottomed pot over medium-high heat. Add the popcorn kernels and cover the pot with a lid. Keeping hold of the lid, shake the pan back and forth over the burner. (Protect your hand with a potholder if the lid gets hot.) Keep shaking as the corn begins to pop, continue until the popping slows and you can count to three between pops.
Remove pot from heat. Pour the popped corn into a large bowl, removing any burnt or unpopped kernels. Stir the pretzels and pecans into the bowl. (If you're subbing other add-ins, you can add anything that won't melt or get soft at this point.). Set bowl aside.
Place maple syrup and butter into a pan on stove, over medium heat, stirring constantly until the butter is melted and the mixture reaches approximately 225 degrees. (Use a digital instant-read thermometer or candy thermometer to measure temperature.) Stir in salt and baking soda. Caramel will foam slightly.
Remove pan from the stove and immediately pour the hot caramel sauce over the popcorn, pretzels, and nuts. Stir to coat evenly.
Spread caramel corn onto the prepared baking sheet. Bake in the preheated oven for 30 minutes. Remove from oven and allow to cool before stirring in the candy corn and M&Ms.
Store in a plastic zipper bag or covered bowl or bin.