This post may contain affiliate links. Full disclosure policy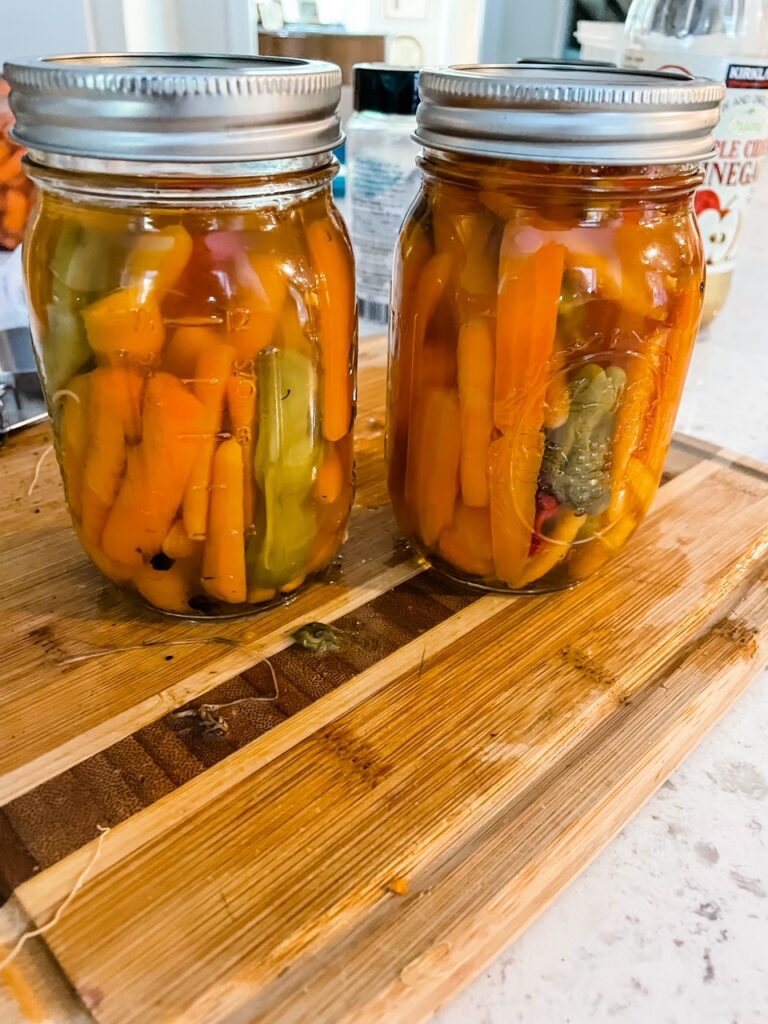 Have more carrots than you can eat? Don't let them go to waste, make my 5-Ingredients Easy Pickled Carrots instead! Terrific on salads, charcuterie boards, or as a snack. Eat now or can them to enjoy later!
Coming Home to Garden Bounty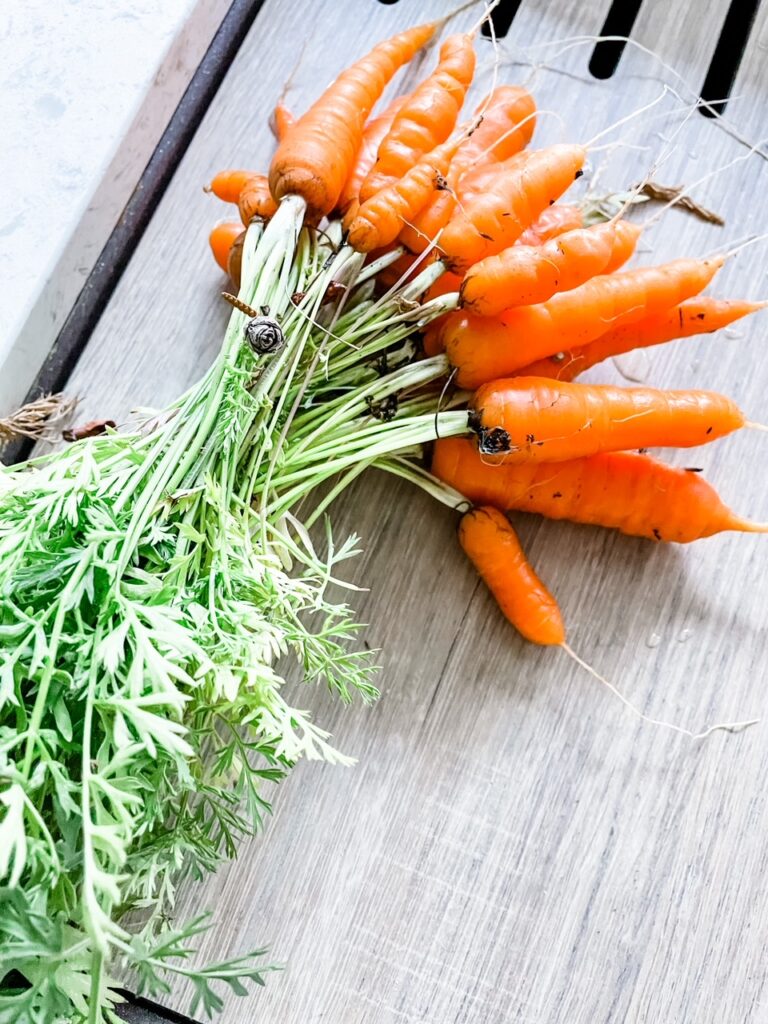 I just returned from a fun trip to my old stomping grounds, touching base with friends and doing some business in Connecticut and New York. As much as I love traveling, I also love being home, especially at this time of year.
After unpacking, dealing with the laundry, and sorting through unopened mail, I turned my attention to my garden. Dropping temperatures and leggy plants with fading leaves signaled the end of the growing season, and the need to harvest the remaining produce, especially the carrots.
They made a pretty, and very large bouquet, definitely more than we could eat before they turned soft. Also, I still had a lot of peeled baby carrots left over from the neighborhood party we threw before leaving for our trip.
It was time to make some 5-Ingredients Easy Pickled Carrots!
Never Made Pickles? Easy Pickled Carrots are a Simple Way to Start
Even if you've never pickled anything before, you'll have no trouble making pickled carrots. When I say they're easy, I'm not kidding.
Besides the carrots, all that's required to make basic pickled carrots is vinegar, sugar, salt, and water. Those five ingredients, a pot, a stove, and a little time are all you need to make a batch of tart and sweet pickled carrots.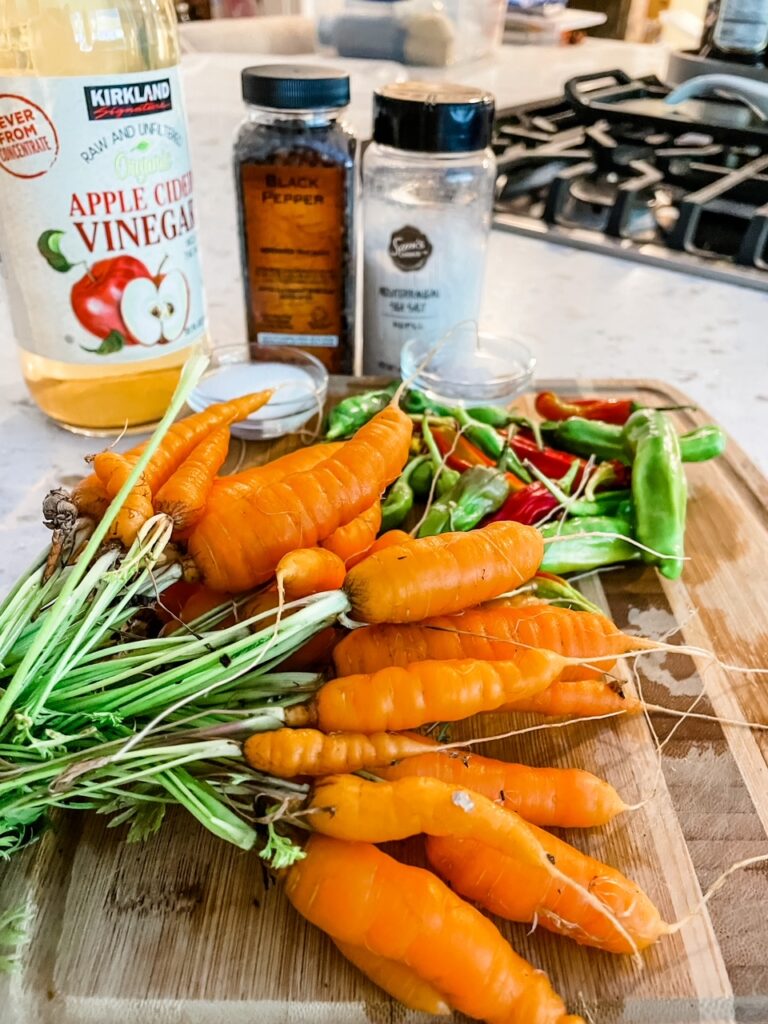 If you want to jazz things up, you can add a few extras. For example, I decided to add the last shishito peppers from the garden, as well as some whole peppercorns to two jars of pickled carrots. I added red onion, fresh rosemary, and peppercorns to the others.
Feel free to experiment by adding different herbs, spices, or vegetables to your pickled carrots. It's a fun way to add variety and flavor to your pickles. And they look so pretty!
But the basic recipe is terrific too, and crazy easy to make.
How to Make My 5-Ingredient Easy Pickled Carrots
The first step in making pickling carrots is to wash and peel them.
In theory, you could pickle your carrots without peeling them. But unless the carrots are young and small, the skins can taste bitter, so I recommend peeling all but the smallest before pickling.
After that, you'll need to decide how to prepare carrots.
Shredded pickled carrots are delicious on top of a salad or in a sandwich. You can also slice them into coins. I elected to cut mine into sticks. How you cut the carrots is up to you, there's no wrong way to do it.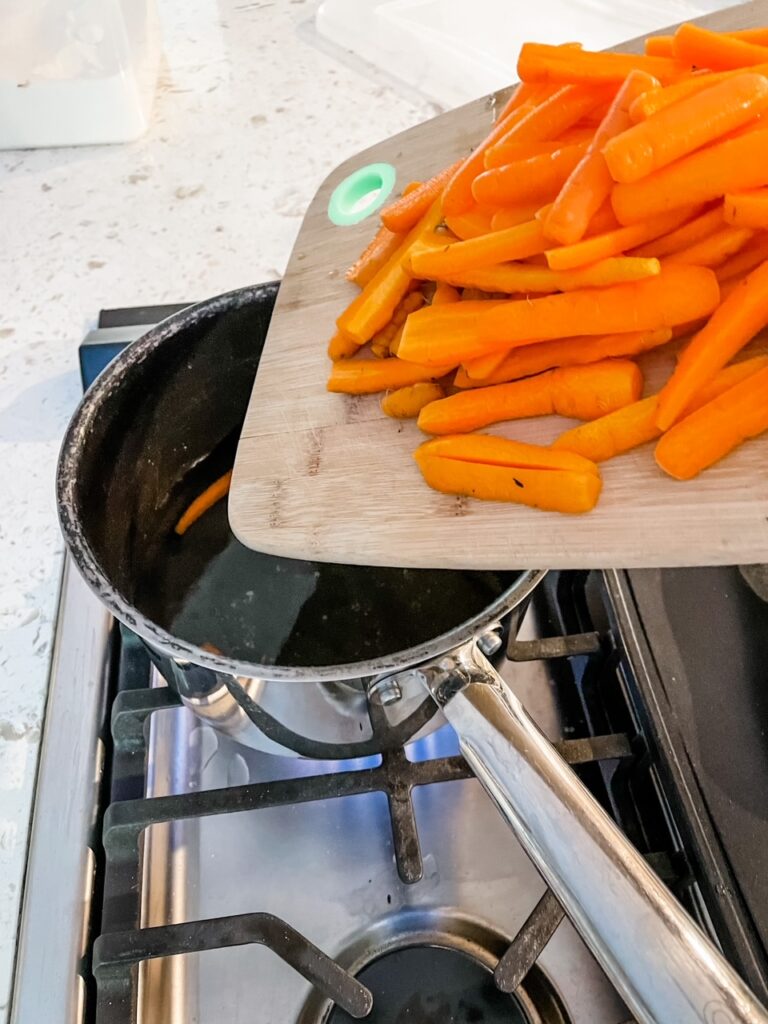 Next, you'll put the vinegar, sugar, salt, and water into a pot on the stove, making a brine. For about ten minutes, you'll simmer the prepared carrots (along with any additional vegetables, such as peppers or onions) in the brine.
After simmering, you'll have pickled carrots! That's all there is to it!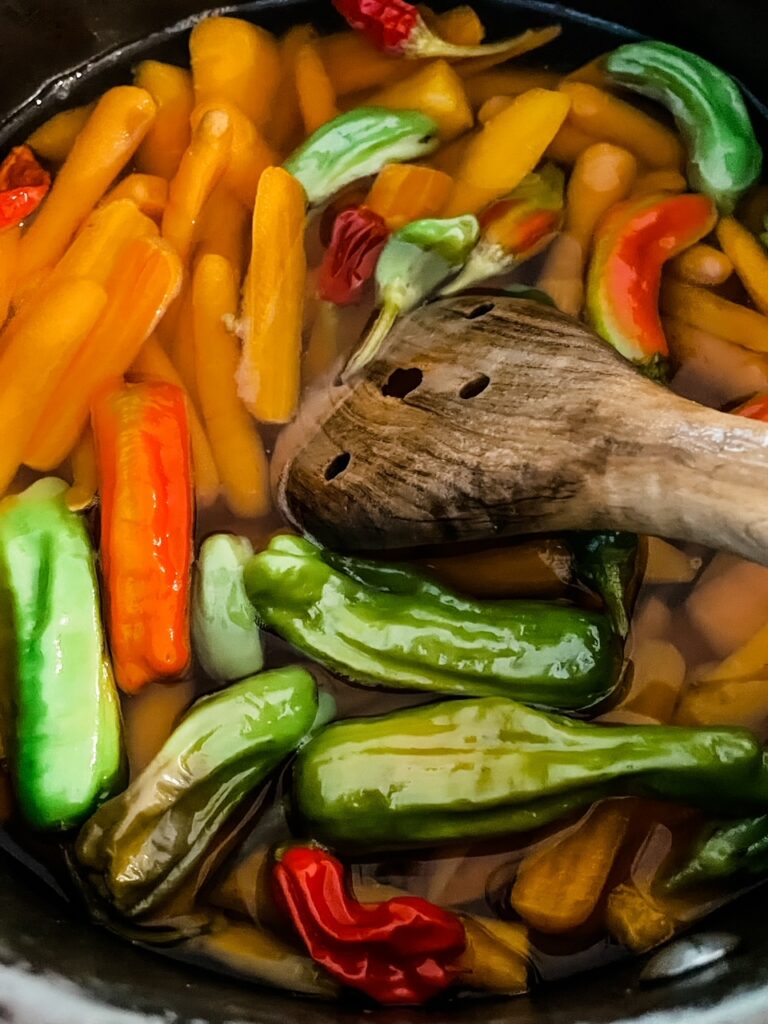 Storing Your Easy Pickled Carrots
Once your pickled carrots have cooled, you can use them right away.
But they'll taste even better if you cover the carrots with the brine and let them sit for a couple of days. As long as the carrots are submerged in the brine, they'll keep in the refrigerator for up to three weeks.
Canning your pickled carrots is an option too. That's what I did, using a traditional water bath canning method.
To do so, just put the pickles in a jar, leaving an inch of headspace, and cover them completely with the pickling brine, leaving at least a half inch of space at the top of the jar. Place new jar lids and screw tops on the jars, then process the jars in briskly boiling water for 15 minutes. Remove the processed jars from the water bath with tongs and let them on the counter, allowing the jars cool and the lids to seal.
(If you've never done home canning, check out this article about water bath canning from The Food Network.)
After canning, store the jars in a cool, dark place. They'll keep almost indefinitely but be sure to put them in the refrigerator after opening the jar.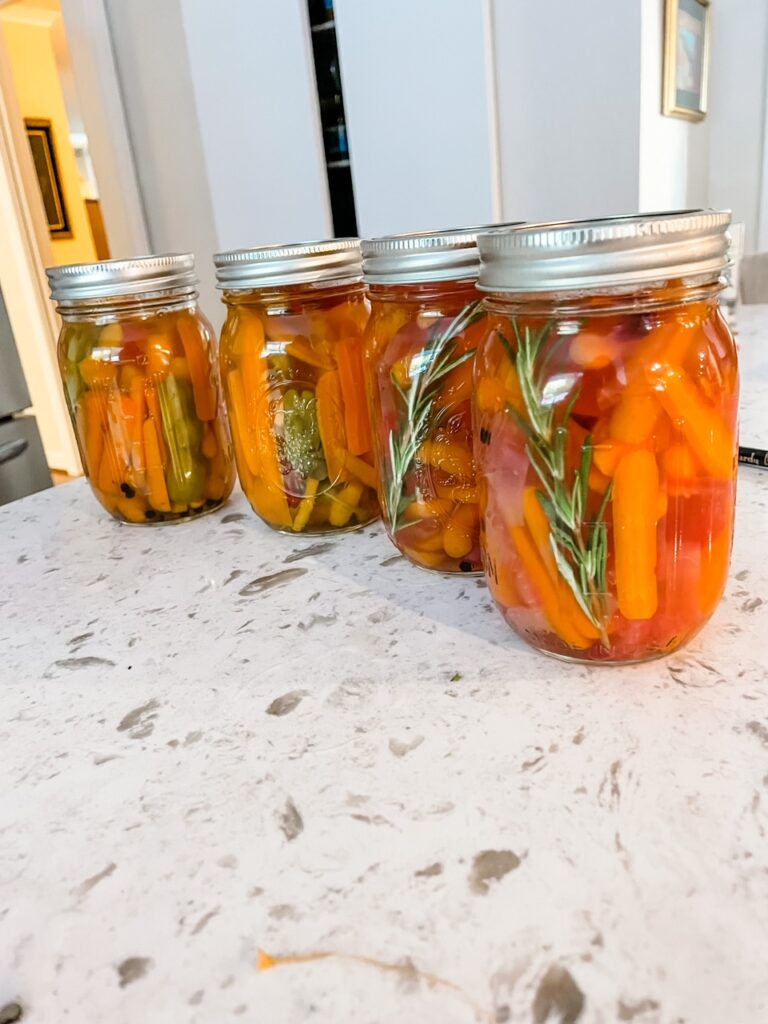 What to Do With Pickled Carrots?
As I said, pickled carrots are a tasty addition to all kinds of salads and sandwiches, as a topping for a bowl of ramen or Asian noodles, or as a side dish for savory roasted meats.
They're also great for charcuterie boards, relish trays, or eaten straight of the jar as a quick and healthy snack.
Print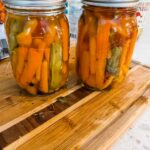 Easy Pickled Carrots
---
Author:

Yield:

Makes

one pint

jar

1

x
½

  pound carrots, washed and peeled

¾ cup

apple cider vinegar

½ cup

water

1

–

2

T white sugar (if you like a slightly sweeter pickle, use

2

T instead of 1)

½ tsp

salt
Optional additional ingredients can include spices (peppercorn, star anise, mustard seeds, etc.) fresh herbs (dill, rosemary, etc.) or vegetables (peppers, onions, jalapeno, etc.) See post for details.
---
Instructions
Prepare the carrots and any additional vegetables, shredding, slicing, or cutting them into the desired size and shape.
Place the cider, salt, sugar, and water into a deep, heavy bottomed pot. Bring the ingredients to a boil on the stove, dissolving the sugar and salt in the liquid, creating a brine.
Lower the heat to a simmer. Add the carrots and any optional vegetables to the pot, making sure they are covered by the brine. Simmer for 10 minutes. Remove pot from heat.
Place pickled carrots in a clean container, cover with brine, and store in refrigerator for up to 3 weeks. Canned and processed pickles can be stored in a cool, dark place almost indefinitely but jars should be stored in the refrigerator after opening. (See post for tips and links on canning pickles.)