This post may contain affiliate links. Full disclosure policy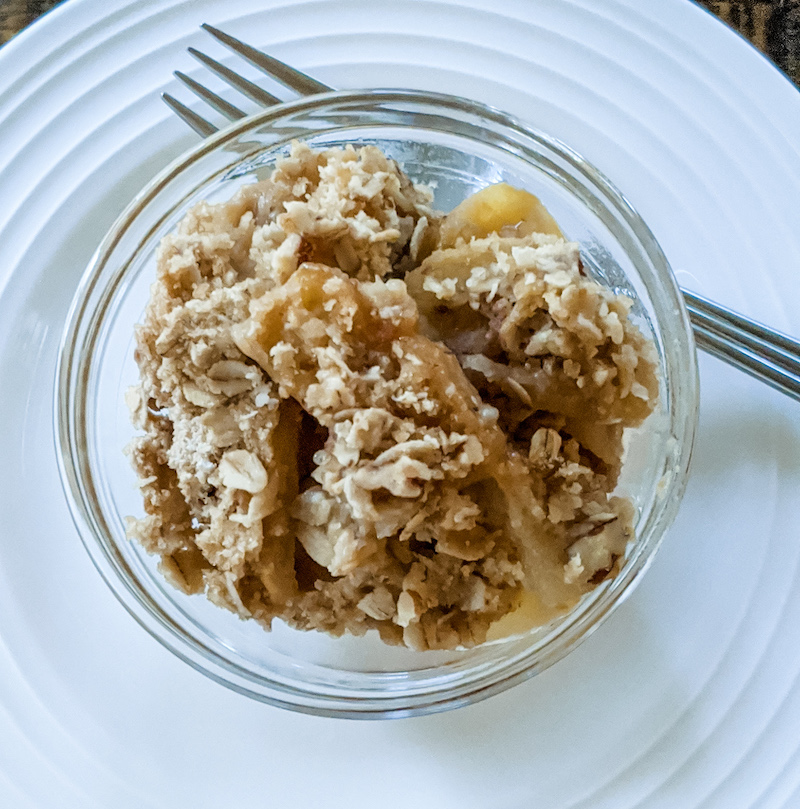 If you're going to have dessert, make it a good one. My easy fall recipe for Salted Caramel Apple Crisp is easy to make and loaded with the flavors of fall!
I love desserts. But I don't have them very often. As Prue so wisely says, a lot of the time it's just not worth the calories. (BTW, who else is excited that Season 8 of The Great British Baking Show is now available on Netflix?!)
My husband loves apple crisp. If we go out to dinner and apple crisp is on the dessert menu, he's going to order it. But I've never been a huge fan. Don't get me wrong, I love apples! Picking apples, cooking apples, and eating apples are some of my favorite fall activities.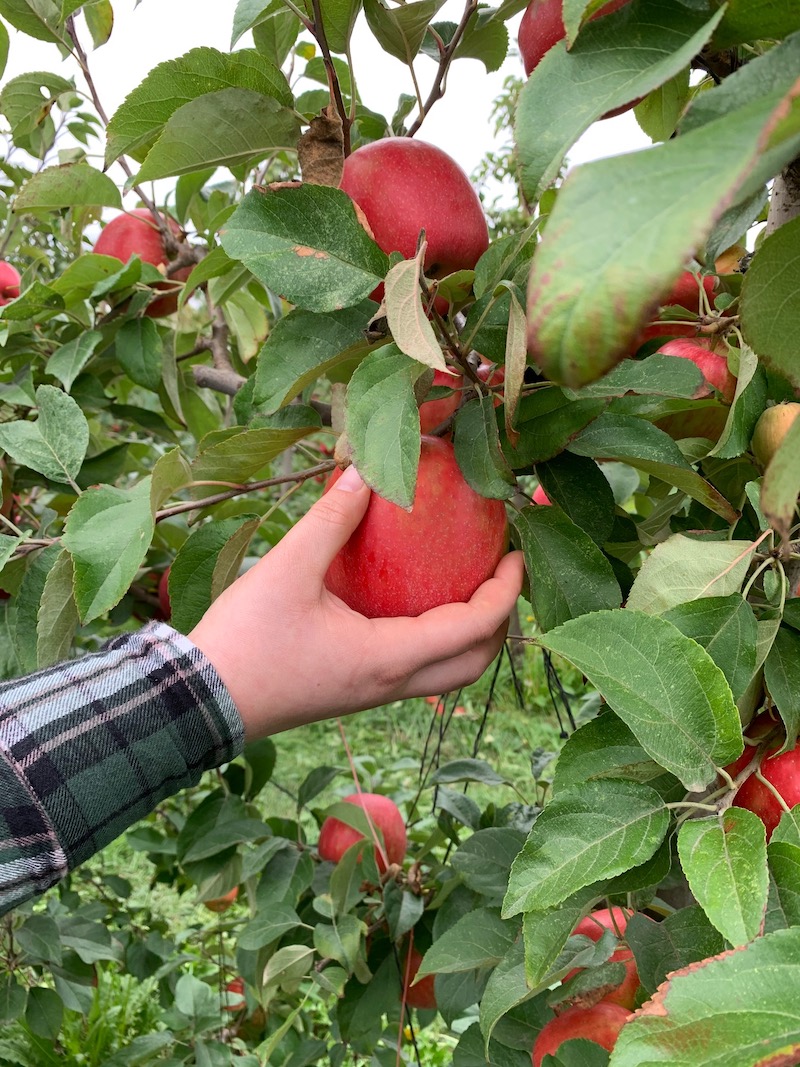 But most of the time I find apple crisp to be kind of…meh. Just not worth the calories.
All that changed last week, when I came up with this easy fall recipe for Salted Caramel Apple Crisp.
Inspiration in the Produce Aisle
My quest to create a calorie-worthy version of apple crisp started when I grocery shopping and saw a display of Litehouse Low-Fat Caramel Dip next to the apples.
Apples are delicious. Adding some caramel to that apple kicks the flavor from delicious to divine! However, making caramel sauce can be messy, time-consuming, and tricky. The time it takes caramel to go from almost done to burned beyond recognition can be measured in microseconds.
But incorporating pre-made caramel sauce into an apple crisp? That seemed like it had the potential to be easy and divinely delicious!
Snatching Victory from the Jaws of Defeat!
I'm not going to beat around the bush here. My first attempts at making a caramel apple crisp were less than successful.
I think I got sucked in by the whole concept of low-fat caramel. It started out thinking I'd come up with a version of caramel apple crisp that was low calorie but tasted amazing. So I left out the sugar, the butter, basically a lot of the stuff that makes dessert taste good.
Honestly, the results weren't bad. But they weren't good either. They were just…meh. Which was very, very disappointing. Honestly, I came closer to filing this recipe under "good ideas that didn't pan out."
Then I started thinking about my British Baking Show buddy, Prue. (Just to be clear, I have never met Prue. But if I ever do, I feel like we'd become instant BFFs.)
I decided to make one last-ditch effort at creating a caramel apple crisp. But this time, I'd make a crisp that truly was worth the calories.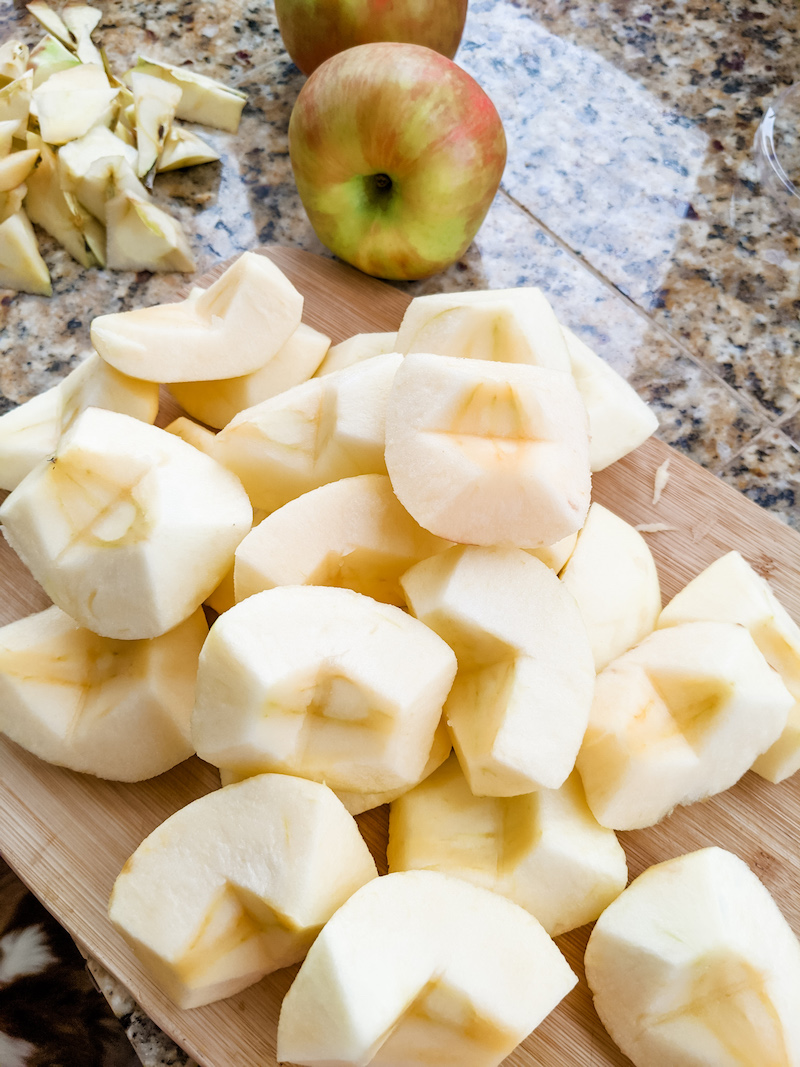 SUCCESS – My Salted Caramel Apple Crisp, An Easy Fall Recipe!
I'm so glad I didn't give up because the third time was definitely a charm. Salted Carmel Apple Crisp is my family's new favorite dessert!
The melt-in-your-mouth flavor of baked apples and cinnamon, married with rich gooey caramel and just a sprinkling of Kosher salt at the finish takes this apple crisp from meh to marvelous!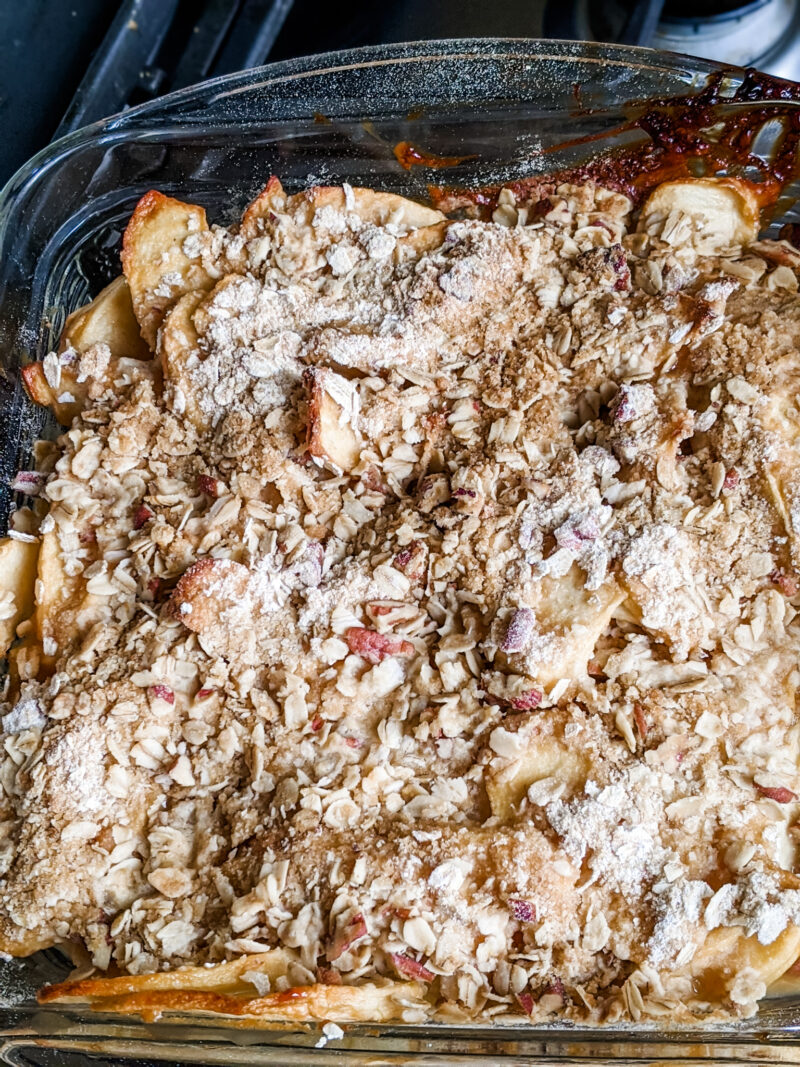 And though I wouldn't quite qualify my Salted Caramel Apple Crisps as completely diet-friendly, I did make a few concessions of health consciousness. How? By sticking with the low-fat caramel dip, not using any more butter or sugar than necessary, increasing the ratio of whole grain oats to refined flour, and adding a few heart-healthy nuts for crunch and flavor. Either way, this is definitely an easy fall recipe.
Small changes add up over time, so I'm always looking for little tweaks to make recipes healthier. But at the end of the day, it's still got to taste good.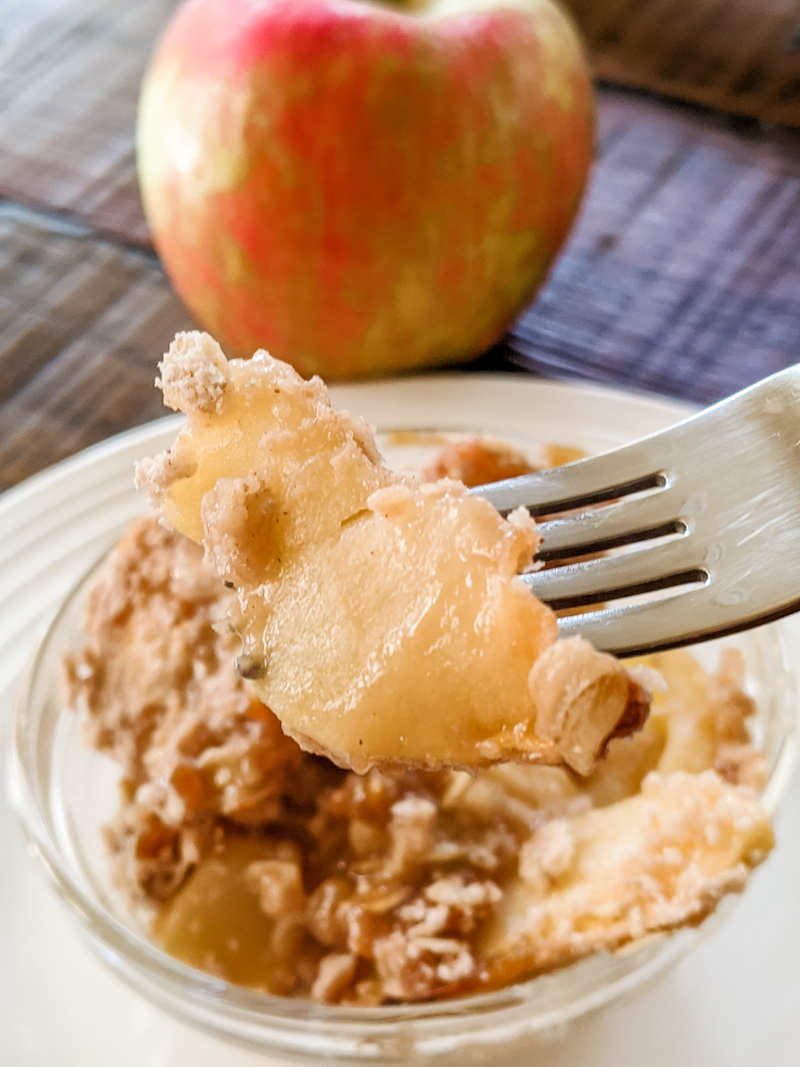 After a couple of false starts, I'm happy to report that my Salted Caramel Apple Crisp definitely passes the test. I think Prue would approve.
Celebrate the flavors of fall by baking a pan of Salted Carmel Apple Crisp this week!
Print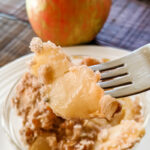 My Salted Caramel Healthy Apple Crisp Recipe
---
Author:

Yield:

4

servings

1

x
4

large apples (Honeycrisp or Granny Smith), about 2 lbs, peeled and sliced

¼ cup

Litehouse brand Low Fat Caramel Dip

½ cup

old fashioned rolled oats

¼ cup

white flour

¼ cup

brown sugar

1 tsp

cinnamon

3

T cold butter, cut into small pieces

¼ cup

pecans, chopped (Can substitute walnuts, hazelnuts, or leave out entirely.)
Kosher salt
---
Instructions
Preheat oven to 350 degrees
Place peeled, sliced apples into large bowl. Put caramel dip into glass bowl and microwave for about thirty seconds to soften.  Pour warm caramel into apples and stir with a large spoon or spatula to distribute. Set aside.
Stir together oats, flour, brown sugar, and cinnamon in a small bowl. Place cold butter pieces into bowl. Use a pastry cutter, fork, or two knives to cut butter into oat mixture until the butter looks like pea-sized crumbs. Stir in chopped nuts, if using.
Place caramel apple mixture into an 8×8 baking pan. (Note: if you decide to double or triple the recipe, you'll need larger pan) Spread oat mixture over the top. Bake for approximately 45 minutes, until the topping is golden brown and your kitchen is filled with the mouth-watering smell of baked apples and buttery caramel. Yum!
Remove pan from oven. Sprinkle a few grains of Kosher salt over the top of the crisp. (Don't overdo it! Just a few grains!)
Notes
Enjoy Salted Caramel Apple Crisp as is or served with vanilla ice cream, a dollop of vanilla yogurt, a drizzle of cream, or an extra teaspoon of the leftover caramel dip.