This post may contain affiliate links. Full disclosure policy
THIS POST MAY CONTAIN REFERRAL LINKS. IF YOU CLICK THROUGH AND TAKE ACTION, I MAY BE COMPENSATED, AT NO ADDITIONAL COST TO YOU.
You've probably heard about "love languages," haven't you?  The different ways people express their love for others?   My primary love language is gift giving. I'm always on the lookout for that perfect little present to surprise a special friend or family member.
These easy, totally adorable spa gifts and baskets are a fun way to show a little homemade love to the people you love.  Or even as a treat for yourself. After all, everybody deserves a little love and kindness, including you.
The Gift of Me Time
The best thing about DIY spa gifts is that almost all of the ingredients you need are easily available in the grocery or drug store. Chances are, you already have most of what you need on-hand already.
If you don't already have some, you will need to invest in some essential aromatherapy oils. Spending a little extra on good quality essential oils is definitely worth it.  Some of these recipes only require a few drops of oil, so even small bottle is enough to make a ton of DIY spa gifts.
Using a single aromatherapy oil – such as lavender, peppermint, rosemary, or lemon – makes for a perfectly lovely spa gift.  However, if you want to get fancy you can try combining oils to create a unique blend.
Try mixing Lavender and Rosemary for a rich, relaxing scent, Peppermint and Orange for an invigorating blend that wakes up your senses, Grapefruit and Lemon for a citrusy smelling treat, or even Orange and Cinnamon – perfect for holiday gift giving.
You can also try experimenting on your own, mixing two, three, or more oils to create your special blend. As long as you're using good quality essential oils, it's really hard to go wrong.
Let's get started!
DIY Sugar Scrub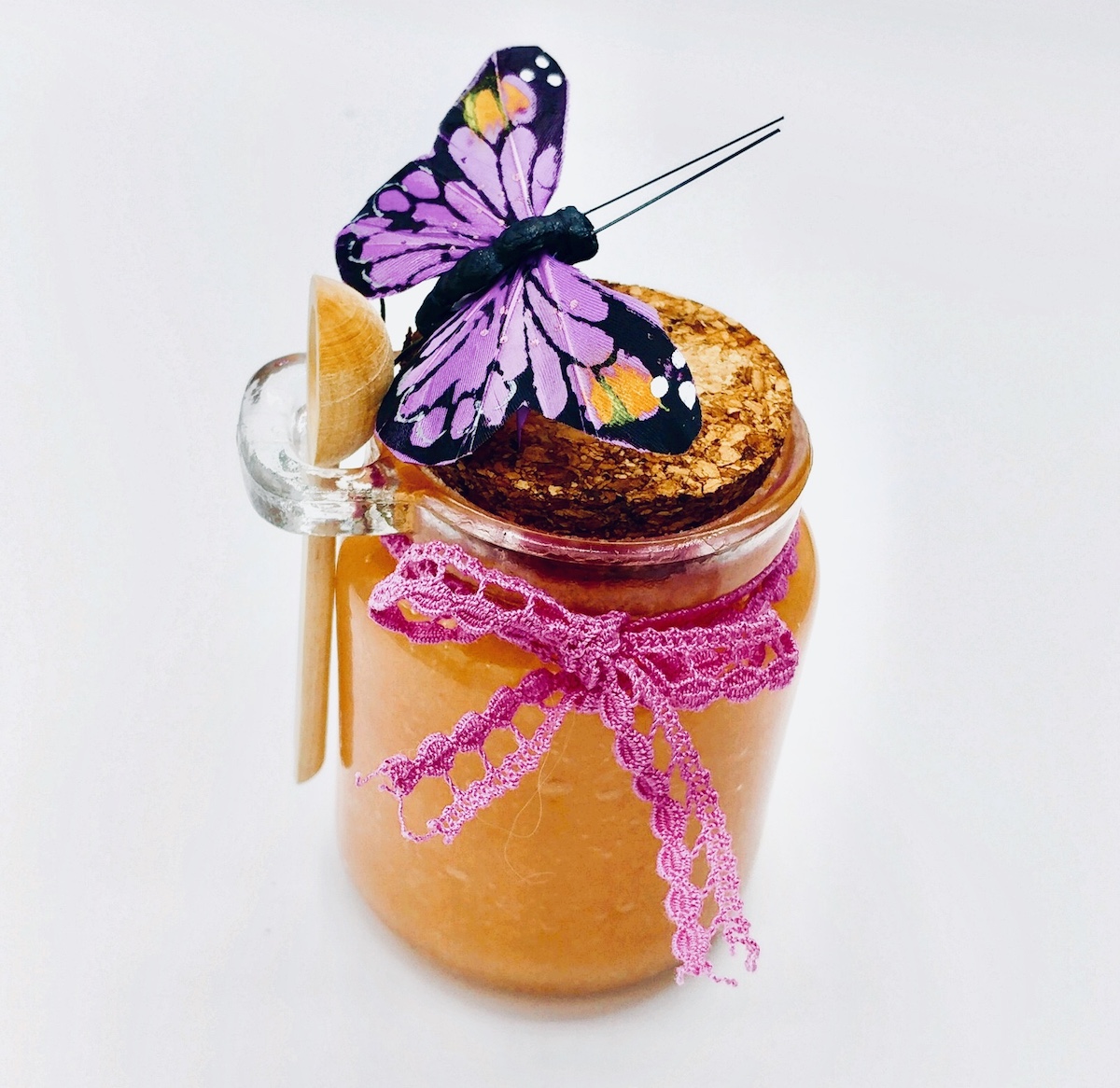 This fragrant DIY body scrub is a sweet way to exfoliate dry, rough skin from legs, hand, and elbows, leaving them smooth and soft.  A single jar of commercially produced sugar scrubs can cost up to $20. For that same twenty dollars, you could make twenty jars of this luxurious scrub.
Apart from your essential oils, all you'll need is granulated sugar and some base oil. You can use olive, almond, or coconut oil for your base but vegetable oil is usually less expensive and works just fine.  I like to add a few drops food coloring to my scrub, just to make it pretty, but that's optional.
The greatest thing about this sugar scrub is how ridiculously easy it is to make!
You dump the four ingredients in a glass or metal bowl, stir it up using a metal spoon (plastic or wood will absorb the scent of the oils so avoid), spoon it into a jar or pretty container, add a bit of ribbon and you're done.  That's it!
Here's the recipe.
2 cups sugar
1 cup base oil (olive, almond, coconut, or vegetable)
5-7 drops essential oil (use less for stronger scents, such as peppermint and eucalyptus, more for weaker scents like lemon or orange)
4-6 drops food coloring (optional)
DIY Bath Salts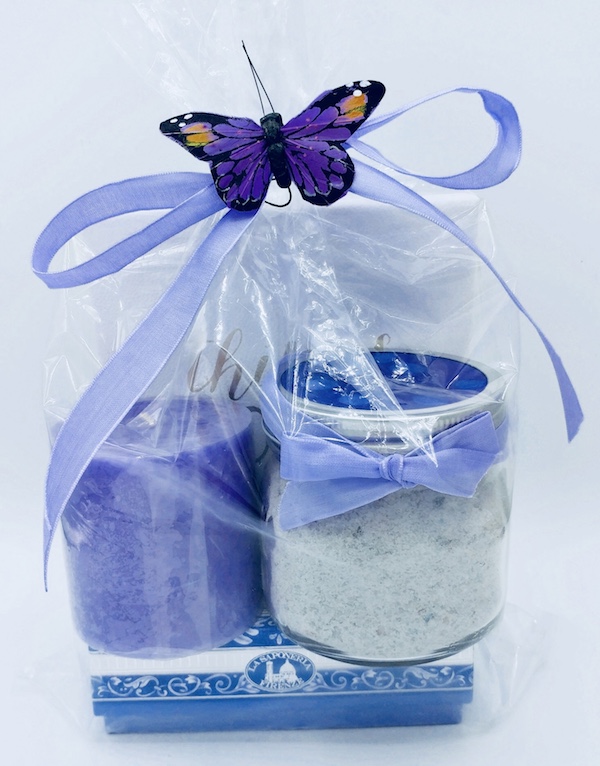 In addition to leaving your skin soft and fragrant, a nice long soak in bath salts is a great way to soothe overworked muscles.  Since I've been in training for my upcoming triathlon, I've been taking a lot of salt baths. It definitely helps ease the pain of sore muscles.
If you don't already have the ingredients on hand, you can find everything you need at your local grocery or drug store.
Like the sugar scrub, these luxurious bath salts are incredibly easy to make. Place the dry ingredients in a glass or metal bowl and put aside.  In a smaller glass bowl, mix oil and food coloring (if you're using it).  Add the oil mixture to the dry mixture a few drops at a time, stirring vigorously with a wire whisk to evenly distribute the scents and color.
Spoon the salts into a glass jar or other container and decorate for gift giving.
3 cups Epsom salts
2 cups sea salt (be sure to use sea salt, not idonized table salt)
1 cup baking soda
½ oz essential oil
8-10 drops food coloring (optional)
DIY Bath Bombs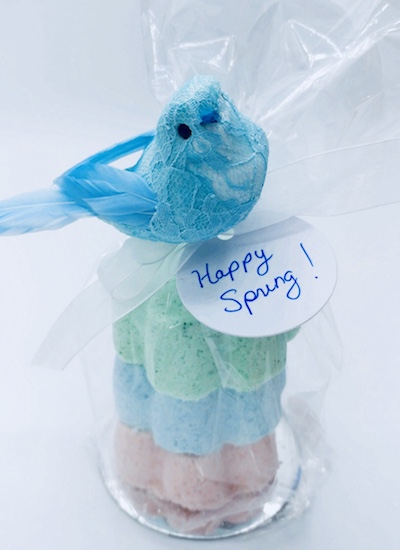 Drop one of these bath bombs into a hot tub for a fun and fizzy explosion of fragrance that will leave your skin silky and smooth.  They require a bit more effort than the other DIY spa gifts, but are definitely worth the trouble.
Most of the ingredients are available at any grocery store but I did have to order the citric acid online. You're also going to need a mold of some sort.
To make your bath bombs, whisk dry ingredients in a glass or metal bowl and set aside. In a separate glass bowl, whisk together water, oils, and food coloring.  Whisk wet ingredients into dry mixture, a few drops at a time (Important! Adding to wet mixture in too quickly will cause the bomb to fizz too soon!), and whisk vigorously until the color and oils are evenly distributed through the mixture.
I used a silicone flower mold for my bath bombs, dividing the recipe into three different colors and scents, to make a flower "bouquet."   If you're using a silicone mold, the ingredients need to be a little wetter when they go into the mold (see the note on the recipe). Leave the bombs to dry in the silicone mold for several hours or overnight before removing them.
If you use a regular bath bomb mold, make sure to fill it tightly, then tap gently on all sides before opening the mold, putting the bomb aside to dry before making the next one.
After your bath bombs are dry, place in a glass jar or plastic gift bag and decorate.
1 cup baking soda
½ cup citric acid
½ cup espsom salt
½ cup corn starch
1 t. water ( use 1 t. additional water if using silicone mold)
2 t. essential oil
3 t. base oil olive, almond, or vegetable (use 1 additional t. oil for silicone mold)
6-10 drops food coloring
Spa Baskets
These DIY spa gifts are a joy to give or receive all on their own but packaging them in a pretty basket or box and adding a few extra goodies makes for a very special gift!
I was able to find an assortment of pretty but inexpensive additions at my local TJ Maxx – candles, scented soaps, exfoliating gloves, aromatherapy facial masques, and even a journal – to create "spa night" gift baskets.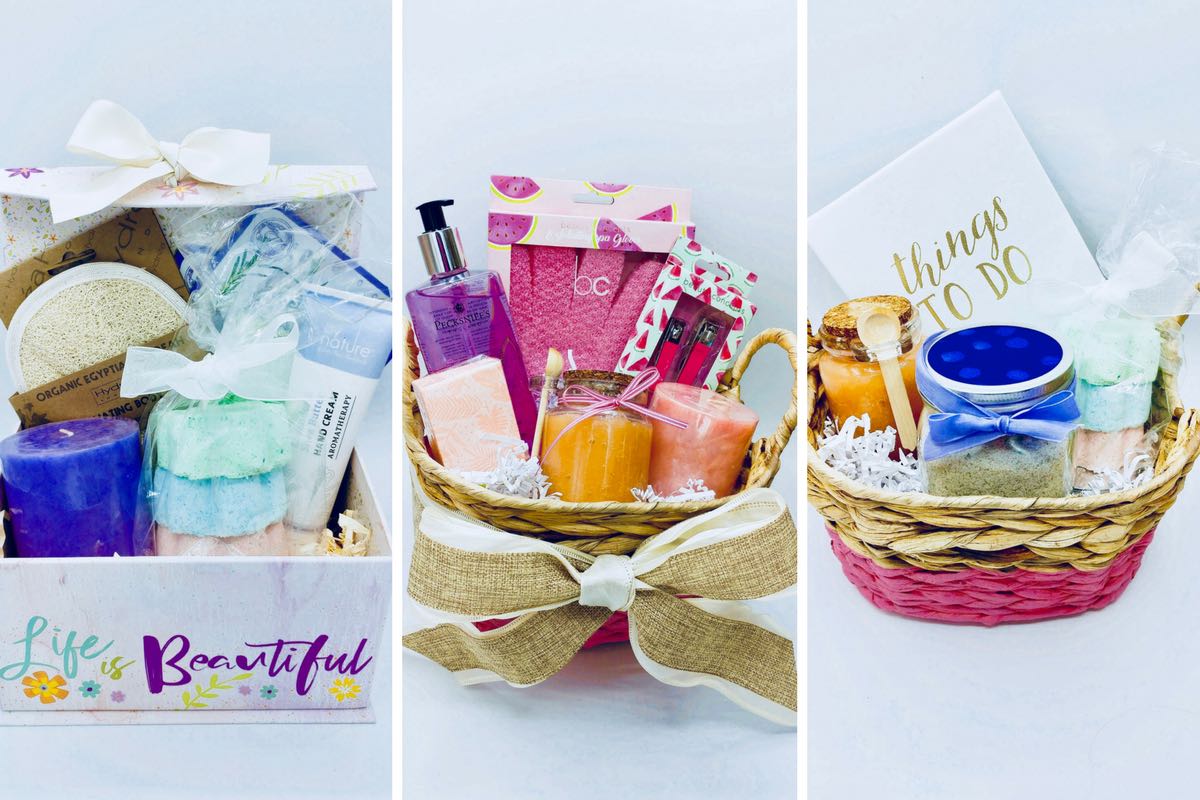 DIY spa gifts and baskets are a fun and easy way to craft a little homemade love for the people you care about.  While you're at it, make a little extra and treat yourself too!