This post may contain affiliate links. Full disclosure policy
These DIY Cocoa Spoons are fun to make – and give as Christmas gifts! Pop one of these DIY cocoa spoons into a mug of hot milk or water and stir for rich, deliciously decadent hot chocolate. So good!
Handmade Christmas Gifts – DIY Cocoa Spoons
If you've followed my blog for a while, you know that I am a BIG fan of handmade gifts.
In fact, two years ago, I set out to make at least one handmade gift for every member of my family and quite a few friends. Over the course of a year, I made all kinds of fun and functional gift and treats, including…
DIY Jar Openers
Stadium Blankets and Cushions
Easy Homemade Vanilla Extract
Hair Scrunchies
No Pattern Ruanas
Maple Spiced Nuts
Pumpkin Dog Biscuits
This year has been hectic, so I haven't been able to make gifts for everyone on my list. But I am making a few fun and easy gifts and am excited about sharing my latest – DIY Cocoa Spoons!
DIY Cocoa Spoons for a Very Merry, Very Chocolately Christmas
These DIY Cocoa Spoons are the perfect gift for the chocoholic in your life. Just pop one into a mug of hot milk or water to stir up the world's richest, most decadent cup of hot chocolate. Yum!
And the best thing about these DIY Cocoa Spoons is that anyone can make them. Absolutely NO crafting skills are required. If you can turn on the stove, you can make cocoa cubes. All you need is a little time, the right tools, and a whole lot of chocolate.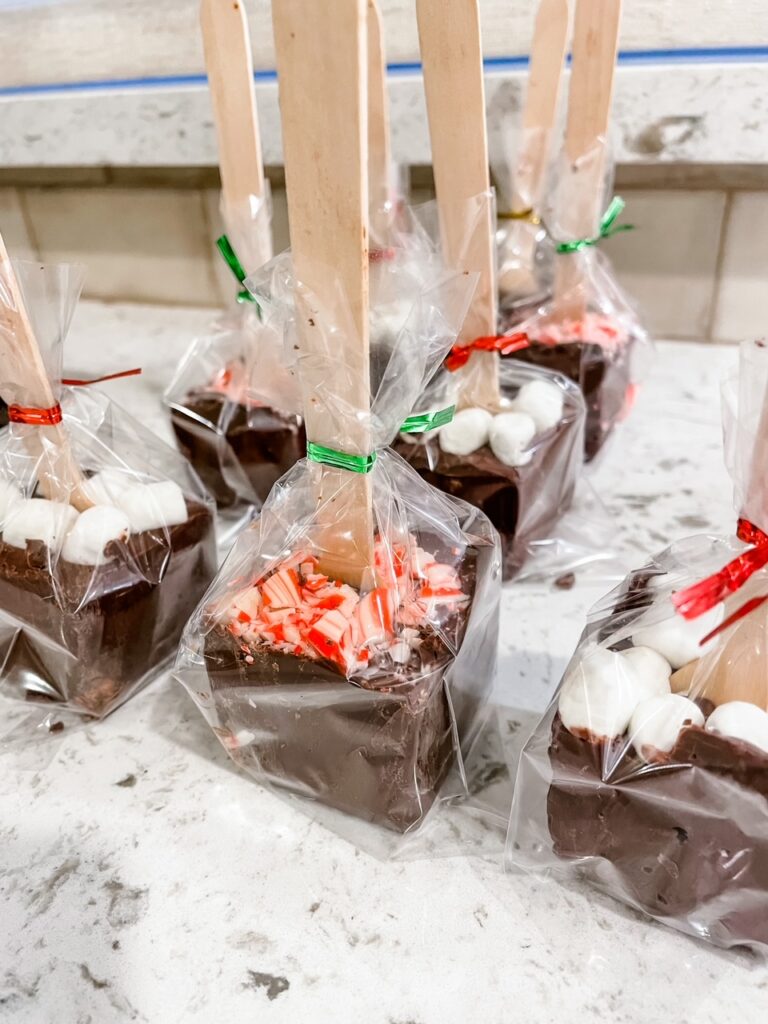 What Do I Need to Make DIY Cocoa Spoons?
Chocolate Chips (24 ounces of chips makes about 8 cocoa cubes)
Optional flavorings
The only must-have ingredient for cocoa spoons is chocolate. Any brand of good quality semi-sweet or dark chocolate chips will do. But adding some yummy extras like miniature marshmallows or crushed candy canes is also fun.
Another option is to spice things up by adding a little cinnamon, vanilla powder, or nutmeg. You can even make a Mexican flavor by stirring in cinnamon and a pinch of chili powder.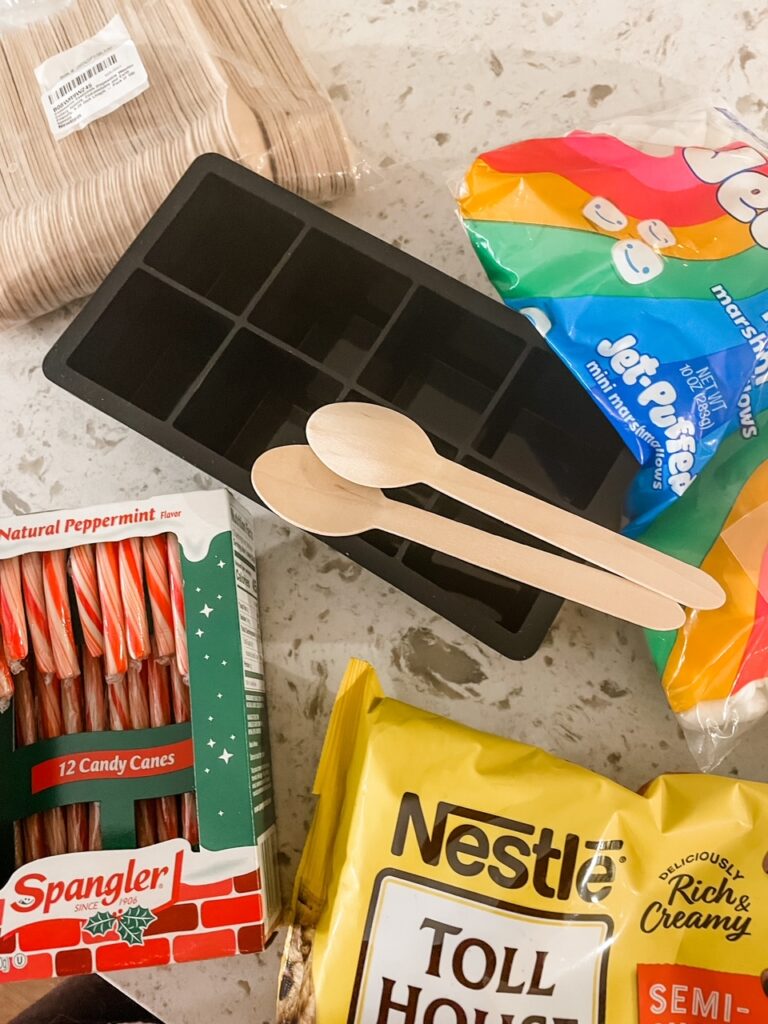 How To Make DIY Cocoa Spoons
Making the cocoa spoons is easy! First, melt the chocolate.
Put three-quarters of the chips into the top pan of a double boiler. The bottom pan will be filled with a couple of inches of water over medium-high heat. (If you don't have a double boiler, create a bain marie with a pot and heatproof bowl).
As the water begins to simmer, constantly stir the chocolate chips until they are smooth and completely melted. Remove the pan from the heat, add the remaining quarter of the chocolate chips and stir to melt.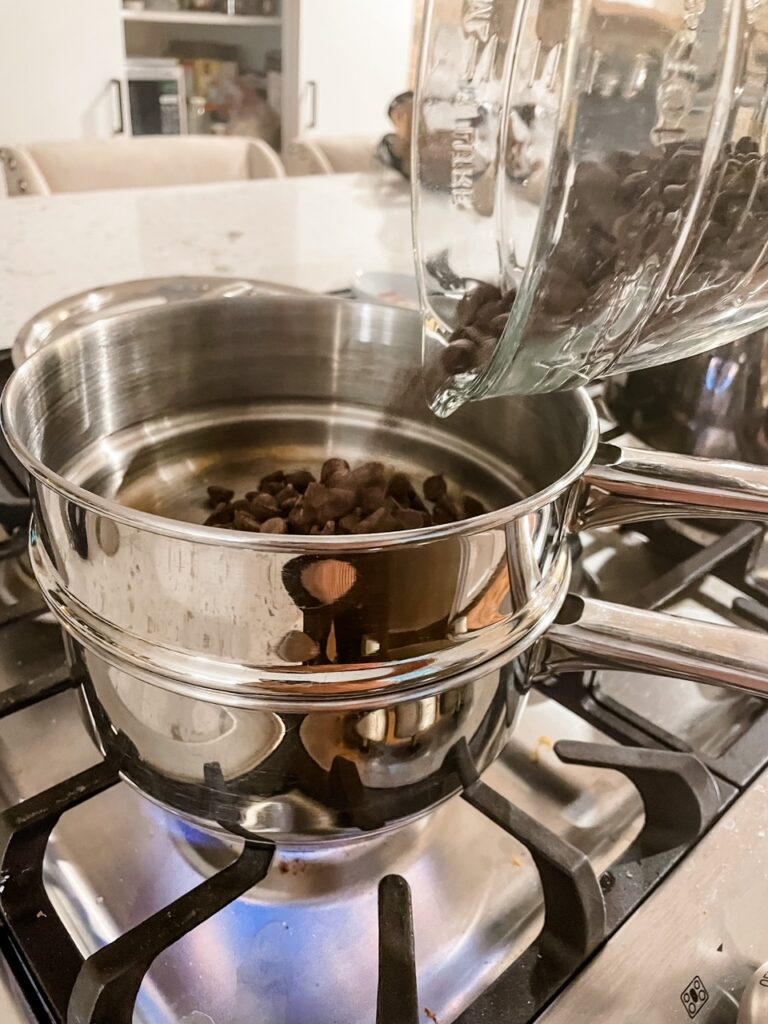 Spoon the melted chocolate into the silicone ice cube tray, filling each cube about three-quarters full. Use one of the wooden spoons to smooth the top of each cube.
Place a flat wooden spoon upright in the center of each cube. Sprinkle any additional ingredients on top, such as marshmallows or peppermint chips. Leave the trays on the counter and to cool and solidify for about 3 hours.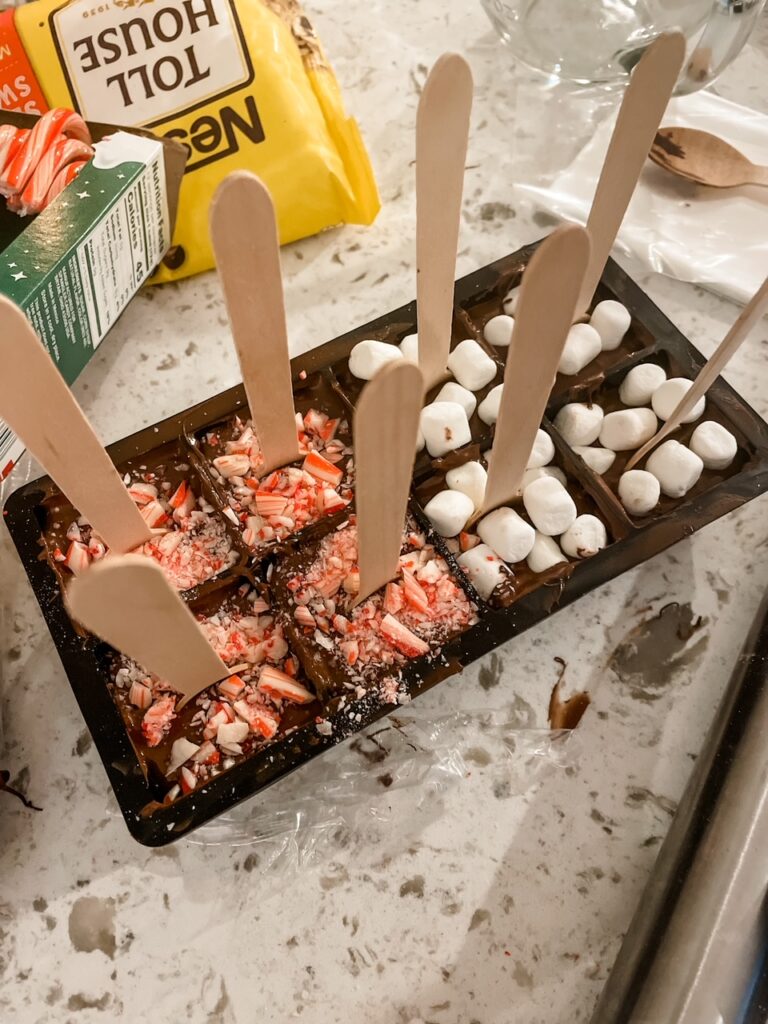 DO NOT put trays in the refrigerator! Doing so will make the chocolate cool too quickly and cause discoloration.
When the cocoa cubes are solidified, remove them from the trays. Pull the silicone away from the sides to help loosen the cubes. If necessary, carefully slide a knife between the tray and the cocoa cube. Push up from the bottom until the cocoa cube is about halfway out of the tray, then grasp the spoon handle to gently lift it out.
Place individual DIY cocoa Spoons inside cellophane bags. Secure the bags closed with a twist tie around the spoon handle. You may want to add a label, telling the lucky recipient that they should stir the cocoa cubes into big cub up hot milk or water to create super chocolatey hot cocoa.