This post may contain affiliate links. Full disclosure policy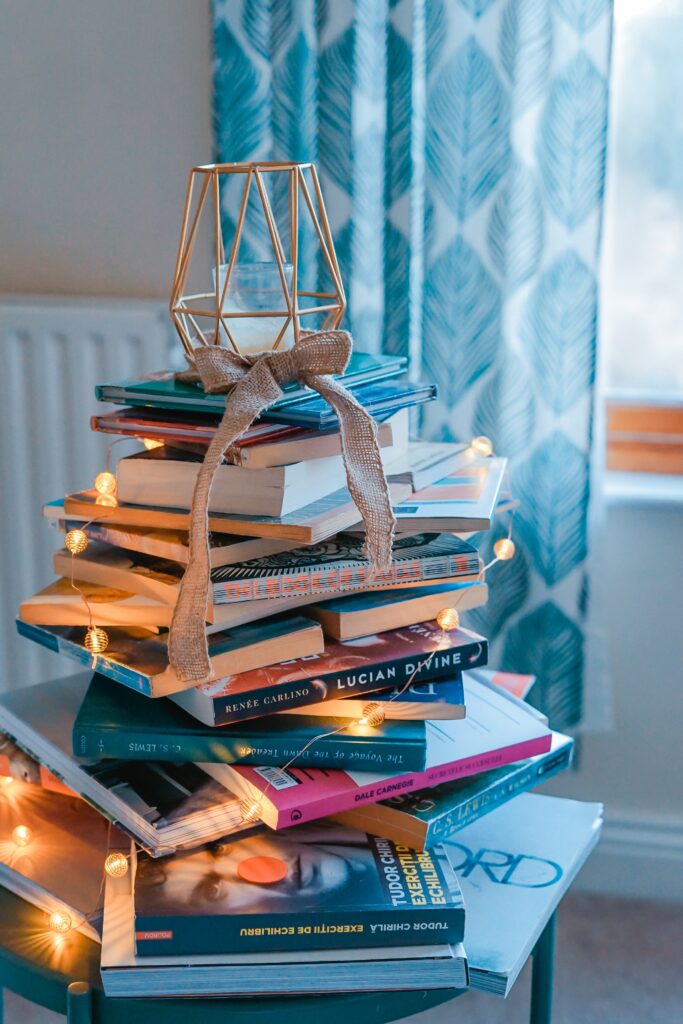 Books are the ideal gift. Books never get returned for being the wrong size. And with so many to choose from, it's easy to find a custom fit for everyone on your list. So, before you send socks or yet another box of pears, check out my 2022 list of Books for Christmas Gifts.
Book Matches Made In Heaven – Just Call Me The Book Yente
If I weren't lucky enough to spend my life writing books, I probably would have made a career out of selling them. Helping somebody find the absolutely right book for themselves or as a gift for a friend or family member makes my heart happy.
At the risk of blowing my own horn, I'm pretty darned good at it.
That's because I think of books as precious friends. And there's nothing quite as satisfying as introducing one of my precious friends to somebody I know will love them just as much as I do.
Also, because a lifetime spent reading and writing has introduced me to such a wide circle of books, I'm familiar with topics, genres, writing styles, and authors that will appeal to almost anybody – even people who claim they don't like to read.
You see I said "claim"?
That's because I'm convinced that people who say they don't like to read just haven't met the right book yet. But with a little help from me, your friendly online Book Yente, you'll find an ideal book match for everyone on your Christmas list.
Ready to get started? Then read on for my list of books for Christmas gifts!
Books for Christmas Gifts: Fabulous Fiction for Adults
Though I read almost as much fiction as I do non-fiction, novels tend to be my first pick when it comes to books that make good Christmas gives. Especially during the festive season, what could be more wonderful than losing yourself and your worries in the pages of a truly delicious read?
Nothing, apart from…Well, I was about to say a box of Godiva chocolates, but I'd honestly rather have a book. While there is no end to the truly terrific novels I could point you toward when it comes to books for Christmas gifts, what follows are a few "can't miss" recommendations.
Some are recent releases. Others have been around for years. All of them are fabulous.
I don't know what made me pick this up at the bookstore last year – something about the cover perhaps? Whatever the reason, I'm glad I did.
At first glance, this utterly charming, deceptively simple story reads a little like a bedtime tale for grownups. But as you dig in, you'll unearth deeper wisdom and characters you'll identify with, even though most of them are animals. It's a perfect gift for someone who needs some gentle encouragement and a reason to smile.
Paras, short for "Perestroika," is a spirited racehorse at a racetrack west of Paris. One afternoon at dusk, she finds the door of her stall open and—she's a curious filly—wanders all the way to the City of Light. She's dazzled and often mystified by the sights, sounds, and smells around her, but she isn't afraid.
Soon she meets an elegant dog, a German shorthaired pointer named Frida, who knows how to get by without attracting the attention of suspicious Parisians. Paras and Frida coexist for a time in the city's lush green spaces, nourished by Frida's strategic trips to the vegetable market. They keep company with two irrepressible ducks and an opinionated raven. But then Paras meets a human boy, Etienne, and discovers a new, otherworldly part of Paris: the ivy-walled house where the boy and his nearly-one-hundred-year-old great-grandmother live in seclusion.
As the cold weather nears, the unlikeliest of friendships bloom. But how long can a runaway horse stay undiscovered in Paris? How long can a boy keep her hidden and all to himself? Jane Smiley's beguiling new novel is itself an adventure that celebrates curiosity, ingenuity, and the desire of all creatures for true love and freedom.
I've never met an Adriana Trigiani novel that I didn't absolutely adore. No kidding. Her characters feel like people you could sit down and have a conversation with, characters who are basically good-hearted but struggle in the ways most of us do, and who you'll quickly find yourself rooting for. The stories draw you in, make you think, and stick with you. Honestly, you can't go wrong with anything Adriana writes.
If your lucky giftee likes series books and you can afford to buy more than one volume, I highly recommend Adriana's four-book, Big Stone Gap series, featuring a wonderful cast of quirky characters, set in a sleepy little town in Virginia's Blue Ridge Mountains. (Big Stone Gap, Big Cherry Holler, Milk Glass Moon, Home to Big Stone Gap).
But if you're only going to give one Adriana Trigiani book as a Christmas gift, make it my favorite – Lucia, Lucia. Young Lucia Sartori's combination of uncertainty and ambition drew me in from page one. But I absolutely loved the glimpse of life in 1950's New York and the peak-behind-the-scenes look at the world of fashion before the rise of ready-to-wear. It really was like taking a trip back in time, a fascinating one.
It is 1950 in glittering, vibrant New York City. Lucia Sartori is the beautiful twenty-five-year-old daughter of a prosperous Italian grocer in Greenwich Village. The postwar boom is ripe with opportunities for talented girls with ambition, and Lucia becomes an apprentice to an up-and-coming designer at chic B. Altman's department store on Fifth Avenue. Engaged to her childhood sweetheart, the steadfast Dante DeMartino, Lucia is torn when she meets a handsome stranger who promises a life of uptown luxury that career girls like her only read about in the society pages. Forced to choose between duty to her family and her own dreams, Lucia finds herself in the midst of a sizzling scandal in which secrets are revealed, her beloved career is jeopardized, and the Sartoris' honor is tested.
This debut novel took the book world by storm. And for good reason! Because who isn't going to fall in love with a book in which part of the story is told from the point of view of a curmudgeonly Octopus? It's genius!
The human characters are just as compelling, oh-so-relatable people who, despite their best intentions, are having trouble getting unstuck. And isn't that something we've all done from time to time? It's one of the most ideal books for Christmas gifts when it comes to a friend who needs a gentle push to move forward.
After Tova Sullivan's husband died, she began working the night shift at the Sowell Bay Aquarium, mopping floors and tidying up. Keeping busy has always helped her cope, which she's been doing since her eighteen-year-old son, Erik, mysteriously vanished on a boat in Puget Sound over thirty years ago.
Tova becomes acquainted with curmudgeonly Marcellus, a giant Pacific octopus living at the aquarium. Marcellus knows more than anyone can imagine but wouldn't dream of lifting one of his eight arms for his human captors—until he forms a remarkable friendship with Tova.
Ever the detective, Marcellus deduces what happened the night Tova's son disappeared. And now Marcellus must use every trick his old invertebrate body can muster to unearth the truth for her before it's too late.
Shelby Van Pelt's debut novel is a gentle reminder that sometimes taking a hard look at the past can help uncover a future that once felt impossible.
Yep. I'm going to go there, adding one of my to the list of books that make good Christmas gifts. That's because, out of all my twenty novels, this is one of my very favorites. Also because I've talked to so many readers who say the same thing. (So it's not just me, okay?)
And also because I have a really nifty little promotion going on right now!
Order a copy of The Restoration of Celia Fairchild from my local bookstore, and not only will I sign and personalize it and include these beautiful "Books Restore Me" enamel pin, but Invitation Books will also gift wrap it! For $16.99 plus shipping, Christmas is solved!
But the book+pin+wrapping deal is only available by clicking this link to Invitation Bookshop and only while supplies last. (We have a limited number of enamel pins.) Order yours today!
Celia Fairchild, known as advice columnist 'Dear Calpurnia', has insight into everybody's problems – except her own. Still bruised by the end of a marriage she thought was her last chance to create a family, Celia receives an unexpected answer to a "Dear Birthmother" letter. Celia throws herself into proving she's a perfect adoptive mother material – with a stable home and income – only to lose her job. Her one option: sell the Charleston house left to her by her recently departed, estranged Aunt Calpurnia.
Arriving in Charleston, Celia learns that Calpurnia had become a hoarder, the house is a wreck, and selling it will require a drastic, rapid makeover. The task of renovation seems overwhelming and risky. But with the help of new neighbors, old friends, and an unlikely sisterhood of strong, creative women who need her as much as she needs them, Celia knits together the truth about her estranged family — and about herself.
True confession – I've never been wild about science fiction.
But years ago, I found myself in a bit of a reading rut. When my young, hip local bookseller recommended The Martian as a solution, I had my doubts. However, she was absolutely on the money because I LOVED this book! All these years later, I still think about it.
The main character is an astronaut stranded on Mars and obviously super smart, as astronauts tend to be. But he's also kind of adorably nerdy and very, very funny. I loved him, and I loved every second of this dramatic, page-turning story.
If you've got an adorable nerd on your gift list, or a friend who is in a reading rut, this would make a good Christmas gift. (I know there was a movie but the book was better. Isn't it always?)
Six days ago, astronaut Mark Watney became one of the first people to walk on Mars.
Now, he's sure he'll be the first person to die there.
After a dust storm nearly kills him and forces his crew to evacuate while thinking him dead, Mark finds himself stranded and completely alone with no way to even signal Earth that he's alive—and even if he could get word out, his supplies would be gone long before a rescue could arrive.
Chances are, though, he won't have time to starve to death. The damaged machinery, unforgiving environment, or plain-old "human error" are much more likely to kill him first.
But Mark isn't ready to give up yet. Drawing on his ingenuity, his engineering skills—and a relentless, dogged refusal to quit—he steadfastly confronts one seemingly insurmountable obstacle after the next. Will his resourcefulness be enough to overcome the impossible odds against him?
Books for Christmas Gifts: Irresistible Adult Nonfiction
As I said, though I love novels, I read a lot of nonfiction as well. A well-written nonfiction book not only entertains you, but it also teaches you something, often introducing you to events or ideas that are illuminating and completely new.
Because there are many incredible nonfiction books out there, any list of books for Christmas gifts I make will naturally be incomplete. But here are a few titles that I think make good Christmas gifts for nonfiction lovers.
Got a baseball lover on your Christmas list? This fascinating, untold story of how some of the greatest players who ever took the field spent the war is one they'll love!
Part history, part sports story, part memoir, it's the page-turning tale of a bygone era that grabs you from the first chapter and doesn't let go.
In 1943, while the New York Yankees and St. Louis Cardinals were winning pennants and meeting in that year's World Series, one of the nation's strongest baseball teams practiced on a skinned-out college field in the heart of North Carolina. Ted Williams, Johnny Pesky, and Johnny Sain were among a cadre of fighter-pilot cadets who wore the Cloudbuster Nine baseball jersey at an elite Navy training school at the University of North Carolina at Chapel Hill.
In this spirited Field of Dreams-like father-daughter account, author Anne R. Keene opens with a story about her father, Jim Raugh, who suited up as the team batboy and mascot. He got to know his baseball heroes personally, watching players hit the road on cramped, tin-can buses, dazzling factory workers, kids, and service members at dozens of games, including a war-bond exhibition against Babe Ruth's team at Yankee Stadium.
Jimmy followed his baseball dreams as a college All-American, but was crushed later in life by a failed major-league bid with the Detroit Tigers. He would have carried this story to his grave had Anne not discovered his scrapbook from a Navy school that shaped America's greatest heroes including George H. W. Bush, Gerald Ford, John Glenn, Bear Bryant, and John Wooden.
This is another older title, one that I read many years back. The fact that it still comes to mind when I think about terrific books says it all.
Though it seems like a "sports book" at first glance, this is a really book about the power of the human spirit and how people can surmount circumstances and seemingly impossible odds if they work hard and work together. In short, it's a tale that truly inspires.
Sports fan or not, isn't that something we could all use? (Once again, the book was so, so much better than the movie!)
Out of the depths of the Depression comes an irresistible story about beating the odds and finding hope in the most desperate of times—the improbable, intimate account of how nine working-class boys from the American West showed the world at the 1936 Olympics in Berlin what true grit really meant.
It was an unlikely quest from the start. With a team composed of the sons of loggers, shipyard workers, and farmers, the University of Washington's eight-oar crew team was never expected to defeat the elite teams of the East Coast and Great Britain, yet they did, going on to shock the world by defeating the German team rowing for Adolf Hitler. The emotional heart of the tale lies with Joe Rantz, a teenager without family or prospects, who rows not only to regain his shattered self-regard but also to find a real place for himself in the world. Drawing on the boys' own journals and vivid memories of a once-in-a-lifetime shared dream, Brown has created an unforgettable portrait of an era, a celebration of a remarkable achievement, and a chronicle of one extraordinary young man's personal quest.
This wonderfully written memoir about a man who decides to retrace the journey of the Oregon Trail in a covered wagon with a team of mules and his quirky brother is one of my very favorite books.
The story itself is fascinating and really captured my imagination. I learned so much about the Oregon Trail and the challenges facing the pioneers who were brave (or foolhardy) enough to travel it. But the icing on the cake is Rinker's writing style and ability to find beauty, drama, and plenty of humor in life. If you've got a lifelong learner on your Christmas list who also happens to appreciate a good laugh, this is the book for them!
A major bestseller that has been hailed as a "quintessential American story" (Christian Science Monitor), Rinker Buck's The Oregon Trail is an epic account of traveling the 2,000-mile length of the Oregon Trail the old-fashioned way—in a covered wagon with a team of mules—that has captivated readers, critics, and booksellers from coast to coast.
Simultaneously a majestic journey across the West, a significant work of history, and a moving personal saga, Buck's chronicle is a "laugh-out-loud masterpiece" (Willamette Week) that "so ensnares the emotions it becomes a tear-jerker at its close".
Books for Christmas Gifts: Cookbooks That Make Good Christmas Gifts
Not a Christmas goes by that I don't wrap up a few cookbooks as gifts. Since just about everybody had to cook at some point, this is a gift that will actually get used! And for your friends who really do love to cook, there's nothing more inspiring that a great cookbook with new recipes and gorgeous pictures.
Here are a few cookbooks I really as love books for Christmas gifts
Oh, how I love a board! A beautiful board loaded with all kinds of delicious, choose-your-own-adventures goodies is a treat for the stomach and the eyes. Boards are a godsend for busy moms of picky eaters and the secret weapon of hostesses who attend their own parties rather than spend them scurrying around the kitchen.
I also love this cookbook!
Not only does it provide endless ideas and inspiration for boards you can pull together at home, it also includes more than 100 fabulous recipes, so you're really getting the best of both worlds. Best of all, these recipes are real winners. Try the Salmon Noodle Salad, you'll thank me.
As the original Big Board influencer, Sandy Coughlin reimagined the charcuterie board as a stunning surface for family gatherings, holiday spreads, delicious desserts, and more. Now, she expands her repertoire with individual recipes for any occasion. Arranged by season, and including gluten-free, dairy-free, and plant-based options for customizable convenience, Reluctant Entertainer's Big Boards and More will spark your culinary imagination with the endless possibilities of boards.
Elements include:

International inspiration for the curious cook: Regional recipes from around the world to light your travel fuse
Just close friends: Smaller boards for 2–4 people, whether it's date night or game night
Special days and seasonal celebrations: For weddings, holidays, or just a birthday bash
The great outdoors: Portable, sustainable recipes for camping, road trips, and outdoor entertaining
Whether you're a board enthusiast already or a first-time host, Reluctant Entertainer's Big Boards and More has everything you need to make a serious splash—all year round.
For all kinds of reasons – health, environmental, and economic – all kinds of people are making an effort to eat less meat these days. It's something my family has been trying to do so and this cookbook has helped a lot.
The recipes are interesting, delicious, and easy to follow, and the pictures provide lots of inspiration for people who're interested in becoming part-time carnivores, or part-time vegetarians. Since and lot of people are reexamining their eating habits right before the new year, it makes a great addition to my list of Books for Christmas Gifts.
Curious cooks will find more than 100 recipes (organized by meal type) for comforting, family-friendly foods like Pizza Salad with White Beans, Cauliflower Cutlets with Ranch Dressing, and Squash and Black Bean Tacos. Jenny also offers key flavor hits that will make any tray of roasted vegetables or bowl of garlicky beans irresistible—great things to make and throw on your next meal, such as spiced Crispy Chickpeas (who needs croutons?), Pizza Dough Croutons (you need croutons!), and a sweet chile sauce that makes everything look good and taste amazing. The Weekday Vegetarians is loaded with practical tips, techniques, and food for thought, and Jenny is your sage guide to getting more meat-free meals into your weekly rotation.
If you've got a soup-lover on your list, this would be a really good gift. Hands down, it's one of my all-time favorite cookbooks. I've given many a copy as gifts, had it in my personal cookbook library for years and years, and made nearly all of the excellent recipes.
The only downside to this soup cookbook is that the recipes make a LOT. So you may want to cut them down by half. But even when I make the full portion, these yummy soups never seem to go to waste.
With more than 100+ of the best soup recipes Boston has to offer accompanied by fun stories and beautiful full-color photography, get ready to delight all your friends at your next gathering. The collection of soups in the New England Soup Factory Cookbook are both scrumptious and versatile to all occasions.
The New England Soup Factory is the legendary Boston-based restaurant offering a mix of soups, salads, and sandwiches so good that it claimed the Best of Boston award four times. Owner Marjorie Druker gives you access to all the ingredients, recipes, and cooking methods that put the New England Soup Factory on the map.
Books for Christmas Gifts: For Kids, Tweens, And Teens
If there's one thing my grand darlings can count on, it's this: when Christmas comes, I'll be giving them a least one book. And possibly several!
Here are a few of my favorite books for kids, tweens, and teens. Some that are classics, and some that are destined to become classics.
This charming and beautifully illustrated book is an ideal Christmas gift for kids. It's a perfect read-aloud book for preschoolers and kindergarteners, who will actually learn something about how humans are the same or different from all kinds of things – including mushrooms and swimming pools!
Older kids will enjoy reading this funny, silly story for themselves or perhaps to their younger siblings.
From bestselling author Annie Barrows and Pura Belpré Honor award recipient Leo Espinosa, this funny yet thought-provoking picture book offers a sequence of outlandishly fun compare-and-contrasts that show how humans are much more like each other than we are different.
A NEW WAY OF SEEING: The use of comparison and contrast gives readers a new lens through which to see themselves and others. HUMOR WITH HEART: Annie Barrows uses her trademarked humor to get readers laughing and thinking. GREAT READ-ALOUD: The silly and surprising text is the perfect read-aloud for homes and classrooms.
Jeffrey Turner has a whole stack of books to his credit. I've bought copies of every one of them as gifts for my grand darlings, they're that good!
But this sweet and funny story of a clever and artistic mouse who lives at the Louvre and her rotund feline model is my new favorite. Kids won't just laugh out loud at this story, they'll also learn a bit about art in this delightful book that makes a perfect Christmas gift.
Colette is a small mouse following her heart's desire to paint. Why wouldn't she be? She lives behind the walls of a grand Paris museum. She is surrounded by the work of great artists all day. Nothing can stop her from realizing her passion – not even Ruben, the silly museum guard cat – and Colette's favorite model.
As Ruben catnaps Colette practices her favorite works of art painting him. When he discovers he is the subject of Colette's paintings, he becomes her biggest ally. By sticking to what she loves, and learning from the greats, Colette is growing into the artist she dreams of being. And she just may create more than one furry painter in the museum.
This delightful series about the close friendship and many adventures of two bright but very different girls will make a good Christmas gift for early grade independent readers. A box set of the first 3 books in the series is a wonderful place to start. It even comes with a cool box for storing treasures! What a great idea for people who want to give books for Christmas gifts plus something extra!
Meet Ivy and Bean, two friends who never meant to like each other: Ivy and Bean are very different. Bean is loud and wild and goofy. She loves to be involved in games and poke her nose in other people's business. Ivy is quiet and full of ideas. She spends most of her time learning how to be a witch.
Each girl thinks the other one is weird. Each girl thinks she could never be friends with the other. But sometimes opposites can become the best of friends because they're opposites!

As a young tween, I was riveted by the adventures of Sam Gribley, a clever boy about my age, who ran away from home (but with permission) and used his wits and outdoor skills to survive and thrive in the woods. Generations of young readers have loved Sam's story as much as I did. Tweens will thank you for introducing them to this inspiriting, page-turner.
This affordable hardcover edition contains the entire trilogy. It'a gift that will be treasured and perhaps even passed tot he next generation of readers.
In 1959, Jean Craighead George published My Side of the Mountain. This coming-of-age story about a boy and his falcon went on to win a Newbery Honor, and for the past forty years has enthralled and entertained generations of would-be Sam Gribleys. The two books that followed–On the Far Side of the Mountain and Frightful's Mountain–were equally extraordinary. Now all three books are available in one deluxe yet affordable volume for veteran devotees and brand-new fans alike.
Owen Meany, a squeaky-voiced oddball who believes he is God's instrument, is one of the most unforgettable characters ever written. Teenagers will love this funny, heart-wrenching, thought-provoking, and deeply profound tale.
Many a college admission essay has been written about a youngster's first encounter with Owen Meany. There's a reason for that – it's one of those books that doesn't just stand out, it changes you for the good, and sticks with you forever.
While this makes it onto my books for Christmas gifts list, I'd recommend it anytime.
"I am doomed to remember a boy with a wrecked voice—not because of his voice, or because he was the smallest person I ever knew, or even because he was the instrument of my mother's death, but because he is the reason I believe in God; I am a Christian because of Owen Meany."
In the summer of 1953, two eleven-year-old boys—best friends—are playing in a Little League baseball game in Gravesend, New Hampshire. One of the boys hits a foul ball that kills the other boy's mother. The boy who hits the ball doesn't believe in accidents; Owen Meany believes he is God's instrument. What happens to Owen after that 1953 foul ball is extraordinary.