This post may contain affiliate links. Full disclosure policy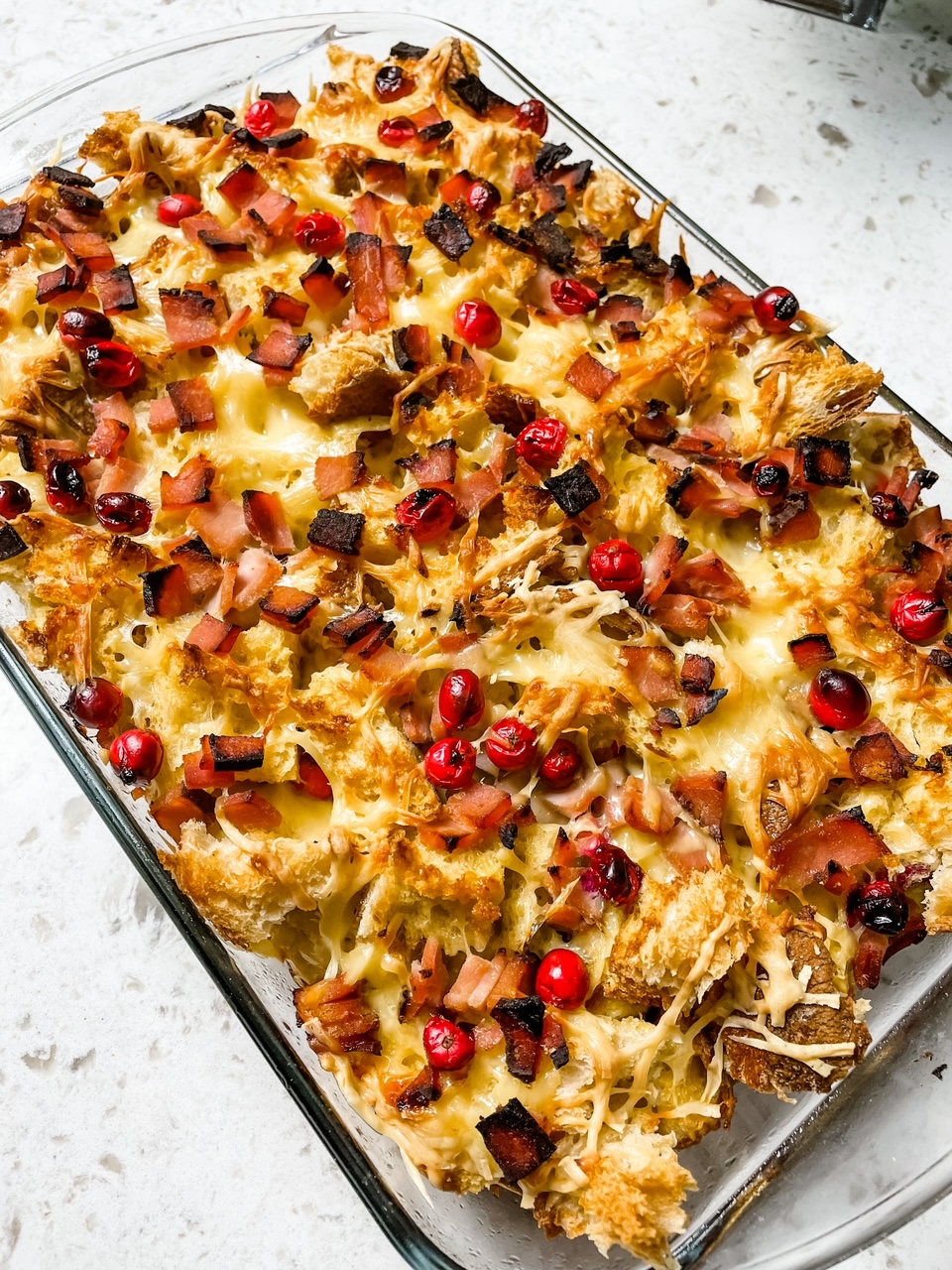 An easy, make-ahead breakfast with a perfect balance of savory, sweet, and tart flavors. This deliciously indulgent breakfast casserole will be the star of the show at your next holiday breakfast or brunch!
Cranberry, Ham, and Swiss Cheese Breakfast Casserole – Let the Holidays Begin!
Special days call for an extra special breakfast! But with all the excitement and busyness of the build-up to the holidays, do we really have time to add another complicated meal to the agenda? I don't think so.
That's what's why I love breakfast casseroles. They really are a hostess's dream. Having a delicious, filling, and easy-to-make main dish that can be prepared the night before and baked in the morning takes the stress out of entertaining. It also makes it easier to enjoy time with your guests. Whether you're feeding family, friends, or overnight guests, an easy breakfast casserole is perfect for holiday mornings.
Over the years, I've collected and made all kinds of sweet and savory breakfast casseroles, including my Monte Cristo Breakfast Casserole and my Easy Blueberry Lemon Breakfast Casserole.
They're both really good but I decided to try something new this year. The result is my Cranberry, Ham, and Swiss Cheese Breakfast Casserole. I think it might well be my best breakfast casserole so far!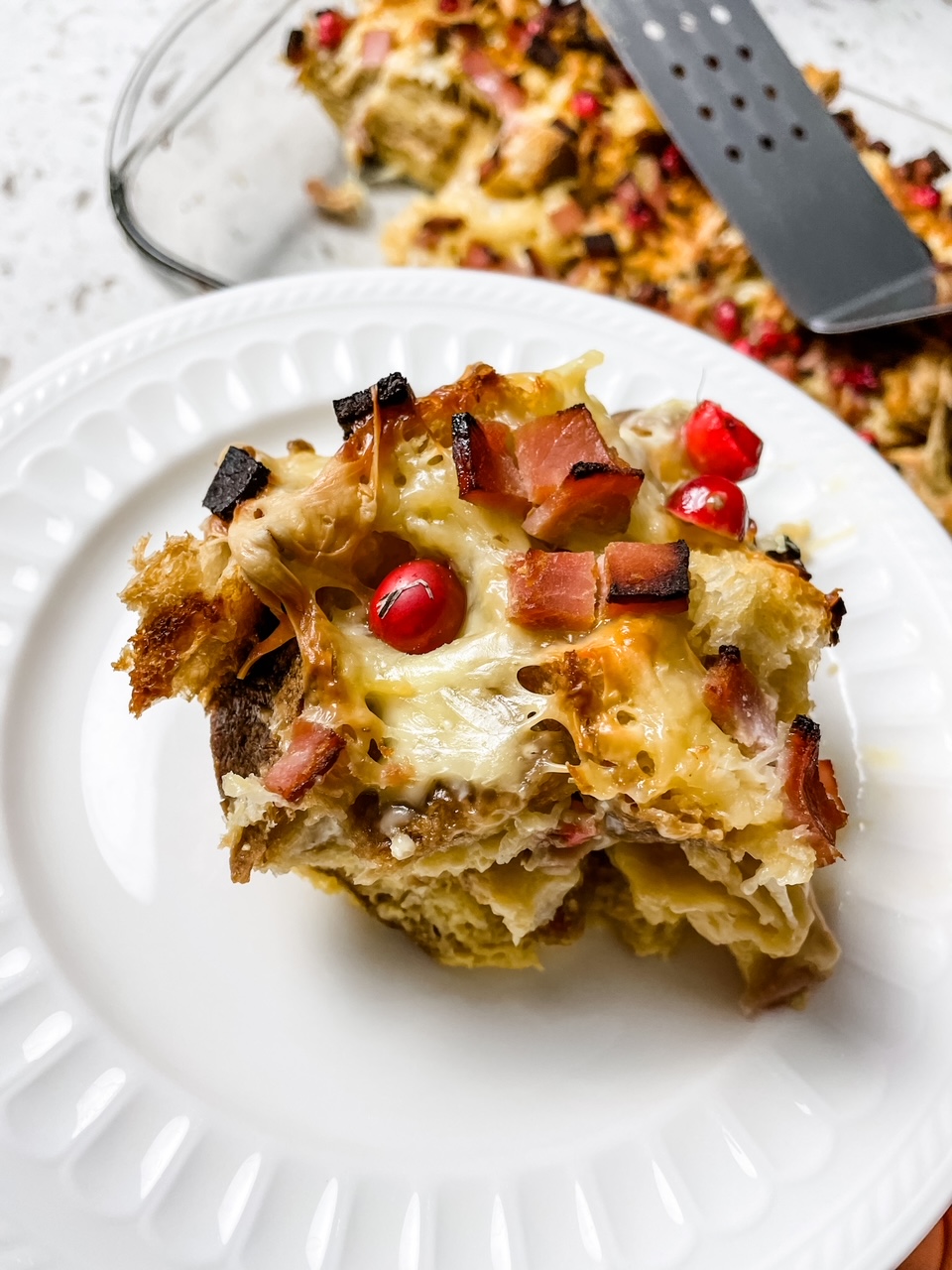 A Christmas Breakfast Casserole with Surprising Flavors – and Surprisingly Delicious!
It all started because I had some fresh cranberries leftover from Thanksgiving and didn't want them to go to waste. I considered making a cranberry cake or a quick bread. But when I spotted some leftover ham in the refrigerator, I started thinking about Christmas breakfast casseroles. This turned out to be a good thing.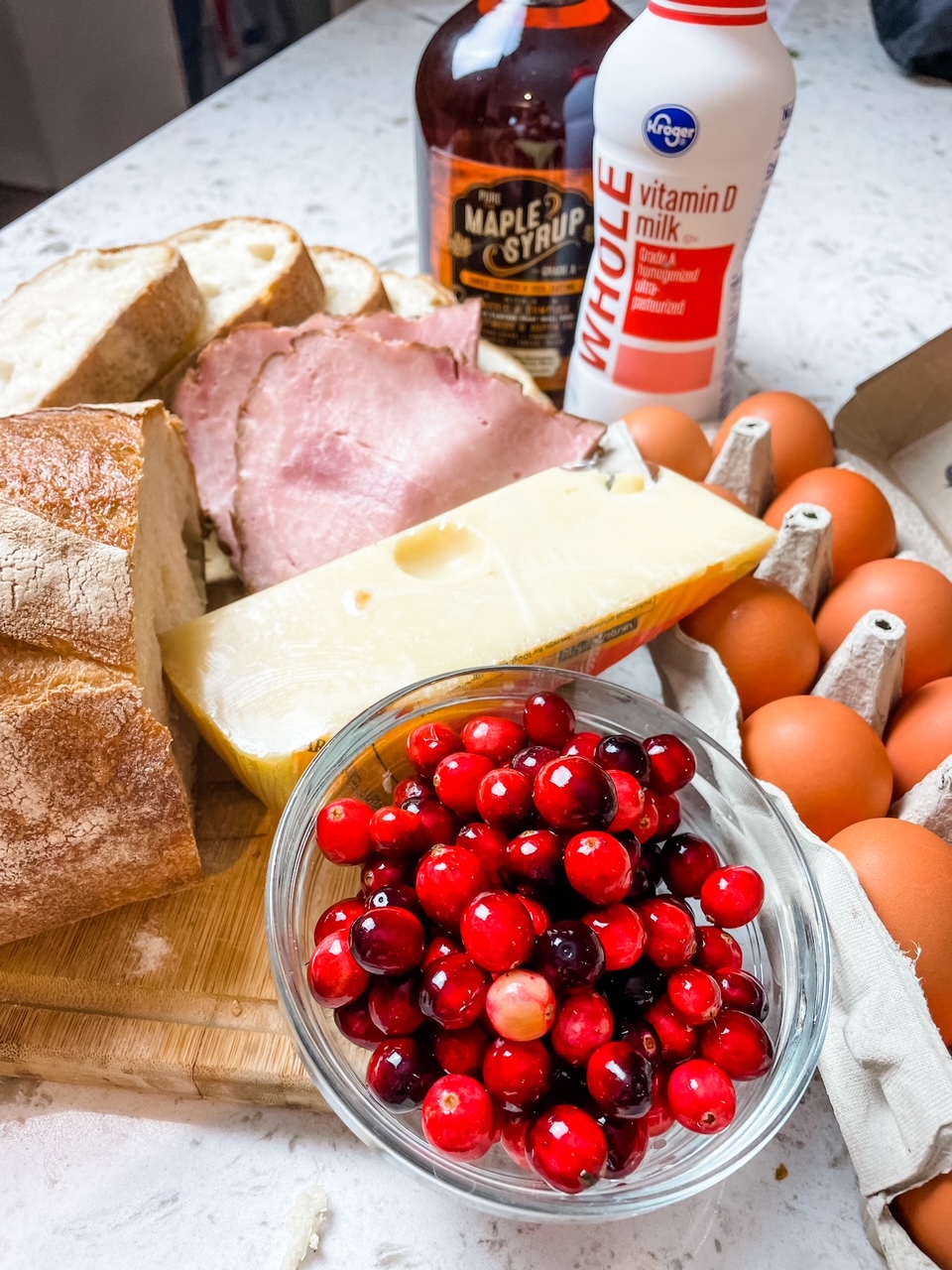 The combination of savory ham, mellow and nutty-tasting swiss cheese, and fresh, tart cranberries is fabulous!
Initially, I wasn't sure about using whole cranberries. I like a tart flavor but would they be too tart? I even considered chopping them up. But after a little thought, I just decided to go for it and see how it turned out.
Which was delicious.
Those fresh cranberries mellow a little during baking, but you still get a lovely, tart, bright little mouthful that really wakes up your tastebuds. And since the taste of the cranberries is balanced by a sweet undertone of maple syrup, it's not too tart.
And it all blends beautifully with the slight saltiness of the ham and the gorgeous gooey Swiss cheese – all baked into an eggy casserole with a bread pudding texture. So good!
A Few Tips for An Easy Christmas Morning Breakfast Casserole
Cooking doesn't get a lot easier than my Cranberry, Ham, and Swiss Cheese Breakfast Casserole.
You simply put layers of bread cubes, ham, cheese, and cranberry into a baking dish, then pour an egg, milk, and syrup custard over that. The casserole sits in the refrigerator overnight and you bake it the next morning. Simple!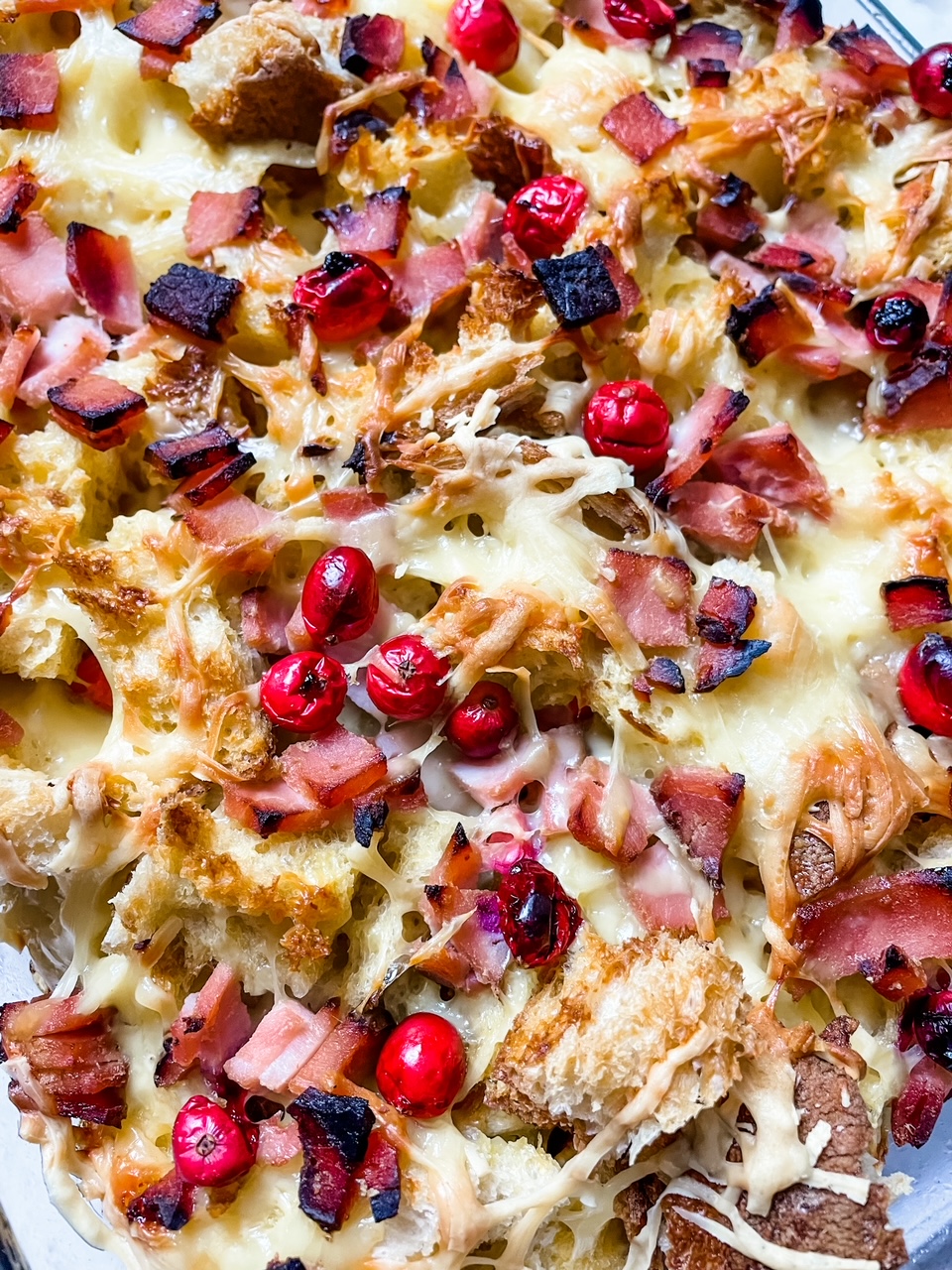 But there are a couple of tips I'd like to share about the ingredients.
Ciabatta or a nice French-style baguette would work well for the bread cubes, but there are lots of varieties that will work. Just make sure you use a good quality, chewy bread, something with a nice firm crust that's not too soft inside.
Any good-quality Swiss cheese will work. However, my personal favorite is Jarlsberg, which is available in most grocery stores. You could substitute half and half or cream for the milk, but I don't think you need to. This Cranberry, Ham, and Swiss Cheese Breakfast Casserole is rich enough as it is.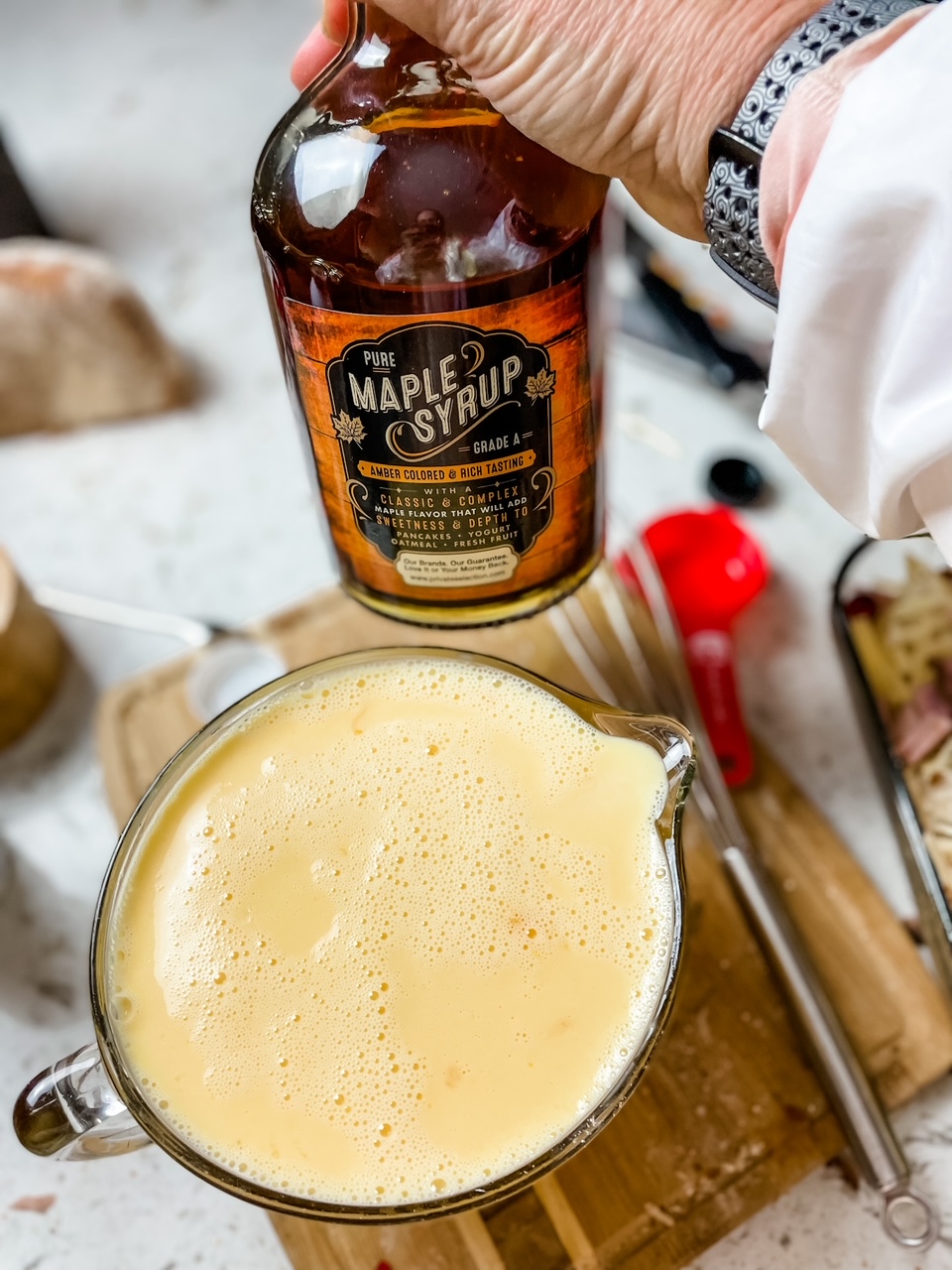 Two musts for this dish – fresh cranberries and real maple syrup! Don't use the maple-flavored stuff, it's just not the same.
One other note – this does take over an hour to bake, so plan accordingly. Beyond that – simply put it together the night before, bake in the morning, and get your special day off to a delicious start your family and friends will adore!
Print
Cranberry, Ham and Swiss Cheese Breakfast Casserole
---
Author:

Yield:

12

servings

1

x
12 cups

1-inch bread cubes (ciabatta, baguette, or other chewy textured bread)

8 oz

cooked ham, diced

8 oz

Swiss cheese, shredded

2/3 cup

fresh cranberries

12

large eggs

2 cups

whole milk

1 cup

maple syrup

¼ tsp

salt
---
Instructions
Spray a 9×13 baking dish or casserole with cooking spray. Layer half the bread cubes in the dish. Sprinkle half the cheese, ham, and cranberries over the bread. Repeat the layers with remaining bread, cheese, ham, and cranberries. Set aside.
In a large mixing bowl, whisk eggs, milk, syrup, and salt together until well combined and custard-like. Pour custard over the casserole. Cover with plastic wrap and place in refrigerator for at least six hours or overnight.
Remove casserole dish from the refrigerator about 20 minutes before baking. Preheat oven to 350.
Place the casserole in preheated oven and bake for 75 to 90 minutes, until the egg custard is well set. If the top is getting too brown, place foil over the casserole dish near the end of baking.