This post may contain affiliate links. Full disclosure policy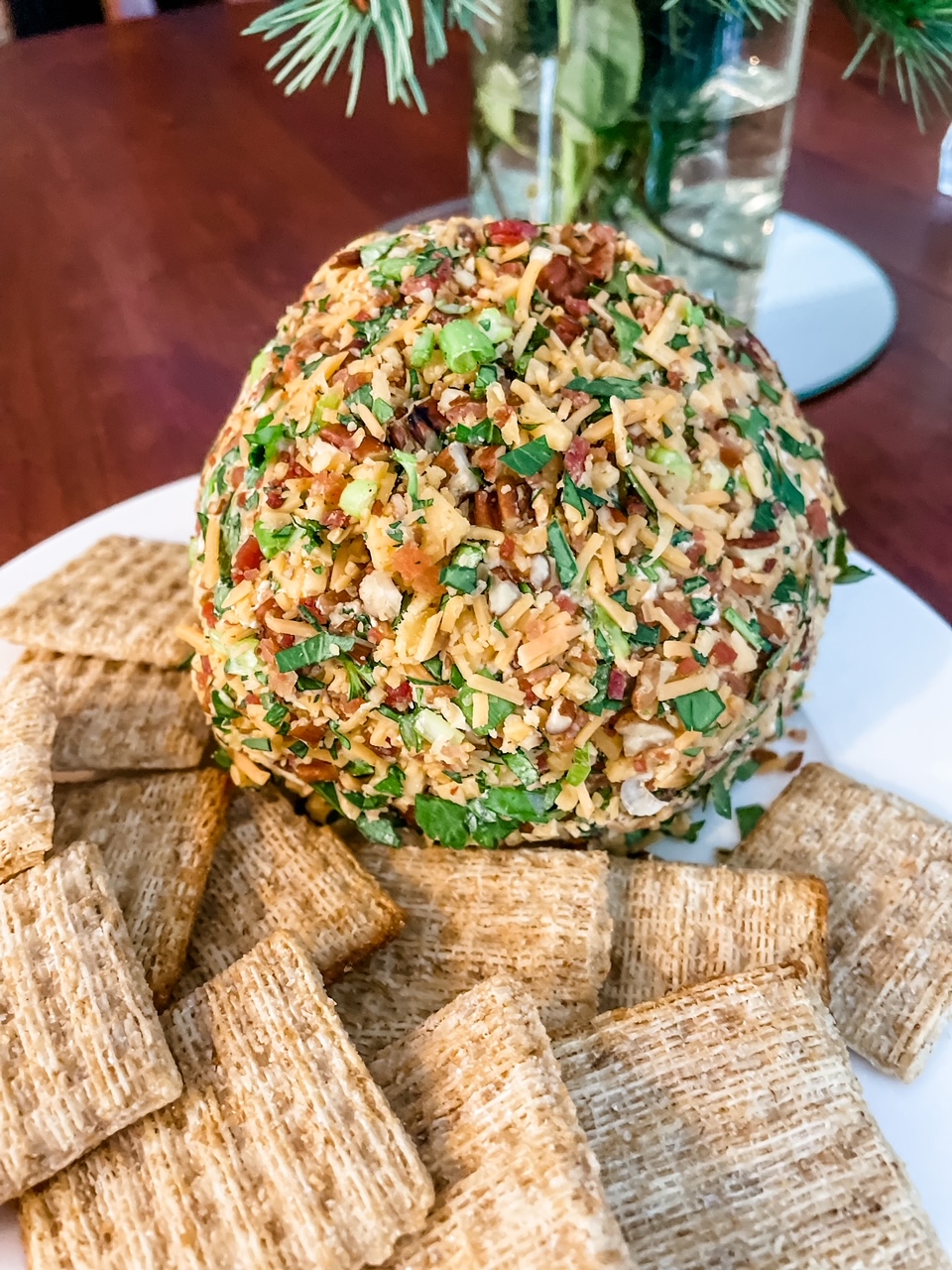 Loaded with tasty goodies inside and out, my Best Holiday Cheese Ball is the go-to appetizer for any occasion. This delicious, easy-to-make cheese ball is the very best way to celebrate any holiday!
Best Holiday Cheese Ball = Instant Party!
When I was a little girl, my mom would sometimes buy refrigerated cheese balls at the grocery store. They were covered with nuts and had probably been sitting in their plastic packaging for months. But I always got excited when I saw them because a cheese ball meant we were having a party!
All these years later, I still associate cheese balls with holiday celebrations and family gatherings. But I've learned something important about cheese balls after growing up and getting a kitchen of my own.
First, I realized that holiday cheese balls are really easy to make at home. Second, I found out that homemade cheese balls are fresher and tastier than store-bought. Third, I decided that cheese balls are still the best way to throw an instant party!
It's a great appetizer to bring to a potluck or to make for almost any holiday party, even a party for two. This year, my husband and I are celebrating New Year's Eve at home. I can't think of a better way to ring in the new year than by sharing a bottle of champagne and a holiday cheese ball in front of a cozy fire.
What Do You Need to Make My Best Holiday Cheese Ball?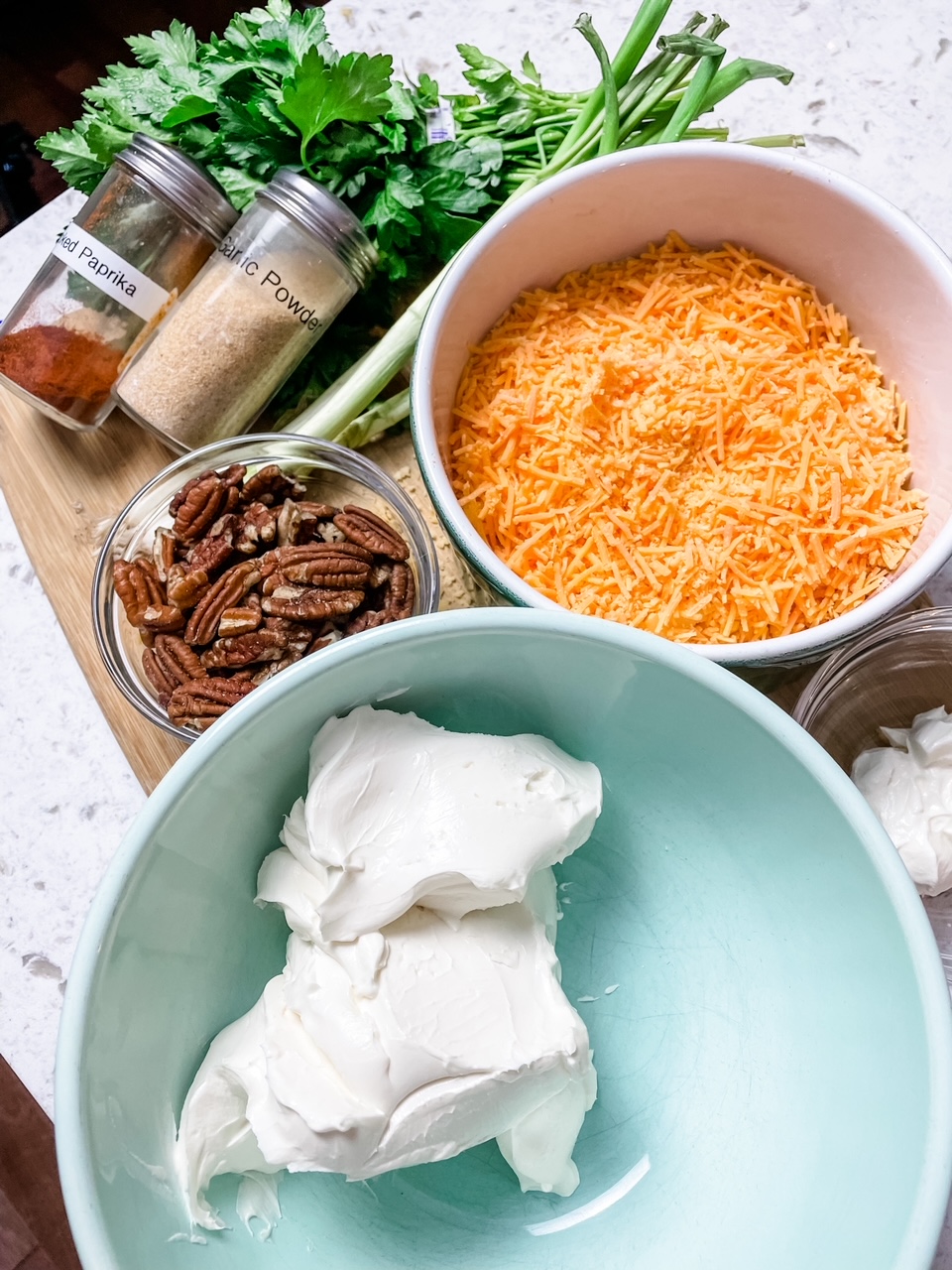 The ingredients for my Best Holiday Cheese Ball are pretty basic. Chances are good that you already have some or all of what you need on hand right now.
Cream Cheese
Sharp Cheddar
Sour Cream
Pecans
Parsley
Green Onions
Bacon
Smoked Paprika
Garlic Powder
Pepper
Salt
How to Make My Best Holiday Cheese Ball?
Making a cheese ball is very easy. Simply fold the spices and recipe ingredients into the softened cream cheese, then use a spatula to press the mixture into a ball. It doesn't need to be perfectly round.
Then, take the other ingredients, mix them together, and spread them onto a piece of plastic wrap. Place the cheese ball onto the plastic wrap and use your hands to press the loose ingredients onto the surface of the cheese ball. That's it!
You can serve your cheese ball right away with crackers or crudites, or you can wrap it tightly in plastic wrap and store it in the refrigerator for up to four days. The fact that I can make it ahead is one of my favorite things about a holiday cheese ball!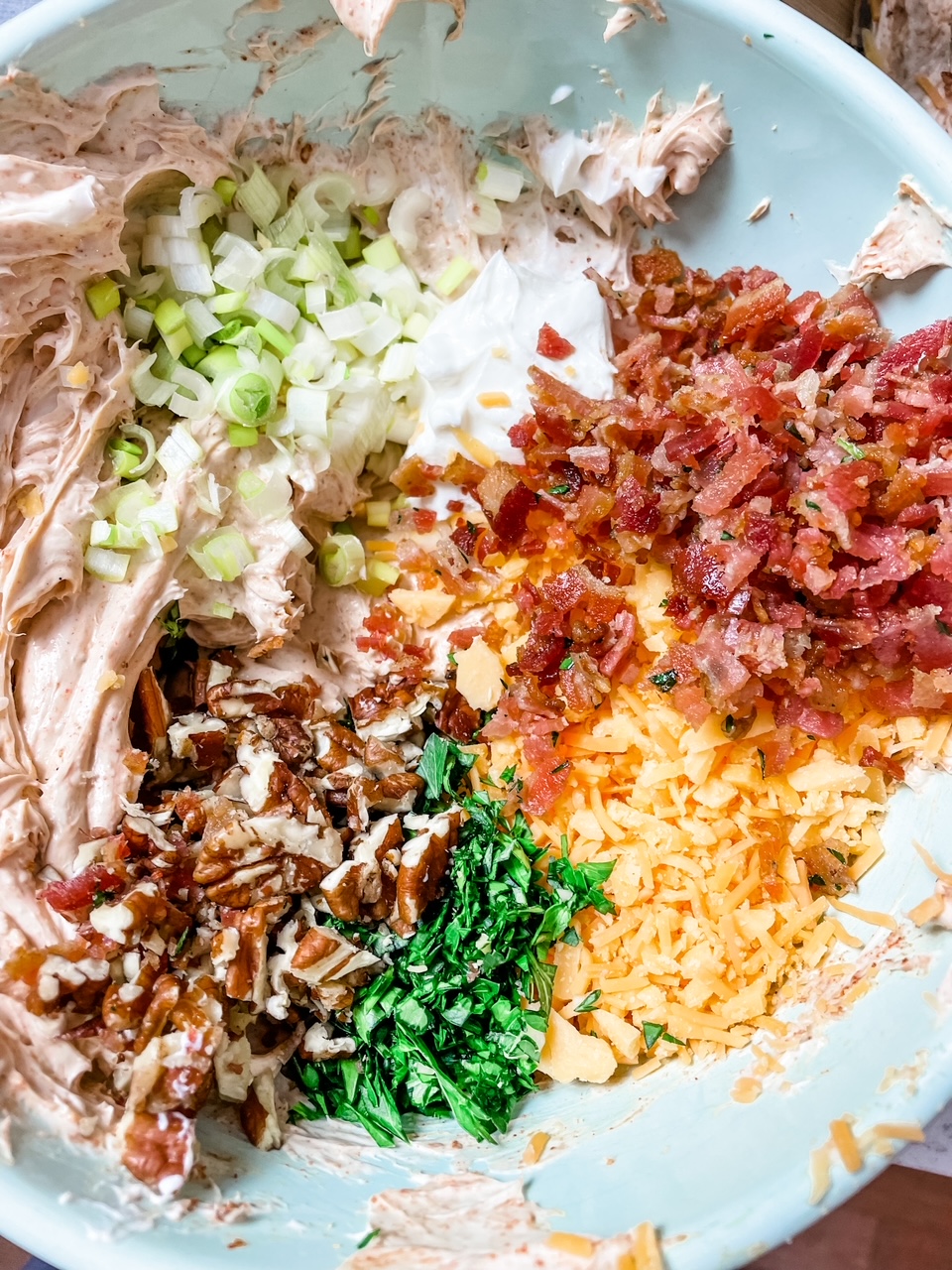 Make It My Way – Or Your Own
My Best Holiday Cheese Ball recipe is absolutely delicious as written. But one of the great things about cheese balls is that it's really easy to make it your own. If you don't have a particular ingredient or don't care for one of my suggestions, you can easily substitute other ingredients.
Instead of regular cream cheese, you could use Neufchatel or low-fat cream cheese. (Our market was out of cream cheese when I went shopping, so I used a store brand "cream cheese spread". I don't think I'd use it in a cheesecake but for a cheeseball, it worked just fine.) And Greek yogurt can easily be substituted for sour cream.
My cheese of choice for this recipe is sharp cheddar. You could use just about any flavorful cheese in its place – swiss, parmesan, or pepper jack could all be delish! I'd skip mozzarella, however, it's just too mild for this recipe.
I love smoked paprika and think that touch of smoky flavors goes perfectly with the bacon, onion, and cheese. If that's not your cup of tea, you could use ranch dressing mix or just about any spice blend in its place. A few drops of tabasco or hot sauce would be terrific for a spicy cheese ball!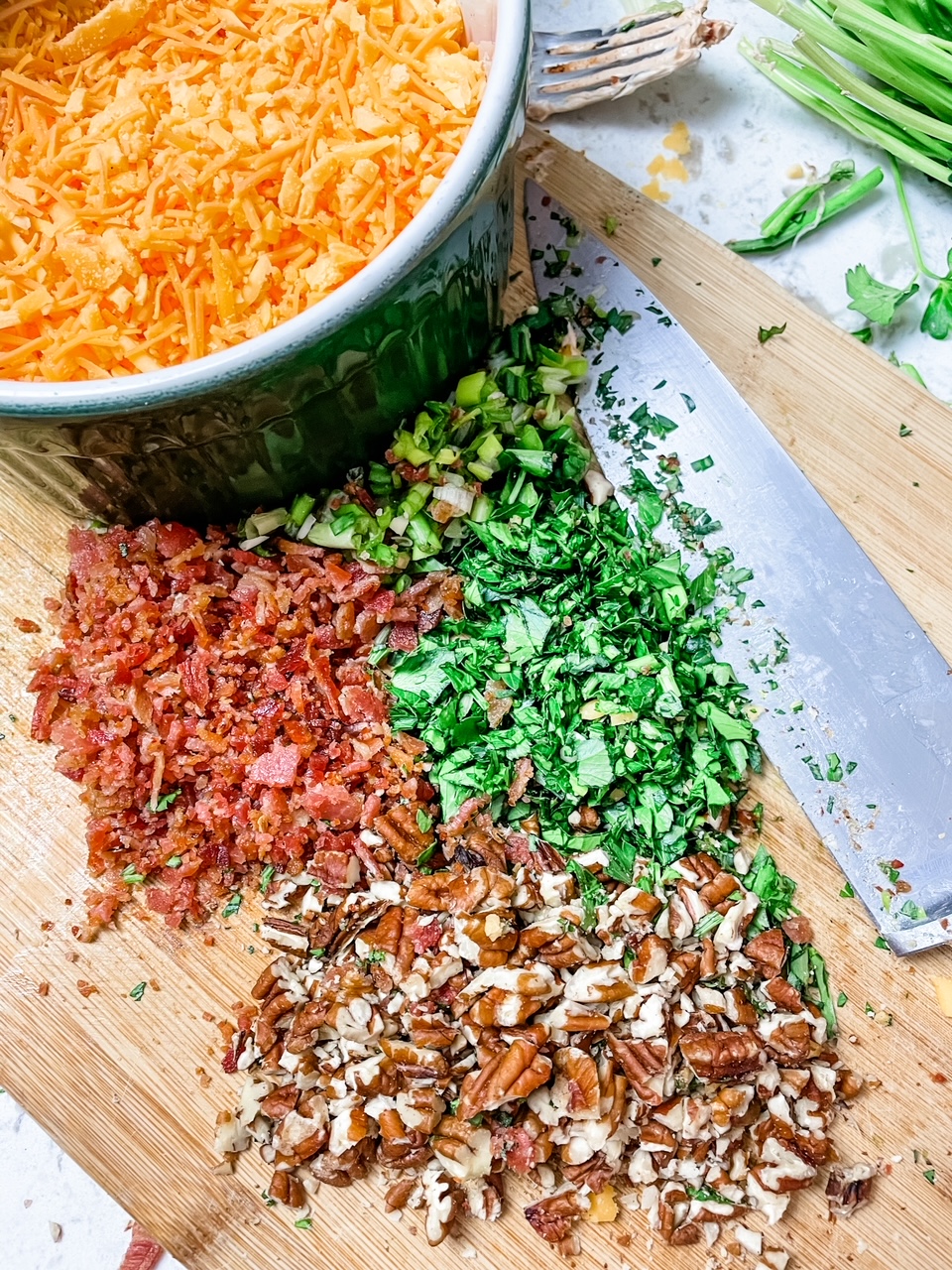 Choosing the "Extras"
When it comes to the inner and outer goodies, you can definitely choose your own adventure.
Bacon is a must for me, but I bet a little chorizo could be yummy too. Also, instead of green onions, you could try finely diced red onion. Pecans are my nut of choice here, but walnuts or slivered almonds would be great too.
And instead of parsley, you could choose almost any chopped fresh herb. Dill would be wonderful! So would cilantro or thyme. However, you are using an herb with a very strong flavor, be sure not to go overboard. You might want to keep the parsley and add just a touch of another herb.
Whether you're celebrating at home or bringing a dish to share, this Best Holiday Cheese Ball is a deliciously fun and festive addition to any holiday gathering!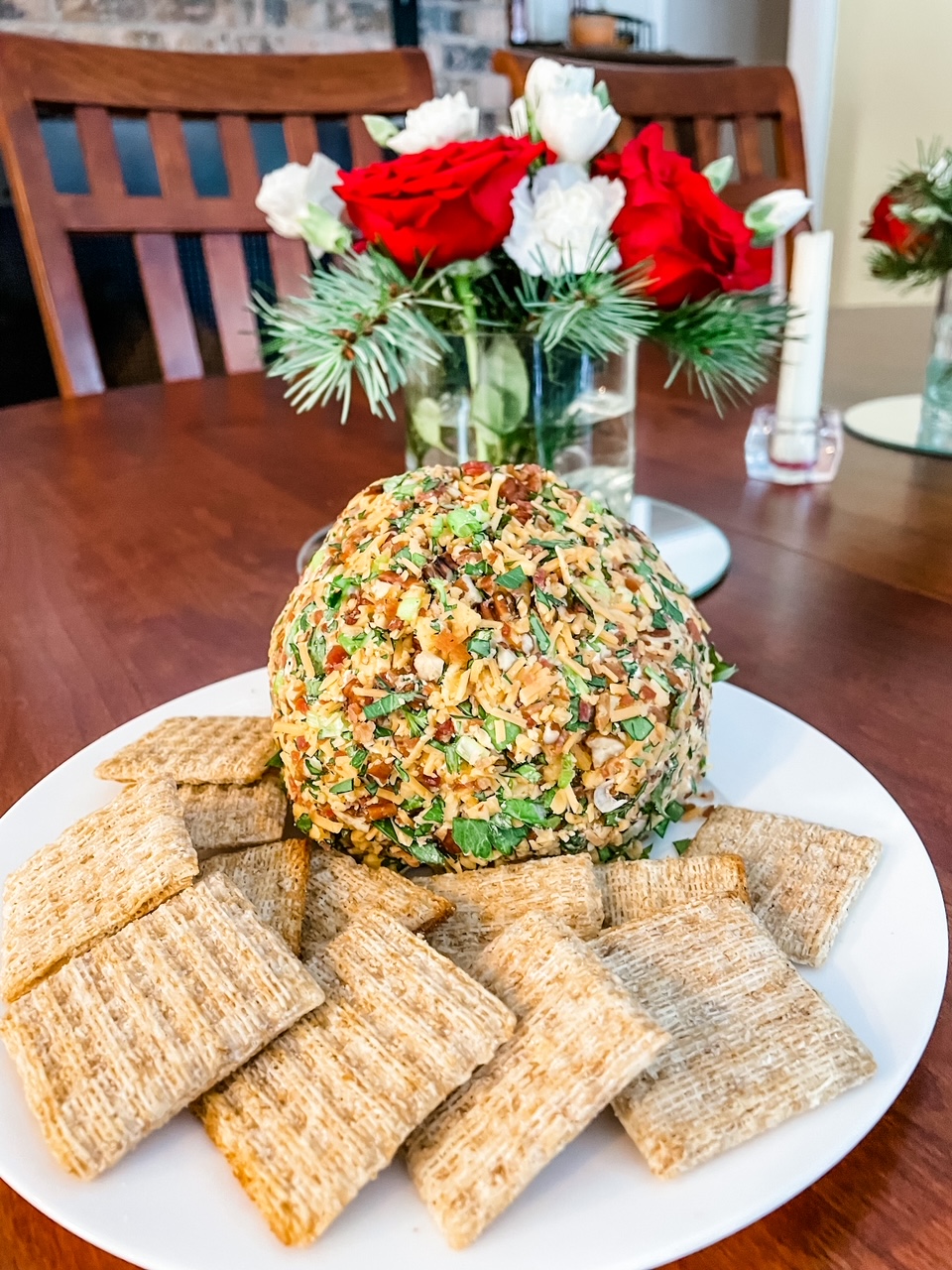 Print
12 oz

. cream cheese, softened

2

T sour cream

1.5 cups

shredded sharp cheddar, divided

8

slices bacon, minced, divided

¼ cup

pecans, chopped, divided

4

green onions, chopped fine, divided

¼ cup

chopped parsley, divided

1

T smoked paprika

½ tsp

garlic powder

¼ tsp

salt

¼ tsp

pepper
---
Instructions
Place soften cream cheese, sour cream, smoked paprika, garlic powder, salt, and pepper into medium-sized mixing bowl. Use a spatula to mix spices into the cream cheese and sour cream.
Add half the cheddar, half the bacon, half the chopped pecans, half the chopped onions, and half of the parsley to the bowl. Mix into the cream cheese, making sure the ingredients are evenly distributed. Use the spatula to press the cheese mixture into a loose ball. Set aside.
Place the remaining ingredients – bacon, cheddar, pecans, parsley, green onion – on a large piece of plastic wrap spread on the kitchen counter. Use your fingers to toss the ingredients so they are well mixed.
Place the cheese ball onto the plastic wrap. Roll the ball into the loose ingredient mixture, pressing the ingredients onto the surface with your hands while forming a more even looking cheese ball. (There will be extra loose ingredients. Save for another use, such as a topping for a green salad.)
Serve immediately or wrap tightly in plastic wrap and store in the refrigerator for up to 4 days.