This post may contain affiliate links. Full disclosure policy
THIS POST MAY CONTAIN REFERRAL LINKS. IF YOU CLICK THROUGH AND TAKE ACTION, I MAY BE COMPENSATED, AT NO ADDITIONAL COST TO YOU.
Depending on your job, lunch is an oasis in the dessert. Half time. Intermission. A hiatus. So why not make those 60 minutes count?
Just say no to mundane work lunches. Say no to insipid salads. No to five days in a row of the same thing. Say no to anything "instant" and "in a cup." We are past that, Fierce friends. We deserve better than that.
Take time for yourself. Embrace your office community (even if you find your coworkers to be…strange).
The Unspoken Rules of the Work Lunch
There are a few obvious criteria I'd like to point out:
Your lunch must:
Feed your brain: As you may recall from my Q & A with a registered dietitian for nutrition tips over fifty, make sure your meal choices are colorful, full of health fats, lean protein, and super foods to give you more energy and help that brain of yours function at its fullest.
Be easy. Work lunches are not worthy of long hours in the kitchen. 'Nuff said.
Be delicious. Doh.
Inspire jealousy amongst your coworkers. Okay, that one is optional.
Your lunch must not:
Contain overly aromatic smells. You don't want to be the person microwaving leftover sea bass or breathing garlic fire all afternoon. That is not the way to win the office popularity contest. Or a promotion.
Contain ingredients that are tough on the digestion. Cruciferous veggies, although so great for you, might be a little..ummm..distracting during that 2 hour afternoon meeting. Skip the broccoli, kale, and the Brussel sprouts if you are sensitive to this type of thing.
Leave evidence. If you opt for tabbouleh or an everything bagel, be aware that you will almost definitely have something in your teeth. Depending on your job, this might not be idea. Refer back to the first bullet about smells.
Make you tired. No judgement, but falling asleep at your desk might send negative signals about your work ethic. Avoid turkey paired with carbs, the duo behind those Thanksgiving food comas.  Super heavy meals won't do you any favors either. It's probably not the best time for mashed potatoes and fried chicken. There's also less obvious energy zappers like salmon, bananas, lettuce, pasta, cherries and red meat.
Be soggy. What's more depressing than a soggy salad on a stressful day? Nothing.
The Best Healthy Lunch Ideas to Make Your Coworkers Jealous
Pretty sandwiches tied up with string. These delights caught my eye immediately. They're pretty, refreshing, and jam-packed with summer flavors. I'll take two, please.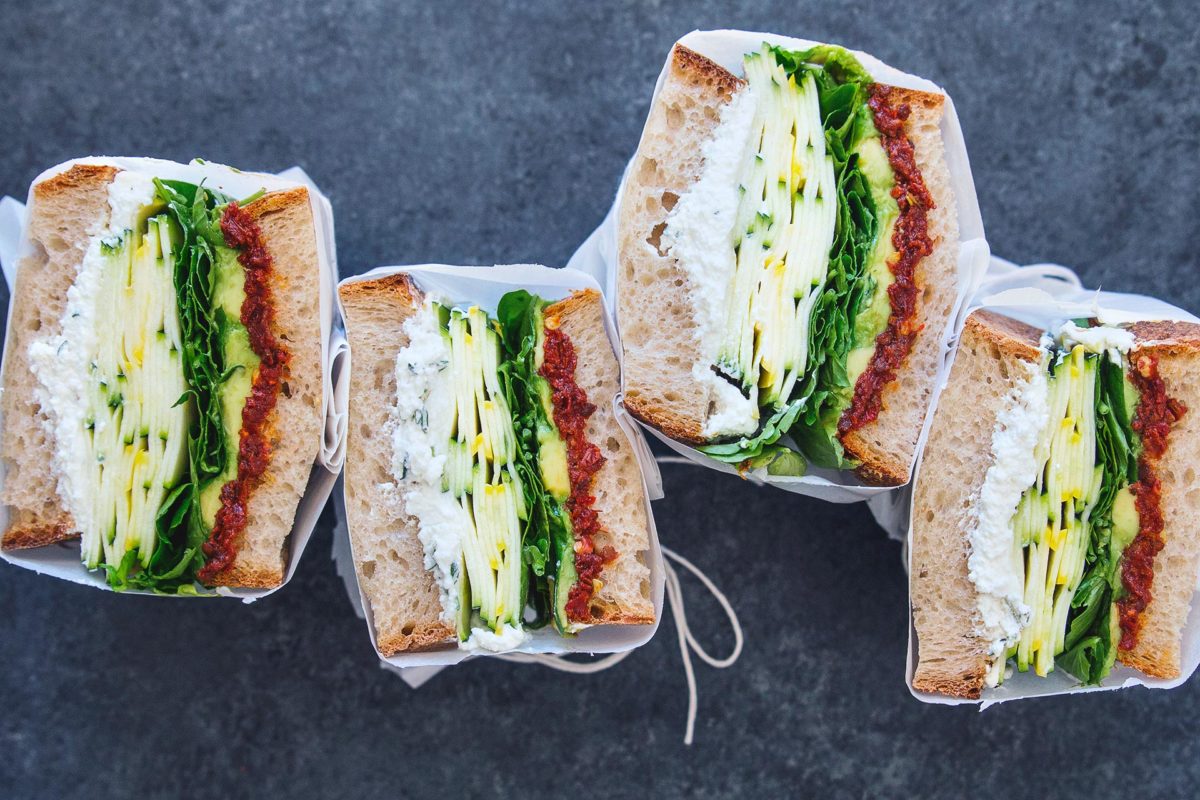 Image Credit: Honestly Yum 
The salad that refuses to quit. You don't want wilted greens and over-oxidized veggies when you sit down at the lunch table. Case in point: brown avocados. I prefer sturdier greens or fruits and veggies that can stand up to a few hours sitting in olive oil.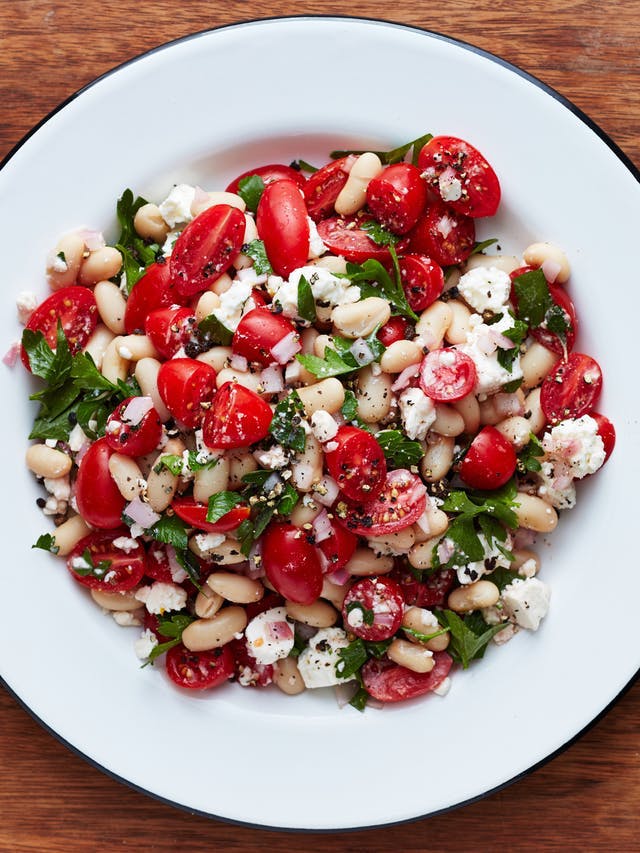 Image Credit: The Kitchn
Anything in a mason jar. If you know me at all, you know that mason jars are my spirit animal. They make everything better. A Beautiful Mess has several incredible sounding recipes that I will be making soon.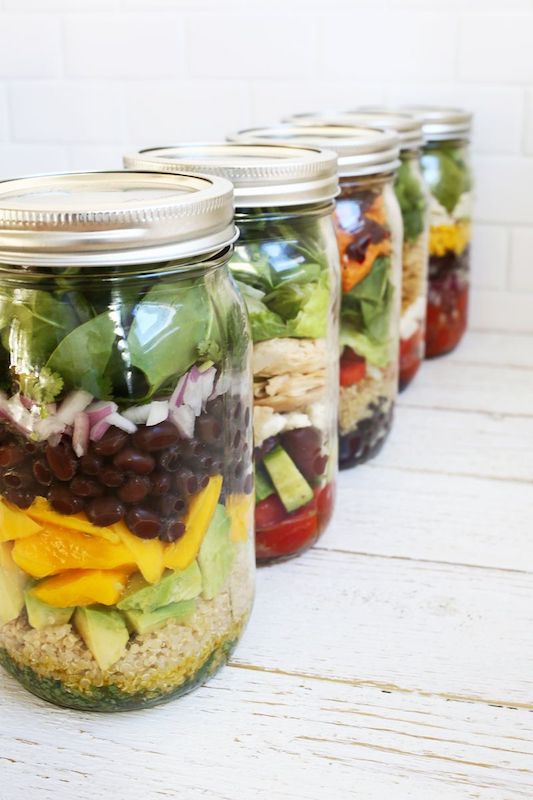 Image credit: A Beautiful Mess
Wrapped, tied, and tasty.  This shawarma wrap might break two rules of office lunches. 1) It probably is highly aromatic. 2) It will most certainly leave physical evidence in teeth. Hello, dill! 3) No amount of tic tacs could mask the garlic breath that would ensue. But would it be worth it? Quite possibly.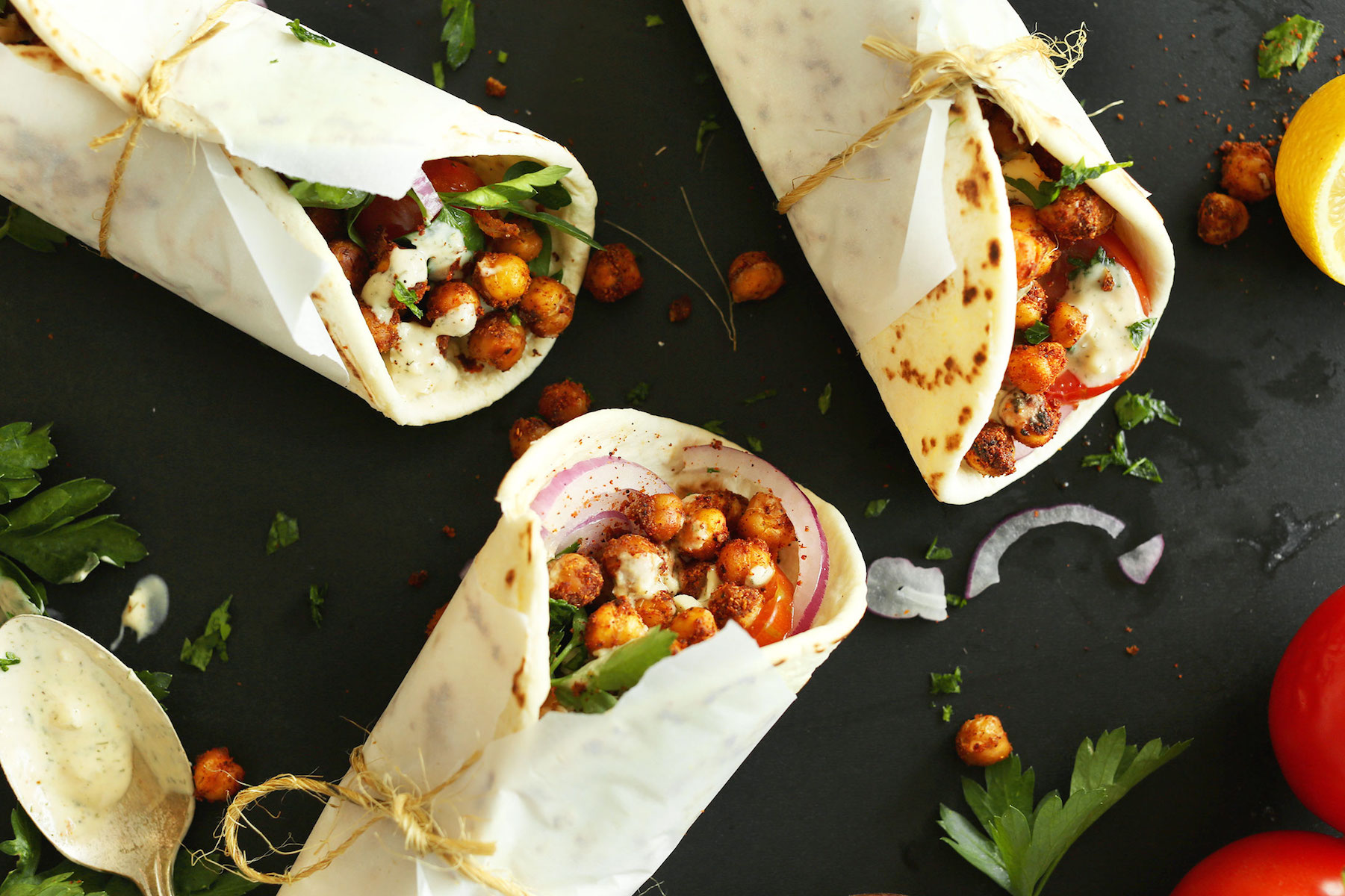 Image Credit: Minimalist Baker
Fancy Frittata. This is an excellent way to use leftovers and other veggies and meat you have on hand and its easy to make ahead for the week. Plus, it sounds fancy when you say it. Say it with me now. Fri-taa-ta.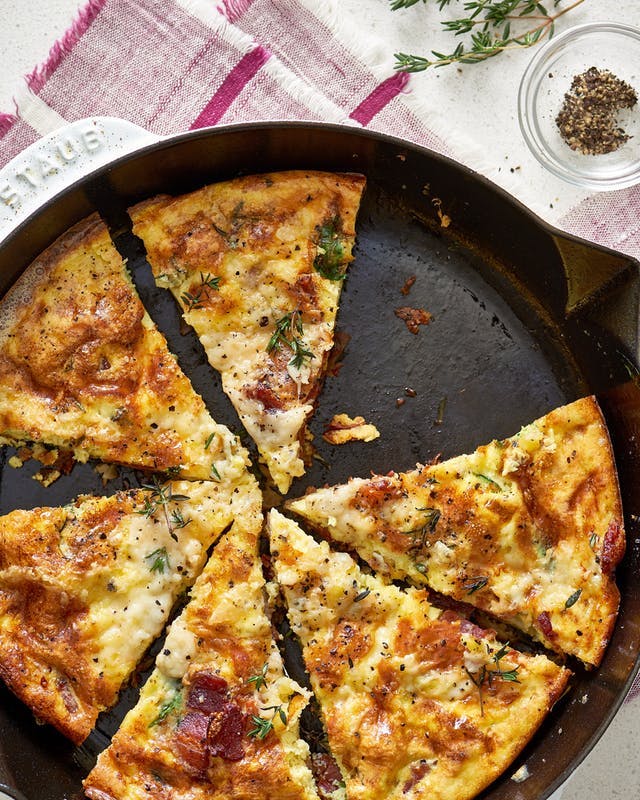 Image Credit: The Kitchn
This is a big step up from a humble Styrofoam cup of 39-cent ramen. I love this tutorial outlining the essential elements for customizing flavors and ingredients.  (Again, note the added cuteness of anything served in a jar.)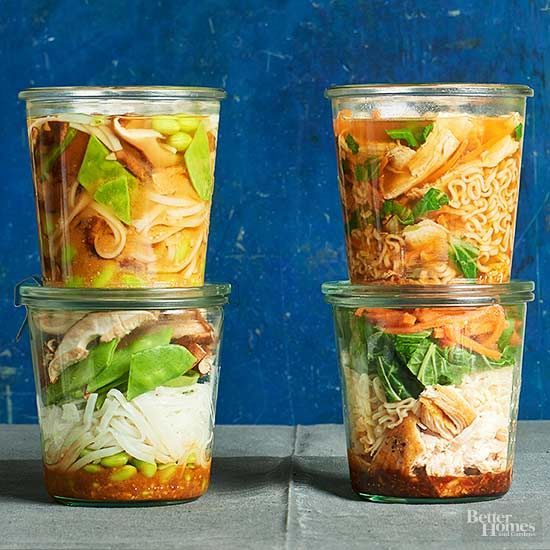 Image Credit: Better Homes and Gardens
Superfoods with a kick. The quinoa delivers that protein you need to get through the day. $10 says it's better than takeout.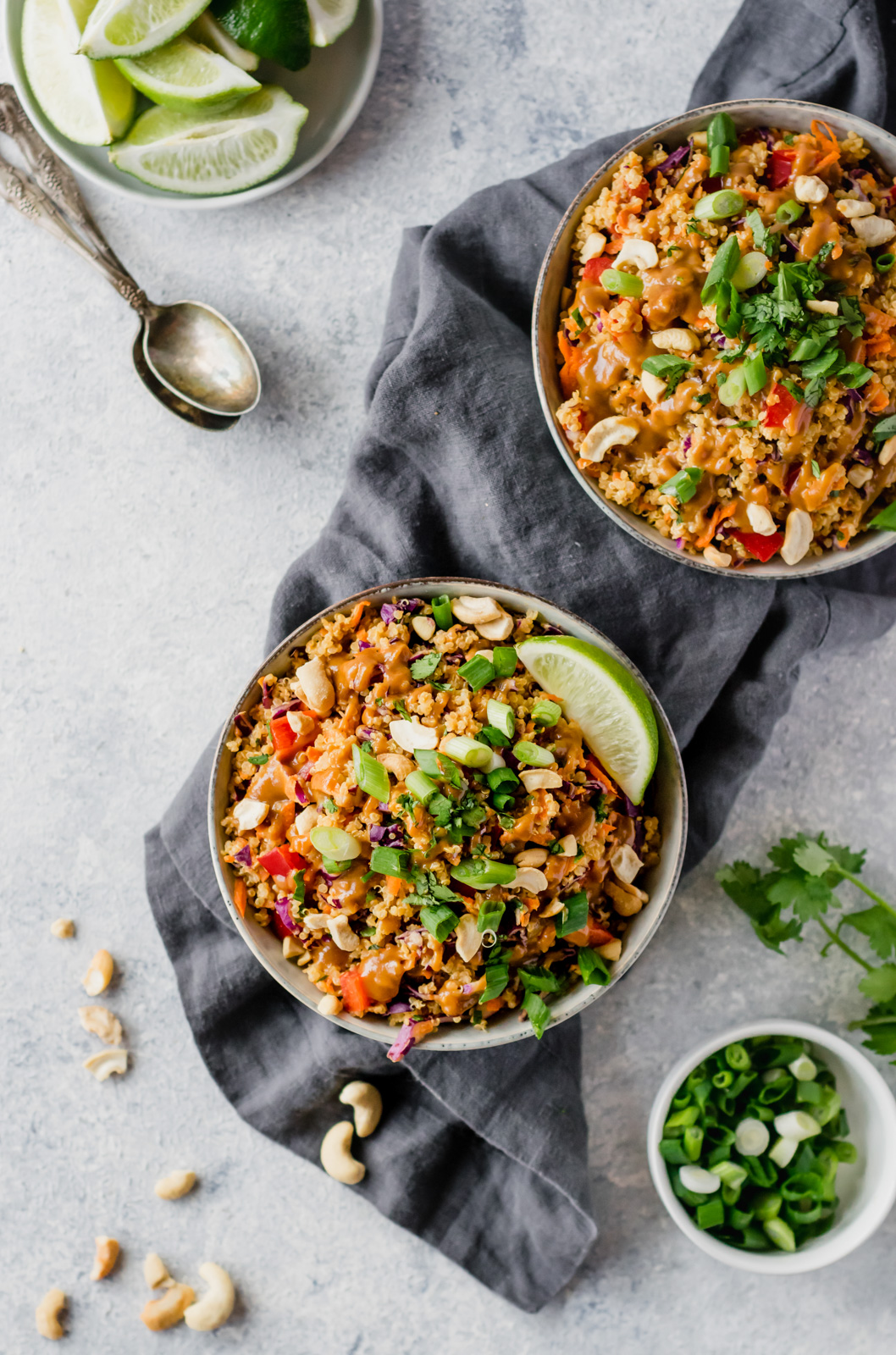 Image Credit: Ambitious Kitchen
When joy itself shows up at your work lunch. A cheese platter? At work? YES. PLEASE. Ladies, treat yourself!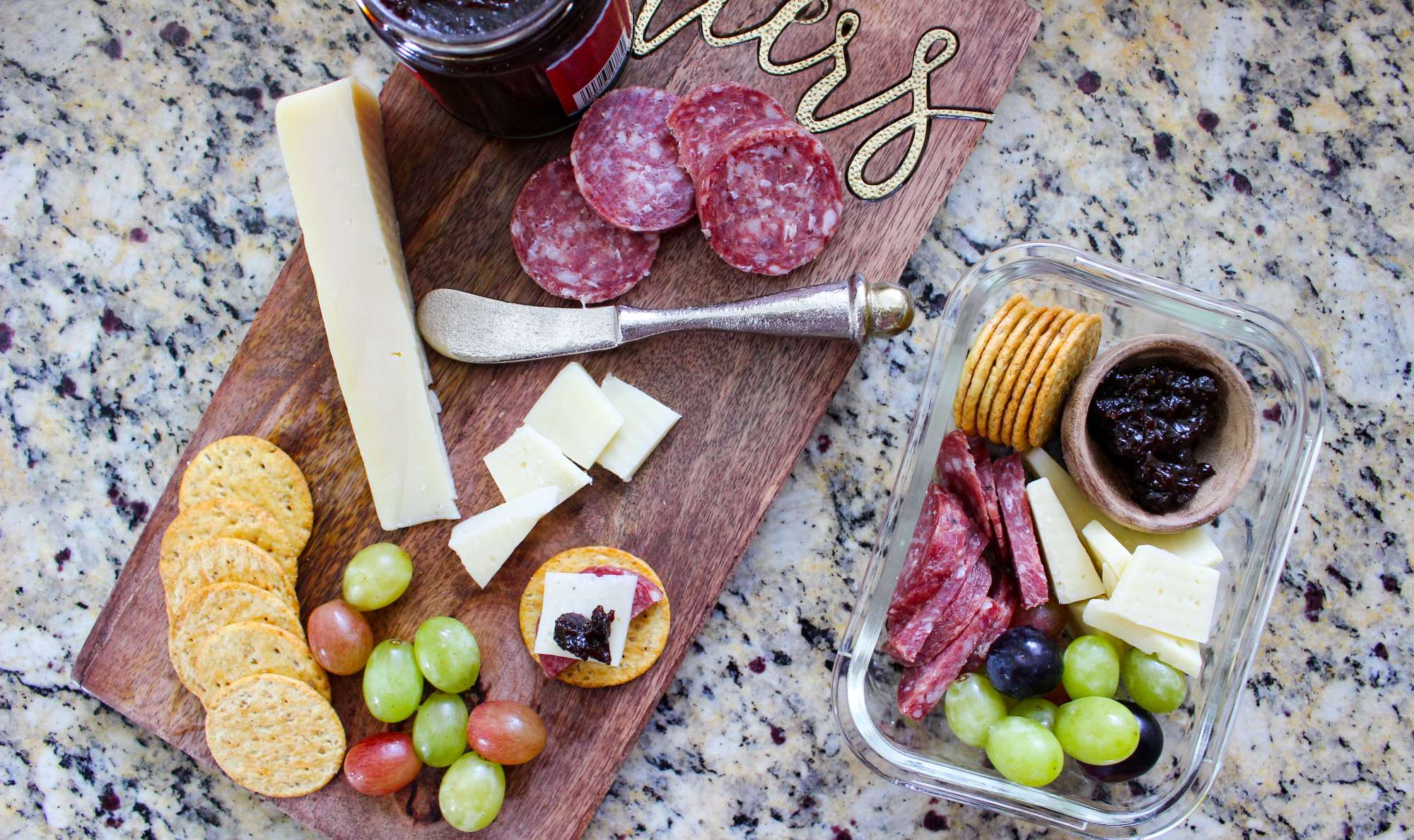 Image Credit: Ally's Cooking 
Why You Shouldn't Eat At Your Desk
Here's the final rule to remember. Don't eat at your desk.
A recent study found that employees who opt for lunch at their desk over the idle chatter of the lunch room actually are less productive during the day, even with an extra hour of work. That's because their brain didn't get time to reboot. Plus, they sit for longer, make poorer food choices, miss the important social aspects of the workplace, and more. 
So don't work over lunch. Typing with one hand while you wolf down a sandwich will not only not prove to your boss that you are the most dedicated bee in the hive, it will leave crumbs in your keyboard. Not good.
Whatever you choose to pack for lunch, the key is to be creative and introduce a little variety. Lunch is such an important time to recharge. Make it count!