This post may contain affiliate links. Full disclosure policy
It seems like yesterday when my youngest son thought every single animal, no matter what it was, was a cow. Moo! (it was a cat), Moo! (it was a dog). Moo! (It was an elephant for goodness sake).
Just to embarrass him, here's a picture of him as a little ball of fluff. Adorable, right?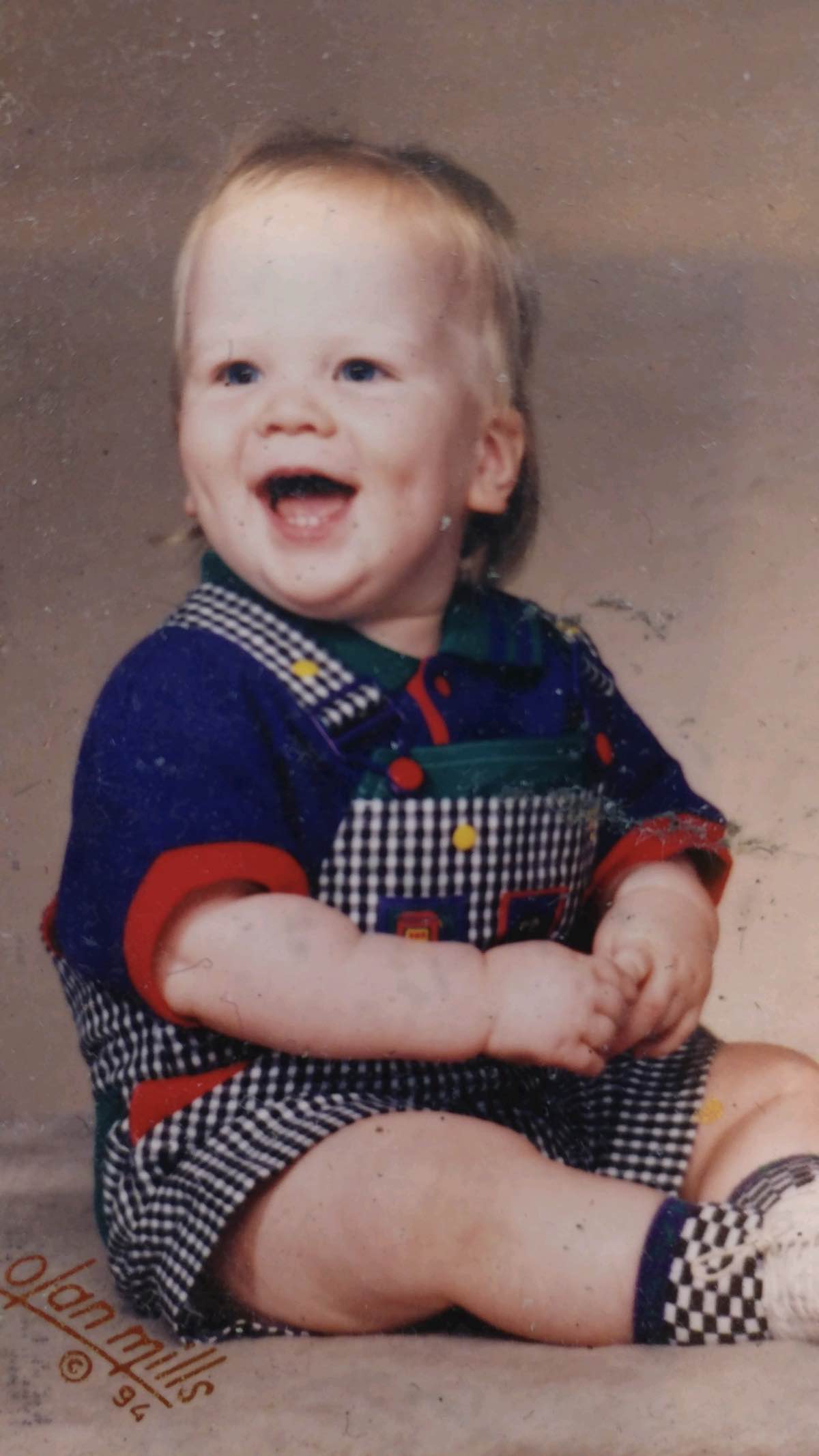 Oh, and here is one from those awkward middle school years with braces.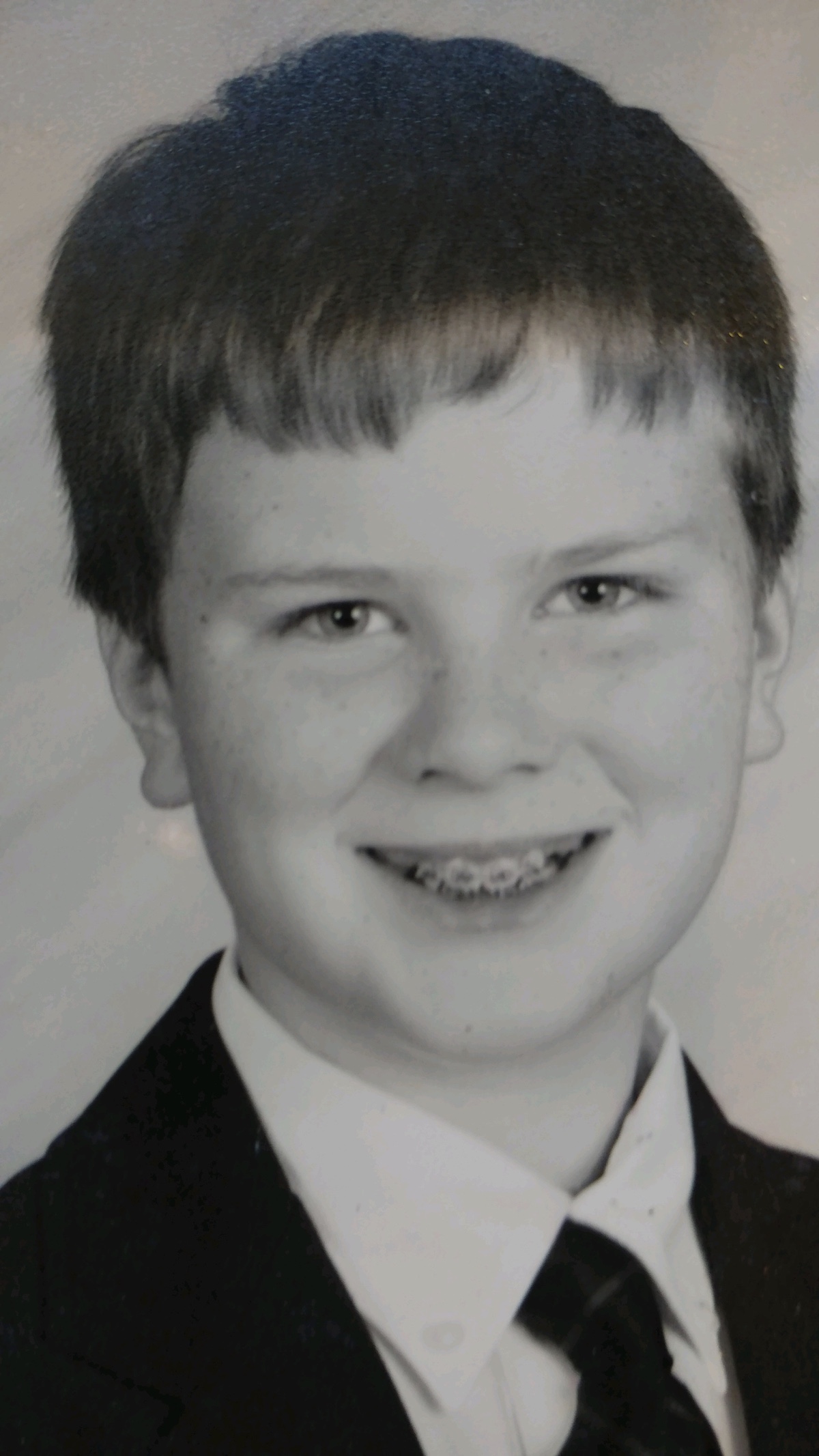 It's my right as a mother to share these on the internet, yes? I think so.
Fast forward 25 years or so, and here I am, just getting home from his wedding in Maine—unpacking my fancy clothes, scrolling through the photos, and wishing we could do it all over again.
As a mother of three extremely handsome boys, I like to think I'm a bit of a pro when it comes to being mother of the groom. This was my third time at the rodeo and my last. My little fledglings have all left the nest and found lovely life partners.
Here are a few highlights and pictures from the special day!
Just A Couple of Nerds in Love
My son, whom I refer to as The Master (he used to be The Boy but given that he is an adult with a job and housing and a Masters Degree, he deserved an upgrade). We call our new daughter in love "The Petite Artiste" because, well, she is quite petite and quite the artist.
They met their freshman year of college, quickly became friends and, according to them, enjoyed being nerds together. They bonded over a computer class (see what I mean? Nerds). Apparently they enjoyed broccoli fights, as one does. Nerdy or not, watching them affectionately gaze into each other's eyes like lovestruck puppies made my heart go pitter pat.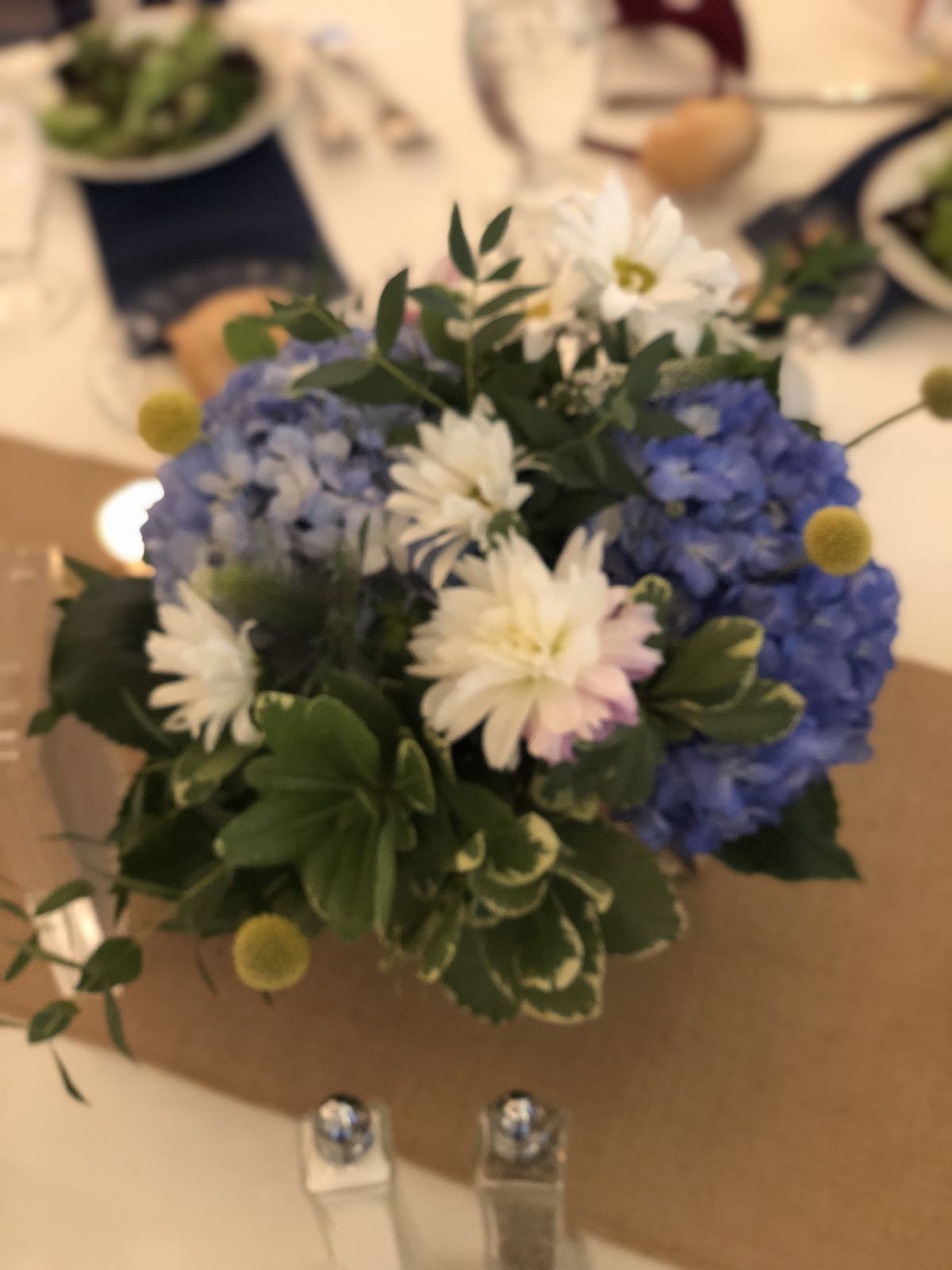 A Beautiful Palette and Backdrop
This past weekend, God smiled down amidst the clouds and the rain and the dropping Maine temperatures and gave the couple a perfectly clear day—complete with blue skies, sunshine, light winds, and a breathtaking backdrop for their ceremony.
Set against the shiny sea, the wave-washed boulders, and the occasional seal spotting, the white trellis gazebo was truly picturesque place to say, "I Do".
The colors were really simple and perfect for the setting. Navy, ivory and taupe with pops of bright yellow, purple and blue flowers.
My new daughter in love is a graphic designer and artist by trade, so it wasn't surprising she chose such a timeless and beautiful palette.
The Ceremony
The flower girl was my oldest granddaughter, nicknamed The Llamette, and the ring bearer was my oldest grandson, nicknamed Noodle. They both took their jobs very seriously, with high concentration. They were the stars of the show. Until the bride walked down the aisle, of course.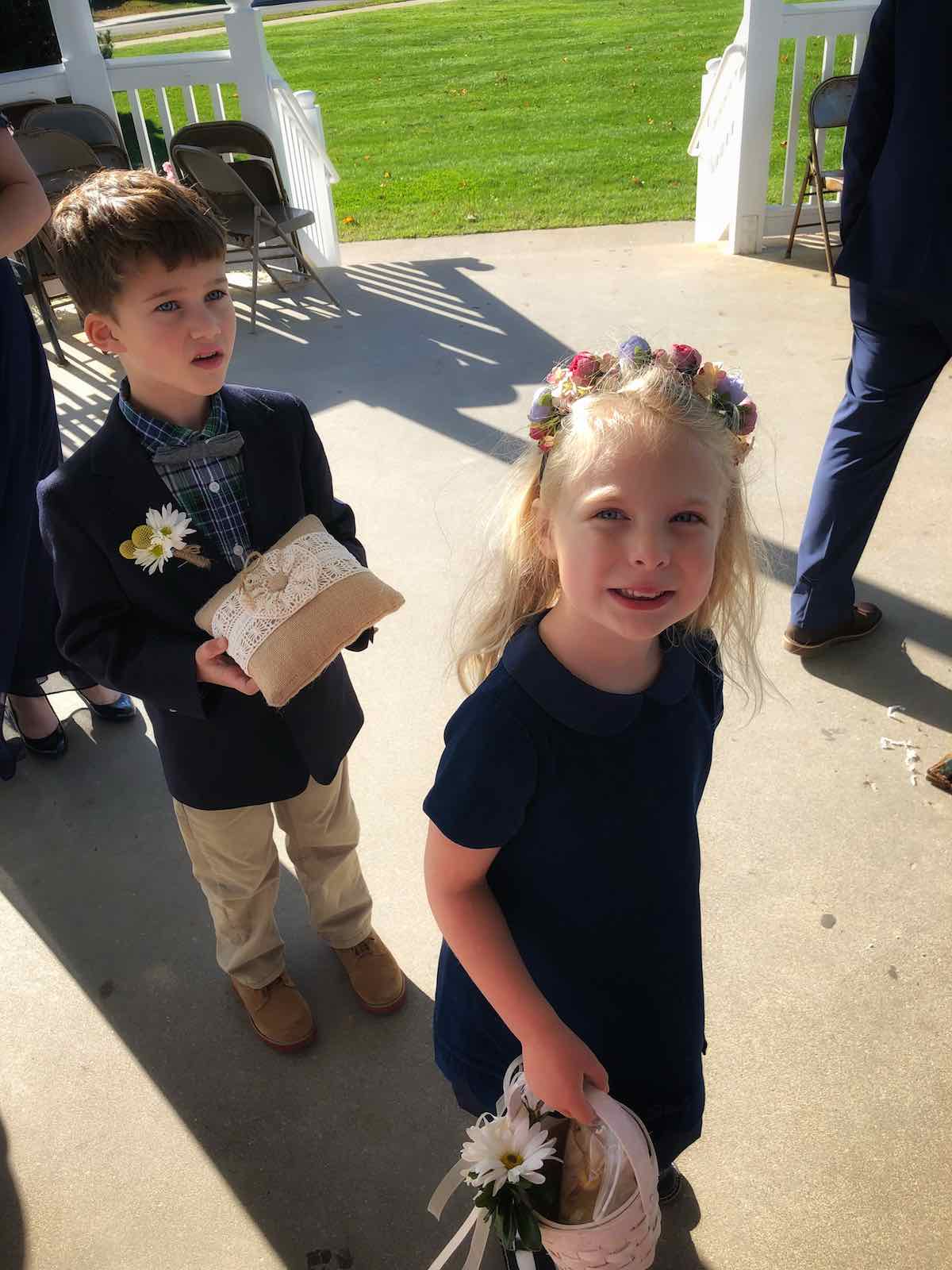 Here I am as the proudest grammy that ever was. These kids melt my fierce heart.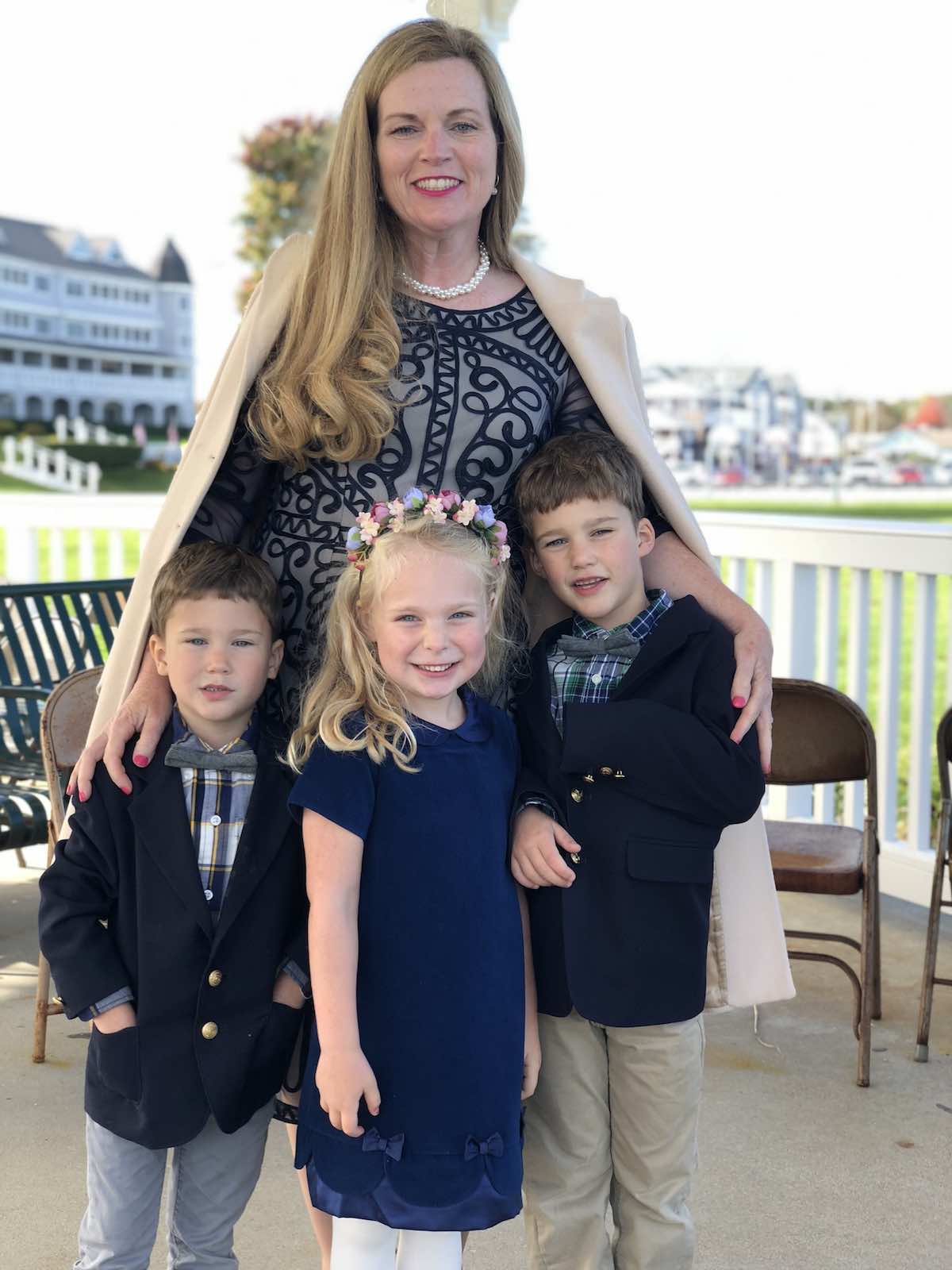 Here's a close up picture of my Mother of the Groom dress I got at Dillards. I have to say, it was a perfect dress to dance in! As a side note, it will remain a mystery to me why my head is cut off in the picture, what I was saying at the time, and why my darling escort, Twoodle (age 6), isn't looking like the happiest man alive.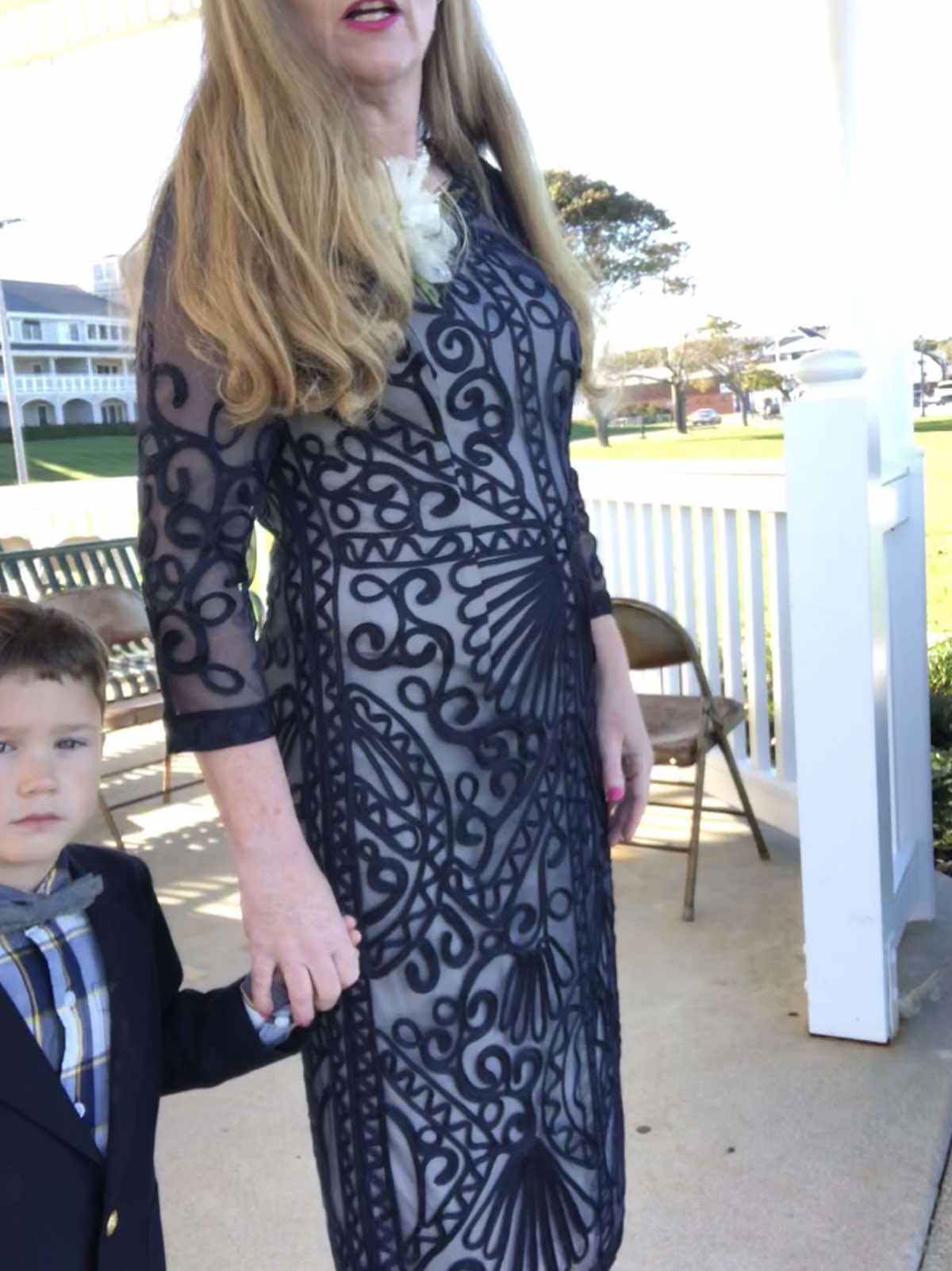 One of my favorite things about the ceremony was that the bride's father brought out his guitar and graced us all with a beautiful rendition of The Wedding Song (There Is Love) by Noel "Paul" Stokey. It was an incredibly special moment. I don't know how he managed to get through it without crying because I was a wreck. But they were happy tears, so it was good, so very, very good.
My middle son (aka The Reverend) officiated (he's a pastor, after all) and was as witty, thoughtful, and Christ-centered as I expected him to be. Knowing the groom his entire life, The Reverend's personal insights made the ceremony all the more special. He also took the opportunity to (very lovingly) poke fun of the groom on a couple of occasions.
The Prettiest Bride
And now the part that everyone cares about the most. The bride! The Petite Artiste was classically stunning with a beautiful side-swept up-do and a beautiful sleeveless white lace dress with very intricate details in the back for a little added flair. Here's a few pictures! Gorgeous, right?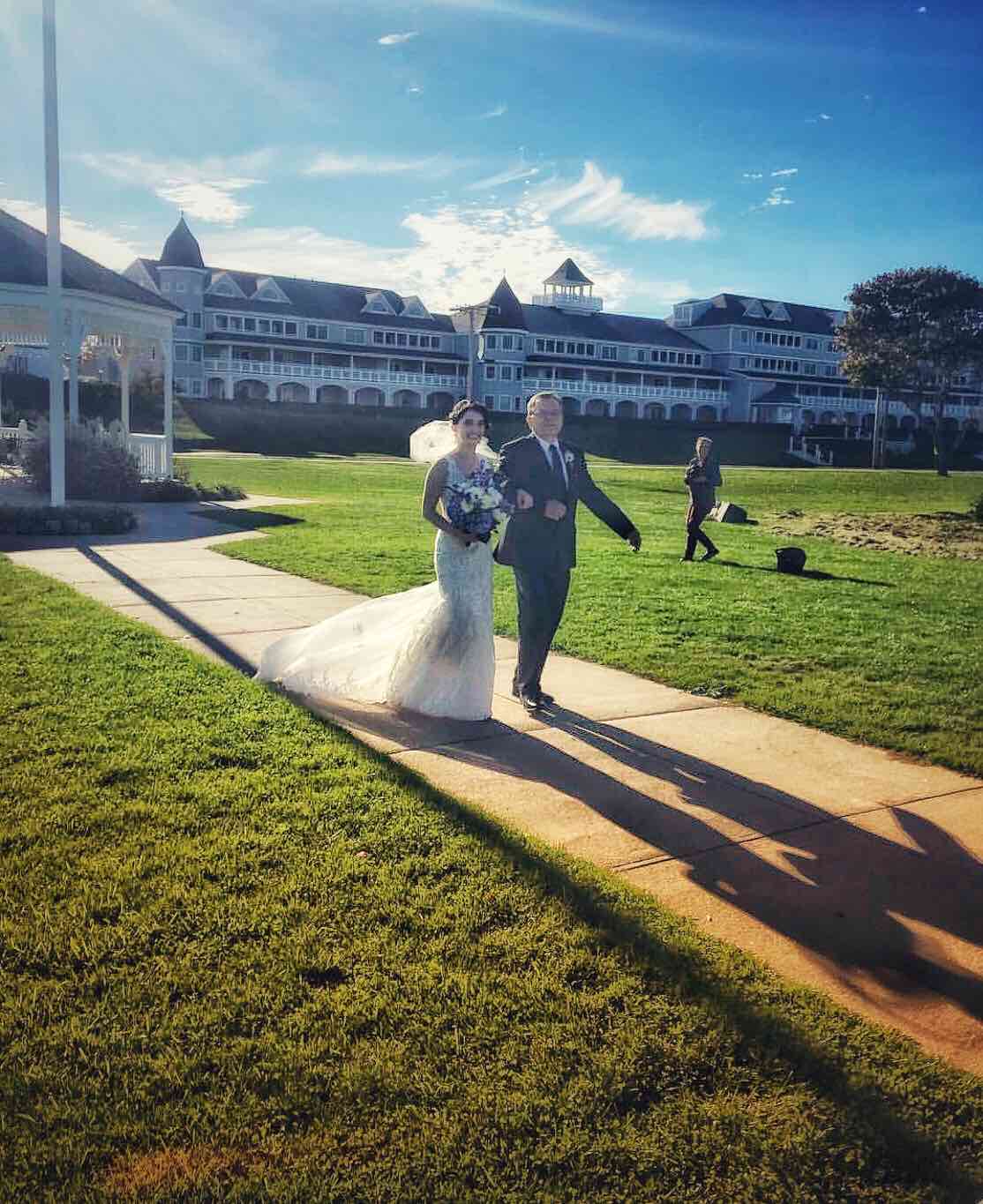 As they were announced to the crowd for the every first time as a married couple, Paul McCartney crooned Here Comes the Sun and I choked back still more happy tears.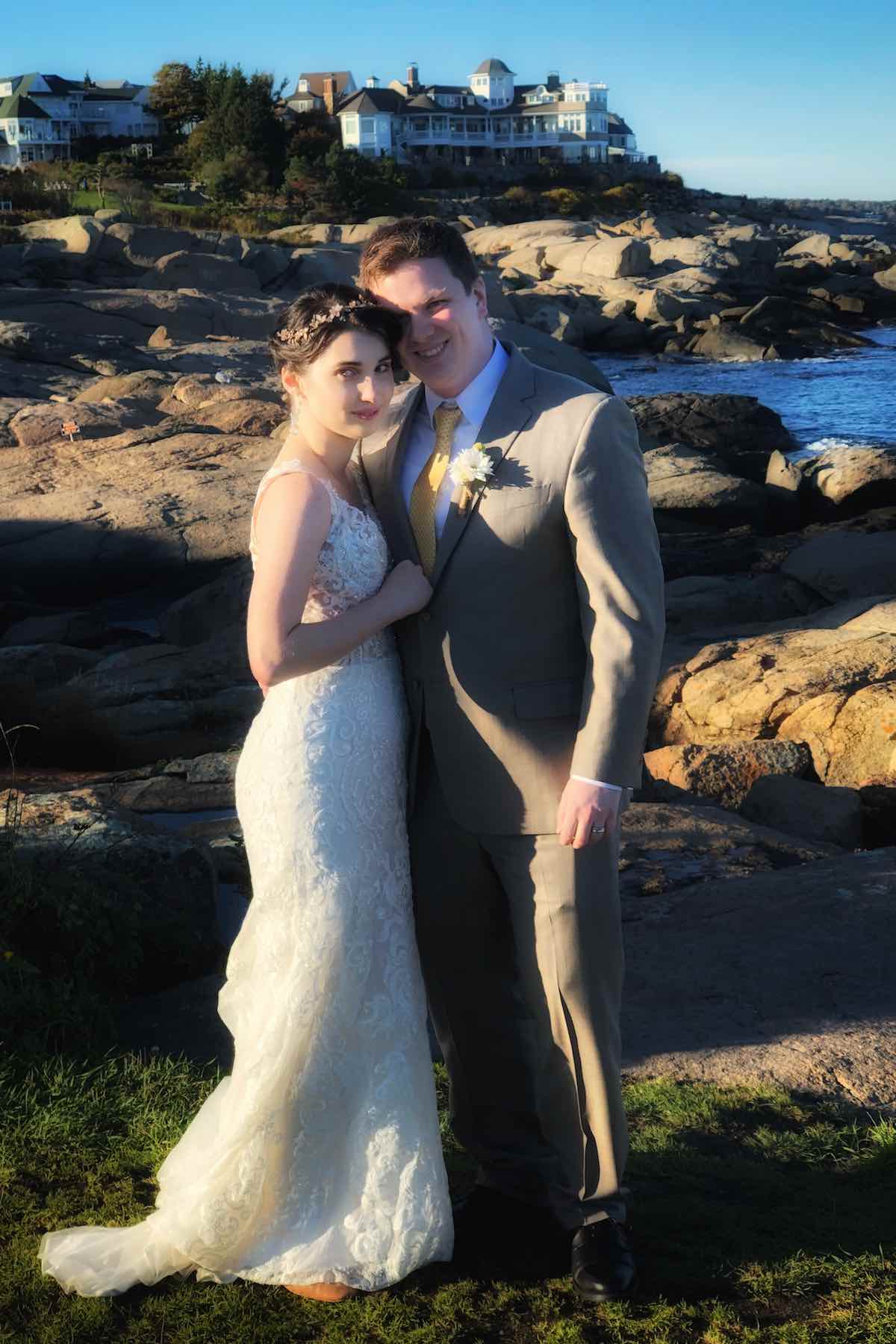 The Reception (and the dancing!)
The reception was at a charming little inn nearby. Mini crab cakes, chicken satay skewers, spring rolls, and cheese and crackers tided us over until the bride and groom arrived from their photo shoot. As they arrived, we were ushered in for their first dance.
Next, the bride danced with her dad to The Circle Game (oh my goodness, another tear jerker). Then it was time for my dance with the groom. We did the swing (sort of) to My Momma Loves Me Like a Rock. It was an unconventional choice, I know, but it was fun and goofy and the perfect pivot from the sweet and teary-eyed emotions everyone was probably feeling. I like to think it got the party started. And yes, I was singing along the whole time. A) It's pretty great song so how could I not? B) I was hoping it would help The Master loosen up and have fun with it. I think it did (sort of).
Look, considering that The Master had about a minute and a half of swing lessons from me less than an hour before the ceremony, it could have been a lot worse.
And by that I mean, no one fell down and no one broke their leg.
Here's a video:
My whole family—from my mother to my youngest granddaughter – definitely knows how to throw it down on the dance floor. At every family wedding I can remember, we sort of take over. It's just one of the many reasons I love my family and am proud to be a part of it.
Here's some photographic evidence: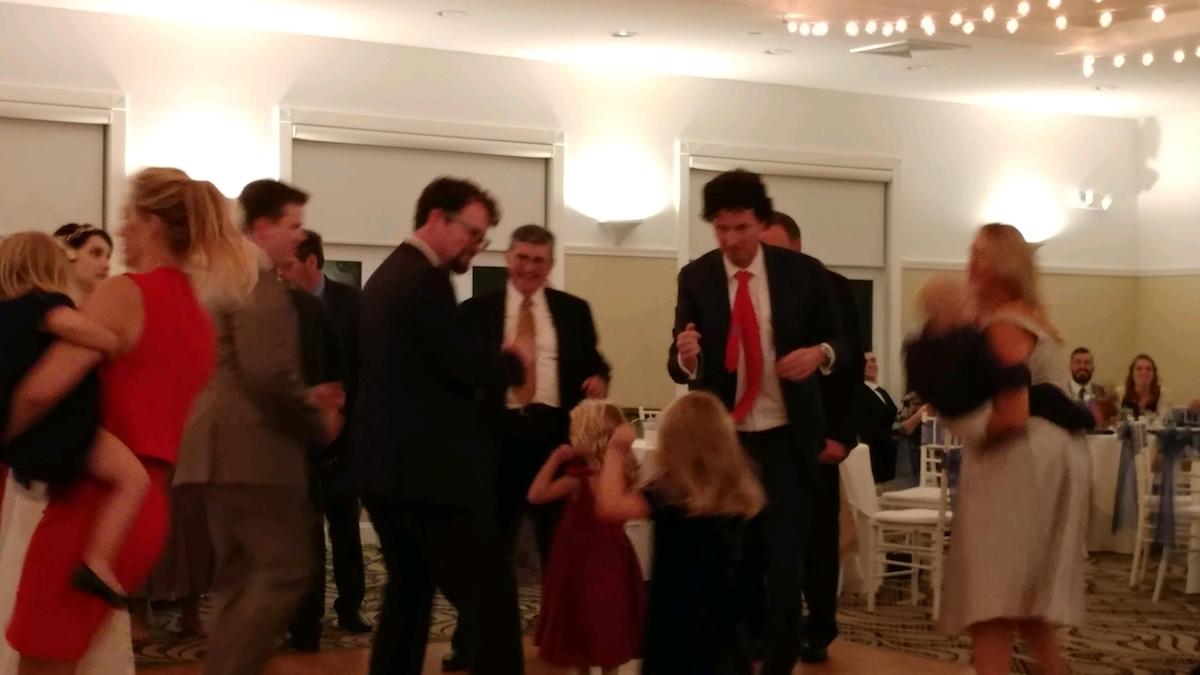 The Flower Girl and her cousin enjoyed dancing with my husband. I found this particularly amusing given that he is a father to three boys. Little girls delight and confuse him greatly.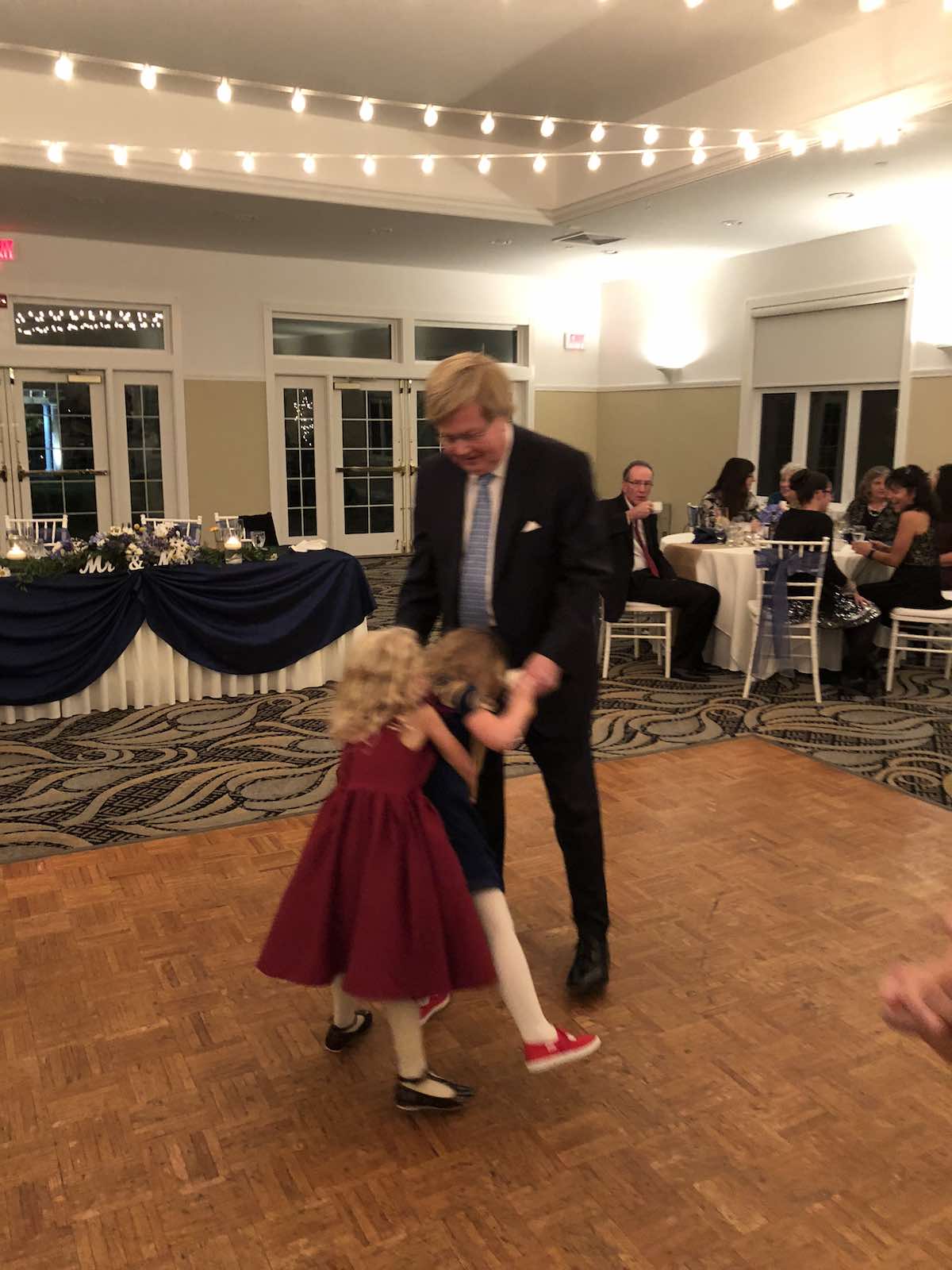 The Petite Artiste took the little girls for a twirl around the dance floor. Their smiles were ear to ear.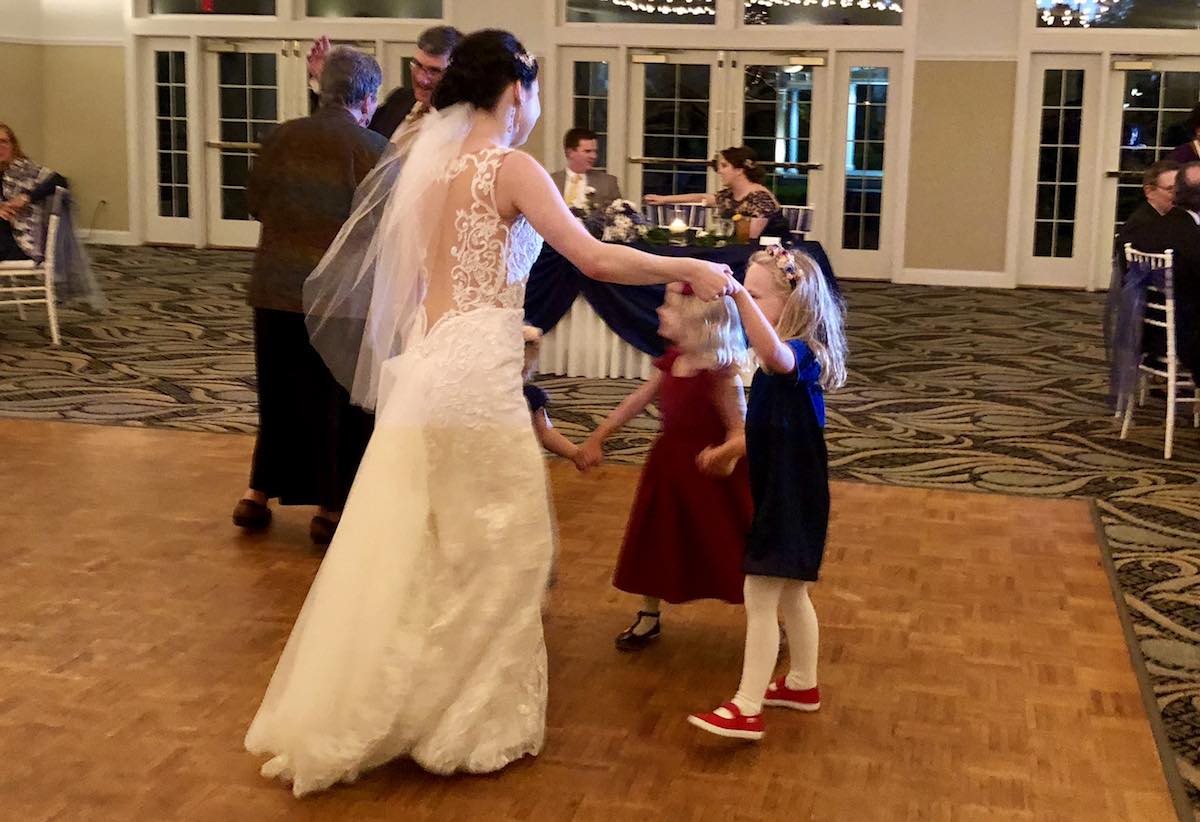 Keepsakes from Three Weddings, Three Perfect Days
Now that I'm back home, I have a few crafts cut out for myself. First off is printing off some wedding pictures. There were several framers from the wedding and The Petite Artiste needs some more representation in our home! And second, I have a tradition of framing invitations from my sons' weddings. Both of them now hang in our guest room and make me smile every time I see them. Time to frame another!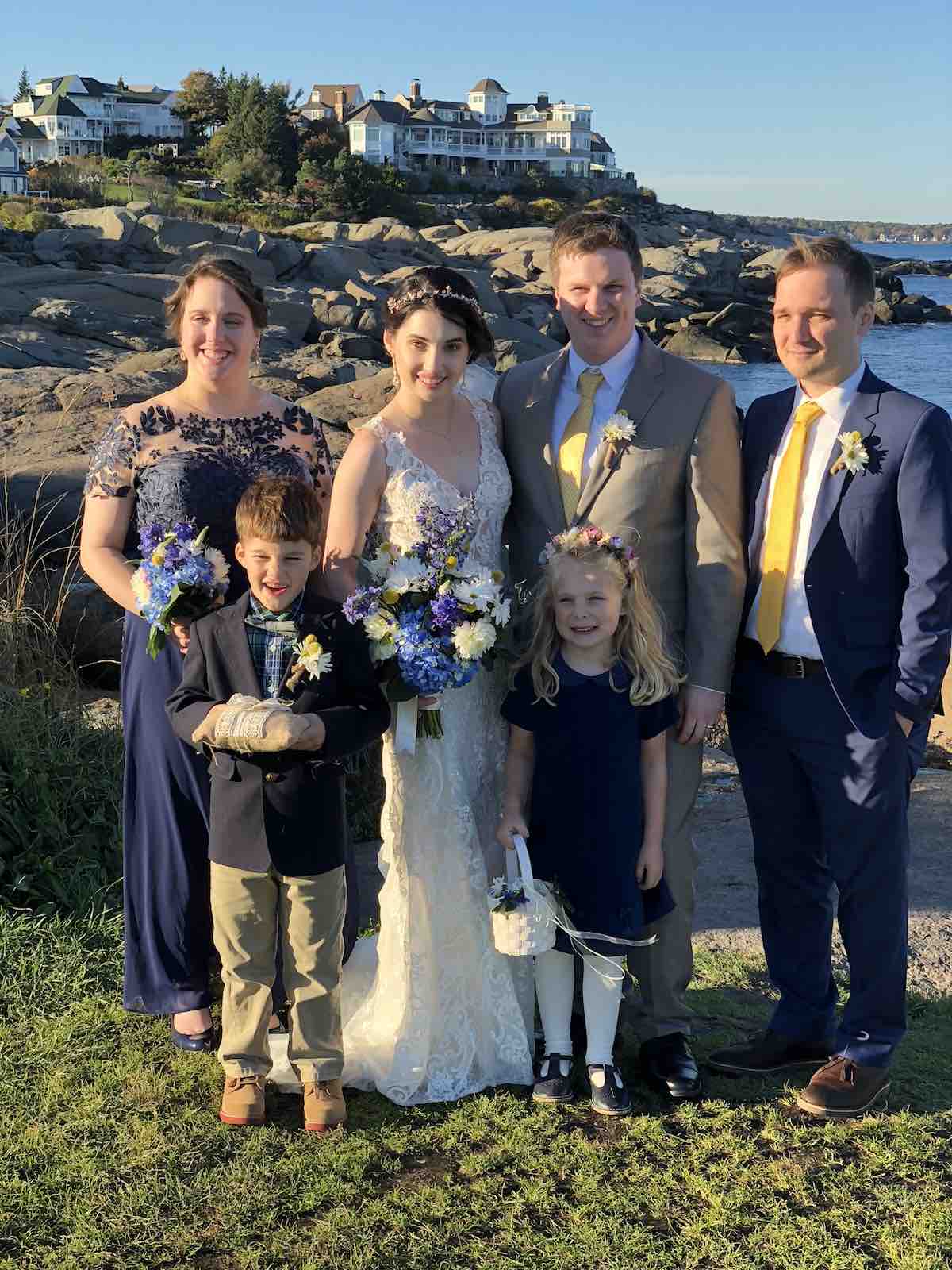 I'm so incredibly excited to welcome The Petite Artiste into our family. It gives me warm fuzzies thinking about how all three of my sons are now married off to God-loving, talented, and FIERCE women who are perfect matches for each son.
God is good.