This post may contain affiliate links. Full disclosure policy
THIS POST MAY CONTAIN REFERRAL LINKS. IF YOU CLICK THROUGH AND TAKE ACTION, I MAY BE COMPENSATED, AT NO ADDITIONAL COST TO YOU.
I know I've been singing the praises of the Weight Watchers Freestyle Plan for a while now, so temporarily ignore everything I said about that so we can have a real, honest discussion about one of life's greatest joys: cheese.
Now we aren't talking Velveeta. Or string cheese. Or queso. I'm talking about fancy cheese—the kind that gets its own stage when its served. The type that's displayed with a little fanfare on a cheese board. Hungry yet?
If you aren't a cheese person, or you are lactose intolerant, perhaps you skip this particular post and tune back in when I am done writing a love letter to cheese.
Why Making A Cheese Board is Perfect for a Party
I truly could live off of cheese and crackers. Yes, I love the taste. But there are so many other wonderful things.
My favorite thing about it is the social ritual of a cheese board. I know that sounds a little deep for party bites, but I mean it!
It brings people together and creates the framework for great discussions, pairings, and friendships (and who wouldn't want that at a party?).
Not that we need any more reason to love cheese, but its also incredible that cheese comes from all over the world, in different styles. I find myself enjoying conversations about different parts of the world depending on where the cheese is from. (Hey, have you been to Spain? Or I used to milk cows before school! or I grew up near where this cheese was made! See what I mean? It brings people together through story-telling, geography, life experiences, and travel.
A cheese board also lends itself to a variety of settings: it can dress up and dress down. Whether you're having an impromptu barefoot gathering on your front porch or a black tie dinner party with a harpist in the corner, a cheese board fits the bill.
Also, I'd bet there's some scientific study that supports the idea that cheese makes you happy. I'll put money on it.
How to Pick Which Cheese to Serve
If your local grocery store's cheese counter is anything like mine, you'll find yourself staring down about 200 options. Half of which you can't pronounce. And 90% of which you have never tried.
The key to making a cheese board is to bring in different types of cheeses to create a proper spread. It's all about the variety.
Here are my rules of thumb when it comes to keeping things exciting.
Color: Varying hues help the aesthetic here.
Animal: Choose options from goat, cow, and sheep!
Texture: There's soft and fresh, there's melty and gooey, there's semi-soft, and then the more aged ones with a harder texture.
Do something that scares you. Yes. Choose something that just sounds outrageous. It might be your new favorite! Making a cheese board wouldn't be so special if you weren't trying new things so this one is always very important to me.
When in doubt, ask the cheese monger or grocery store employee who works at the cheese counter what they recommend.

My Picks
For a cheese board I made not long ago, I started with a mini round of brie from The Cellars at Jasper Hill Farm in Vermont. I love traditional brie but this one was washed with ice cider! And I love ice cider! If you are wondering how it was, it was magic. No surprise there.
Next was the Cabot Clothbound Cheddar, which is aged at the same place as the mini brie.
For the blue, I went with a creamy, mild Roquefort called St. Agur. Some people are just a little nervous around blue cheese and this one was so delicious and friendly, even anti-blue friends would like it.
For a little color, I went for Prairie Sunset from Wisconsin. Its the color of, well, a vibrant sunset. And it's beautiful and always a crowd pleaser.
While I love a fresh chèvre, I wanted something more complex for my goat option so I went with Drunken Goat. It's from Spain and the goats, in fact, aren't intoxicated. The cheese is actually cured in red wine, leaving a lovely violet rind and a mildly sweet center.
How to Create the Perfect Pairing
A pairing is when the flavors play so well together that they taste better than if they were served alone. Peanut butter and jelly. Grilled cheese and tomato soup. Eggs and bacon. Chicken and waffles. I could go on. 
When making a cheeseboard, it's helpful to ask the cheese counter what they recommend when it comes to the accoutrement.
I always have membrillo (quince paste. I know this sounds weird, but trust) on hand for an aged sheep's milk cheese like manchego, honey crisp apple slices for cheddar, pears and dark chocolate for blue cheese.
Always include a few other snacks that can really stand out in the crowd, like dreamy Marcona almonds, prosciutto or another meat, and salty olives.
Trust me, with options like that, no one will go hungry.
Oh, and wine never hurts!
I usually offer a couple of different options to complement the cheese. In this case, the day called for rosé and I thought it went nicely with everything! A crisp Chardonnay always cuts through the creaminess of brie, and a pinot noir (I am partial to Willamette Valley pinots due to proximity) is light enough to not overpower anything on the plate.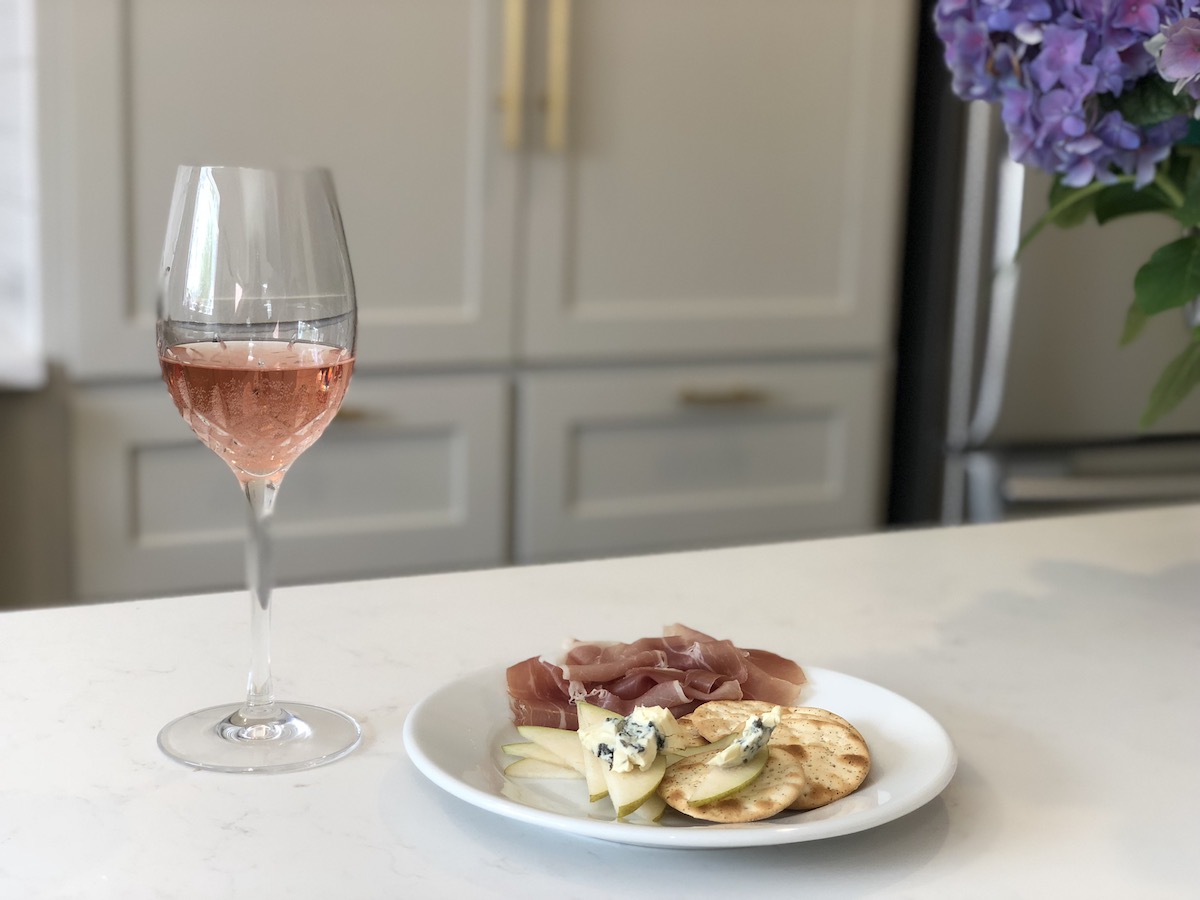 Choosing the Proper Vehicle
You don't need crackers with a ton of flavor. Choose something that complements the cheese and goes with anything. Subtlety is key here. The cracker is a mere vehicle. For this spread, I toasted baguette slices brushed with olive oil and sea salt and also added gluten free rice crackers with "everything bagel" spice and then a pretty standard black pepper table water cracker. For a slightly healthier option, I enjoy spreading cheese on apple and pear slices.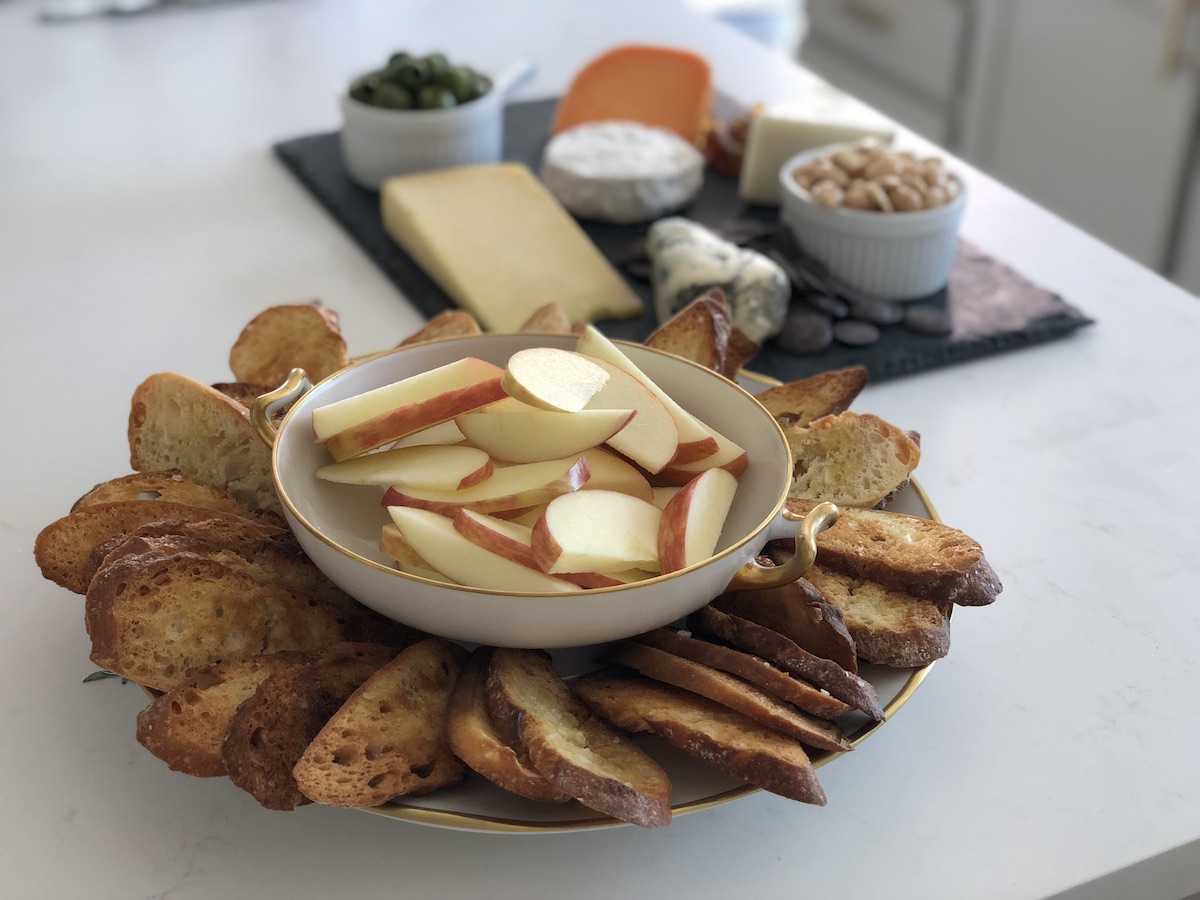 Presentation and Logistics
From a planning perspective, set the cheese out 45 minutes before guests arrive. This allows them to soften a bit and brings out the flavor in the cheese.
For presentation, I adore my cheese slate for serving since I can actually write on it with chalk to label each cheese selection. Any platter would do here though.
The most important thing to remember: make the presentation all about the cheese. Make sure it's accessible from all sides. Set out an appropriate number of cheese knives in the correct styles for the types of cheese you are serving. Speaking of cheese knives, oh my goodness how cute are these??