This post may contain affiliate links. Full disclosure policy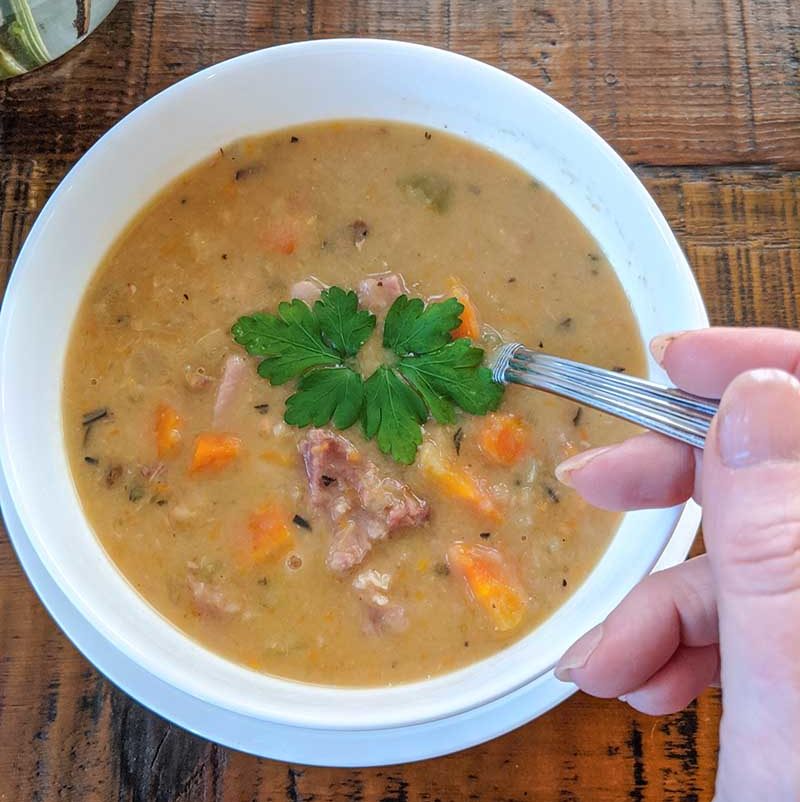 Hardly a week goes by when I don't make a big pot of soup. During a busy week (which is pretty much every week!) it feels so good to know I've got something on hand that is tasty, hearty and quick to serve.
Soup really does check off all the boxes for me. Depending on the recipe, it's a healthy option for lunch or dinner. It's also budget-friendly. I've been working hard to make sure we don't waste food and pulling together a quick soup or stew is such a good way to use up leftovers, particularly post-holidays. And especially in the winter, there's nothing quite as comforting as a hot bowl of delicious soup. That's where my Best Ham and White Bean Soup comes in.
Have Some Post-Holiday Leftovers?
Over the holidays, I made not one but two hams. My dad came over for our Christmas Eve dinner and he just loves ham – lucky for him, that's what I served. We then spent Christmas Day with friends so I opted to make another ham as my contribution to the holiday potluck. I ended up with a fair amount of leftovers and two big ham bones.
That suited me fine! A good, meaty hambone always makes for a great soup.
I thought about making a split pea soup at first but my Best Ham and White Bean Soup is a family favorite. And since I had some leftover carrots, onions, and celery in the refrigerator, I was able to punch up the health benefits by adding six cups of vegetables to the recipe. I also added one of my favorite flavor boosters – a couple of teaspoons of liquid smoke, along with some fresh rosemary. They give this quick-to-cook soup a nice depth and "simmered all day" flavor.
Getting Back into Healthy Eating Habits
I'm really not sure how to calculate the Weight Watcher points that come from using the hambone. However, apart from the ham and a little oil for the veggies, the other ingredients are zero points if you're on the blue or purple plans. So, in addition to being delicious, my Ham and White Bean Soup is a good choice if you're combating some post-Christmas pounds.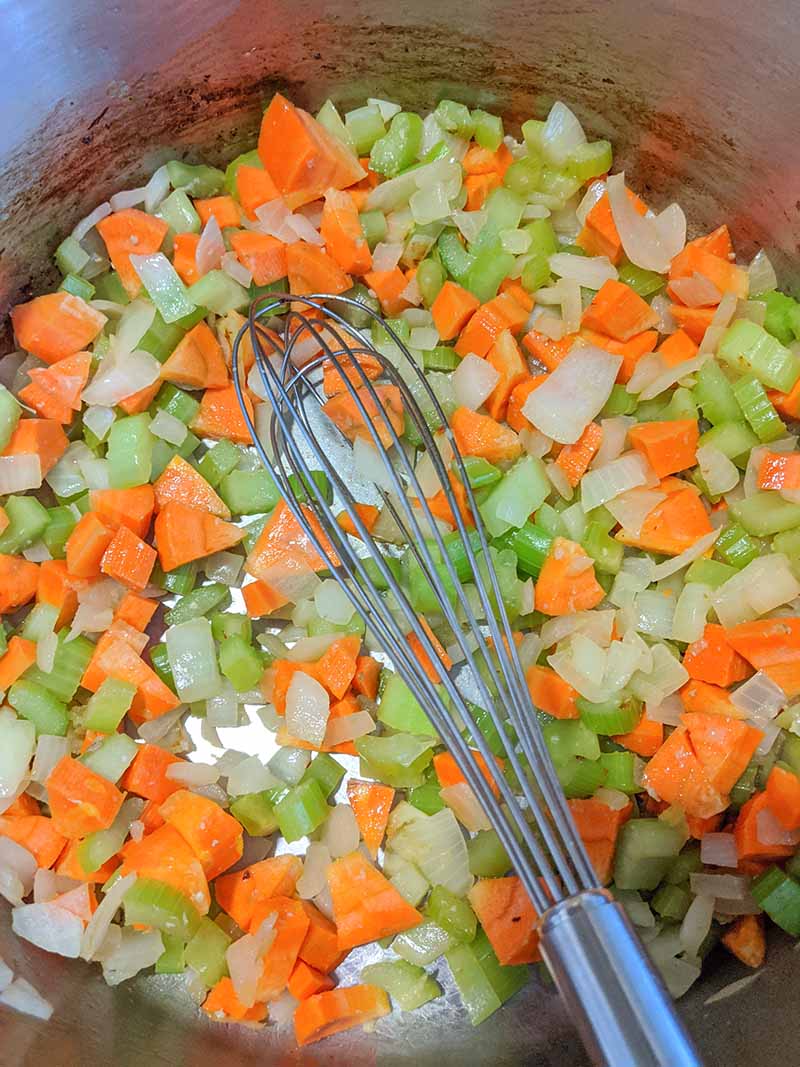 After the soup cooks, I used an immersion blender to give it a rich, thick, and creamy texture without adding extra fats. You could blend it into a puree if you'd like, but I really prefer leaving some nice chunks of carrots and other vegetables. It's prettier that way and tastes more like a meal.
But when it comes to the level of blending, you can really choose your own adventure here. No matter how you blend it, my Best Ham and White Bean Soup is a winter winner! Of course, if you're looking for ways to use up other leftovers, such as roast chicken or turkey, try my Healthy Turkey Tetrazzini.
Here's the recipe.
Print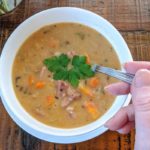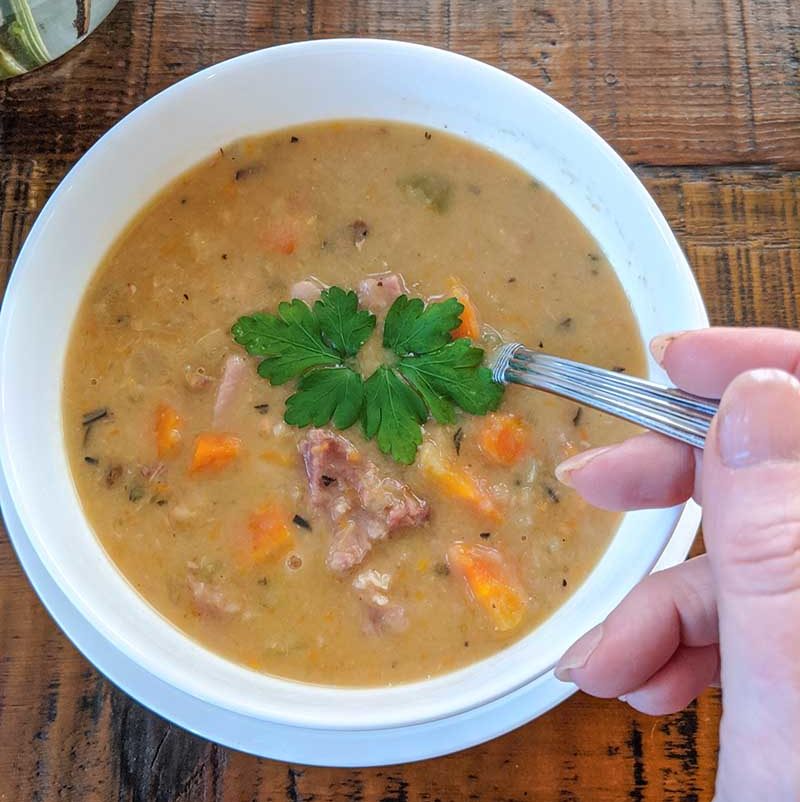 Hearty Ham and White Bean Soup
---
Description
Heat olive oil in heavy bottomed stock pot over medium high heat.  Add onions and saute until translucent, about four minutes, stirring frequently.  Add celery and carrots, cook for three more minutes, then add garlic and cook another minute, until the garlic is fragrant. (Take care not to burn the garlic.)
Add ham bones or hocks, chicken broth, white beans, liquid smoke, and rosemary to pot. Raise heat until soup is just boiling, then lower heat. Allow soup to simmer for about 30 minutes, until vegetable are cooked and carrots are soft.
Remove the ham bone and rosemary herb garni (unless you chose to mince the rosemary). Remove any remaining bits of ham on the bone and put them back the pot.
Using an immersion blender, blend soup to desired thickness and texture. (I like to leave some whole beans and vegetable chunks.) Add the diced ham to the soup. Heat through, another 4 to 5 minutes, before serving.
Makes approximately 6, 2 cup servings.
---
1 T olive oil
2 cups diced yellow onion
2 cups diced celery
2 cups carrots, peeled and diced
2 t minced garlic
Ham bone or ham hocks
4 cups low sodium chicken broth
3 15oz cans of white beans, undrained
2 t liquid smoke
2 sprigs fresh rosemary (you can tie it up in cheesecloth to make an herb garni to immerse in pot, then remove later, or mince it very fine and leave it in.)
10 oz diced leftover ham
Salt and pepper to taste.
---