This post may contain affiliate links. Full disclosure policy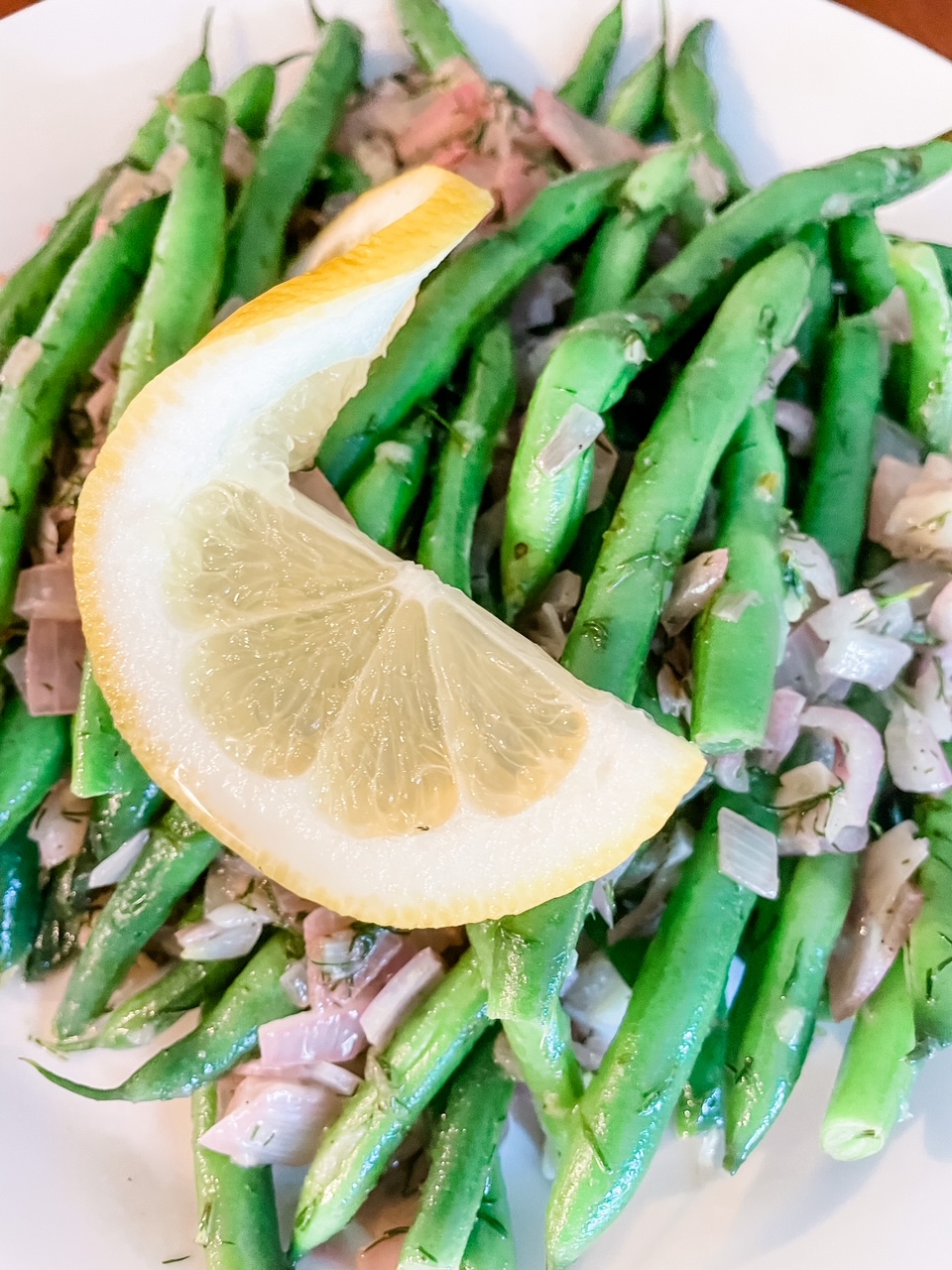 My Green Beans with Dill and Lemon recipe lifts ordinary green beans to a new level. It's an easy, elegant side dish that pairs perfectly with almost any entrée. Simple to prepare and simply delicious!
Green Beans with Dill and Lemon – A Side Dish to Love in Every Season
Green beans may be one the most underappreciated residents of the produce aisle. I mean, when's the last time you heard somebody say, "Let's hear it for green beans!"
Basically never, am I right?
And that's really too bad because green beans have a lot going for them. In addition to being fairly affordable, available year-round, and storing well, green beans are full of vitamins and fiber.
But let's be honest. In spite of all the marks in their favor, green beans can be a little…well, ordinary. Green beans are like your favorite little black dress, a wardrobe staple that, left to its own devices, can be a bit underwhelming. But add the right accessories, and it's fabulous.
Fresh, fragrant dill and tart lemon juice, combined with savory shallots, spices, and just enough butter are the accompaniments that make ordinary green beans into a side dish my family loves all year round.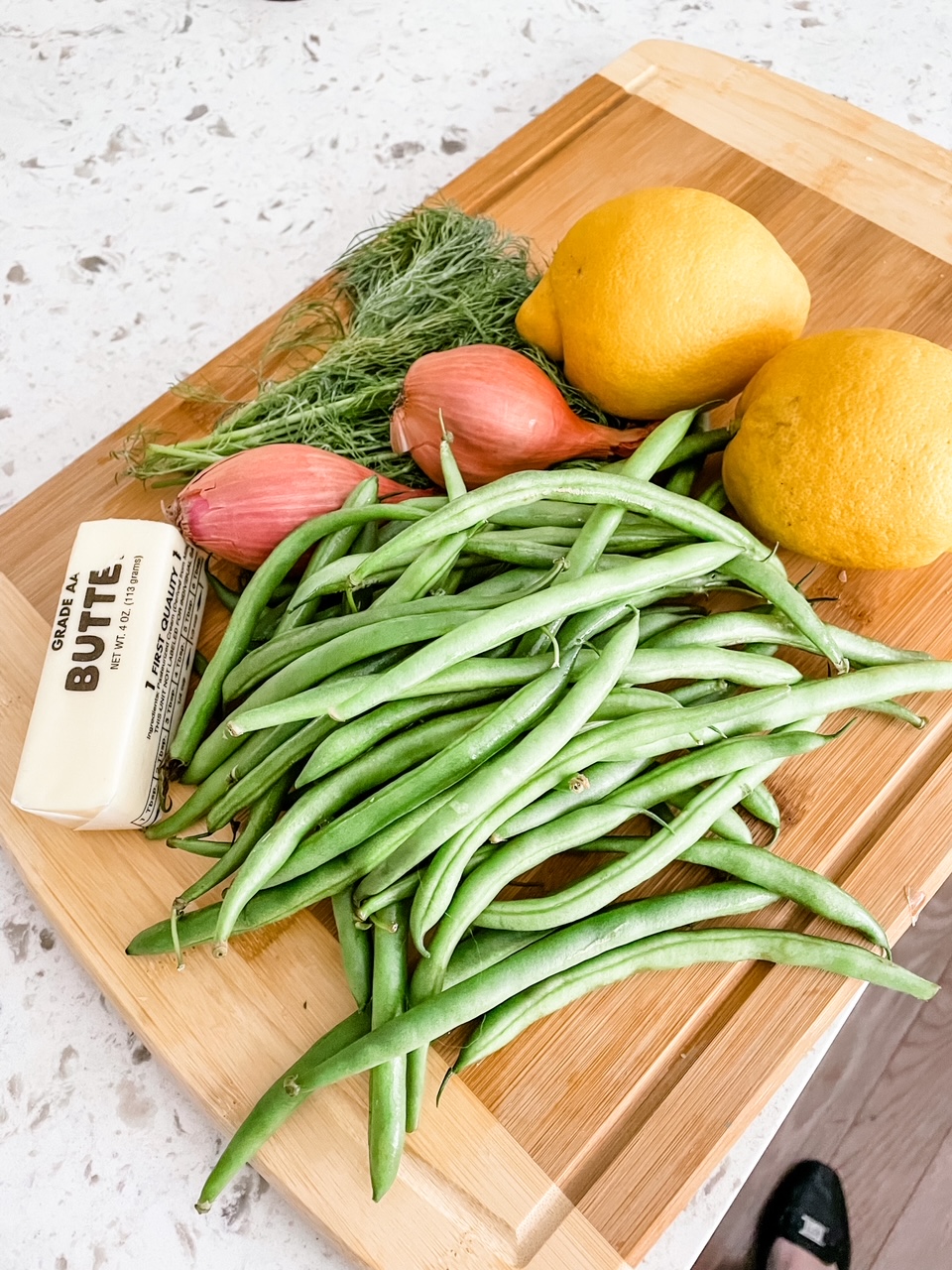 How to Make Green Beans with Dill and Lemon
Besides the taste and the fact that they pair well with just about any entrée, what I love most about Green Beans with Dill and Lemon is how easy they are to make.
The first step is cooking the green beans.
After rinsing the green beans and trimming the ends, you can cook them one of two ways. Either cook them for five minutes in a pot of boiling water or steam them on the stove for the same amount of time.
Either method will work but I prefer steaming because there is less chance of the green beans becoming limp or mushy. What you're aiming for is a bean that's tender but still has a little bite to it.
Whether you boil your beans or steam them, be sure to run them under very cold water after taking them off the stove to prevent them from overcooking. Don't forget this part. Nobody likes mushy green beans!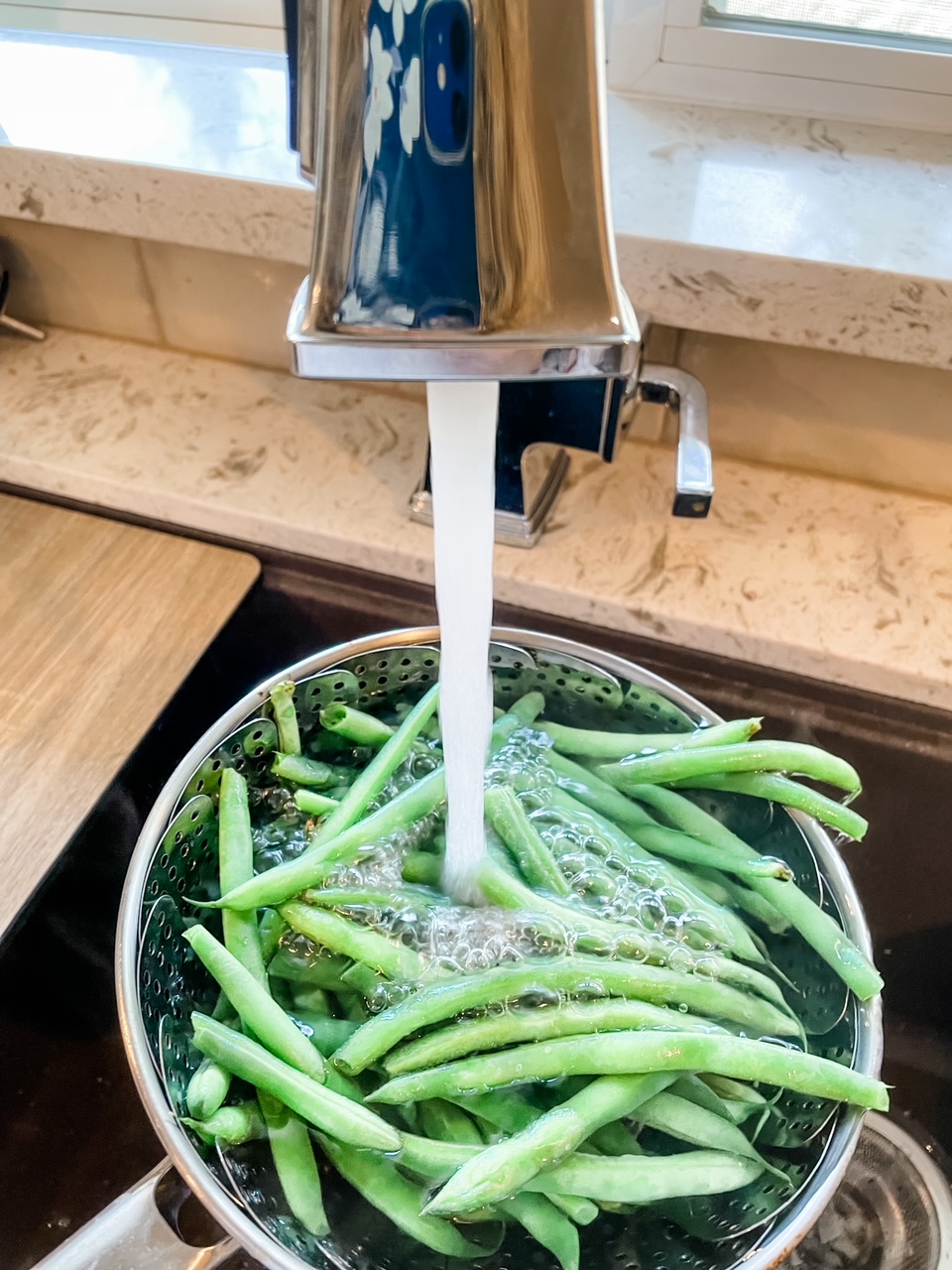 Once the beans are done, you'll cook chopped shallots in butter until they're soft and translucent. In this instance, a little extra cooking time is a good thing. It helps bring out the natural sweetness of the shallots.
When the shallots are cooked, you'll add lots of fresh dill to the pan and cook briefly. Finally, you'll add the cooked green beans to the pan, sprinkle on some salt and fresh ground pepper, as well as fresh lemon juice, toss and serve.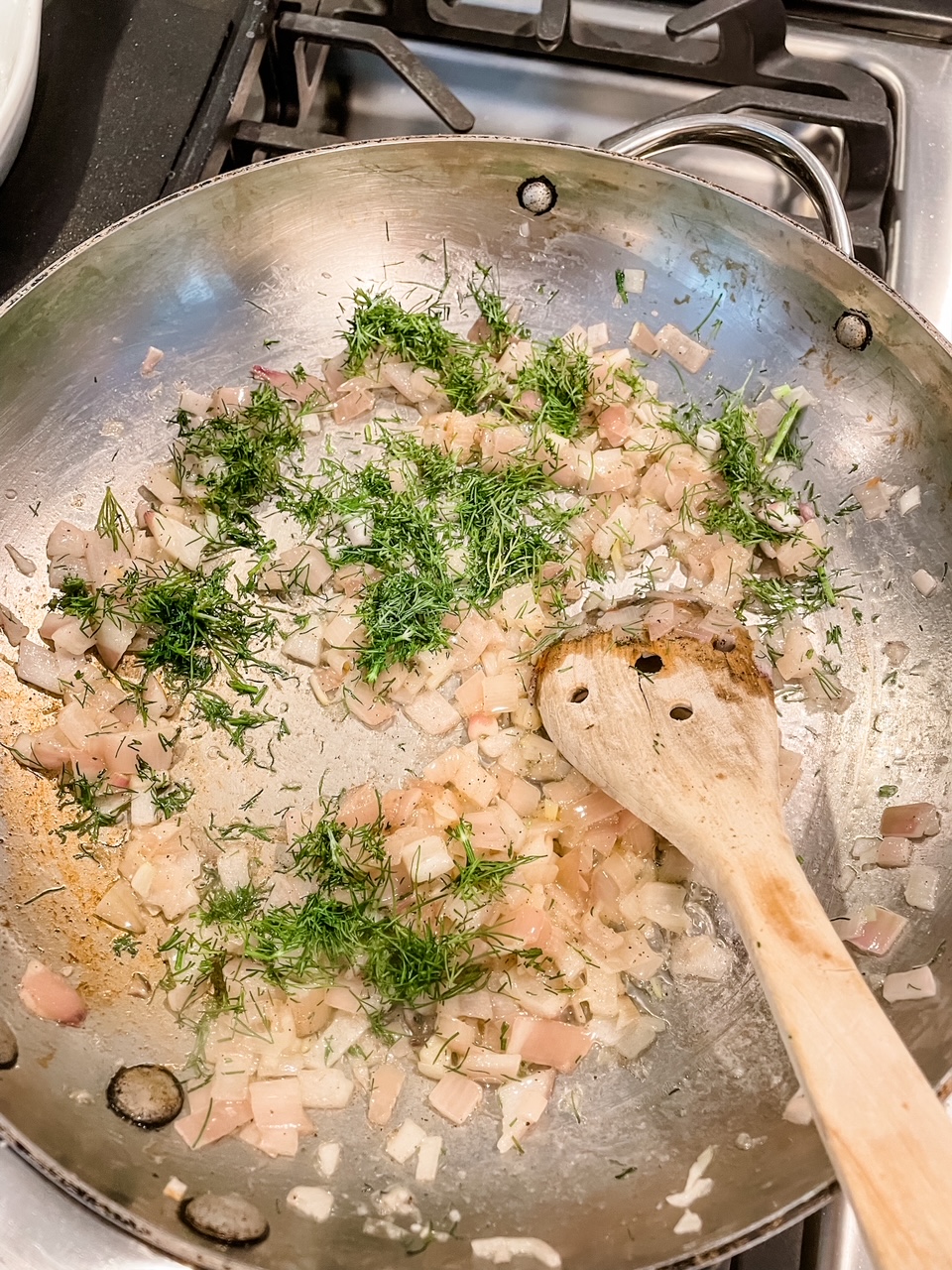 It's that easy. And absolutely delicious.
Green Beans with Dill and Lemon Variations
I make this recipe frequently and love it just the way it is. But sometimes I like to gild the lily a little by adding a few extras.
One of my favorite variations is to cut one or two pieces of thick bacon into lardons and fry them along with the butter and shallots. That touch of smoky flavor is so good!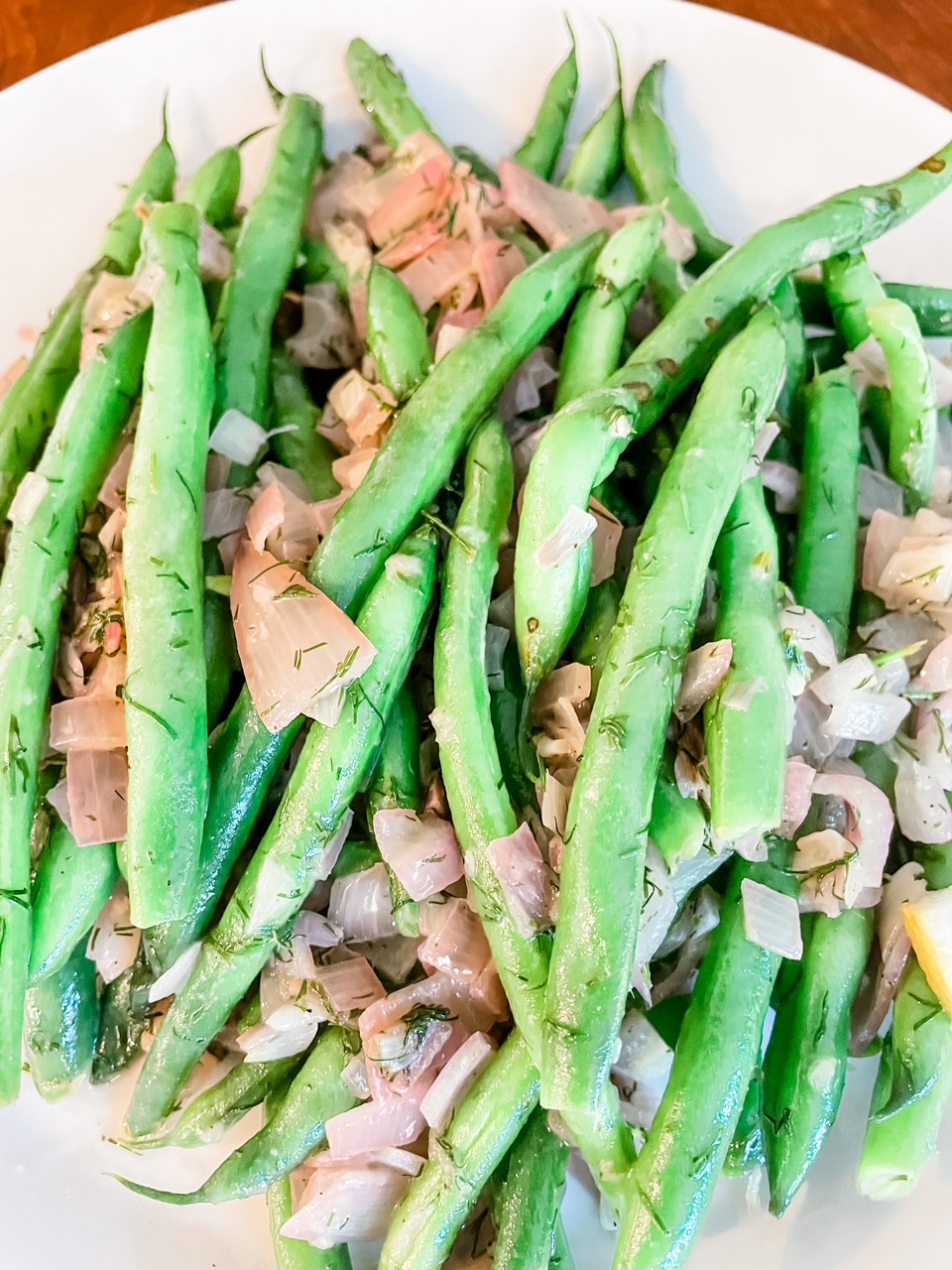 Occasionally, I'll substitute a little good quality, well-aged balsamic vinegar for the lemon juice. Just be careful not to get carried away and add too much. Otherwise, you'll overpower the dill.
If you don't mind a bit of heat, just a pinch of cayenne or a good grind of red pepper flakes is a nice addition too.
Also, to bring in some extra lemon flavor, use a zester to scrape off just the yellow part of the lemon peel and add that at the end.
Whether you dress it up with extras or enjoy the recipe as is, Green Beans with Dill and Lemon is a great side dish to serve with almost any meal. Try it soon!
Print
Green Beans with Dill and Lemon
---
Author:

Yield:

4

servings

1

x
12 ounces

fresh green beans

1

–

2

shallots, peeled and diced

½

bunch of fresh dill leaves, chopped

1.5

T salted butter

½

lemon
Salt and pepper to taste
Lemon slices for garnish (optional)
---
Instructions
Rinse the green beans and trim off the ends. Cook the green beans, either by boiling in a pot salted water or steaming in a stovetop steamer. In either method, cooking time is approximately 5 minutes, until the beans are just tender. Remove the pan from the burner immediately and run the beans under cold water to stop them from cooking further. Set aside.
Melt the butter in large skillet over medium-high heat. Add the diced shallots and cook until very soft and translucent, 5 to 7 minutes. Add chopped dill to pan and cook for another minute.
Add cooked green beans to pan. Toss with the cooked shallots. Squeeze the juice from the half lemon over the beans. Cook for an additional minute to two. Add salt and pepper to taste. Garnish with lemon slices and serve immediately.