This post may contain affiliate links. Full disclosure policy
THIS POST MAY CONTAIN REFERRAL LINKS. IF YOU CLICK THROUGH AND TAKE ACTION, I MAY BE COMPENSATED, AT NO ADDITIONAL COST TO YOU.
If you've been around the blog for any amount time, you know that I L-O-V-E quilts and books. And quilting and reading.
These two favorite pastimes of mine have shaped my life in many different ways; they've built powerful bonds and friendships, they've offered a creative outlet, they've been my "therapy," they've even paid the bills. (However, a lot of those earnings seem to migrate back into books and quilts. Weird how that happens.)
Quilting has inspired my books, and books have inspired my quilts. But what inspires me most is the sisterhood of life-long friends I have gained through it all: women who share my passion for reading, for happy endings, for stitching quilts with love. It's for them that I write and it's through them that my creative energy is renewed.
So when I get the chance to fuse together my two favorite things, I say YES and probably wave my hands in the air!
Quilting and Books Just Go Together
How do quilting and books go together? Well, for one thing, they both require a big investment of time from the artist who makes them. And they both tell a story, whether its in the lines of the book or the textures, patterns and stitching of a quilt. More importantly, both books and quilts can be enjoyed over and over and have an almost magical ability to bring people together.
As many of my readers know, the talented Deb Tucker's Studio 180 Design creates a companion pattern that highlights a certain character or theme for many of my books.
Yes. You read that right. My books have actual quilt patterns designed just for the book. Pretty cool, right?
The quilts Deb has designed for my books have added an exciting dimension to the reading experience and her A-MAZING rules and tools have made me a better quilter than I am in real life.  Best of all, the friendship we developed over the years is something I treasure.
Here's a picture of Deb and I standing in front of a gorgeous quilt. So much joy going on here!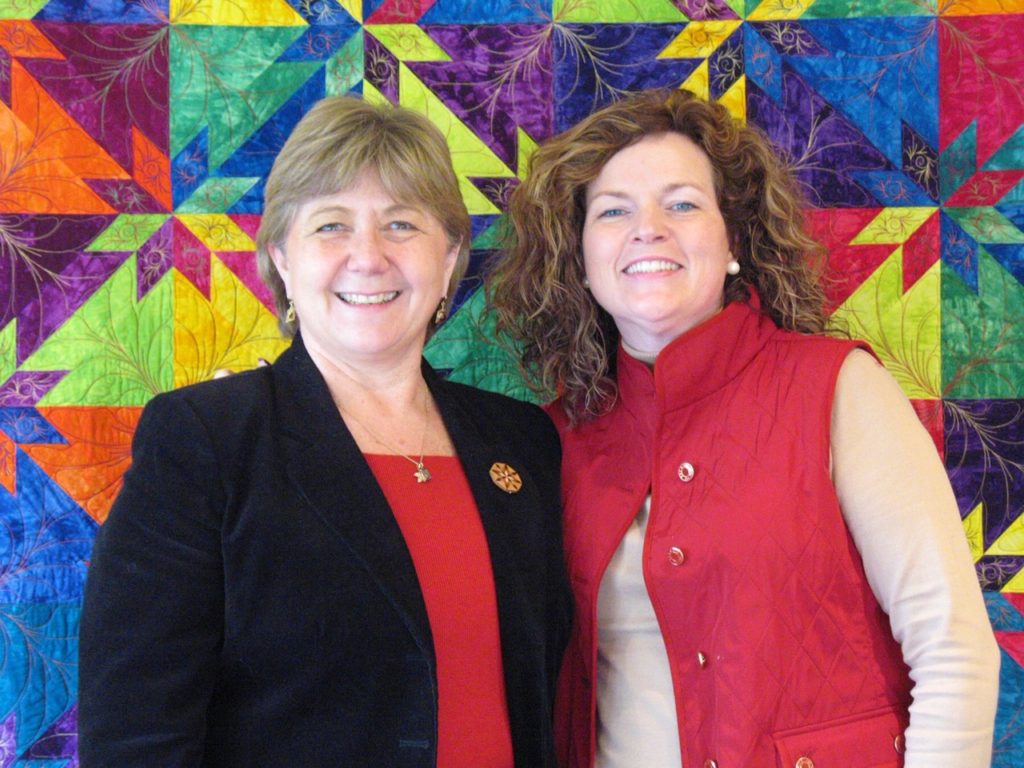 A Companion Quilt for Hope On The Inside
For my most recent novel that came out last week, Deb really outdid herself.
Here's a teaser on the right. How pretty is that? The colors! The lines! That fabric!

If you haven't yet seen all the gorgeous collaborative patterns that Deb and I have created as companions to my books, you can check them out on her website by clicking here.  Deb creates two patterns to go with my books, a smaller project that is offered free on my website and a larger, full-sized quilt which is available for purchase at Studio 180 Design.
As part of our creative process, we go over the story line, the characters, possible quilt designs, and difficulty level for actual quilt makers. In the end, Deb is the one who does the heavy lifting (or should I say stitching?) and always creates something incredibly beautiful.
For HOPE ON THE INSIDE, we decided that a block titled "Dove in the Window" would be a perfect starting point. I love the imagery of a dove in the window felt very relevant as I think about the women serving time in my story, especially my character Mandy.  I envisioned her gazing out the window, dreaming of freedom and being reunited with her daughter Talia, the ultimate recipient of the quilt that Mandy stitches while behind bars.
The Dove in the Window block also represents the exciting moment when an inmate is set free. They take flight, return home, and begin to rebuild.
Design and Fabric
To spice things up – because it's always fun to keep our quilts spicy – Deb nestled the traditional Dove in the Window blog inside a larger Dove in the Window block. It's a lovely, fresh, and unique interpretation of this traditional block (and easier to make that it looks!)
The block size is large at 19½" finished, which by itself could make a nice wall quilt or throw pillow.  (The bed runner pattern is available as a free download from my website. The pattern to make a lap, twin, or king-sized version of the quilt is available for purchase at Studio 180 Design.)
In the instructions, you'll see that the quilt is made with Deb Tucker's second signature fabric collection with Island Batik titled "Steam Engine". In the story, this is the fabric that Mandy chose when beginning her quilt for her young daughter. This gorgeous fabric will be in quilt shops late summer or early fall 2019.  I'm already dreaming up what I'll be making with these gorgeous hues! A Doves of Hope quilt is at the top of the list!
Remember: we love to see your work! If you make this bed runner, please share on Instagram and make sure to include #DoveintheWindowBedRunnerPattern180 #sharehope so we will be sure to see it!


Download your Free Quilt Pattern!
To access the free quilt pattern, head on over to my author website here. All you have to do is enter your email and you can download all of the patterns for all of my books!
Happy stitching!