This post may contain affiliate links. Full disclosure policy
THIS POST MAY CONTAIN REFERRAL LINKS. IF YOU CLICK THROUGH AND TAKE ACTION, I MAY BE COMPENSATED, AT NO ADDITIONAL COST TO YOU.
My new home in Central Oregon is pretty close to paradise. Beautiful scenery. Wildlife. Perfect weather. Lots of locally owned restaurants, wineries, and breweries. Fun outdoorsy things to do at every corner.
However, it lacks in one critical area. Shocking no one, there doesn't seem to be any authentic Mexican or Tex Mex food where I can get a proper bowl of queso for at least 200 miles.
I used to live in Mexico. I also used to live in Texas. While both places were fun and exciting in their own right, there's one thing I miss this most. The food. The sizzling smells. The vibrant colors. The cumin and garlic and oregano. I'm making myself hungry just thinking about it.
Enjoying Mexican food and its somewhat less authentic but still delectable cousin, Tex Mex, is the perfect way to ring in summer. And if you're looking for a way to celebrate reaching the finish line of a long, hard week, lift yourself out of a funk, or simply jolt yourself out of a food rut – my Tex-Mex party menu will definitely do the trick.
On the other hand, do you need a reason?  Any day is a good day to invite a few friends over, play some lively Spanish guitar music, and have a fiesta! Ole'!
Strawberry Margaritas
What's a fiesta without a margarita? (Answer: not as much fun as it could be.)  And you're going to love this summer twist on an old classic.
For this recipe, we used farm-fresh strawberries that were picked at a local strawberry patch with my granddaughters. They were frozen, which I think added to the frothy, smooth texture. The strawberries were so sweet that I only ended up using half of the simple syrup that I intended to.
Ingredients
2 cups frozen berries
2 cups ice
Juice of 4 limes plus more for garnish (I use this juicer to spare my cuticles)
1/2 cup tequila (I opted for Lunazul Blanco at the recommendation of the salesman at the liquor store, he said something about mild and good value so I was sold).
1/2 cup triple sec
1/2 cup simple syrup
Handful of fresh strawberries for garnish
Instructions
To make the margaritas, add everything to a blender and whirl it into perfection.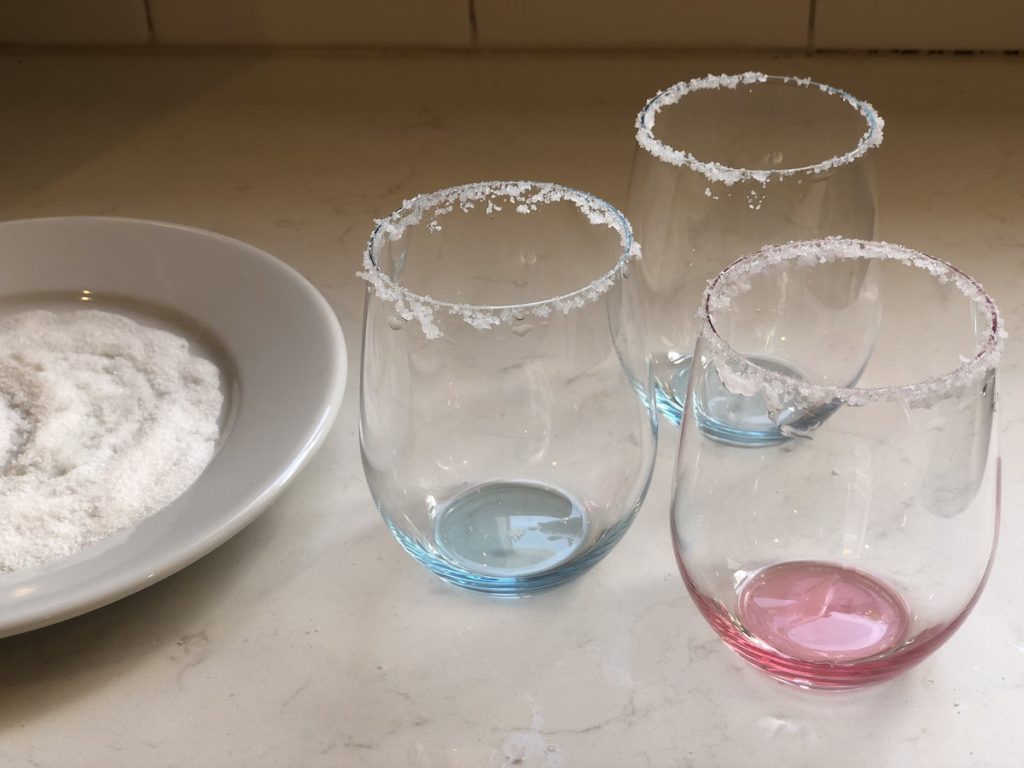 For the rims:
Roughly mix a 1:1 ration of sugar and salt on a small plate.
Fill another plate with a bit of water. Fill the other with the salt and sugar mixture. Dip the top of one glass into the water, then dip it in the salt and sugar after. And voila! Beautifully crystallized rims that will make you want to skip the straw.
Serves 4.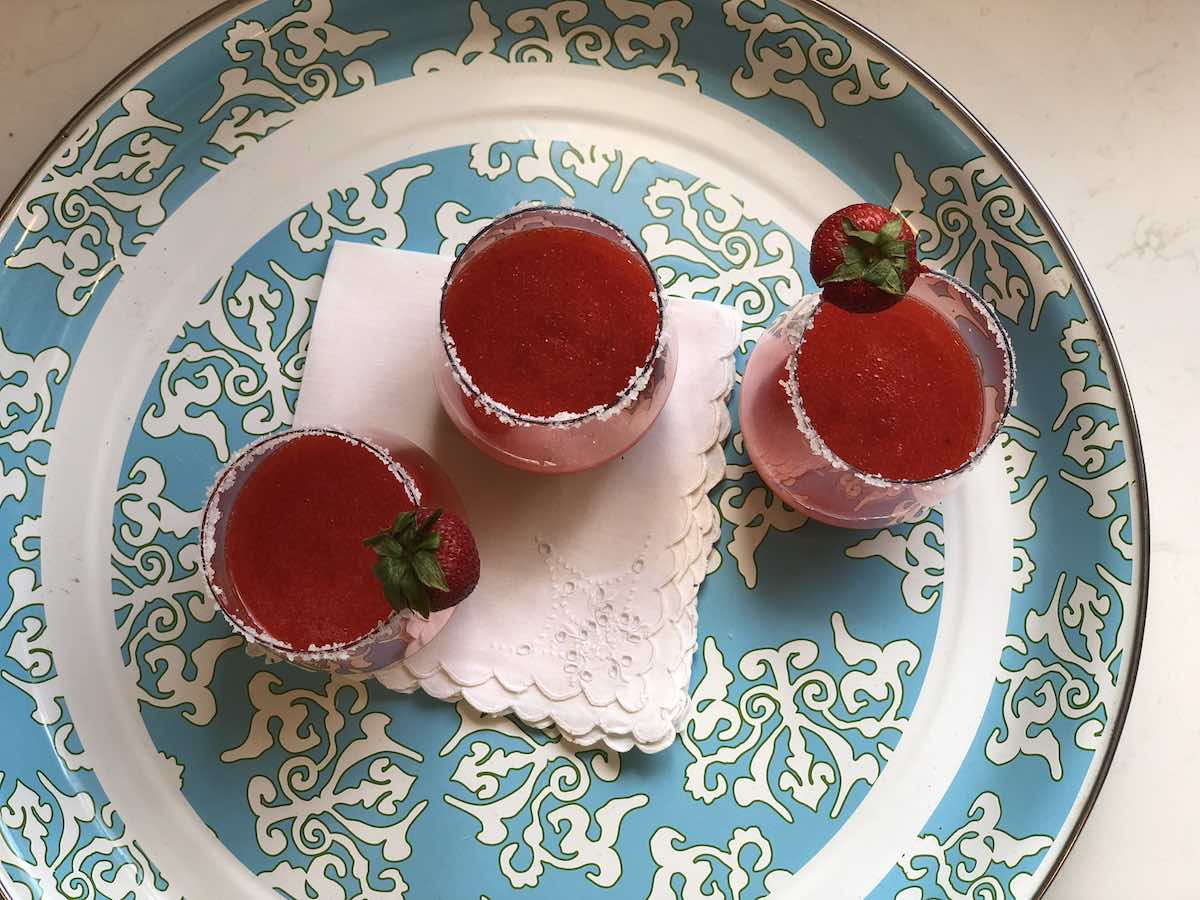 Chicken Taco Salads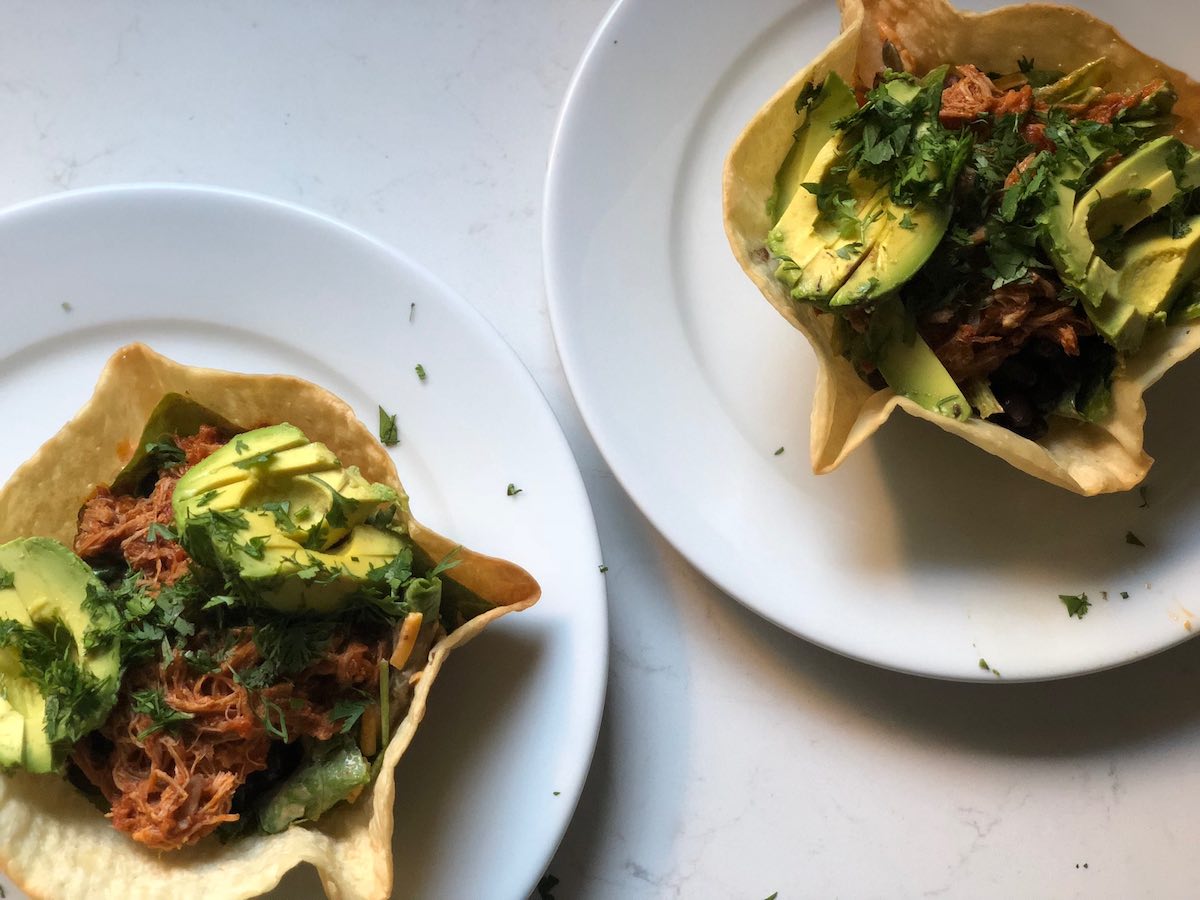 These are so festive and ridiculously easy to make! The Azteca taco shells come out perfectly golden brown each time and aren't too big. The smoky, tangy, and spicy ranch dressing that crowns these beauties is the real deal. I make the dressing and 3-ingredient Mexican shredded chicken ahead of time and then just heat it up and toss it together!
These are the perfect balance between indulgence and being healthy. I mean, it salad, right?  To keep myself on the straight and narrow road of healthy eating, I pile mine high with extra greens, sliced radishes and avocados and only eat part of the shell (sometimes).
Ingredients
Instructions
Assemble salads. I prefer to start with a base of greens, roughly a cup for each taco shell. Then I add about a quarter cup of black beans, then a around 3/4 a cup of shredded chicken. Now for the fun part. The toppings just make this such a party food. Top the salads with about an avocado each, a generous portion of chopped cilantro, sliced radishes for a little crunch, a sprinkling of feta cheese. Drizzle chipotle ranch over the top and eat immediately.
Serves 4. 
Queso From Scratch
Queso has assumed the role of the cornerstone and battle cry of the Tex Mex culture. For people who actually reside in Texas, its practically a religion. Funny enough, I never saw a bowl of queso on the menu in my years living in Mexico. Even so, there's something about this golden, gooey, absolutely indulgent concoction that just speaks to my soul.
While I love restaurant queso, making it at home can be even more delicious. Pulling out my decades old cast iron skillet, making it from scratch and topping it with crunchy radishes and cilantro from my garden makes it seems extra special.
This recipe is definitely not Weight Watchers approved but now that I'm on the maintenance portion of the program, I can afford the occasional indulgence. Especially if I went running in the morning. And everybody deserve a treat now and then. Making queso from scratch might not boost your heart health, but it will definitely boost your happiness.
So let's hear it for queso! And Tex Mex! And life! Ole'!
Adapted from Half Baked Harvest 
Ingredients
1 tablespoon butter
1/2 yellow onion, chopped
2 jalapeños, seeded and chopped
2 cloves garlic, minced or grated
1 teaspoon cumin
1 pinch salt
2 ounces cream cheese, at room temperature
1 1/2 cups whole milk
12 ounces sharp cheddar cheese, shredded
12 ounces Monterey jack cheese, shredded
2 tablespoons all-purpose flour
2 chipotle peppers in adobo, finely minced
thinly sliced radishes, cilantro, salsa, guacamole, sour cream and chips for serving
Instructions
First, melt the butter in a large skillet over medium heat and add the chopped onion, jalapeños, garlic, cumin and a bit of salt. Sauté until it starts smelling amazing (roughly 10 minutes). Now comes the unhealthy part. Add the cream cheese, and the milk, and heat the sauce until smooth and melted.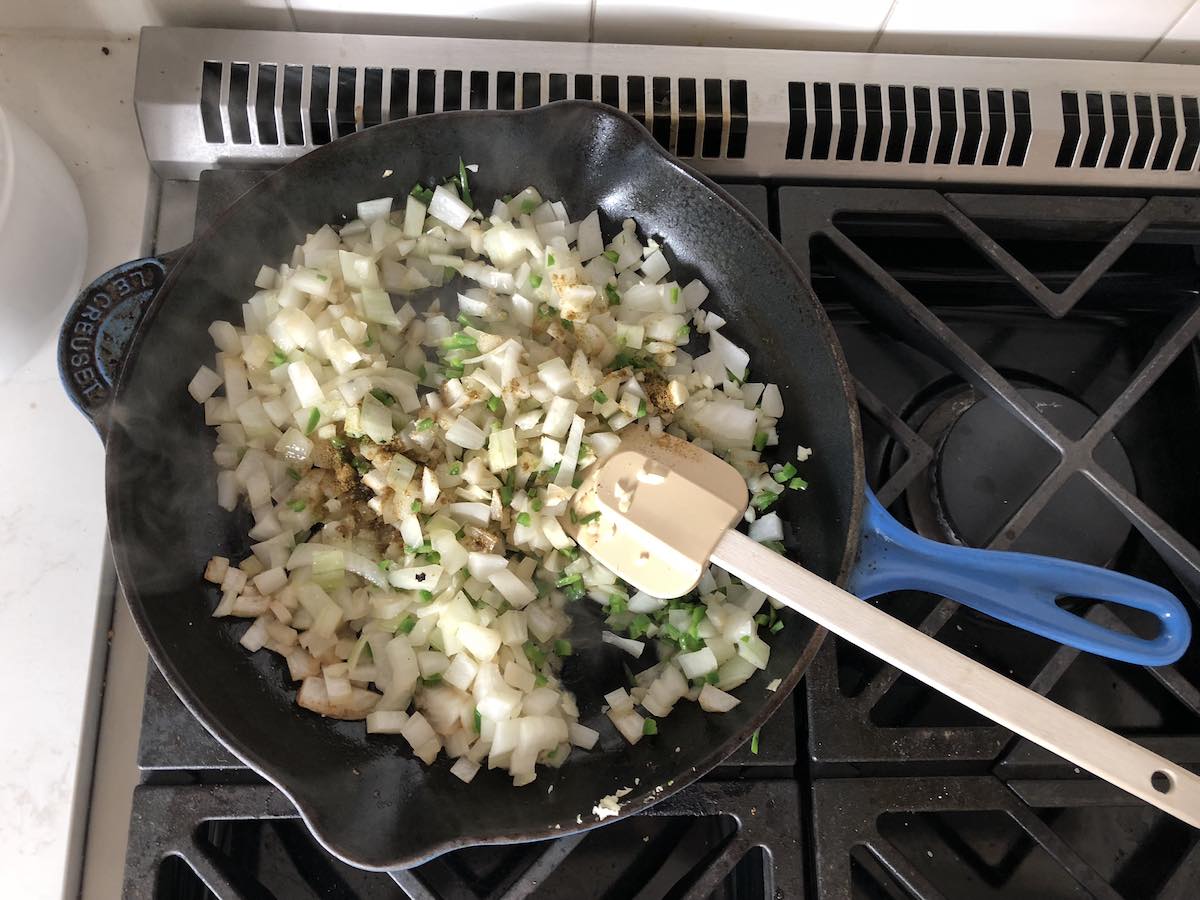 In a separate bowl, Todd the shredded cheese with a little flour. Add the cheese small increments at a time to the skillet, stirring until its smooth. Stir in the chipotle peppers. (Caution: these suckers can pack quite a punch! Use sparingly.)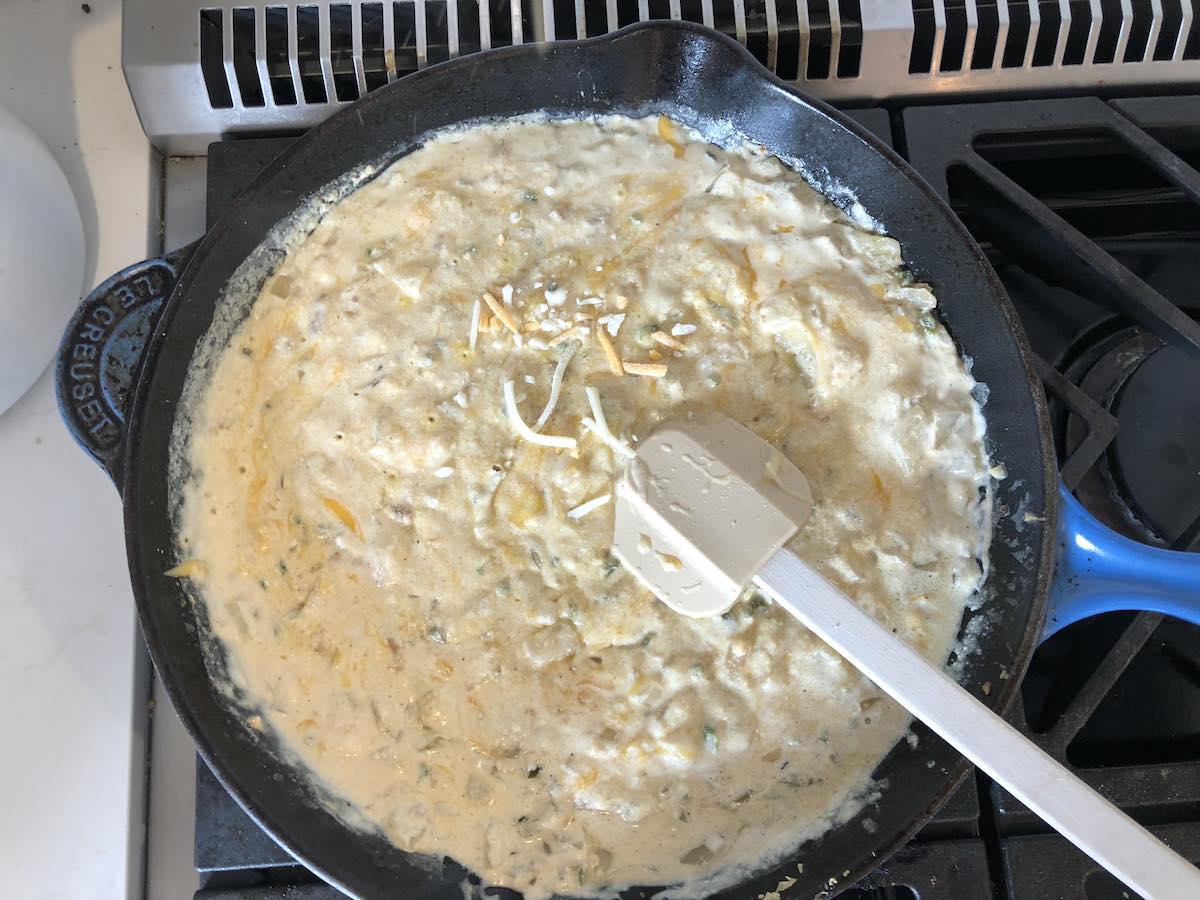 Top the warm queso with guacamole, salsa, sour cream, radishes, a heavy handed dose of cilantro and serve with salty corn chips and strawberry margaritas. Olé!