This post may contain affiliate links. Full disclosure policy
At long last, here it is! The recipe intended to share with you two weeks ago (and then one week ago) before the wheels unexpectedly came off the bus of my life. Once, then I borrowed another car and the wheels fell off of that too. But I've probably belabored that metaphor so let's move on.
By the way, I am thrilled and relieved to report that the wheels are, once again, going round and round and my life is a little more settled now. It's lovely to be tucked up in my office with my coffee at hand and my dog at my feet, getting back to work. However, with all the drama of multiple family crises, cancelled contracts, cancelled flights, lost luggage, and busted cell phones, I have a LOT of catching up to do.
Which means this is the perfect week to make Three Can Pasta.
This flavor-packed, incredibly delicious, and easy-as-pie recipe is one that my sister has been making for years. She shared it with me over the summer and it quickly became my go-to recipe. It's great for those days when you want to make a great meal in record time which makes it a perfect weeknight dinner.
Three Can Pasta is that rarest of animals – a "fast-food" recipe that tastes like you slaved over a hot stove all day and is actually pretty darned healthy! (If you're watching your weight, I suggest using only half the amount of olives.) Loaded with a carnival of colorful, flavorful vegetables and topped with tangy, freshly grated Parmesan cheese, this is a dinner that will make you and your guests groan with happiness. 
I've served it to company twice so far and gotten so many compliments and recipe requests. I have to admit, I was almost reluctant to share because I didn't want everybody to know how easy it is. 
But, I did. First with my guests and now with you. Because sharing a good thing is always a good thing, right? 
Easy Weeknight Dinners: A Life Hack
Really, there is just SO much to love about this recipe! It's easy, delicious, and fairly healthy. But even more importantly, most of the ingredients are pulled right out of the pantry. That means you can keep the makings on hand and pull it together quickly for unexpected guests or days when you're too slammed to get to the grocery store. 
The fact that the "as is" version of Three Can Pasta is vegetarian is another mark in its favor. Many of my friends and family members are vegetarians, so I'm thrilled to have something this yummy to serve them on short notice. And like a lot of people, I'm trying to eat less animal protein these days. Three Can Pasta is a winner for anybody looking for a good "Meatless Monday" dish. 
But if you or your guests are committed carnivores, slicing up a package of Italian sausage will satisfy the meat-lovers in your life. I use Aidell's Italian Style Chicken Sausage with this dish and it's terrific, but I'm sure any Italian style sausage. Just slice the sausages on the diagonal, toss them in at the end, and you're good to go.
Another plus about this recipe is that it tastes great the next day. The portions are generous, so if you're only feeding a few people there should be some yummy leftovers for lunch the next day. But if you're feeding a crowd and you have big enough cooking pots, you might want to double the recipe. People tend to eat a lot of this dish! 
In case you hadn't already guessed, Three Can Pasta has quickly become one of my favorite recipes. Give it a try this week. I bet it will become one of your favorites too.
Here's the recipe:
Print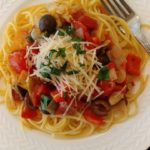 Three Can Pasta
---
22 oz. can diced tomatoes with basil, garlic, and oregano
14 oz. can artichokes quarters, drained
6 oz can pitted large whole black olives, drained and sliced in half
1 large onion, medium diced
1 sweet red pepper, medium diced
1 clove garlic, minced
1 T Extra Virgin Olive Oil
6 oz. freshly grated Parmesan cheese (preferably Parmigiano Reggiano)
9 oz. dry spaghetti
Fresh basil, chopped in chiffonade (optional)
---
Instructions
Fill a large pot with water and pinch of salt. Bring to boil.
While waiting for water to boil, place olive oil in large saucepan on stove over medium-high heat. Add onions and peppers and sauté until onion are translucent and soft, about 5 minutes. Add minced garlic to pan, sauté for another minute or so.
Add spaghetti to boiling water and cook according to package directions, usually 9 to 11 minutes.
While spaghetti is cooking, add canned tomatoes, quartered artichokes, and whole olives sliced in half to the saucepan with cooked onion and peppers. Lower heat to medium-low and cook until pasta is ready, giving flavors a chance to meld.
Drain spaghetti and place in large bowl. Pour pan of cooked vegetables over top. Add grated cheese to dish and toss to mix spaghetti, vegetables, and cheese. Garnish with chopped basil, if using, and serve immediately.
THIS POST MAY CONTAIN REFERRAL LINKS. IF YOU CLICK THROUGH AND TAKE ACTION, I MAY BE COMPENSATED, AT NO ADDITIONAL COST TO YOU.