This post may contain affiliate links. Full disclosure policy
THIS POST MAY CONTAIN REFERRAL LINKS. IF YOU CLICK THROUGH AND TAKE ACTION, I MAY BE COMPENSATED, AT NO ADDITIONAL COST TO YOU.
Raise your hand if you are counting the minutes until spring!
Me!
I heard a quote once, "March is the month that God invented to show people who don't drink what a hangover looks like."
Seems pretty accurate to me. This winter has hung over too, too long.  I'm trying to be patient and not wish away my days but as far as I'm concerned, spring is way overdue.
Honestly, I always feel like that at this time of year.
Before Spring Cleaning Comes Spring Decorating
One of my favorite ways to cheer myself up when winter has overstayed it's welcome is to flip through the latest crop of home decorating magazines and catalogs, checking out the latest colors and trends. Imaginary redecorating always lifts my spirits, especially when I need to do some actual redecorating.
But if I don't need (or can't afford) to redecorate, catalog window shopping can be a potentially budget busting temptation.
Right now, I am spending a lot of time obsessing about bright pink chairs.
Which makes no sense at all. Zero.
For one thing, we moved into this house less than a year ago, so everything is pretty and new, decorated according to my taste. Second, there is not an inch of pink anywhere in this house–zilch, nada–so if I gave into my obsession and bought a pink chair, I'd need to replace the sofa, the rugs, calls a painter…You see where I'm going with this, right?
Bottom line, my house is beautiful. I do not NEED to redecorate!
But, I want to.  Because winter.
The Trick That Saves Me From Myself
Fortunately, my beyond 50 years of life experience has taught me another trick. When an illogical or unaffordable urge to redecorate becomes too much bear, set a pretty table.
A small investment in some new placemats, napkins, dishes, or a centerpiece can instantly brighten a whole room.  And if you've already got a sewing machine and some pretty fabric, the only thing you'll have to spend to cheer up your table and spirits is a bit of time.
Sewing a pretty DIY table runner is an easy afternoon sewing project. I have tons of runners at my house and change them often.  It's such a fun and easy way to add some color to your surroundings.
That's why I thought I'd share a table runner pattern I designed a couple of years ago, when I was getting ready for the release of From Here to Home.
The novel is set in Texas, so I drew on the rich, earthy colors of the Texas Hill country for the concept, bringing in a full spectrum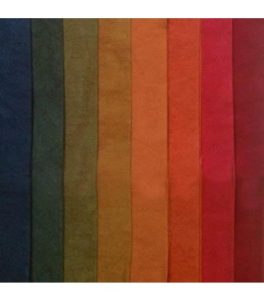 of shades, deep indigo to desert tan, using some of my favorite solids from Cherrywood Fabrics.  I absolutely adore Cherrywood because these 100% cotton, hand dyed fabric, look like suede! They are amazing! I highly recommend them.
I wish I had an actual photo of the runner I made but I gave it away as a present and I can't remember to whom! But trust me, it's really pretty when it's finished!
Make It Your Own
But, the great thing about my Hill Country Sonata pattern is that you can really use any fabric or colors you want. It would be great in rainbow colors with a white background, jewel tones with black, greens for St. Patrick's day, or a range of pretty pastels for Easter.
You can use solids but patterns would also be wonderful and give you a great scrappy look.  As long as you've got 8 fabrics that look good together and a complementary background fabric, you're in business.
It's Easy. I Promise.
Another great thing about this table runner is that it's easy enough for a beginner. If you can sew a straight line (or even a sort of straight line) you can whip this runner up in just a few hours.
I do put low-loft quilt batting in all of my table runners and then bind them, just like I would a quilt.
But if you'd prefer to skip the batting and binding, then cut a background piece the same size as your finished runner, pin the top and background right sides together (that's important!) and stitch around both long sides and one short side of the runner. After that, turn the runner inside out, press the edges so it looks nice, press under the edge of the final short side, and hand stitch the opening.
The absolutely BEST thing about my Hill Country Sonata Table Runner pattern is that it's FREE. (My favorite price!)
Enter your email in the form below and we will send it straight to your inbox!