This post may contain affiliate links. Full disclosure policy
We are a little over a month away from the release of my latest book! I could not be more impatient/excited to share it with you!
Yes, in just a short time, you will get to meet Hope Carpenter and the friends she found in a place she never expected to be, a group of women who discover friendship, purpose, and the life-altering power of creativity, one stitch at a time.
(Pretty good tagline, right? Makes me want to read the book all over again.)
Because I am so impatient/excited for the March 26th release of Hope On The Inside (also because I love you guys)  I thought it would be fun to share the first chapter with my most dedicated readers. If it weren't for your enthusiasm and support, I wouldn't be able to do this thing I love so much.
Writing turns out to be a much tougher gig than I would ever have imagined. But when I receive a heartfelt letter from a reader about how a certain character or theme has truly touched her or helped in her healing journey, I know I chose the right profession. You know, as opposed to being a mathematician, or oceanographer, or cabaret singer. All professions I considered. (Okay, not mathematician. Just the other two.)
A Glimpse Into HOPE ON THE INSIDE
You know the free samples of the frozen food at Sam's Club? Sampling at Sam's used to be one of my sons' favorite ways to spend a Saturday afternoon. And yes, we would come home with a plethora of random frozen appetizers that I didn't know I needed.
A first free chapter is kind of like that (except it's a book, not frozen vegan potstickers!).  After reading chapter one and getting a little taste of Hope Carpenter, I'm pretty sure you'll be dying to know how her story ends and will promptly pre-order your copy.  It's a win for everybody!
All you have to do to read the first chapter is scroll all the way to the bottom of this page and enter your email address in the form below and it will be emailed to you promptly. It's like magic.
And to whet your appetite even more, I put together this nifty book trailer so you can learn more about HOPE ON THE INSIDE!
Here's what my publisher has to say about HOPE ON THE INSIDE.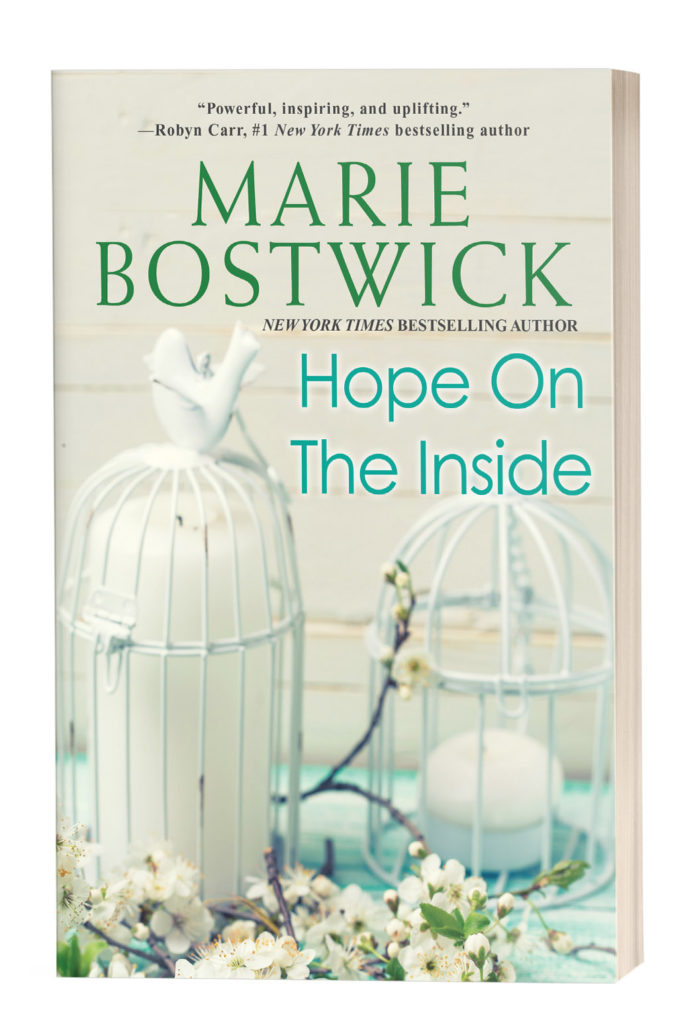 New York Times bestselling author Marie Bostwick's Cobbled Court Quilt novels gained her a broad and devoted following with their heartwarming themes of female friendships, family and quilting. Now, with the Spring 2019 release of Hope On The Inside, Marie's trademarks of strong prose, moving friendships and the power of creativity shine with a particular kind of heartfelt energy. Both poignant and uplifting, this standalone novel is at once a moving look at the effects of prison on the lives of its female inhabitants, and an inspiring story about a woman searching for purpose and a career much later in life than she ever expected. 
A Little More About Hope Carpenter's Story
 "Whatever comes your way, find the happiness in it." Hope Carpenter received that advice from her mother decades ago. Now, with their four children grown, Hope and her husband, Rick, are suddenly facing an uncertain future, after a forced retirement strains both their savings and their marriage. Seeking inspiration and a financial boost, Hope gets a job teaching crafts to inmates at a local women's prison. 
At first, Hope feels foolish and irrelevant, struggling to relate to women whose choices seem so different from her own. But with time, and the encouragement of the prison chaplain, she begins to discover common ground with the inmates, in their worries about their children and families, their fear of having failed those who need them. Just like her, they want to make something of themselves, but believe it might be impossible. 
Embarking on an ambitious quilting project, Hope and her students begin to bond. Together, piece by piece, they learn to defy expectations—their own and others'—and to see that it's never too late to stitch together a life that, even in its imperfections, is both surprising and beautiful.