This post may contain affiliate links. Full disclosure policy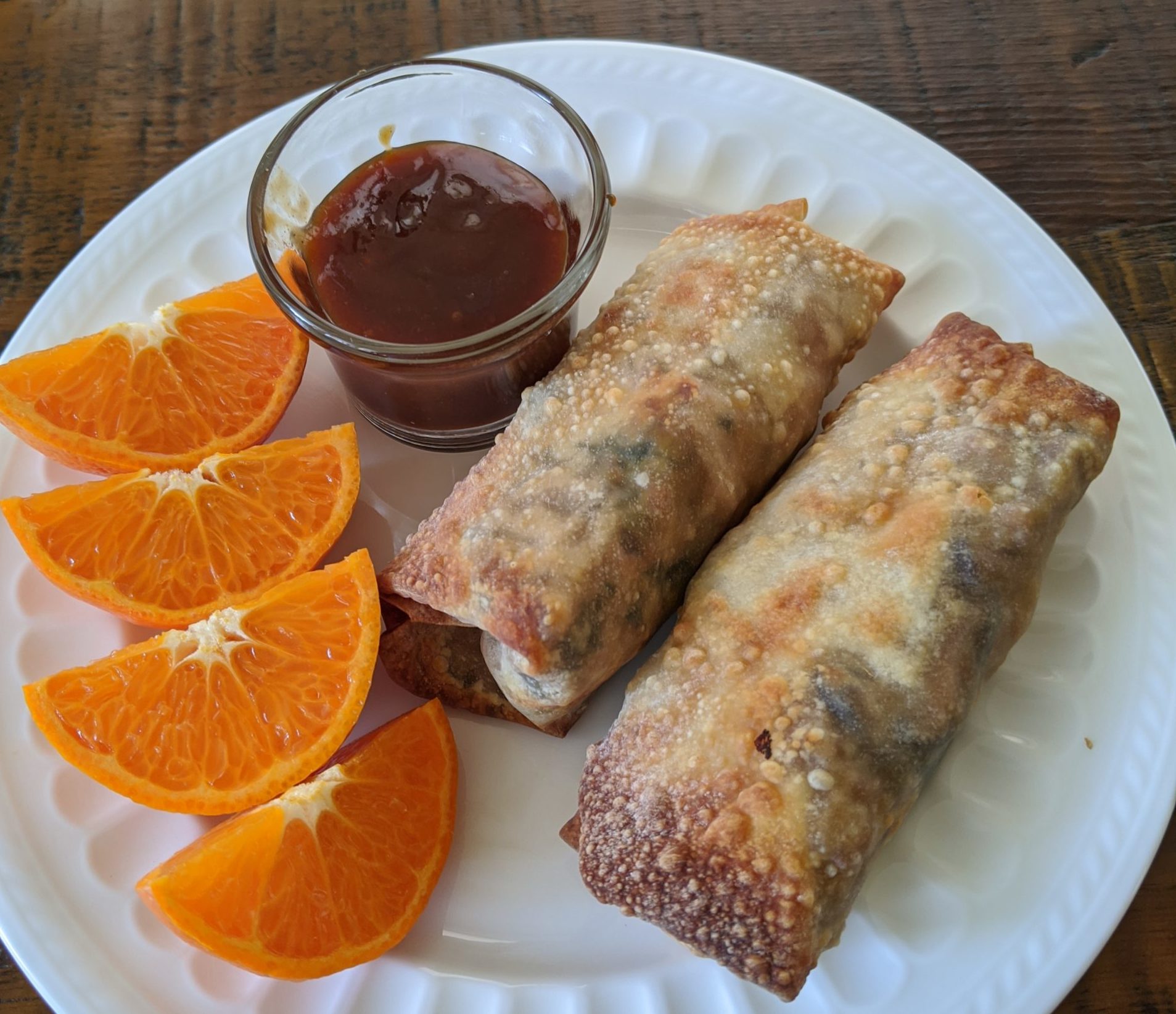 As you've probably realized by now, I love to cook.
Though I make my living as an artist, expressing myself creatively isn't something I do just through the novels I write. Everyday life is loaded with opportunities for tapping to your artistic side. Whether it's setting a pretty table, making a quilt, or planting a flower garden, home keeping and making provide so many opportunities for creative expression. But none more so than cooking.
When I start pulling out the pots and pans, especially when I'm creating recipes on the fly, I feel as excited as a painter who is facing a new canvas. What's going to happen next? Will it be a failure? A success? Or perhaps the best work I've ever done? No matter the end result, the process is always interesting, fun, and, if I'm lucky, delicious.
Different Cuisines – or Genres
I like to experiment with all kinds of different cuisines and cooking techniques. That's what makes my time in the kitchen so interesting and creative. I'll try almost anything once! However, one technique you'll almost never see in my kitchen is frying. Don't get me wrong. It's not that I don't like fried food – because I do. Probably too much.
French fries, blooming onions, fried chicken, empanadas, egg rolls – they all smell and taste so good. But they don't look good, at least not on my hips, thighs, or waistline. That's why I try my best to steer clear of fried foods when I'm cooking for myself and my family.
Much as I wish it were otherwise, foods that are cooked in lots of oil simply aren't good for us. And isn't that sad? But there's a new trend in cooking just now, air frying. And it's well…kind of amazing.
The New Kid (or Fryer) on the Block
I'll admit, I was skeptical at first. But I've been experimenting with my new COSORI air fryer for a couple of weeks now, and I'm definitely a fan. If you don't have an air fryer yet, you really should think about getting one.
With just a small amount of oil (and sometimes none at all), you can create dishes that taste just as good as their fatty, heart-clogging cousins. Not only that, my new air fryer cooks food quickly without any spattering of oil, so clean up is super easy.
It's taken a little bit of trial and error for me to get the hang of using my air fryer. I'm not always one hundred percent pleased with the coloration on the finished dishes, some spots always cook more quickly than others. But the taste and texture are fabulous! Dishes come out crispy and delicious but not the least bit greasy, which makes sense because you're using very little oil.
Putting the Air Fryer Egg Rolls to the Test
Last week, I decided to experiment with one of those delicious indulgences I hardly ever allow myself to have – egg rolls. Restaurant egg rolls are so good but when I step on the bathroom scale the next morning, I always suffer buyer's remorse. Another dish I love to indulge in when eating Asian food is Moo Shu Chicken. Also delicious. Also bad news for my waistline.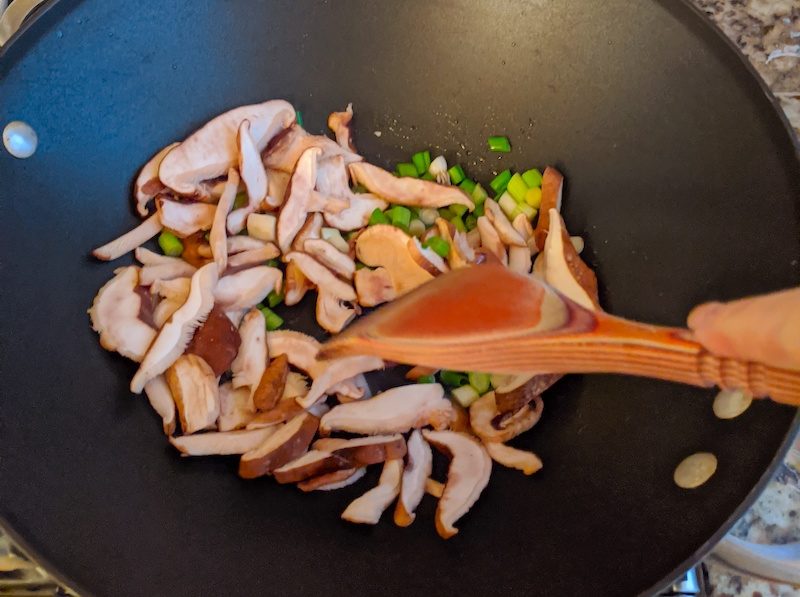 Okay, look. Normally, I'd wax poetic for a while here, but I'm on deadline for my next book. I need to get back to it so I'm going to cut to the chase.
My experiment with melding two of my favorite Asian-inspired indulgences – egg rolls and Moo Shu – was a great big delicious success! Not just because they taste AH-MAZING but because they actually fit in pretty well with a healthy eating plan.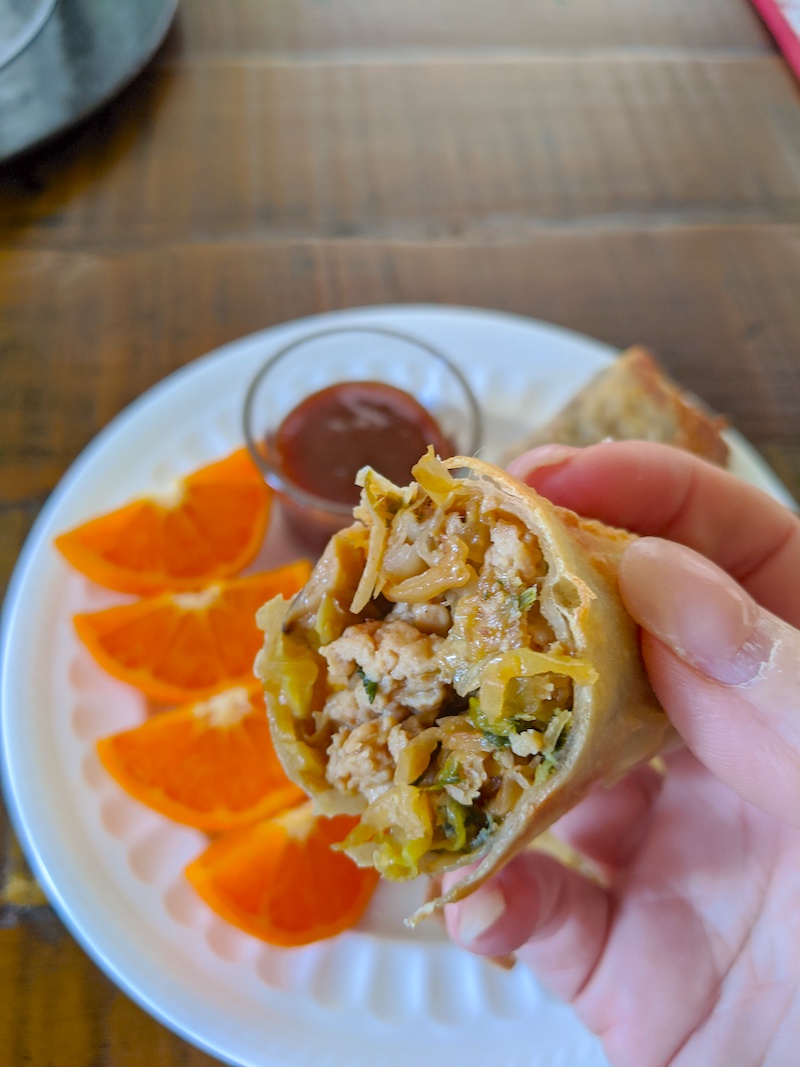 Delicious – and Healthy!
When I added up the points, I was thrilled to see each egg roll clocked in at just 3 WW purple or blue points! (Probably different if you're on green.) According to WeightWatchers, restaurant egg rolls are 7 points.
That's a big difference!
My Moo Shu inspired Air Fryer Egg Rolls taste just as good as restaurant egg rolls. But they're even better because you won't experience any buyer's remorse when you step on your scale. (Also, if you're not into egg rolls or don't have an air fryer yet, the Moo Shu filling is delicious over plain brown or white rice.)
There's really nothing not to love about this recipe. Give my Moo Shu inspired Air Fryer Egg Rolls a try today!
Print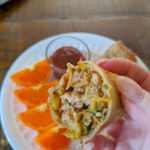 Moo Shu Inspired Air Fryer Egg Rolls
---
Author:

Yield:

12

Egg Rolls

1

x
12

egg roll wrappers (

24

total WW points, I used Twin Dragon brand)

1

lb ground chicken (

0

WW points if using 98% fat free chicken breast)

8 oz

shitake mushrooms, sliced (

0

points)

1

bunch scallions, sliced (

0

points)

1

t minced garlic (

0

points)

4 cups

shredded cabbage (

0

points)

1

bunch fresh cilantro, chopped (

0

points)

2

T sesame oil (

8

points)

1

T rice vinegar (

0

points)

1

T low sodium soy sauce (

0

points)

2

T hoisin sauce (

4

points – can use some extra hoisin sauce for dipping if desired but it will add points)
Cooking spray (0 points)
---
Instructions
Heat 1 T of sesame oil in nonstick wok or large frying pan. Add sliced scallions and cook over high heat for 2-3 minutes, stirring constantly. Add shitake mushrooms to pan and cook an additional 3-4 minutes, until mushrooms are beginning to soften and release some liquid. Add garlic. Cook one minute, stirring constantly.
Add remaining T of oil to pan, along with shredded cabbage. Cook for 2 minutes, stirring constantly, until cabbage begins to soften. Add rice vinegar and soy sauce, cook until cabbage and all vegetables are very soft.
Either remove vegetables from pan, or push to one side of pan if there's room to cook chicken in it. Cook ground chicken thoroughly, until no pink is visible, breaking up pieces with edge of spatula.
Lower heat to medium. Stir chicken and vegetable mixture together in pan to combine. Stir in chopped cilantro and 2 T hoisin sauce. Cook and stir to combine, about 1 minute. Set Moo Shu mixture aside. (Moo Shu can be served over rice instead of making in egg rolls if you prefer.)
Preheat air fryer to 350 degrees while preparing egg rolls.
Place egg roll on plate or counter in a "diamond" direction, with points going north, south, east, and west. Place a generous quarter cup of Moo Shu filling across the center of the egg roll wrapper. Fold wrapper ends over the filling, then roll up the remaining corners to create an egg roll. Repeat with remaining 11 wrappers.
Working in batches, (the number that can be cooked at one time will depend on the size of the air fryer) place egg rolls in the basket of your pre-heated air fryer. Spray egg rolls lightly with cooking spray. Close basket and cook for 4 minutes.
Turn egg rolls over, spray lightly with cooking spray. Cook for an additional 2-3 minutes, until rolls are brown and crispy.
Notes
Each egg roll is 3 points on WW purple or blue if made with 98% fat free ground chicken.