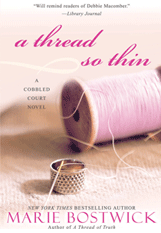 Cobbled Court Quilt Series – Book 3
New York Times bestselling author Marie Bostwick crafts a timeless tale of friendship, love, and the choices we must make in their name.
While New Bern, Connecticut, lies under a blanket of snow, Cobbled Court Quilts remains a cozy haven for its owner, Evelyn Dixon, and her friends. Evelyn relishes winter's slower pace — besides, internet sales are hopping, thanks to her son Garrett's efforts. In addition to helping out at the shop, Garrett has also been patiently waiting for his girlfriend, Liza, to finish art school in New York City. But as much as Evelyn loves Liza, she wonders if it's a good idea for her son to be so serious so soon with a young woman who s just getting ready to spread her wings.
Liza's wondering the same thing, especially after Garrett rolls out the red carpet for a super-romantic New Year's Eve — complete with a marriage proposal. Garrett's the closest thing to perfect she's ever known, but what about her own imperfections? The only happy marriage Liza has ever seen is her aunt Abigail's, and it took her decades to tie the knot. Soon Liza is not only struggling with her own fears but with the mixed reactions of her friends and family. And when she finds herself torn between a rare career opportunity and her love for Garrett, Liza must grasp at the thinnest of threads and pray it holds.
Amazon | Book-A-Million | Barnes & Noble | IndieBound | Hickory Stick Bookshop
---
Also in the Cobbled Court Quilt Series