Print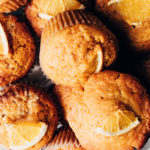 "Lil' Bit O' Sin" Muffins
---
½ cup

sweetened, dried cherries

½ cup

Grand Marnier

2

c. all-purpose flour

½ cup

sugar

1 tablespoon

baking powder

2 tsp

. grated orange peel

½ tsp

. salt

1

c. pecans, roughly chopped

½ cup

sour cream

½ cup

light cream

½ cup

butter, melted

1

egg, beaten

1 tbsp

. sugar
---
Instructions
Preheat oven to 400. Grease or paper line a 12-cup muffin tin. Place dried cherries and Grand Marnier in a saucepan on stove. Heat until Grand Marnier just begins to boil, then turn off flame and remove from heat. Allow the cherries to soak for one hour. Drain Grand Marnier from the soaked cherries, reserving two tablespoons of the liquid. Set aside.
Place flour, ½ cup sugar, baking powder, orange peel, salt, and pecans in a large bowl. Stir dry ingredients to combine. In another bowl, beat egg, then add cream, sour cream, melted butter. Whisk briskly to combine. Stir in soaked cherries and two tablespoons of reserved Grand Marnier.
Using a rubber spatula, pour liquid ingredients into dry ingredients and stir until just combined. Do not over mix. Spoon finished batter into prepared muffin pan. Sprinkle tops of the unbaked muffins with the reserved sugar. Bake muffins at 400 degree oven for 15 to 20 minutes, until a wooden skewer inserted into the middle comes out clean. Cool on wire rack. Makes 12 muffins.