Print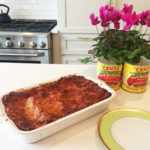 Joanie's Famous Lasagna
---
¼ cup

extra-virgin olive oil

¼

lb. pancetta, diced

2

large yellow onions, diced

6

large cloves garlic, minced and divided

4

(28-ounce) cans San Marzano tomatoes, smashed with a fork
Kosher salt to taste

½

lb beef

½

lb pork

3 tbsp

. chopped Italian herbs (oregano, basil, rosemary)
no boil lasagna noodles

1

16 oz. container ricotta

4 tbsp

. pesto

1

egg

¾ cup

parmesan shredded plus more for sprinkling on top

5 cups

shredded mozzarella
---
Instructions
About an hour before cooking, spread out ricotta on a plate and place a couple paper towels over it to soak up some of the moisture.
For the marinara, heat olive oil in a sauce pan on medium high and add pancetta until crisp and brown. Add the onions and cook until translucent but not browning. Add four cloves of minced garlic and cook for an additional minute before adding the tomatoes. Set aside.
Preheat oven to 375.
In a skillet, crumble and cook beef, pork, onion, and herbs. After meat is cooked through, add marinara sauce. Let simmer until you are ready to assemble lasagna.
In a bowl, mix ricotta, egg, pesto, 2 minced garlic cloves, and parmesan cheese.
In a 9×13" pan, spread a thin layer of sauce. Top that with a layer of noodles and cover with sauce. Add a layer of mozzarella, then more noodles, then top with the ricotta blend. Sprinkle more mozzarella. Add one more layer of noodles, then the rest of the sauce. Cover with foil, cut a few vents, and bake for 30 minutes. Then add a generous sprinkling of mozzarella and parmesan on top and bake for an additional 20 to 30 minutes uncovered until golden brown and bubbly.