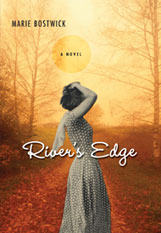 One extraordinary woman will come of age—and come into her own—in this haunting portrait of an ever-changing America during the tumult and uncertainty of World War II.
After the death of her mother, Elise Braun is sent to live with distant relatives in the United States. Her father wants to save his daughter from the impending war in her native Germany—and the horrors of the new Nazi regime. But Elise feels a sense of abandonment and resentment toward the one man who is supposed to protect her. An accomplished pianist, Elise finds music is her only solace from the loneliness and loss that make it difficult for her to love or trust anyone.
Now, with the men she loves fighting in opposing armies, Elise is torn between her native Berlin and her adopted American home. As she struggles to find her place in a world at war, she must also learn to acknowledge her love for her father, the man who traded his happiness for her own.
RWA Desert Rose Chapter Golden Quill Award for Best Mainstream Novel
National Readers' Choice Award Finalist
Literary Guild Featured Alternate
Amazon | Book-A-Million | Barnes & Noble | IndieBound | Hickory Stick Bookshop