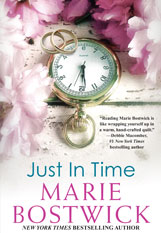 In her most powerful novel yet, New York Times bestselling author Marie Bostwick weaves the uplifting story of three grief support group dropouts—women united in loss and rescued through friendship.
Fifteen years ago, Grace Saunders vowed to take her beloved husband for better or worse. Now she's coming to terms with difficult choices as she crafts a memory quilt from scraps of their life together—a life torn to shreds by an accident that has left him in a coma. Enduring months of limbo, Grace is at least not alone.
Nan has been widowed for twenty years, but now, with her children grown, her home feels painfully empty. Even the company of her golden retriever, Blixen, and a series of other rescue dogs, can't fill the void. Then there's Monica, a feisty woman with a biting wit who's reeling following her husband's death—and the revelation of his infidelity.
As for Grace, a chance evening with a man she barely knows brings a glimmer of joy she hasn't felt since the tragedy—along with feelings of turmoil and guilt. But her struggle to cope will force all three women to face their fears, share their deepest secrets—and lean on one another as they move from grief and isolation to hope, and a second chance at happiness…
Amazon | Book-A-Million | Barnes & Noble | IndieBound | Hickory Stick Bookshop