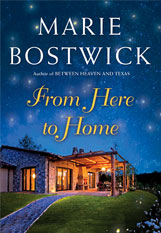 FROM HERE TO HOME takes readers back to Too Much for a heartwarming visit with Mary Dell, Howard, and other familiar, beloved characters, as well as some new ones who will soon feel like old friends. Evelyn, the heroine of my Cobbled Court Quilts series, puts in a cameo appearance as well!
A lot has changed in the thirty years since Mary Dell took a dare on a dream and opened her own quilt shop, but much has stayed the same as well. Mary Dell is just as sassy as she ever was, just as strong, just as determined to protect the people she loves. That's a good thing because she about to face changes and challenges that threaten her livelihood and the future of her family, as well as her town.
Mary Dell Templeton prefers the quiet charms of Too Much to the bright lights of Dallas any day. She's relieved to be moving back to her hometown–and bringing her cable TV show, Quintessential Quilting, with her. There are just a couple of wrinkles in her plan. Her son, Howard, who is her talented co-host and color consultant, and happens to have Down syndrome, wants to stay in Dallas and become more independent. Meanwhile, Mary Dell's new boss hopes to attract a different demographic–by bringing in a younger co-host.
What Holly Silva knows about quilting wouldn't fill a thimble, but she's smart and ambitious. Her career hinges on outshining the formidable Mary Dell in order to earn her own show. Yet as Holly adapts to small-town living and begins a new romance, and Mary Dell considers rekindling an old one, the two find unlikely kinship. For as Mary Dell knows, the women of Too Much have a knack for untangling the knottiest problems when they work together. And sometimes the pattern for happiness is as simple and surprising as it is beautiful…
Amazon | Book-A-Million | Barnes & Noble | IndieBound | Hickory Stick Bookshop