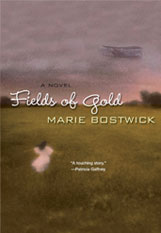 Evangeline Glennon knows plenty about life's highs and lows. Still, she feels lucky, surrounded as she is by people who care deeply: Papa, who's never lost his Irish brogue or twinkle in his eye; endlessly practical, generous Mama, and steadfast best friend, Ruby. Romance would be too much for a girl like Eva to expect. Then again, love has a tendency to find those who aren't looking for it . . .
Out of a clear blue sky, a dashing young pilot makes an impossibly gentle landing in Papa's Oklahoma wheat field. After taking her up in his plane, "Slim" leaves Eva with an exhilarating new perspective—and an even more precious gift that changes her forever.
The world is changing, too—and only the strongest in body and spirit will weather what is to come. Now, while tracing from afar the progress of the brave young aviator she knew briefly, Eva stitches her heart and soul into intricate quilts whose images take extraordinary form from the heartbreak and joy of parallel lives.
Oklahoma Book Awards 2006 Best Fiction Finalist
RT BOOKclub Magazine Reviewer's Choice Award Finalist, Best Historical Saga
Amazon | Book-A-Million | Barnes & Noble | IndieBound | Hickory Stick Bookshop