Description
This dish can be served as an appetizer by using toast points – I like to brush ciabatta with olive oil and roast in oven for a few minutes until toasty brown. If you would rather it serve as a side dish, simply crumble up a few breadcrumbs on top for a little crunch. So there are your two options: toast points slathered with feta spread and topped with asparagus, or asparagus with a dollop of feta spread and toasty breadcrumbs on top for a little crunch. Choose your adventure!
---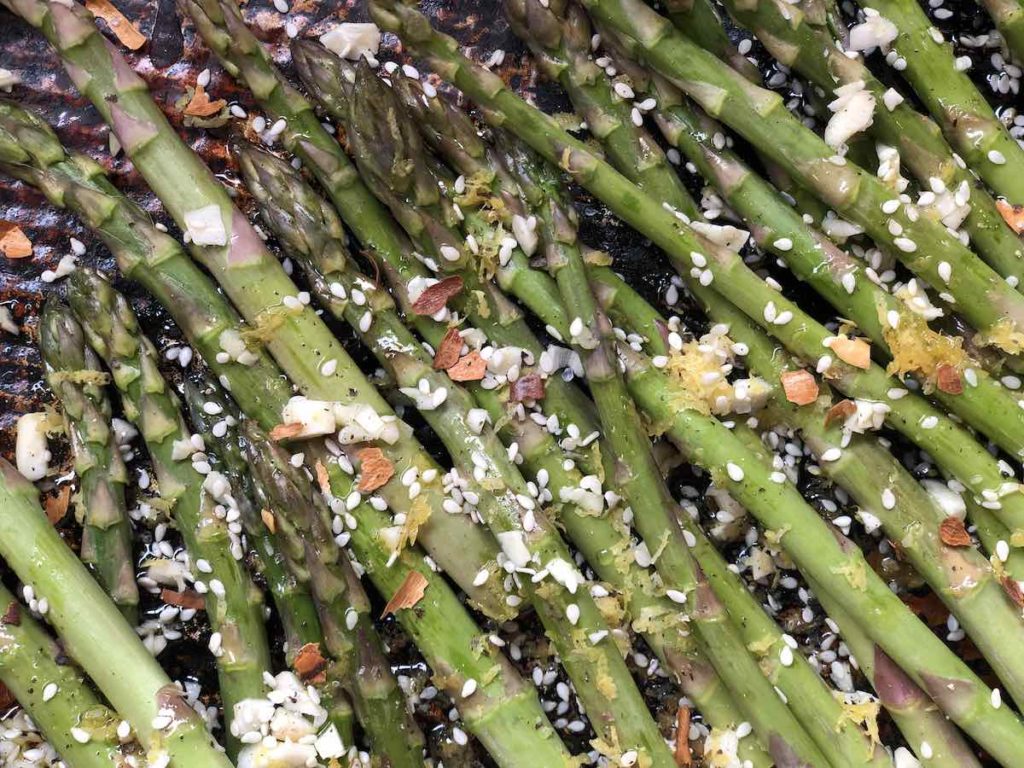 1 cup homemade, coarse breadcrumbs or 10 small slices of toasted ciabatta or some other fresh bread
3 TBS olive oil, divided
1 bunch asparagus, ends snapped*
2 TBS raw sesame seeds (I find these in the Asian aisle at my local grocery store)
zest of 1 lemon (you'll need a rasp like this one)
3 cloves garlic, minced (I use my garlic press to do this quickly)
kosher salt and black pepper
2 TBS apple cider vinegar
1 tsp local honey
FETA SPREAD
8 oz reduced-fat feta cheese
1/4 cup plain, low-fat Greek yogurt
1 TB olive oil
1 TB water (for desired consistency)
*Instead of just trimming the ends of the asparagus, snap the shoot by bending on the end until it breaks. It will break right at the perfect point for tender, delicate shoots. That's how you know. 
---
Instructions
Preheat oven to 400 F.
Make the toasty breadcrumbs or toast points. On a baking sheet, toss the bread or breadcrumbs with 1 TB olive oil and a little salt and pepper. Toast for 10 minutes or until golden and toasty.
In a casserole dish, toss the asparagus, sesame seeds, garlic, lemon zest and a pinch of salt and pepper with 2 TBS olive oil.  Roast for 25 to 30 minutes until the asparagus has a little charred color. Remove from oven and use tongs or a fork to set asparagus on serving platter, leaving all the juices in the casserole dish.
Once the oils and juices in the casserole dish have cooled for a couple minutes, add the apple cider vinegar and honey. Scrape the bottom of the dish to get all of the extra flavor. This is going to be the sauce, sort of like a vinaigrette.
To make the feta spread,  add the feta, greek yogurt, 1 TB olive oil, and about 1 TB of water into the bowl of your food processor and process for about 3 minutes, or until creamy and light. Season with pepper. You won't need any more salt for this step, trust me.
Now it's time to serve! Spread the feta on a large serving plate, place the asparagus on top, drizzle on the sauce, sprinkle with breadcrumbs or serve with toast points. I like this best slightly warm or at room temperature.
Bon appetit!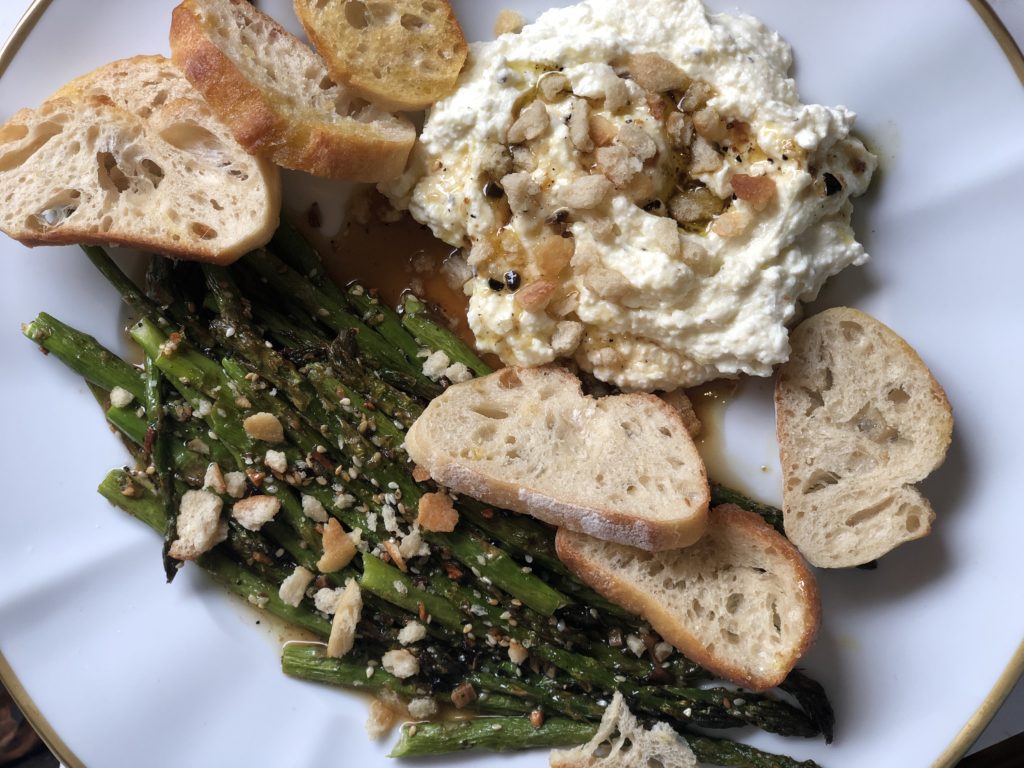 Prep Time:

10

Cook Time:

35

Category:

appetizer, vegetable side dish
Keywords: asparagus, healthy sides, spring appetizers, summer appetizers, asparagus recipes, weight watchers